Civil Unrest Fears Grow As Youth Unemployment Accelerates
In nearly every country in the world, youth unemployment is much higher than general unemployment.
Unfortunately, the pandemic only exacerbated matters. During a crucial stretch of their early careers, young adults were locked out of entry-level jobs, destroying their ability to pick up work experience and potentially impacting their long-term earnings.
Now, nearly three years after COVID-19 first hit, young adults from some countries, like China, are struggling to find jobs. Using data from the OECD and the National Bureau of Statistics of China, Visual Capitalist's Pallavi Rao and Niccolo Conte chart out the youth unemployment rate for 37 countries.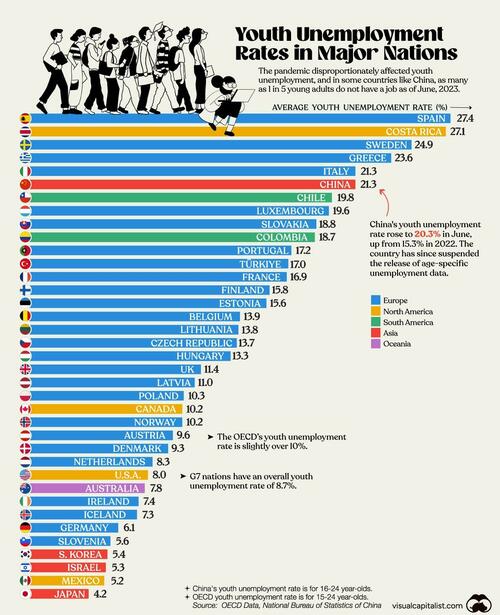 Ranked: Countries With the Highest Youth Unemployment
At the top of the list, Spain has the highest youth unemployment in the OECD, with nearly one in three young adults unable to find a job.
ℹ️ Unemployed people are those who report that they are without work, are available for work, and have taken active steps to find work in the last four weeks. The youth unemployment rate is calculated as a percentage of the youth labor force.
A mismatch between educational qualifications and the labor market has been cited as a significant reason for Spain's lack of employed adults between the ages of 15–24.
Meanwhile, the country's reliance on temporary contracts and dependence on seasonal sectors—like tourism—to generate jobs are some of the many reasons for its persistently high reported unemployment across demographic groups.
Listed below is the youth unemployment rate for all the OECD countries, and China, as of the second quarter of 2023.
Rank
Country
Average Youth
Unemployment Rate
1
🇪🇸 Spain
27.4%
2
🇨🇷 Costa Rica
27.1%
3
🇸🇪 Sweden
24.9%
4
🇬🇷 Greece
23.6%
5
🇨🇳 China
21.3%
6
🇮🇹 Italy
21.3%
7
🇨🇱 Chile
19.8%
8
🇱🇺 Luxembourg
19.6%
9
🇸🇰 Slovakia
18.8%
10
🇨🇴 Colombia
18.7%
11
🇵🇹 Portugal
17.2%
12
🇹🇷 Türkiye
17.0%
13
🇫🇷 France
16.9%
14
🇫🇮 Finland
15.8%
15
🇪🇪 Estonia
15.6%
16
🇧🇪 Belgium
13.9%
17
🇱🇹 Lithuania
13.8%
18
🇨🇿 Czech Republic
13.7%
19
🇭🇺 Hungary
13.3%
20
🇬🇧 United Kingdom
11.4%
21
🇱🇻 Latvia
11.0%
22
🇵🇱 Poland
10.3%
23
🇳🇴 Norway
10.2%
24
🇨🇦 Canada
10.2%
25
🇦🇹 Austria
9.6%
26
🇩🇰 Denmark
9.3%
27
🇳🇱 Netherlands
8.3%
28
🇺🇸 United States
8.0%
29
🇦🇺 Australia
7.8%
30
🇮🇪 Ireland
7.4%
31
🇮🇸 Iceland
7.3%
32
🇩🇪 Germany
6.1%
33
🇸🇮 Slovenia
5.6%
34
🇰🇷 Korea
5.4%
35
🇮🇱 Israel
5.3%
36
🇲🇽 Mexico
5.2%
37
🇯🇵 Japan
4.2%
Announced in June, China's youth unemployment rate has climbed to 21.3%, a meteoric rise since May 2018, when it was below 10%. The Chinese economy is in the midst of a slowdown and its steadily climbing youth unemployment prompted the government to suspend age-specific unemployment data for the near future.
On the other side of the spectrum, in Japan, only 4.2% of young adults are without a job. A key reason for this is Japan's shrinking and aging population that's made for a tight labor market.
Youth Unemployment: Men vs Women
In most OECD countries, it's common to see young men experiencing a higher unemployment rate compared to young women.
This contrasts with the trend across all age groups in the OECD, where the unemployment rate is 6.3% for women and 6% for men.
We visualize the countries in the dataset with the biggest gaps in youth unemployment below.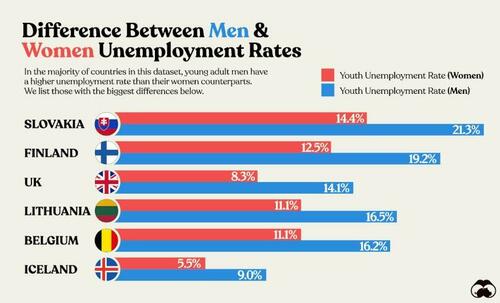 There is no singular reason that explains this common gap.
Across the OECD, more young women opt for tertiary education than young men, which may lead to better employment prospects. At the same time women are overrepresented in the health and social welfare sectors—both growing rapidly thanks to an aging population—that may make it easier for them to find jobs.
Why Does Tracking Youth Unemployment Matter?
Aside from being an indicator of general opportunities within a country, youth unemployment is a key metric to track, because it can be a bellwether for future economic prospects.
High rates of youth unemployment also correlate to brain drain within a country, as young adults move elsewhere to find better jobs.
Finally, large increases in unemployed youth have historically led to the potential of civil unrest, which makes it a politically-charged metric to identify and monitor for governments.
This post was originally published at Zero Hedge
Incredible: After Celebrating An Actual Nazi In Parliament, Trudeau Complains About 'Russian Propaganda'
"I think it's going to be really important that all of us push back against Russian propaganda"
Despite the fact that he met with and then invited a former SS soldier into his parliament, where the 98-year-old Nazi was given a standing ovation, Canadian Prime Minister Justin Trudeau complained about "Russian propaganda" and "Russian disinformation" Monday.
Here's the backstory from yesterday:
Trudeau was asked about the situation by reporters and commented, "Obviously it's extremely upsetting that this happened," before immediately blaming the Speaker of the House, noting "The speaker has acknowledged his mistake and has apologized. This is something that is deeply embarrassing to the Parliament of Canada and by extension to all Canadians, I think particularly of Jewish MPs and all members of the Jewish community across the country, celebrating, commemorating Yom Kippur today."
He then pivoted to Russia, stating "I think it's going to be really important that all of us push back against Russian propaganda, Russian disinformation and continue our steadfast and unequivocal support for Ukraine."
Incredible.
Watch:
Opposition leader Pierre Poilievre told parliament that "Canadians are sick and tired of a prime minister who never takes responsibility for things that happen under his watch," adding "he always finds someone else to throw under the bus," and asking the Speaker of the House "are you that person?"
Poilievre demanded that Trudeau personally apologize, describing the situation as "an appalling error in judgment on the part of Justin Trudeau, whose personal protocol office is responsible for arranging and vetting all guests and programming for state visits of this kind."
"It was impossible for any parliamentarian in the room (other than Mr. Trudeau) to know of this dark past," Poilievre added of the SS veteran.
Meanwhile, comedian Rob Schneider hit out at Trudeau, and said he has cancelled his upcoming dates in Canada in protest:
SUBSCRIBE on YouTube:
Follow on Twitter:
Follow @PrisonPlanet
———————————————————————————————————————
Brand new merch now available! Get it at https://www.pjwshop.com/


ALERT! In the age of mass Silicon Valley censorship It is crucial that we stay in touch.

We need you to sign up for our free newsletter here.

Support my sponsor – Summit Vitamins – super charge your health and well being.

Also, we urgently need your financial support here. ———————————————————————————————————————
Biden Regime Poised to Allow Israelis to Travel to U.S. Without Visa, Despite Escalating Human Rights Abuses
The Biden regime is poised to allow Israeli citizens to travel to the US without a US visa, despite Israel's escalating human rights abuses against Christians in the Holy Land and the expansion of settlements in the West Bank. 
From AP News, "The Biden administration is poised to allow Israeli citizens to travel to the US without a US visa":
The Biden administration is poised to admit Israel this week into an exclusive club that will allow its citizens to travel to the United States without a U.S. visa despite Washington's ongoing concerns about the Israeli government's treatment of Palestinian Americans.

U.S. officials say an announcement of Israel's entry into the Visa Waiver Program is planned for late in the week, just before the end of the federal budget year on Saturday, which is the deadline for Israel's admission without having to requalify for eligibility next year.

The Department of Homeland Security administers the program, which currently allows citizens of 40 mostly European and Asian countries to travel to the U.S. for three months without visas.

Homeland Security Secretary Alejandro Mayorkas is set to make the announcement Thursday, shortly after receiving a recommendation from Secretary of State Antony Blinken that Israel be admitted, according to five officials familiar with the matter who spoke Sunday on condition of anonymity because the decision has not yet been publicly announced.
Christian leaders in the Holy Land spoke out earlier this year about how Christians are being viciously persecuted, attacked, spat on and abused in Israel under Benjamin Netanyahu's far-right regime with authorities doing little to nothing to hold their abusers to account.
Just two weeks ago, video went viral showing a mob of Israeli children kicking and cursing a group of Christian missionaries with their parents' full support. 
Though Biden calls himself a Zionist, he's long touted his opposition to Israel expanding settlements in the West Bank as a show of independence.
Nonetheless, Netanyahu spit in his face earlier this year by approving a major expansion of new settlements in the West Bank.
Israel banned congresswomen Rashida Tlaib of Michigan and Ilhan Omar of Minnesotafrom entering their country in 2019 and bans US citizens from entering if they're supporters of the Boycott, Divest and Sanctions movement (BDS).
Israeli Foreign Minister Eli Cohen claimed Monday on Twitter/X that Israel's entry to the Visa Waiver Program is a done deal.
"Great news for the citizens of Israel ahead of the new year – as we promised, this coming November we will enter the visa exemption program for the USA," Cohen said. "Anyone who wishes can fill out a form online, pay $21 and receive an entry visa within 72 hours. This is a great achievement that testifies to the close relations between Israel and our great ally the USA. I thank US President Biden and Secretary of State Blinken for their support during the process, and especially the friends of the outgoing ambassador Tom Neides who promoted the issue here in Israel."
This post was originally published at Information Liberation
Canada's Speaker Of The House Apologises For Honoring An Actual Nazi
Whoops, sorry we gave a standing ovation to an SS soldier
The Canadian speaker of the House of Commons has issued an apology after he asked the entire Parliament to give a standing ovation last week to a 98 year old Nazi Waffen-SS soldier in the presence of the visiting Ukrainian President Zelensky.
Anthony Rota issued the apology Sunday, claiming that the decision to honor Yaroslav Hunka, a Ukrainian who fought with 14th "Galicia" division of the Waffen-SS in the Second World War, was entirely down to him.
"I wish to make clear that no one, including fellow parliamentarians and the Ukraine delegation, was aware of my intention or of my remarks before I delivered them," Rota noted, adding "This initiative was entirely my own, the individual in question being from my riding and having been brought to my attention."
"I particularly want to extend my deepest apologies to Jewish communities in Canada and around the world. I accept full responsibility for my actions," Rota further stated.
Mistakenly honouring one of Hitler's henchmen, hardly a common error is it.
As the chamber applauded, Zelensky punched the air while stood next to Canadian Prime Minster Justin Trudeau.
Rota fawned over Hunka, telling MPs that he is a "veteran from the Second World War who fought for Ukrainian independence against the Russians and continues to support the troops today even at his age of 98." 
Rota failed to mention the fact that Hunka is an actual Nazi who somehow walks free today.
Here's how the guy ended up living a decent life in Canada:
Trudeau should also be held accountable, particularly given that he likes to throw around the word 'Nazi' when describing anyone he disagrees with.
SUBSCRIBE on YouTube:
Follow on Twitter:
Follow @PrisonPlanet
———————————————————————————————————————
Brand new merch now available! Get it at https://www.pjwshop.com/


ALERT! In the age of mass Silicon Valley censorship It is crucial that we stay in touch.

We need you to sign up for our free newsletter here.

Support my sponsor – Summit Vitamins – super charge your health and well being.

Also, we urgently need your financial support here. ———————————————————————————————————————