A Dire Warning: The US Plan To Make Ukraine Into Europe's 'Big Israel'
In his famous anti-Vietnam War speech, the late senator from South Dakota George McGovern told fellow Congressional leaders, "This chamber reeks of blood." On Saturday, journalist Max Blumenthal opened a hard-hitting talk at the Ron Paul Institute's "Which Way America…?" conference in D.C.by quoting those words, but applied them to the US proxy war against Russia in Ukraine.
Blumenthal said that in Ukraine, Washington continues "wasting the lives and bodies of over 150,000 men, and that's according to the Pentagon." Citing recent studies on the immense numbers of Ukrainians who have lost limbs after a year-and-a-half of fighting (which could be surpassing WWI rates), he said the true Ukraine casualty count could be closer to 500,000 – which marks a monumental tragedy and disaster.
The GrayZone journalist then said of today's Congress that "this chamber" not only "reeks of blood" but.. "they have wasted Ukrainian society on the mantle of anti-Russia hysteria" – as lawmakers in lockstep with the Biden administration continue to sink billions into Kiev.
Beltway liberal elites, Blumenthal asserted, still think Russia must be punished given they see Moscow as having brought the "bad orange man" to power in 2016. This is a big ideological aspect to what motivates the hawks, he said.
Further, Blumenthal explained that what's happening here is that the US ruling class has "militarized the culture warswhile depicting Ukraine as the 'woke side' vs. Russia as backwards and oppressive."
But more importantly, the real "victors" are the major US defense contractors and their appendages like the K street neocon lobbying firms. Blumenthal highlighted that these, and the Biden administration, are operating with the bigger vision in mind of turning Ukraine into Europe's "big Israel".
By this is meant a permanently militarized 'Spartan' wartime state, which is funded and weaponized by Washington in perpetuity, and possesses all the latest cutting edge Western defense tech. But like with the state of things long evident inside Israel (in particular oppression of both Palestinians and Israeli political dissenters), democracy must be eroded at home for this to happen. Still, the defense tech peddlers in the military-industrial complex will 'win' no matter how much Ukrainian society and its people are sacrificed.
"In order to defend democracy in Ukraine, democracy must be curtailed at home," Blumenthal emphasized, drawing lessons from current examples of oppression of free speech in the West, particularly related to the Russia-Ukraine conflict.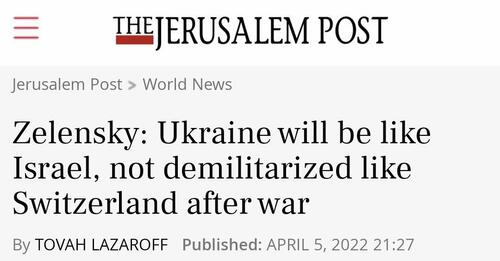 He noted here that his own investigative media outlet, The GrayZone, has had the bulk of its funding frozen by the popular platform GoFundMe. The outlet explained days ago [emphasis ZH]:
By this point, we had raised over $90,000 from over 1100 contributors. The generous contributions from our audience were accompanied by hundreds of messages of effusive support for our factual journalism holding imperial power to account.

And now, Gofundme is holding the donations hostage, refusing to transfer them to us, while failing to inform donors that it has effectively seized their money. The for-profit site has similarly refused to explain its freezing of their donations, issuing nothing more than a vague allusion – "some external concerns" – to pressure from powerful outside forces.

Gofundme's financial sabotage follows the de facto sanctions imposed by Venmo and Paypal on our managing editor, Wyatt Reed, after he reported on the Ukrainian military's targeting of civilians from the separatist side of the Donbas region.
Again, this is why Blumenthal could draw on recent personal experience in telling the Ron Paul conference audience that "democracy must be curtailed" in America in order to keep unlimited taxpayer dollars flowing into the Zelensky government's coffers.
Blumenthal continued… but "now Russia has no incentive to negotiate" given they have the clear military momentum amid a failing Ukraine counteroffensive. The US and UK likely had a window of opportunity in the initial months of the war to more easily open up serious diplomatic peace negotiations, but this was actively thwarted.
"We cannot have peace negotiations while war is being incentivized [by Washington interests] to this point," he continued while also referencing neocons like Bill Kristol, who has been leading a charge to silence any dissenting views from among Republican nominees and politicians on Ukraine.
"These operatives need constant opportunities" which a permanent proxy war in Europe enables, Blumenthal continued – just like with the constant and historic billions in aid flowing to Israel, which serves to cyclically fuel the accompanying global reach and outsized influence of the Israel lobby.
On this question of whether negotiations are possible even from Kiev's perspective, Zero Hedge asked Blumenthal what he thinks would happen in the unlikely scenario that Zelensky himself suddenly pursued peace talks with the Russians. Blumenthal responded as follows:
"If Zelensky were to pursue peace talks now before he's re-elected… due to the kind of social forces that have been unleashed by Maidan, he will face a far-right Nazi insurgency in his own country, and he will become public enemy number one among some of the most violent and militarized forces.

…Which is why he went and met with Andriy Biletsky, the founder of Azov. Zelensky was elected on a platform of peace by 73% of the population because you still had the ethnic Russian population participating in Ukrainian society. They have been completely driven out and the constituency he's working with is completely different now."
Below: Last month, Ukrainian President Zelensky held court with one of the most notorious neo-Nazis in modern Ukrainian history, Azov Battalion founder Andriy Biletsky.
Turning Ukraine into "a big Israel" will involve long-term funding to shape and place "America's unsinkable aircraft carrier not in the Middle East but in Europe," Blumenthal said.
But as Ukrainians continue to be slaughtered, it won't be a happy situation for a country to become a "big Israel", Blumenthal concluded.
* * *
Former US Ambassador to Israel Daniel Shapiro (from 2011 to 2017) is helping to push this Ukraine as "big Israel" concept forward, Blumenthal pointed out.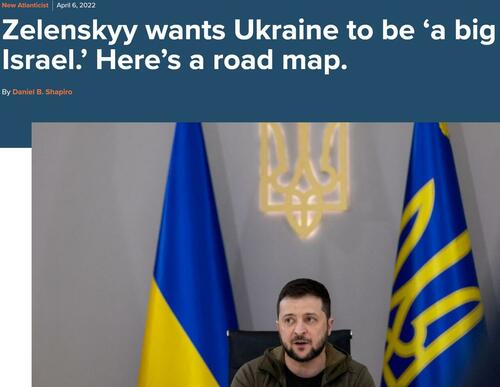 A partial list of key elements of Shapiro's road map for Ukraine was previously published by The Atlantic Council as follows:
Security first: Every Israeli government promises, first and foremost, that it will deliver security—and knows it will be judged on this pledge. Ordinary citizens, not just politicians, pay close attention to security threats—both from across borders and from internal sources— and much of the public chooses who to elect by that metric alone.
The whole population plays a role: The Israeli model goes further than Zelenskyy's vision of security services deployed to civilian spaces: Most young Israeli adults serve in the military, and many are employed in security-related professions following their service. A common purpose unites the citizenry, making them ready to endure shared sacrifice. Civilians recognize their responsibility to follow security protocols and contribute to the cause. Some even arm themselves (though under strict supervision) to do so. The widespread mobilization of Ukrainian society in collective defense suggests that the country has this potential. In his comments, Zelenskyy reflected this reality when he said security would "come from the strength of every house, every building, every person."
Self-defense is the only way: If there's any single principle that animates Israel's security doctrine, it's that Israel will defend itself, by itself—and rely on no other country to fight its battles. The tragedies of Jewish history have embedded that lesson deep in the nation's soul. Ukraine's own trauma, forced to fight alone against a larger aggressor, reinforces a similar conclusion: Don't depend on the guarantees of others.
But maintain active defense partnerships: Self-defense doesn't mean total isolation. Israel maintains active defense partnerships, chiefly with the United States, which provides generous military assistance, but also with other nations with whom it shares intelligence, technology, and training. While Ukraine will probably not join NATO any time soon, it can deepen security partnerships with Alliance members and receive aid, weaponry, intelligence, and training to bolster its self-defense.
Intelligence dominance: From its earliest days, Israel has invested deeply in its intelligence capabilities to ensure that it has the means to detect and deter its enemies—and, when needed, act proactively to strike them. Ukraine will need to upgrade its intelligence services to compete against Russian capabilities and ensure that it's prepared to prevent and repulse Russian attacks.
Technology is key: Although it relies on US assistance, Israel also chooses homegrown technology solutions for many of its greatest challenges. Multi-layer rocket and missile defenses, counter-drone systems, and tunnel detection technology are just recent examples. Ukraine—already home to bright technological minds—will know what threats it faces more than any partner; investing in its own solutions will allow it to be most responsive and adapt to new threats.
This post was originally published at Zero Hedge
Senator Shocked By Classified Briefing On Ukraine: Warhawks Want Blank Check With No Victory In Sight
Sen. Josh Hawley (R-MO), known for his efforts to force the Biden Administration to declassify information related to covid's possible lab origins at Wuhan, exited a classified briefing this week on the situation in Ukraine and expressed a feeling of shock.
"If there is some path to victory in Ukraine, I didn't hear it today. I also heard that there's going to be no end to the funding requests…"
Hawley went on to indicate that Americans will be asked to spend hundreds of billions more dollars in the region with an indefinite blank check in place to protect "US standing" on the world stage. Zelensky asked Biden and Congress for another $24 billion during his latest visit, stating that if Ukraine doesn't get the aid, they will lose the war. The information at hand suggests that Ukraine is going to lose the war anyway.
Hawley also revealed that the public is being lied to about the war footing in the region and that Ukraine is definitely 'not winning.' This information confirms what many Americans already suspected, with 55% of the public now in opposition to more aid according to recent polls.
The corporate media blitzkrieg bombarding the populace with tales of imminent Ukrainian victory against Russian forces has lost its momentum and reality is starting to set in. Though, this did not stop journalists from trying to insert their list of debunked talking points into the interview as they seemed to debate Hawley more than ask him questions.
These debate points have long been a part of the media's narrative but none of them have held water so far. Assertions of an inevitable "domino effect" leading to a Russian invasion of Europe should Ukraine fall are reminiscent of the same false claims made during the Vietnam War. There is no evidence to indicate Russia has plans to attack Poland or any other NATO member, with Putin obviously aware of the danger of nuclear conflict. As Hawley points out, the warhawks can't have it both ways – They can't claim that arming Ukraine has led to the degradation of Russian forces "on the cheap", and at the same time claim that Russia is strong enough to then overrun Europe should Ukraine lose.
Another disturbing takeaway from this argument is the notion that Ukrainian citizens need to be used as cost effective human shields to prevent a wider war between Russia and NATO. It is the same claim that Zelensky has been making for the past year in order to frighten the western populace into throwing billions more dollars into Ukrainian coffers – "$100 billion and hundreds of thousands of Ukrainian lives will buy you the deaths of hundreds of thousands of Russians. A proxy war is lot cheaper than engaging in a direct war with them…"
But why entertain a war with Russia at all? A false choice has been presented – Either Americans support a proxy war against Russia, or be forced to fight a direct war.
So far, there has been no quantifiable benefits for the western public. It is clear, however, that there are elements of the establishment that desire an ongoing conflict with Russia. The anti-Russian rhetoric began in 2016 well before the war in Ukraine. Propaganda surrounding Donald Trump and "Russiagate" has been thoroughly debunked. Most of the "evidence" presented to prove that the 2016 election was manipulated by Russia was in fact fabricated by groups under the watch of Democrat operatives and some Neo-cons. Of course, the aftermath of the propaganda convinced a large portion of the public (most of them on the political left) that Russia was a predator lurking at their door waiting to strike.
Hawley also notes that while public attentions have been directed at Russia, China is a much more viable threat and any effort to prevent them from invading Taiwan would at this stage be futile. The truth is, neither war is a winnable prospect for the US or NATO given the economic instability at play; a conflagration between East and West would be disastrous for both sides, but western populations have the furthest to fall. Clearly there are people within our government that see this as a good thing as they continue to press geopolitical tensions closer and closer to WWIII.
This post was originally published at Zero Hedge
Video: Rand Paul Slams "Corrupt" Zelensky "Begging For More Money"
Ukraine "isn't a democracy. It's a corrupt regime."
Senator Rand Paul doubled down on his staunch opposition to further funding for the war in Ukraine Thursday, blasting the visiting President Zelensky as a leader of a corrupt regime "begging for more money."
"It's not even just going to armaments. You realize we're funding the pension of their government workers and we complain about bloated government here. They've got bloated government and they've got corruption. And the American taxpayer, people are struggling in our country, are asked to fund it. I think it's wrong. And I think most of the American people, frankly, are with me," Paul said during a Fox Business interview.
Paul also noted that Zelensky has cancelled Democracy in the country.
"They've cancelled the elections. What kind of democracy has no election?" he noted, adding "next year, Zelensky said he's not going to have an election because it would be inconvenient during the war and would be expensive."
He continued, "if you don't have elections, who in the world will be supporting a country that's not a democracy? They've banned the political parties, they've invaded churches, they've arrested priests. So, no, it isn't a democracy. It's a corrupt regime."
"The Russians are worse," Paul noted, adding "But at the same time, we don't always have to pick some side to be on. But the ultimate reason I'm against this is we don't have the money. And when we borrow more money, it leads to more inflation, leads to more likelihood of recession in our country. And so we just can't keep doing it."
"We are about $1.5 trillion dollars in debt for this year. Over the last three months we've accumulated almost a trillion dollars in three months. The total is $33 trillion, so we don't have like an extra rainy day fund or a surplus we can send them," Paul further urged.
The Senator added, "We have to borrow the money from China to send to Ukraine, so no matter what your sympathies are in the war, and I am sympathetic to Ukraine fighting off the Russian aggressors, but at the same time I think it's irresponsible to think about their country before I think about my country."
Watch:
Earlier this week in the Senate, Paul said that he will hold up any spending bill to fund the government beyond September 30 to avert a shutdown if it includes aid to Ukraine, asking "When will the aid requests end? When will the war end? Can someone explain what victory looks like?" 
Several Biden officials provided answers to Paul's questions Thursday, basically saying the funding will go on "as long as it takes."
SUBSCRIBE on YouTube:
Follow on Twitter:
Follow @PrisonPlanet
———————————————————————————————————————
Brand new merch now available! Get it at https://www.pjwshop.com/


ALERT! In the age of mass Silicon Valley censorship It is crucial that we stay in touch.

We need you to sign up for our free newsletter here.

Support my sponsor – Summit Vitamins – super charge your health and well being.

Also, we urgently need your financial support here. ———————————————————————————————————————
NATO Fractures: In U-Turn, Poland Announces It Will No Longer Arm Ukraine
The dam is breaking on unified Western support for Ukraine.
The dam is breaking on unified Western support for Ukraine, and the timing couldn't be worse for Zelensky, given tomorrow he's expected to meet with President Biden at the White House. On Wednesday evening there is monumental news out of Poland which could potentially change the entire course of the war.
"Poland will no longer arm Ukraine to focus on its own defense," Polish prime minister Mateusz Morawiecki announced just hours after Warsaw summoned Ukraine's ambassador related to a fresh war of words and spat over blocked grain, according to the AFP. Warsaw has throughout more than a year-and-a-half of the Ukraine-Russia war been Kiev's staunchest and most outspoken supporter.
Will this massive and hugely significant about-face mark the beginning of the end? Are peace negotiations and ceding of territory in the Donbas inevitable at this point?
Within the last 48 hours relations between Poland and Ukraine quickly spiraled to their lowest point since the Russian invasion, and it is directly related to Warsaw leading a handful of EU countries to extend a grain export ban on Ukraine, amid continuing anger and outrage from Polish farmers who are suffering due to their country being flooded with cheap Ukrainian wheat.
Crucially, Poland will hold parliamentary elections on Oct.15. The prior atmosphere of enthusiastic pro-Kiev rhetoric has drastically changed, now with comparisons likening Ukraine to a "drowning man". As The Associated Press explains:
Polish leaders have compared Ukraine to a drowning person hurting his helper and threatened to expand a ban on food products from the war-torn country. Meanwhile, Ukrainian President Volodymyr Zelenskyy suggested that EU allies that are prohibiting imports of his nation's grain are helping Russia.

Now, Polish officials, who are trying to win parliamentary elections next month with help from farmers' votes, are expressing dismay over some of Ukraine's latest moves, including a World Trade Organization complaint over bans on Ukrainian grain from Poland and two other EU countries.
Poland's elections are Oct. 15… https://t.co/DRwG37xGut

— Mark MacKinnon (@markmackinnon) September 20, 2023
In surprisingly blunt and terse words given to reporters on the sidelines of the UN General Assembly, Polish President Andrzej Duda said on Tuesday: "Ukraine is behaving like a drowning person clinging to anything available."
He then said, "A drowning person is extremely dangerous, capable of pulling you down to the depths … simply drown the rescuer." Given Ukraine's battlefield losses and as it's currently bogged down in a failing counteroffensive, the words no doubt stung. But as The Hill notes further of the domestic political context in Poland:
Public sentiment around the issue, however, has started to deteriorate, putting the ruling party in a difficult position ahead of a close October election. The far-right Confederation party is hoping to capitalize on the waning support in the country.

Reuters reported that a recent poll showed support for Ukrainian refugees fell from 91 percent when the war started to just 69 percent recently. The same survey showed a quarter of Poles are against supporting refugees, compared to 4 percent in early 2022.
In response to the grain ban, Zelensky during his UN speech had condemned the "alarming" behavior of allies regarding the import ban, but without naming Poland specifically. Further, Kiev has announced plans to sue Warsaw in the World Trade Organization while also holding out the possibility of its own embargo on Polish foodstuffs, including onions, tomatoes, cabbage, and apples. Again, all of this amounts to a full-blown diplomatic crisis for Zelensky which couldn't come at a worse time, as he's in D.C.
To review, these are some of the major developments and setbacks in only the last few days:
Zelensky fired at least 6 top-ranking defense officials over corruption, after recently firing longtime Defense Minister Oleksii Reznikov amid a graft probe.
American transgender spokesperson for Ukraine's Territorial Defense Forces Sarah Ashton-Cirillo was suspended indefinitely by the Ukrainian military in an embarrassing debacle.
The New York Times ran an article which said a missile fired by Ukraine –not Russia – struck a busy civilian market …marking an unexpected establishment media about-face.
Biden has yet to pledge any new weapons for Ukraine as Zelensky is in the US, and there are reports that ATACMS long-range missiles will not be approved.
And most importantly, there's this per Politico…
New: Senators are bracing to give Zelenskyy some tough news tomorrow

That in the face of GOP opposition to aid — and a guv shutdown — they might be sending him home empty handed

W/ @burgessev https://t.co/tBolo3TcMX

— Ursula Perano (@UrsulaPerano) September 20, 2023
According to the fresh Wednesday report:
Delivering any new aid to help defend against Russia, even later this year, is looking tougher than ever.

The obstacles are piling up: House Republicans are skeptical of any new money at all. What's more, their dysfunction threatens to push the government into a shutdown — a move that certainly gets Zelenskyy no closer to getting the billions requested by the Biden administration. Senate Republicans, meanwhile, are divided over whether to continue providing humanitarian aid, arguing the rest of Europe needs to step up.
As if fully aware that the tap at the expense of the US taxpayer may run dry, Zelensky has been meeting in New York with a who's who of leading banks, hedge funds, and private investors. Fox Business, which broke the story, says the ongoing meetings are part of broader efforts to secure investment for rebuilding Ukraine and fixing destroyed infrastructure:
The meeting was put together by JPMorgan, the big bank serving as Zelenskyy's financial adviser to attract private capital for a new investment fund to rebuild Ukraine's infrastructure destroyed in its war with Russia, according to people with knowledge of the matter.

Earlier in the afternoon, Zelenskyy met privately with BlackRock CEO Larry Fink, the sources say. BlackRock is the world's largest asset manager and has also been advising Zelenskyy on how to attract U.S. private sector money for the rebuilding effort.

The list of invitees, according to sources, includes William Ackman, the head of hedge fund Pershing Square Capital; Ken Griffin of the Citadel investment empire; Jonathan Gray, president and chief operating officer of private equity powerhouse Blackstone; Philipp Hildebrand, a vice chairman at BlackRock; Michael Bloomberg, former New York City mayor and founder of Bloomberg LP; and Eric Schmidt, the former CEO of Google and now head of the Schmidt Futures, a philanthropic organization.
Ken Griffin and Bill Ackman meeting with Zelensky to ensure they get first dibs on the juiciest deals in the rebuilding of #Ukraine post war.

— CEO Technician (@CEOTechnician) September 20, 2023
Tomorrow's White House visit, and Zelensky's planned meeting with Republican House Speaker Kevin McCarthy will surely be interesting.
Meanwhile, for a foretaste and indicator of how much the tide is turning – and the very different, subdued optics – especially compared to Zelensky's last trip to Washington (in Dec. 2022) when he was received with rockstar status, there's this…
Speaker Kevin McCarthy, facing a right-wing rebellion in his ranks and mounting GOP resistance to aiding Ukraine, has declined to convene a forum for President Volodymyr Zelensky to address members of the House on Thursday during a visit to Capitol Hill. https://t.co/mDEH1yGpJS

— The New York Times (@nytimes) September 20, 2023