Bud Light's Popularity At Bars And Restaurants Is "Almost Non-Existent"
Union, a data-driven hospitality engagement platform with a point-of-sales system in bars and restaurants nationwide, published a new report showing Bud Light's "fall from No. 1 was swift following the marketing controversy that spurred a nationwide boycott." 
"Sales of what was once America's best-selling beer dropped 2.6 points from 11.3 percent dollar sales share to 8.73 percent at Union's network of thousands of high-volume venues in the first week of the boycott alone," the report said.
It continued, "That sales spiral continued throughout Q2 at Union venues as the boycott took a stronghold across the US, dropping 34 percentinsales share compared to the prior year, since the fallout began on April 1." 
On April 2, we were among the first to point out Did Bud Light Go 'Woke' With Trans-TikTok Star? Boycott Calls Intensify… And it was only weeks that high-frequency data from bars, restaurants, and distributors that Bud Light's marketing partnership with transgender influencer Dylan Mulvaney on TikTok led to one of the largest boycotts by consumers of a product in recent memory. From neighborhood bars to high-end restaurants, even on golf courses, the message with many beer drinkers was consistent: Bud Light's too 'woke.'
"Our on-premise ordering data shows that domestic beer brands are reaping the most benefits from the Bud Light fallout," said Layne Cox, chief marketing officer at Union.
Cox said, "Modelo may have unseated Bud Light at retail, but at high-volume bars and restaurants, it's a different story."
We have noted that Bud Light was dethroned last month as the number-one-selling beer in America by Constellation Brands' Modelo. However, Cox said data from their POS machines "reveals that guests are now spending more on Miller Lite than Bud Light in on-premise accounts."
POS data shows Miller Lite's sales are up 21% in the three months ending June 30, while Bud Light's sales tumbled 34%.
Miller Lite, Michelob Ultra, and Coors Light are now the top three selling beers on Union's POS machines. AB InBev owns not just Bud Light but also Michelob Ultra, which many beer drinkers probably don't realize of the parent company's extensive beer portfolio.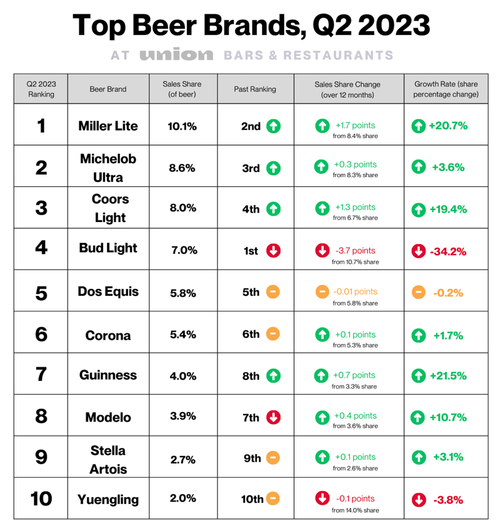 "With the boycott still making headlines three months after the initial incident and Bud Light sales at Union venues still struggling, we believe it will take a while for the brand to see a full rebound," said Cox.
POS data also showed North and South Carolina experienced the most significant declines in Bud Light sales while Miller Lite demand surged.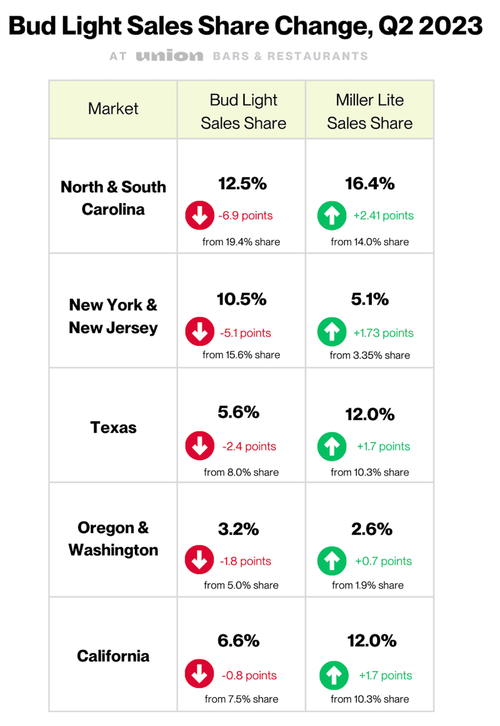 Clayton Dukes, general manager of the Blind Tiger Pub in Charleston, South Carolina, which uses Union's POS, told the data firm that Bud Light sales became "almost non-existent" since the boycott erupted in early April.
Dukes continued, "At first I thought this might blow over pretty quick, but I think it is pretty apparent that this isn't going anywhere for a long time."
In a separate report, Deutsche Bank analyst Mitch Collett estimated Bud Light risks a permanent loss of nearly 25% of its business.
This post was originally published at Zero Hedge
Video: Biden Almost Falls Down Steps On Same Day As Report About Handlers' 'Mission' To Prevent Him Falling
What the hell are "proprioceptive maintenance maneuvers"?
Joe Biden almost fell down the small set of Airforce One steps that are specifically used to prevent him falling On Tuesday. The incident occurred on the same day that a report emerged detailing the lengths that his handlers are going to to prevent Biden from constantly falling over.
Here's Biden almost decking it flat on his ass as he descended the smaller set of steps on a trip to Michigan for a photo op with striking UAW workers.
He was there for around 12 minutes, but had brought a convoy of scores of huge vehicles.
Earlier in the day a report emerged from Axios detailing how White House insiders are secretly working to prevent Biden falling and injuring himself.
The report states that Biden is working every day with physical therapist Drew Contreras doing exercises to counter his seriously impaired balance. Contreras has referred to these as "proprioceptive maintenance maneuvers," whatever that means.
Professor James Gordon, associate dean and chair of the Division of Biokinesiology and Physical Therapy at the University of Southern California, stated "I have never heard the term 'proprioceptive maintenance maneuvers', adding that it is not a clinical term in standard use.
Related:
SUBSCRIBE on YouTube:
Follow on Twitter:
Follow @PrisonPlanet
———————————————————————————————————————
Brand new merch now available! Get it at https://www.pjwshop.com/


ALERT! In the age of mass Silicon Valley censorship It is crucial that we stay in touch.

We need you to sign up for our free newsletter here.

Support my sponsor – Summit Vitamins – super charge your health and well being.

Also, we urgently need your financial support here. ———————————————————————————————————————
Fauci Was 'Smuggled' Into CIA Headquarters To "Influence" Covid-19 Origins Investigation: Select Subcommittee
Dr. Anthony Fauci was smuggled into CIA headquarters, "without a record of entry," where he "participated in the analysis to "influence" the Agency's" Covid-19 investigation, according to the House Select Subcommittee on the Coronavirus Pandemic.
Fauci's alleged CIA meeting was revealed in a Tuesday night letter from Subcommittee Chairman Brad Wenstrup (R-OH) to the Inspector General of the US Department of Health and Human Services, which demands documents, communications and other evidence between Fauci and the CIA.
This allegation is even more interesting in light of a report from two weeks ago that the CIA bribed analysts to say Covid-19 did not originate in a Chinese lab.
According to a 'senior-level' CIA whistleblower, the agency 'tried to pay off six analysts who found SARS-CoV-2 likely originated in a Wuhan lab if they changed their position and said the virus jumped from animals to humans.'
"According to the whistleblower, at the end of its review, six of the seven members of the Team believed the intelligence and science were sufficient to make a low confidence assessment that COVID-19 originated from a laboratory in Wuhan, China," reads the letter from Wenstrup.
"The seventh member of the Team, who also happened to be the most senior, was the lone officer to believe COVID-19 originated through zoonosis.
"The whistleblower further contends that to come to the eventual public determination of uncertainty, the other six members were given a significant monetary incentive to change their position," the letters continue, adding that the analysts were "experienced officers with significant scientific expertise."
Wenstrup and Turner also asked for documents and communications between the CIA and other federal agencies, including the State Department, FBI, the Department of Health and Human Services and the Energy Department.

In a separate letter, the House committee leaders identified former CIA Chief Operating Officer Andrew Makridis as having "played a central role" in the COVID investigation and asked him to sit for a transcribed interview. -NY Post
In June, the US Intelligence Community declassified a 10-page report on COVID origins, in which it found "biosafety concerns" and "genetic engineering" taking place in Wuhan, but that most of its "agencies assess that SARS-CoV-2 was not genetically engineered."
As the Committee noted on Tuesday;
Dr. Fauci's questionable presence at the CIA, coupled with recently uncovered evidence that he, Dr. Fauci, "prompted" the drafting of "Proximal Origin" — the infamous paper that was used to attempt to "disprove" the lab leak theory — lends credence to heightened concerns about the promotion of a false COVID-19 origins narrative by multiple federal government agencies.

Chairman Wenstrup is seeking all documents and communications related to Dr. Fauci's access to CIA facilities and CIA employees as it relates to these allegations. Also, after becoming aware of additional information, the Select Subcommittee is requesting Special Agent Brett Rowland appear for a transcribed interview regarding Dr. Fauci's purported movements to and from the CIA. As mounting evidence continues to imply that federal government officials covered-up the origins of COVID-19, investigating any improper influence will ensure future accountability of not only the intelligence community, but also public health officials.
Amazing…
This post was originally published at Zero Hedge
Biden Is In Big Trouble
RFK could hand Trump victory.
If RFK decides to run as a third party candidate, a third of Democrats would vote for him. Biden would be finished.
Please share this video! https://youtu.be/MtlyvCvm0aw
SUBSCRIBE on YouTube:
Follow on Twitter: Follow @PrisonPlanet
———————————————————————————————————————
Brand new merch now available! Get it at https://www.pjwshop.com/
ALERT!
In the age of mass Silicon Valley censorship It is crucial that we stay in touch.
I need you to sign up for my free newsletter here.
Support my sponsor – Summit Vitamins – super charge your health and well being.
Get early access, exclusive content and behind the scenes stuff by following me on Locals.
———————————————————————————————————————