Real Life 'Sound Of Freedom' Hero: 'Media Running Interference For Pedophiles And Human Traffickers Is Sick'
"Why would you want to lie to push an agenda whose goal is to have children be in captivity?"
The real life former government agent who exposed child trafficking rings, inspiring the wildly popular new film 'Sound of Freedom', has hit back at a coordinated media effort to categorise the movie as some sort of conspiracy theorist's wet dream.
In a Fox News interview, Tim Ballard, played by Jim Caviezel in the movie, responded to bizarre efforts to label it a 'QAnon' production.
"I can't explain, and neither can they," Ballard urged, adding "Every show I've seen, they just like to throw the word out, 'QAnon.' They make zero connection to the actual story. It's very difficult to make that connection when it's actually based on a true story."
"Where is the QAnon doctrine being spewed in the film and the script?" Ballard demanded to know, adding "This is just some other agenda."
"Who would want to get the backs or run interference for pedophiles and human traffickers?" Ballard emphasised, adding "That's the more important question in all this. Why would you want to lie to push an agenda whose goal is to have children be in captivity? It's kind of sick."
Watch:
The wild unmasking of the pro-child trafficking agenda seemingly started with this from The Washington Post and CNN:
Then the rest of the corporate media just ran with it:
All of this contributed to the film becoming a massive box office hit when it opened on July 4th, raking in over $40 million.
Here's a… different take on the movie:
SUBSCRIBE on YouTube:
Follow on Twitter:
Follow @PrisonPlanet
———————————————————————————————————————
Brand new merch now available! Get it at https://www.pjwshop.com/


ALERT! In the age of mass Silicon Valley censorship It is crucial that we stay in touch.

We need you to sign up for our free newsletter here.

Support our sponsor – Turbo Force – a supercharged boost of clean energy without the comedown.

Also, we urgently need your financial support here. ———————————————————————————————————————
'Mudpocalypse' Hits Burning Man, 73,000 Trapped In 'Toxic' Lake Bed In Nevada Desert
Update (1925ET):
On Sunday evening, a White House official said President Biden was briefed on the situation at the Burning Man festival located in one of the harshest environments on Earth.
As of Sunday evening, 73,000 attendees are still trapped in the toxic desert full of alkaline mud after a rainstorm transformed the dried-out lake bed into a swamp. Event organizers said, "The Gate remains closed. Please stay off of Gate Road — rain and mud make it impassable at the moment. We will update you when conditions improve. Stay safe!"
It's a muddy hellhole. 
* * *
Food and fuel are running low for the tens of thousands of attendees (and tech bros) trapped at the Burning Man festival located in one of the harshest environments on earth (high desert, on a dried-up alkaline lake bed) in the Black Rock Desert in Nevada. The situation deteriorated early Saturday when a rainstorm drenched the lake bed, transforming the area into a 'mudpocalypse.'
Since early Saturday, all entry and exit points of the Burning Man festival remained closed due to the thick, alkaline mud. As of 0900 ET Sunday, event organizers said, "The gate and airport in and out of Black Rock City remain closed. Ingress and egress are halted until further notice. No driving is permitted except emergency vehicles."
Organizers continued to advise the 73,000 attendees to "conserve food and water, and shelter in a warm space." 
The Independent confirmed local officials had reported at least one death but have not released details on the suspected cause of death. A major concern is that the toxic alkali dust that makes up the lake bed is now three inches of mud, and if attendees aren't wearing socks and closed shoes, it can cause chemical burns called "Playa Foot." 
And who attends this drug-infested event? The rich tech bros.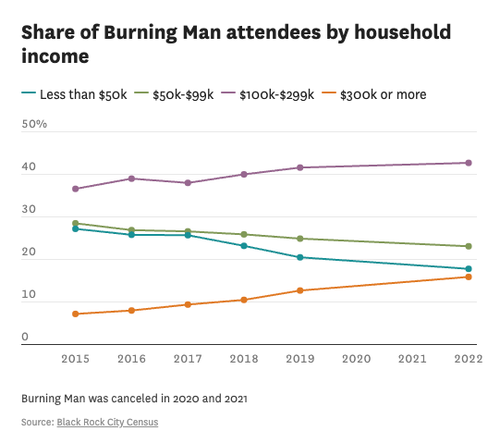 … rich white tech bros.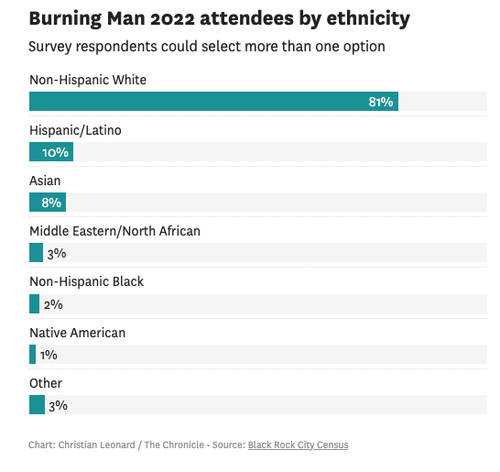 Surely, these 'informed' folks who are now stuck in a swamped toxic lake bed understood it was an El Nino year…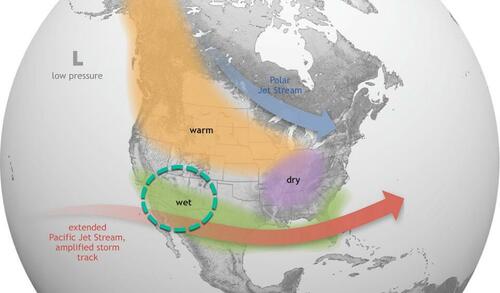 Probably not. They were fixated on the corporate media headlines hyping a non-existent climate crisis (well, that's according to these 1,600 scientists).
This post was originally published at Zero Hedge
Instead Of Hot Chicks In Bikinis, Bud Light Goes With 'Grunting Men' In Rehab Fail
Bud Light's latest ad is getting slammed online as the beer brand keeps garnering angry comments and a huge number of dislikes, with the company facing ire from both sides of the social aisle.
As Naveen Anthrapully reports as The Epoch Times, the latest ad, "Backyard Grunts with Travis Kelce", released on the weekend of July 4, features Kansas City Chiefs star Travis Kelce with a group of men grunting as they crack open a can of Bud Light.
On YouTube, it has gotten 2,187 comments, 256 likes and over 11,000 dislikes. Some of the comments on the ad are quite scathing.
"So you went from a man pretending to be a little girl to now showing manly grunting people … to swing it the other way? You gotta lock your marketing team in a room with rabid dogs and toss the key," said one user.

"This is such an entertaining horror show!! Bud Light continues to push above and beyond the Envelope of Depraved Desperation & Pathetic Pleading!!" said another user.
"LOL Kelce didn't even touch the can. Come on, Bud Light, you guys are losin … Still," one user observed.
Bud Light's Twitter post celebrating the July 4th weekend also attracted massive backlash.
"It's 4th of July weekend, enjoy some beer," said the post, which got over 26,000 comments and just around 4,500 likes.

"My family always called it Independence Day. This year I guess it's independence from politically active beer too," Tom Pappert, editor-in-chief at Valiant News, stated in a July 1 tweet.

"I don't drink beer. But if I did, it would NOT be Bud Light. We didn't forget!" Chaya Raichik, the creator of Libs of TikTok, stated in a tweet and garnered nearly 2,000 likes.
Permanent Dent in Sales
Bud Light turned into a boycott target after partnering with transgender social media personality Dylan Mulvaney in a promotional campaign in April. Since then, sales have cratered, market capitalization declined, and Bud Light-maker Anheuser-Busch InBev is caught in a tough spot trying to regain people's confidence in the brand.
Data from Bump Williams Consulting and NielsenIQ show that sales for Bud Light was down 28.5 percent year over year for the week ended June 17, according to the New York Post. Other Anheuser-Busch brands, including Michelob Ultra and Budweiser, have also seen year-over-year losses.
Between April 3 and July 3, Anheuser-Busch's market capitalization declined from $133.68 billion to $115.38 billion—a loss of more than $18 billion.
During this period, the company's stock fell from €61.16 to €52.48, an over 14 percent decline.
In a recent note, Deutsche Bank analyst Mitch Collett said that the recent underperformance of Anheuser-Busch implies a "permanent reduction" in the company's business in the United States, according to Barron's.
"Our proprietary survey data suggest these headwinds are likely to fade even if we do not expect the U.S. business ever to fully recover from its current challenges."
Bud Light has also lost the number-one position in the U.S. beer market following the marketing debacle.
Meanwhile, Luxembourg-based Ardagh Group, a major contractor for Bud Light, is shutting down two of its glass-bottling plants in Louisiana and North Carolina amid declining sales for the beer.
Leftist Backlash
As Bud Light deals with the disastrous aftermath of its pro-LGBT campaign, Mr. Mulvaney has now come out slamming the company for abandoning the transgender activist while left-wing media are blaming the firm for trying to appeal to its conservative audience.
"I patiently waited for things to get better," Mulvaney said in a recent Instagram Reel about the backlash. "But surprise, they haven't really, and I was waiting for the brand to reach out to me, but they never did."

"For a company to hire a trans-person and then not publicly stand by them is worse, in my opinion, than not hiring a trans-person at all because it gives customers permission to be as transphobic and hateful as they want," Mulvaney insisted.
Left-wing outlet Jezebel ran an article on Bud Light last month with the headline, "Bud Light Is Embracing Country Music and Football to Try and Win Back Transphobes."
A former president of sales and distribution for Anheuser-Busch, Anson Frericks, has called for the company's U.S. CEO Brendan Whitworth to step down from the post due to his inability to solve the Mulvaney fiasco.
In a write-up at Daily Mail, Mr. Frericks criticized the company for not providing an appropriate response to Mulvaney's claim that Bud Light abandoned the activist following the controversy.
Bud Light's response to Mulvaney's claim was that "as we move forward, we will focus on what we do best—brewing great beer for everyone and earning our place in moments that matter to our consumers."
Frericks called the response "weak and indecisive … What does that mean? Absolutely nothing. And it will only deepen the chasm between the brand and its customers."
He called Mulvaney's criticism of Bud Light a sign of the activist cutting ties with the brand, "something Whitworth should have had the wisdom to do weeks ago."
This post was originally published at Zero Hedge
Woke Marvel Eliminates The Punisher Due To "Problematic" Conservative Fan Base
A year ago progressive news outlets were calling the idea of the culture war a "right-wing conspiracy theory" that had no basis in reality.
Yet, the injection of far-left politics into entertainment media had already started years previous, with noticeable propaganda efforts in movies, streaming television, children's shows and books, even commercial advertising was replete with progressive ideological imagery by 2016 onward.
The goal is relatively obvious – To erase competing ideals and viewpoints while saturating the market with only one political vision; a woke vision. It's called social engineering, and anyone who claims this is not happening in the US today is gaslighting.
Strangely, the American comic book industry has become a major battleground in the culture war, with heroic symbols being increasingly erased or hijacked as vehicles for woke talking points. A vast array of comic book characters are now race-swapped, converted to LGBT or they have had their histories rewritten to make them more "acceptable for modern audiences." At the same time, they promote everything from BLM, to climate change propaganda, to gender identity politics and anti-gun messaging.
Why would leftists target something as frivolous as comic book heroes? Because pop-culture is first and foremost a playground where children grow up, and by rewriting heroes as social justice crusaders and communists they hope to indoctrinate the next generation.
However, one hero figure in particular is seen as so egregious and so triggering that leftists want him memory-holed altogether – The Punisher.
The Punisher character (Frank Castle), originally created by writer Gerry Conway in 1974 with artists Ross Andru and John Romita, was a product of a chaotic era; a reaction to the rise of war, stagflation, instability and exploding crime rates in the US. The Punisher's story is a tragedy of a returning military veteran whose family is killed during what seems to be a gangland hit. With federal agencies doing little to arrest the perpetrators, Castle takes matters into his own hands and begins systematically assassinating the criminals.
The concept of citizen crime stopping and vigilantism was becoming popular in the cultural zeitgeist in the 70s, with many people living in metropolitan areas dealing with increasing criminal violence and unreliable government protection. City governments in places like New York were actively restricting gun rights for law abiding people, which only made things easier for criminals.
The same exact conditions are returning to the US today, and debate is boiling once again on vigilantes (just look at the media fury over Kyle Rittenhouse or Daniel Penny). The mainstream left is adamantly opposed to any form of civilian intervention (unless it's Antifa or BLM), while also being adamantly opposed to any intervention by police. In other words, they want to let criminals run wild and then threaten to prosecute anyone who dares to do anything about it.
The Punisher as an icon has been highly popular among conservatives, military veterans and law enforcement officers in recent years. The trademark skull symbol can be found everywhere, with patches, gear and flags sporting the image, often as a representation of citizens taking matters into their own hands. The symbol was also seen at the January 6th protests.
This has made leftists at Marvel Comics livid. They first attempted to make fundamental changes to the character, including a redesign of his popular skull symbol, as well as taking away his guns and giving him swords in 2021. Instead of fighting against criminal organizations, Frank Castle joins with one, violating his fundamental code of ethics.
This month, though, Marvel officially declared the Punisher persona non grata, eliminating the character as readers know him. Did he go out in a blaze of glory? No, in typical woke fashion Frank Castle is captured by progressive heroes, chained up and forced to go through a struggle session in which he is admonished as a murderer and a terrorist. Marvel even brings the Punisher's wife back from the dead, only so that she can divorce him and take his money and property, and then inform him that his lifelong crusade against the criminal underworld was all for nothing.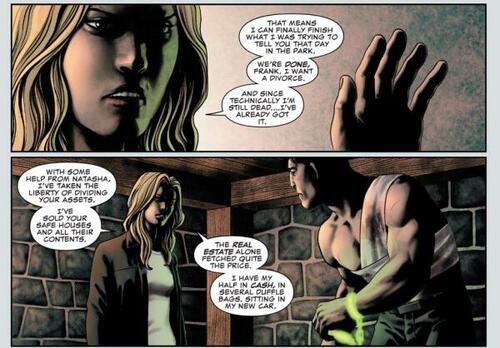 The character then "dies" from apparent suicide but the story is left open to his return, just not as the gun-toting hero people know and love.
Marvel writers, including original Punisher creator Gerry Conway, specifically cite the popularity of the character among conservatives as the reason for his virtual elimination. As Newsweek noted, the Punisher was "problematic" for Marvel because conservatives liked him too much. He represents the every-man: He has no superpowers, he's not a billionaire like Batman, but he still fights evil with an immovable will and a lot of guns.
The co-option and erasure of popular heroes (or anti-heroes) is representative of the disturbing politicization of our times. Much like the Cultural Revolution in China, leftist movements in America are systematically tearing down all opposing beliefs from our cultural catalog, and this includes any positive representations of vigilantism. They openly admit why they are doing it; conservatives aren't allowed to be the good guys. They aren't allowed to have heroes. Meaning, if the Punisher was a leftist icon, Marvel would have no problem with him.
This post was originally published at Zero Hedge