Cheese Pizza? Meta's Instagram Facilitated Massive Pedophile Network
A comprehensive investigation by the Wall Street Journal and the Stanford Internet Observatory reveals that Meta-owned Instagram has been home to an organized and massive network of pedophiles.
But what separates this case from most is that Instagram's own algorithms were promoting pedophile content to other pedophiles, while the pedos themselves used coded emojis, such as a picture of a map, or a slice of cheese pizza.
Instagram connects pedophiles and guides them to content sellers via recommendation systems that excel at linking those who share niche interests, the Journal and the academic researchers found.

…
The pedophilic accounts on Instagram mix brazenness with superficial efforts to veil their activity, researchers found. Certain emojis function as a kind of code, such as an image of a map—shorthand for "minor-attracted person"—or one of "cheese pizza," which shares its initials with "child pornography," according to Levine of UMass. Many declare themselves "lovers of the little things in life." -WSJ
According to the researchers, Instagram allowed pedophiles to search for content with explicit hashtags such as #pedowhore and #preteensex, which were then used to connect them to accounts that advertise child-sex material for sale from users going under names such as "little slut for you."
Sellers of child porn often convey the child's purported age, saying they are "on chapter 14," or "age 31," with an emoji of a reverse arrow.
Meta claims to have taken down 27 pedophile networks over the past two years, and says it plans more removals.
"That a team of three academics with limited access could find such a huge network should set off alarms at Meta," said Alex Stamos, the head of the Stanford Internet Observatory and Meta's chief security officer until 2018, adding that the company has far more effective tools to 'map' its pedophile network than outsiders do.
"I hope the company reinvests in human investigators," he added.
Researchers investigating the network set up test accounts within the pedophile network, which were immediately inundated with "suggested for you" recommendations of child-sex content, as well as accounts linking to off-platform trading sites.
Underage-sex-content creators and buyers are just a corner of a larger ecosystem devoted to sexualized child content. Other accounts in the pedophile community on Instagram aggregate pro-pedophilia memes, or discuss their access to children. Current and former Meta employees who have worked on Instagram child-safety initiatives estimate the number of accounts that exist primarily to follow such content is in the high hundreds of thousands, if not millions. -WSJ
"Instagram is an on ramp to places on the internet where there's more explicit child sexual abuse," according to Brian Levine, director of the UMass Rescue Lab. Levine authored a 2022 report for the DOJ's National Institute of Justice on child exploitation over the internet.
What's more, Meta accounted for 85% of child pornography reports filed with the National Center for Missing & Exploited Children, according to the report. That said, "Meta has struggled with these efforts more than other platforms both because of weak enforcement and design features that promote content discovery of legal as well as illicit material, Stanford found."
"Instagram's problem comes down to content-discovery features, the ways topics are recommended and how much the platform relies on search and links between accounts," said David Thiel, chief technologist at the Stanford Internet Observatory. "You have to put guardrails in place for something that growth-intensive to still be nominally safe, and Instagram hasn't."
Sarah Adams, a Canadian mother of two, has built an Instagram audience discussing child exploitation and the dangers of oversharing on social media. Given her focus, Adams' followers sometimes send her disturbing things they've encountered on the platform. In February, she said, one messaged her with an account branded with the term "incest toddlers."

Adams said she accessed the account—a collection of pro-incest memes with more than 10,000 followers—for only the few seconds that it took to report to Instagram, then tried to forget about it. But over the course of the next few days, she began hearing from horrified parents. When they looked at Adams' Instagram profile, she said they were being recommended "incest toddlers" as a result of Adams' contact with the account.

A Meta spokesman said that "incest toddlers" violated its rules and that Instagram had erred on enforcement. The company said it plans to address such inappropriate recommendations as part of its newly formed child safety task force. -WSJ
Meta acknowledged to the Journal that they had received a flood of reports of child sexual exploitation and failed to act on them – blaming a software glitch that prevented a substantial portion of user reports from being processed.
And while Meta is allowing pedophiles to run rampant on its platforms, ZeroHedge is still banned.
This post was originally published at Zero Hedge
Is Google Rigging The 2024 Election? The Controversy Over Invisible Republicans
A new report from the right-leaning Media Research Center concludes that Google is burying search results for 2024 presidential candidates, but an expert in search engine optimization has suggested it's unlikely.
According to various tests conducted by MRC and Just the News, the online visibility of these sites in generic searches for the GOP's 2024 bench is practically nil, and not significantly better for RFK Jr., Biden's primary challenge on the left.
Google's search engine failed to produce even-handed results in multiple searches performed by MRC Free Speech America over the course of a week prior to today's Republican presidential primary debate. Researchers broadly searched for "presidential campaign websites" as well as two additional searches specifying the party affiliation of the candidates. When MRC searched for "republican presidential campaign websites," only two candidates' websites appeared on the first page in the search results — a Democrat candidate and a Republican who is polling at less than half a percent. -MRC
Both MRC and Senator Ted Cruz claim this is unambiguous proof of Google's bias.
"Google is either the most incompetent search engine on the planet, or it is intentional. This is not a coincidence," states Dan Schneider, MRC Free Speech America Vice President, following the group's extensive analysis of search tests conducted between September 20 and 25.
This is ABSURD.

Blatant election interference. #GoogleCensorship https://t.co/qfcSfk1cHx— Ted Cruz (@tedcruz) September 27, 2023
In 2018, Trump accused Google of "rigging" search results against him.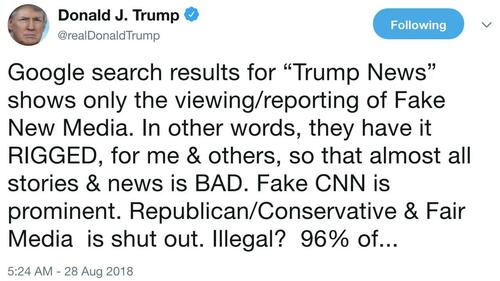 Google responded at the time, saying that "Search is not used to set a political agenda and we don't bias our results toward any political ideology."
In 2021, the Daily Mail sued Google for 'illegally building its dominance in ad tech industry by harming rivals, bid-rigging on ad auctions and manipulating news search results."
And of course, former Alphabet Chairman Eric Schmidt – who said the Trump administration would do "evil things" – was an advisor to the 2016 Clinton campaign.
A simple matter of SEO?
While the evidence certainly looks damning, Just the News spoke with Eric Goldman, an SEO researcher and co-director of Santa Clara University's High Tech Law Institute, who proposed several benign possibilities to explain these search anomalies. Goldman argues for the necessity of a comprehensive academic study into search engine indexing and ordering, terming MRC's tests an "advocacy stunt".
"Search engine indexing and ordering is the kind of topic that would benefit from a proper academic study, not an advocacy stunt," he said.
Yet, Google also told Just the News that it couldn't explain the replicated results until Friday.
Meanwhile, Google, the world's dominant search engine, is grappling with a Justice Department antitrust trial. The company's explanations of its search dominance have raised eyebrows, bringing more scrutiny upon its practices. With accusations flying, former Psychology Today editor-in-chief Robert Epstein states, "Google poses a serious threat to democracy."
This post was originally published at Zero Hedge
Elon Musk Has Fired Most Of Twitter's 'Election Integrity' Team
Says they were "undermining election integrity"
Twitter/X owner Elon Musk has fired most of a team at Twitter that was supposedly in charge of maintaining 'election integrity', stating that in reality they were doing the exact opposite.
Musk commented on a post from X News Daily, noting that the head of the team was fired, stating "Oh you mean the "Election Integrity" Team that was undermining election integrity? Yeah, they're gone."
According to reports some of the U.S. election integrity team were based in Dublin.
A recent blog post with regards to election integrity states "You may not use X's services for the purpose of manipulating or interfering in elections or other civic processes, such as posting or sharing content that may suppress participation, mislead people about when, where, or how to participate in a civic process, or lead to offline violence during an election."
It adds that "Any attempt to undermine the integrity of civic participation undermines our core tenets of freedom of expression and as a result, we will apply labels to violative posts informing users that the content is misleading."
It appears that Musk believed the election integrity team were promoting the opposite of integrity at X.
Musk has downsized X's workforce by a whopping 80% since he took over, meaning that there are no more latte sipping TikTok trendies with made up job titles working there.
The post added that "Not all false or untrue information about politics or civic processes constitutes manipulation or interference. In the absence of other policy violations, the following are generally not in violation of this policy: inaccurate statements about an elected or appointed official, candidate, or political party; organic content that is polarizing, biased, hyperpartisan, or contains controversial viewpoints expressed about elections or politics; discussion of public polling information; voting and audience participation for competitions, game shows, or other entertainment purposes; using X pseudonymously or as a parody, commentary, or fan account to discuss elections or politics."
Meanwhile, Musk posted a link to a video earlier this week that highlights Fauci and others making false claims about the COVID 19 vaccine:
SUBSCRIBE on YouTube:
Follow on Twitter:
Follow @PrisonPlanet
———————————————————————————————————————
Brand new merch now available! Get it at https://www.pjwshop.com/


ALERT! In the age of mass Silicon Valley censorship It is crucial that we stay in touch.

We need you to sign up for our free newsletter here.

Support my sponsor – Summit Vitamins – super charge your health and well being.

Also, we urgently need your financial support here. ———————————————————————————————————————
EU Chief Boasts About Vaccine Passports, Calls For More Global Digital Collaboration – Paving The Way For Digital IDs
Von der Leyen audaciously proclaimed our collective future to be digital.
With an ominous call for increased global collaboration and centralization, European Commission President, Ursula von der Leyen at a G20 Summit session, dubbed "One Future," today appealed for an international regulatory body for Artificial Intelligence and digital ID systems similar to coronavirus vaccine passports.
Von der Leyen audaciously proclaimed our collective future to be digital, hence the implied necessity for global entities to draw boundaries and enforce regulations.
Von der Leyen, in her position as the EU Commission President, touched on AI and the digital landscape in her address. She acknowledged the potential dangers and gargantuan opportunities linked with advancing AI technology and emphasized the importance of channeling such explosive technology.
"Today I want to focus on AI and digital infrastructure. As it has been described, AI has risks but also offers tremendous opportunities. The crucial question is how to harness a rapidly changing technology.
"In the EU, in 2020, we presented the first-ever law on artificial intelligence. We want to facilitate innovation while building trust. But we need more. What the world does now will shape our future. I believe that Europe — and its partners — should develop a new global framework for AI risks," von der Leyen said.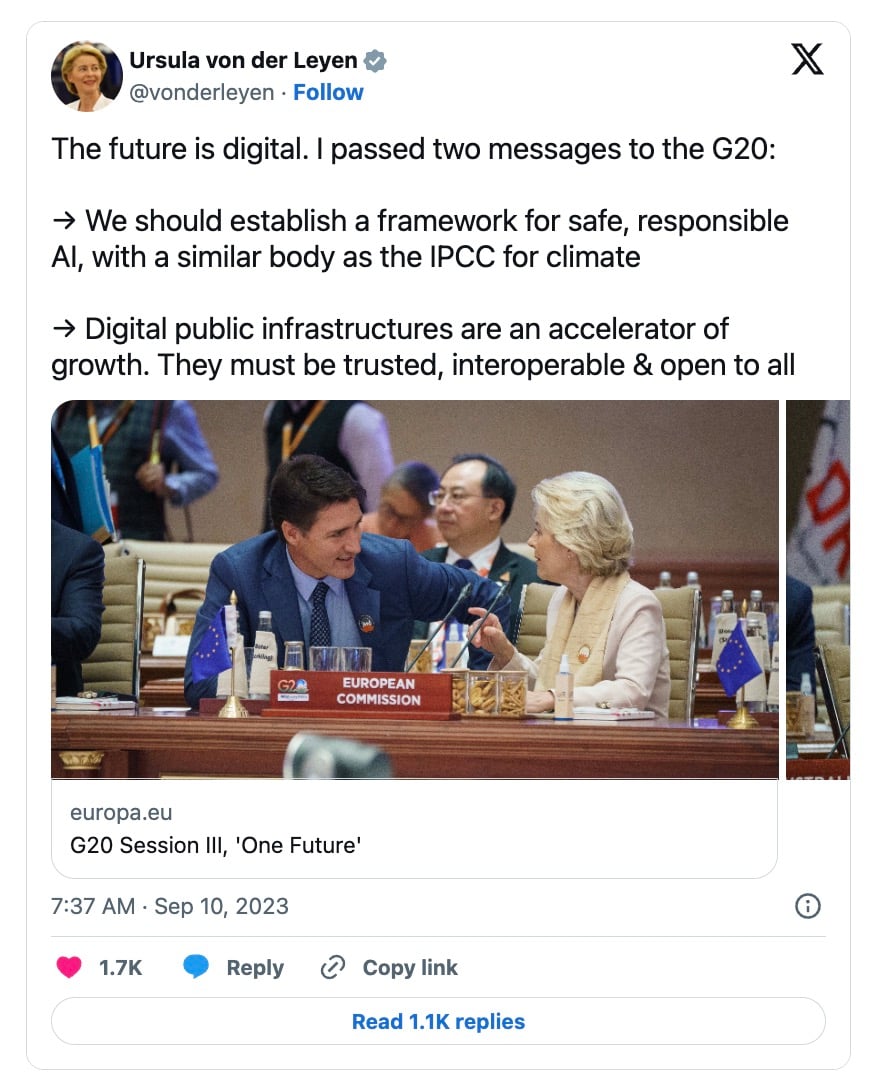 Von der Leyen praised the European Union's move in 2020 to introduce the first legal framework on AI, a step taken with the intent of fostering innovation alongside trust. However, she insisted that this wasn't sufficient. She suggested a multinational adoption of a coping mechanism for managing AI risks.
The EU Chief also stressed that globally accepted standards must be created under the purview of the United Nations, akin to their Intergovernmental Panel on Climate Change. Humanity stood to benefit, she argued, if an international authority could clarify the risks and rewards related to AI, akin to the IPCC for climate concerns.
Concurrently, von der Leyen championed the concept of digital public infrastructure similar to the coronavirus passport system – a system developed by the EU as a response to the Covid saga. The World Health Organization embraced it with open arms as a global standard for combating health threats.
"Many of you are familiar with the COVID-19 digital certificate. The EU developed it for itself. The model was so functional and so trusted that 51 countries on 4 continents adopted it for free. Today, the WHO uses it as a global standard to facilitate mobility in times of health threats," von der Leyen continued.
Alarmingly, von der Leyen praised the EU's strides towards a bloc-wide digital identity app capable of storing a citizen's personal information, including credit cards, driver's license, and passport data.
These developments ring alarm bells for individuals and nations valuing free speech and privacy.