Obama Judge Sentences Oath Keepers Founder Stewart Rhodes to 18 Years in Prison in J6 'Sedition' Case
Oath Keepers founder Stewart Rhodes, who came unarmed to DC and didn't even enter the Capitol Building on January 6th, was sentenced to 18 years in prison on Thursday for "seditious conspiracy" by Obama-appointed US district judge Amit Mehta.
Rhodes' crime was apparently mouthing off about revolution in private chats and lamenting after the event that "we should have brought rifles."
"You, sir, present an ongoing threat and a peril to this country and to the republic and to the very fabric of this democracy," Judge Amit Mehta, an Indian immigrant appointed to the DC district court by Obama in 2014, scolded Rhodes before handing down the longest sentence to date for any J6er.
Mehta's bio says he served on the board of the Mid-Atlantic Innocence Project (one of many groups which helps get convicted murderers like Shaurn Thomas out of prison).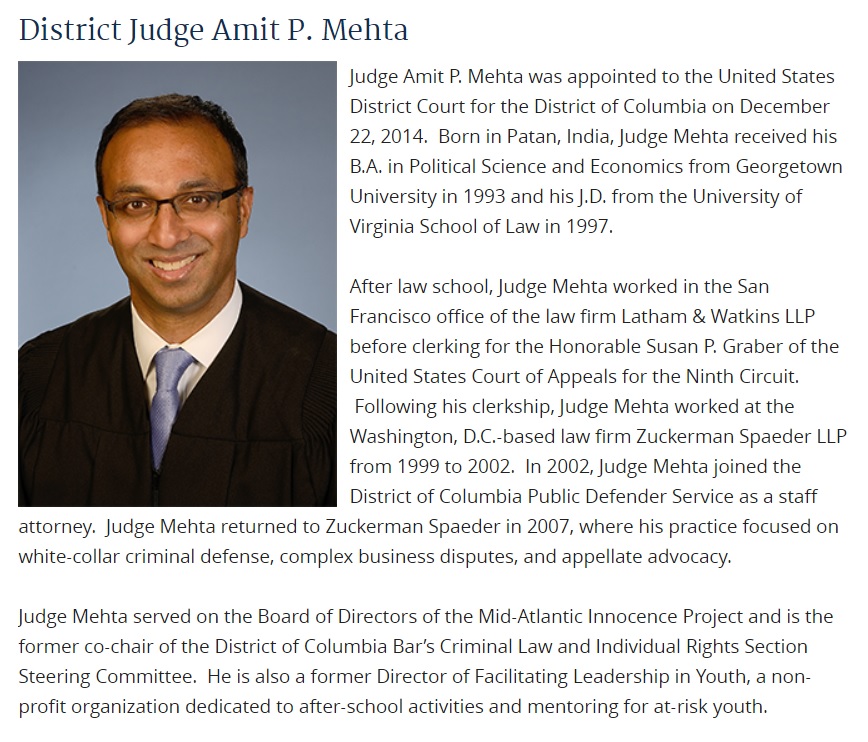 Though Mehta is a big believer in "criminal justice reform" when it comes to releasing thugs onto our streets, he opted to apply an enhancement for terrorism in Rhodes' sentencing.
From NBC News, "Oath Keepers founder sentenced to 18 years in Jan. 6 seditious conspiracy case":
The founder of the far-right Oath Keepers has been sentenced to 18 years in federal prison in connection with the Jan. 6 attack on the Capitol following his conviction on seditious conspiracy.

The sentence for Stewart Rhodes is the longest imposed on a Jan. 6 defendant to date. In a politically-charged speech in the courtroom just before his sentencing, Rhodes called himself a "political prisoner" and said that when he talked about "regime change" in a phone call with supporters earlier this week, he meant he hopes that former President Donald Trump will win in 2024.

The judge disagreed that Rhodes had been locked up for politics, saying it was his actions that led to his criminal convictions.

"You, sir, present an ongoing threat and a peril to this country and to the republic and to the very fabric of this democracy," Judge Amit Mehta said before handing down the sentence.

Rhodes was convicted of seditious conspiracy in November along with Kelly Meggs, a fellow Oath Keepers member who will be sentenced later Thursday afternoon.

"They won't fear us until we come with rifles in hand," Rhodes wrote in a message ahead of the Jan. 6 attack. After the attack, in a recording that was played in court during his trial, he said his only regret was that they "should have brought rifles."
That's called venting frustration.
They didn't bring rifles — they were unarmed — and they didn't take part in an "insurrection" — everyone left the Capitol after just a few hours — but apparently that's not relevant to the case.
The fact they legally brought some weapons to Virginia and left them in a hotel was proof enough of their "seditious conspiracy," according to Mehta.
Wearing an orange prison jumpsuit Thursday, Rhodes said he believes the only crime he committed was opposing those who are "destroying our country."

Mehta told Rhodes that he was found guilty of seditious conspiracy "not because of your beliefs, not because you supported the other guy, not because Joe Biden is president right now," but because of the facts of the case, and his actions before, during and after Jan. 6.

"You are not a political prisoner, Mr. Rhodes," Mehta said.
Fact check: false.
Rhodes and Meggs were put on trial alongside Jessica Watkins, Kenneth Harrelson and Thomas Caldwell, fellow Oath Keepers who were convicted of obstruction of an official proceeding and aiding and abetting, but not seditious conspiracy. Watkins and Harrelson will be sentenced on Friday.

Rhodes took the stand in his case, saying at trial that the other members of the Oath Keepers were "stupid" to storm the Capitol and that he disagreed with those who went inside; Rhodes did not enter the building. "I had no idea that any Oath Keeper was even thinking about going inside or would go inside," Rhodes said.

But the government also produced messages in which Rhodes said he thought that Jan. 6 was the last opportunity to stop what he saw as a takeover of the government.

"On the 6th, they are going to put the final nail in the coffin of this Republic, unless we fight our way out. With Trump (preferably) or without him, we have no choice," Rhodes wrote in a message ahead of Jan. 6.

He also celebrated Oath Keepers' actions in the immediate aftermath of the attack, after meeting with other members of the group at an Olive Garden in Virginia that night.

"Patriots, it was a long day but a day when patriots began to stand," Rhodes wrote the night of Jan. 6. "Stand now or kneel forever. Honor your oaths. Remember your legacy."
The Gateway Pundit has some longer excerpts from Stewart and Mehta.
In short, Rhodes — along with his fellow Oath Keepers — were convicted for mouthing off in their group chats.
If you say, "Give me liberty or give me death," that's essentially now evidence of a seditious conspiracy.
If you say, "The tree of liberty must be refreshed from time to time with the blood of patriots and tyrants," that's essentially now evidence of a seditious conspiracy.
This is all it takes to convict in the comically biased kangaroo courts in DC. Just as we saw in the Proud Boys case, the feds don't need any hard evidence — they just need a jury which doesn't like you.
This post was originally published at Information Liberation
Here Is The Only Clip Of The GOP Debate You Need To See
"They're all job candidates…they will do anything, secretary of something."
There was literally just one interesting part of the Fox News Republican debate Wednesday night, the part when each candidate was asked to throw one of the others under a bus.
The rest of the 'debate' was little more than squabbling, backbiting and a set of supposed candidates, most who are polling in the low single digits, incessantly talking over each other like an unruly kindergarten class.
Host Dana Perino rightly pointed out that "It's now obvious that if you all stay in the race, former president Donald Trump wins the nomination."
"None of you have indicated that you're dropping out. So which one of you, on stage tonight, should be voted off the island?" Perino further asked, framing the debate as if it were a reality show popularity contest.
"Please use your marker to write your choice on the note pad in front of you, 15 seconds starting now," Perino stated, before Ron DeSantis piped up and said "With all due respect, like we're here, we're happy to debate but I think that's disrespectful to my fellow competitors."
The other moderator Stuart Varney noted that he saw Chris Christie beginning to write something down, to which Christie responded "I vote Donald Trump off the island right now."
"Every person on this stage has shown the respect for Republican voters to come here to express their views honestly candidly and directly and to take your questions honestly," Christie continued, adding that Trump "has not only divided our party; he's divided families all over this country. He's divided friends all over this country."
"I've spoken to people who have sat at Thanksgiving dinner or at a birthday party, and can't have a conversation anymore if they disagree with Donald Trump. He needs to be voted off this island and taken out of this process." he added.
Hilarious.
And replaced with who?
Meanwhile, Trump threw every single one of the debate participants under the bus, stating that he wouldn't pick any of them as a Vice President.
"It's all over television. This speech, you know, we're competing with the job candidates. They are all running for a job," Trump told a crowd in Michigan.
"They're all job candidates. They want to be in the, they will do anything, secretary of something. They even say VP. I don't know. Anybody see any VP in the group? I don't think so," Trump declared.
Watch:
SUBSCRIBE on YouTube:
Follow on Twitter:
Follow @PrisonPlanet
———————————————————————————————————————
Brand new merch now available! Get it at https://www.pjwshop.com/


ALERT! In the age of mass Silicon Valley censorship It is crucial that we stay in touch.

We need you to sign up for our free newsletter here.

Support my sponsor – Summit Vitamins – super charge your health and well being.

Also, we urgently need your financial support here. ———————————————————————————————————————
"A CIA Front Organization": Revisiting EcoHealth COVID-19 Claims After Fauci 'Influence' Campaign Bombshell
Following Tuesday night's bombshell report from Congressional investigators that Dr. Anthony Fauci was smuggled into CIA headquarters "without a record of entry" where he "participated in the analysis to "influence" the Agency's" Covid-19 investigation," it's worth revisiting claims made by former EcoHealth Alliance scientist, Andrew Huff, about the CIA's alleged connections to EcoHealth and Covid-19.
A Brief Review
Recall that EcoHealth received lucrative contracts to perform experiments on bat Covid in Wuhan, China after the Obama administration banned gain-of-function research in 2014. Four months prior to the ban, the NIH effectively shifted this research to EcoHealth, headed by Peter Daszak. The research was shielded from government oversight by Fauci's NIAID, and Daszak was forced to report after the fact that he'd engaged in gain-of-function experiments.
"As a virologist, I personally think creating chimeras of SARS-related bat coronaviruses that are thought to pose high risk to humans entails unacceptable risks," virologist Jesse Bloom told The Intercept.
After Sars-CoV-2 broke out in the same town where Daszak was manipulating Bat Covid, The Lancet published a screed by Daszak (signed by over two-dozen scientists), which insisted the virus could have only come from a natural spillover event, likely from a wet market, and that the scientists "stand together to strongly condemn conspiracy theories suggesting that COVID-19 does not have a natural origin." The Lancet only later noted Daszak's conflicts of interest.
Back To Huff And The CIA
According to a January, 2022 Twitter (now "X") thread by Huff, who worked at EcoHealth from 2014 to 2016, "I knew in December of 2019 that COVID was likely a lab leak." Huff then claimed that "Not only is EcoHealth Alliance a CIA front organization, but the United States of America is primarily responsible for COVID, not China."
Huff also told Fox Business in January: "This was actually a failed intelligence operation. We were actually trading China advanced biotechnology for access to and collect intelligence on their bioweapons laboratory. I believe. I can't prove that but a number of agencies that I discuss in the book, including Dr. Peter Daszak telling me he worked with the CIA."
From Huff's book, "The Truth About Wuhan":"These discussions resulted in publications indicating that Dr. Peter Daszak, president of EcoHealth Alliance, was working with the CIA, and that the biological agent commonly known as COVID-19 (SARS-CoV-2) had been in development at EcoHealth Alliance since 2012, and other evidence suggested that SARS-CoV-2 began earlier than 2012. The development of SARS-CoV-2 included several prominent US-based scientists and US academic institutions that received funding from numerous federal government agencies and private non-governmental organizations to complete the gain of function work on SARS-CoV-2."
Huff also posted a document obtained by Project Veritas and published in January of 2022 purportedly authored (and not denied) by Maj. Joseph Murphy (USMC), which states "SARS-CoV-2 is an American-created recombinant bat vaccine" which was "created by an EcoHealth Alliance program at the Wuhan Institute of Virology (WIV)."
Project Veritas has obtained a separate report to the Inspector General of the Department of Defense written by U.S. Marine Corp Major, Joseph Murphy, a former DARPA Fellow.

The report states that EcoHealth Alliance approached DARPA in March 2018, seeking funding to conduct gain of function research of bat borne coronaviruses. The proposal, named Project Defuse, was rejected by DARPA over safety concerns and the notion that it violates the basis gain of function research moratorium.

According to the documents, NAIAD, under the direction of Dr. Fauci, went ahead with the research in Wuhan, China and at several sites across the U.S. -Project Veritas
More on that:
Huff also provided a report to Congress, under oath, which claims:
1. SARS-COV2 was created in the lab in Wuhan, China;
2. Anthony Fauci funded the creation of SARS-COV2 and lied to Congress about funding Gain-of-Function work;
3. The US Intelligence Community was aware of and appeared to have been involved with the funding of said Gain-of-Function work;
4. A number of well-connected public and private partners were involved in the Gain-of-Function work that resulted in the creation and release of SARS-COV2;
5. Anthony Fauci and others coordinated to cover-up the funding of the Gain-of-Function work that resulted in SARS-COV2.
And if you really want to get into the weeds on this, check out these threads by journalist KanekoaTheGreat (@KanekoaTheGreat) which includes claims by Huff, DRASTIC, RFK Jr. and more. Click on each tweet to jump into said threads.
More on Baric and the programs:
EcoHealth – no strangers to damage control, refuted Huff's claims, writing in December 2022 (almost a year after Huff turned whistleblower), that claims of gain-of-function research aren't true, that a lab leak is 'not true,' and that his claims about the 'nature of the collaboration between EcoHealth Alliance and the Wuhan Institute of Virology' are similarly, 'not true.'
Ecohealth notably did not refute Huff's claims about working with, or for, the CIA.
This post was originally published at Zero Hedge
Video: Biden Almost Falls Down Steps On Same Day As Report About Handlers' 'Mission' To Prevent Him Falling
What the hell are "proprioceptive maintenance maneuvers"?
Joe Biden almost fell down the small set of Airforce One steps that are specifically used to prevent him falling On Tuesday. The incident occurred on the same day that a report emerged detailing the lengths that his handlers are going to to prevent Biden from constantly falling over.
Here's Biden almost decking it flat on his ass as he descended the smaller set of steps on a trip to Michigan for a photo op with striking UAW workers.
He was there for around 12 minutes, but had brought a convoy of scores of huge vehicles.
Earlier in the day a report emerged from Axios detailing how White House insiders are secretly working to prevent Biden falling and injuring himself.
The report states that Biden is working every day with physical therapist Drew Contreras doing exercises to counter his seriously impaired balance. Contreras has referred to these as "proprioceptive maintenance maneuvers," whatever that means.
Professor James Gordon, associate dean and chair of the Division of Biokinesiology and Physical Therapy at the University of Southern California, stated "I have never heard the term 'proprioceptive maintenance maneuvers', adding that it is not a clinical term in standard use.
Related:
SUBSCRIBE on YouTube:
Follow on Twitter:
Follow @PrisonPlanet
———————————————————————————————————————
Brand new merch now available! Get it at https://www.pjwshop.com/


ALERT! In the age of mass Silicon Valley censorship It is crucial that we stay in touch.

We need you to sign up for our free newsletter here.

Support my sponsor – Summit Vitamins – super charge your health and well being.

Also, we urgently need your financial support here. ———————————————————————————————————————