Obama Judge Sentences Oath Keepers Founder Stewart Rhodes to 18 Years in Prison in J6 'Sedition' Case
Oath Keepers founder Stewart Rhodes, who came unarmed to DC and didn't even enter the Capitol Building on January 6th, was sentenced to 18 years in prison on Thursday for "seditious conspiracy" by Obama-appointed US district judge Amit Mehta.
Rhodes' crime was apparently mouthing off about revolution in private chats and lamenting after the event that "we should have brought rifles."
"You, sir, present an ongoing threat and a peril to this country and to the republic and to the very fabric of this democracy," Judge Amit Mehta, an Indian immigrant appointed to the DC district court by Obama in 2014, scolded Rhodes before handing down the longest sentence to date for any J6er.
Mehta's bio says he served on the board of the Mid-Atlantic Innocence Project (one of many groups which helps get convicted murderers like Shaurn Thomas out of prison).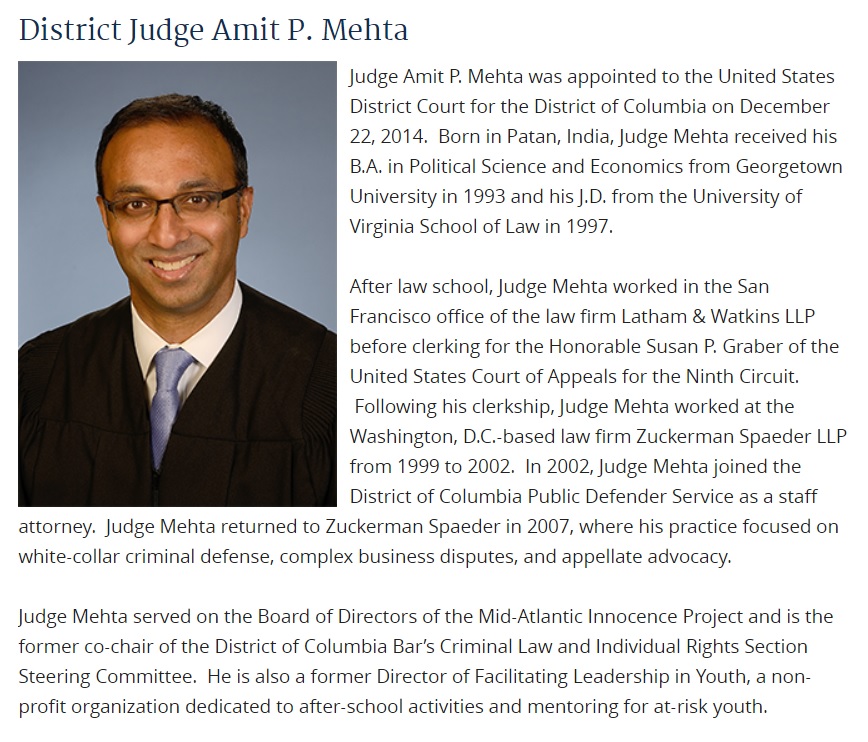 Though Mehta is a big believer in "criminal justice reform" when it comes to releasing thugs onto our streets, he opted to apply an enhancement for terrorism in Rhodes' sentencing.
From NBC News, "Oath Keepers founder sentenced to 18 years in Jan. 6 seditious conspiracy case":
The founder of the far-right Oath Keepers has been sentenced to 18 years in federal prison in connection with the Jan. 6 attack on the Capitol following his conviction on seditious conspiracy.

The sentence for Stewart Rhodes is the longest imposed on a Jan. 6 defendant to date. In a politically-charged speech in the courtroom just before his sentencing, Rhodes called himself a "political prisoner" and said that when he talked about "regime change" in a phone call with supporters earlier this week, he meant he hopes that former President Donald Trump will win in 2024.

The judge disagreed that Rhodes had been locked up for politics, saying it was his actions that led to his criminal convictions.

"You, sir, present an ongoing threat and a peril to this country and to the republic and to the very fabric of this democracy," Judge Amit Mehta said before handing down the sentence.

Rhodes was convicted of seditious conspiracy in November along with Kelly Meggs, a fellow Oath Keepers member who will be sentenced later Thursday afternoon.

"They won't fear us until we come with rifles in hand," Rhodes wrote in a message ahead of the Jan. 6 attack. After the attack, in a recording that was played in court during his trial, he said his only regret was that they "should have brought rifles."
That's called venting frustration.
They didn't bring rifles — they were unarmed — and they didn't take part in an "insurrection" — everyone left the Capitol after just a few hours — but apparently that's not relevant to the case.
The fact they legally brought some weapons to Virginia and left them in a hotel was proof enough of their "seditious conspiracy," according to Mehta.
Wearing an orange prison jumpsuit Thursday, Rhodes said he believes the only crime he committed was opposing those who are "destroying our country."

Mehta told Rhodes that he was found guilty of seditious conspiracy "not because of your beliefs, not because you supported the other guy, not because Joe Biden is president right now," but because of the facts of the case, and his actions before, during and after Jan. 6.

"You are not a political prisoner, Mr. Rhodes," Mehta said.
Fact check: false.
Rhodes and Meggs were put on trial alongside Jessica Watkins, Kenneth Harrelson and Thomas Caldwell, fellow Oath Keepers who were convicted of obstruction of an official proceeding and aiding and abetting, but not seditious conspiracy. Watkins and Harrelson will be sentenced on Friday.

Rhodes took the stand in his case, saying at trial that the other members of the Oath Keepers were "stupid" to storm the Capitol and that he disagreed with those who went inside; Rhodes did not enter the building. "I had no idea that any Oath Keeper was even thinking about going inside or would go inside," Rhodes said.

But the government also produced messages in which Rhodes said he thought that Jan. 6 was the last opportunity to stop what he saw as a takeover of the government.

"On the 6th, they are going to put the final nail in the coffin of this Republic, unless we fight our way out. With Trump (preferably) or without him, we have no choice," Rhodes wrote in a message ahead of Jan. 6.

He also celebrated Oath Keepers' actions in the immediate aftermath of the attack, after meeting with other members of the group at an Olive Garden in Virginia that night.

"Patriots, it was a long day but a day when patriots began to stand," Rhodes wrote the night of Jan. 6. "Stand now or kneel forever. Honor your oaths. Remember your legacy."
The Gateway Pundit has some longer excerpts from Stewart and Mehta.
In short, Rhodes — along with his fellow Oath Keepers — were convicted for mouthing off in their group chats.
If you say, "Give me liberty or give me death," that's essentially now evidence of a seditious conspiracy.
If you say, "The tree of liberty must be refreshed from time to time with the blood of patriots and tyrants," that's essentially now evidence of a seditious conspiracy.
This is all it takes to convict in the comically biased kangaroo courts in DC. Just as we saw in the Proud Boys case, the feds don't need any hard evidence — they just need a jury which doesn't like you.
This post was originally published at Information Liberation
Report: Fox News Tells Tucker Carlson He Is In Breach Of Contract By Posting Twitter Show
The network is considering suing Carlson, according to a report
According to a report by Axios, Tucker Carlson was contacted by Fox News after posting the first episode of his new show on Twitter, with his former network charging that he is now in breach of contract, and could be sued.
Axios reports:
Fox News Wednesday notified Tucker Carlson's lawyers that the former prime-time anchor violated his contract with the network when he launched his own Twitter show on Tuesday, according to a copy of a letter obtained by Axios.

Why it matters: A breach of contract claim sets Fox News up to explore potential legal action against Carlson, a move that would intensify the already thorny public battle between the two parties.

Carlson's lawyers told Axios that any legal action by Fox would violate his First Amendment rights.
Carlson's lawyer, Bryan Freedman, stated "Fox defends its very existence on freedom of speech grounds. Now they want to take Tucker Carlson's right to speak freely away from him because he took to social media to share his thoughts on current events."
According to the report, Fox News general counsel Bernard Gugar told Carlson's people that "Fox expressly reserves all rights and remedies which are available to it at law or equity."
"This evening we were made aware of Mr. Tucker Carlson's appearance on Twitter in a video that lasted over 10 minutes," Gugar's letter reads.
It further notes that Carlson's "services shall be completely exclusive to Fox," and claims the host is "prohibited from rendering services of any type whatsoever, whether 'over the internet via streaming or similar distribution, or other digital distribution whether now known or hereafter devised.'"
The report suggests that Carlson's representatives are set to argue that Twitter is not a direct competitor of Fox News, and posts on the platform do not constitute a breach of his contract terms with the network.
Here is the epode in question, which now has over 100 MILLION views since it was posted just two days ago:
As we previously highlighted, Carlson doesn't have any deal with Twitter and is posting like any other regular person.
Fox News hasn't technically fired Carlson, it has just taken him off the air, meaning he is still locked into a contract until January 2025.
That means the popular host would be completely frozen out of being able to actively cover the 2024 presidential election.
Carlson's detractors have voiced concern that should he be free to keep producing his own content, he will not be 'policed' or censored at all.
SUBSCRIBE on YouTube:
Follow on Twitter:
Follow @PrisonPlanet
———————————————————————————————————————
Brand new merch now available! Get it at https://www.pjwshop.com/


ALERT! In the age of mass Silicon Valley censorship It is crucial that we stay in touch.

We need you to sign up for our free newsletter here.

Support our sponsor – Turbo Force – a supercharged boost of clean energy without the comedown.

Also, we urgently need your financial support here. ———————————————————————————————————————
Biden Press Secretary Claims Illegal Immigration Is Down 70%, Says Food Prices Have Soared Due To "Poor Weather"
Can her lies get any bigger?
Biden Press Secretary Karine Jean-Pierre claimed Wednesday that Americans are experiencing soaring costs for food because of "poor weather" and bird flu, and also claimed that illegal immigration is down 70 percent.
Americans have seen food prices soar by up to 12 percent on average since last year due to massive inflation, yet the Biden Administration wants you to believe its really because of "supply chain bottlenecks," "avian flu," "war in Ukraine," and "poor weather," basically anything other than their disastrous economic record.
It's basically the same talking point that was laid out in the Wall Street Journal earlier this year when the outlet advised Americans who can't afford food to stop eating meals.
Meanwhile, in another huge lie, the Press Secretary claimed illegal immigration is down 70 percent, despite record numbers having crossed the borders in May, including waves of suspected terrorists.
When asked about the legal parameters of moving illegal immigrants around the country, Jean-Pierre said she "cannot speak to the law."
It's slightly less of a massive lie than last month when she claimed that illegal immigration was down by 90 percent.
How much will she claim it is down by next month?
SUBSCRIBE on YouTube:
Follow on Twitter:
Follow @PrisonPlanet
———————————————————————————————————————
Brand new merch now available! Get it at https://www.pjwshop.com/


ALERT! In the age of mass Silicon Valley censorship It is crucial that we stay in touch.

We need you to sign up for our free newsletter here.

Support our sponsor – Turbo Force – a supercharged boost of clean energy without the comedown.

Also, we urgently need your financial support here. ———————————————————————————————————————
Video: Biden Press Secretary Defends Him Continually Stumbling And Falling Over
"Things happen"
Biden Press Secretary Karine Jean-Pierre again attempted to brush off concerns that Joe Biden is constantly stumbling around and falling over, claiming "things happen," and that "other Presidents have had similar situations."
Jean-Pierre was questioned by NewsMax's James Rosen who pointed out that Americans are concerned that Biden isn't fit to run for another four year term as he appears frail.
"I want to ask about the President's tumble that he took on the stage in Colorado the other day," Rosen began, adding "It's absolutely true that any one of us could trip over an object that just happens to be in our path. Nonetheless. We've all observed the difficulty this President has in certain settings."
"Steps are one of them and of course there was no sand bag in his path on the steps up Air Force One on any of those occasions," Rosen noted, adding "I was struck particularly by the incident on May 19, in Hiroshima where the President descended down a set of stone steps toward a shrine."
"At the bottom of which steps he was greeted by the Japanese Prime Minister. And if you look at that footage, the President slipped and caught himself on those steps. And as he greeted the Prime Minister, you could even see on the president's face, pursed lips as if to say this was a close one," Rosen continued.
Here is the incident Rosen is referring to:
WATCH YOUR STEP! President Joe Biden stumbled on a set of stairs AGAIN as he and other G7 leaders gathered near the Shinto Shrine on Itsukushima Island, near Hiroshima, Japan, on Friday. pic.twitter.com/ZDmxyYBatD

— Breitbart News (@BreitbartNews) May 19, 2023
And here is the fall in Colorado:
BREAKING: President Biden falls on stage during the U.S. Air Force Academy graduation ceremony. https://t.co/ZdwNdAd6Kg pic.twitter.com/fPI2MlbCCr

— NEWSMAX (@NEWSMAX) June 1, 2023
The reporter then asked "whether this whole series of incidents has led the White House Chief of Staff to direct some kind of review of the advance procedures that are employed on behalf of this, the nation's oldest President?"
Jean-Pierre was having none of it, claiming she didn't see anything that happened in Japan and then listing achievements Biden has accomplished as some sort of counter balance to him stumbling around.
"Your proposition may or may not be true, but it's not responsive to my question," Rosen responded.
The Press Secretary snapped back "You're asking me if we're going to change anything from here, the Chief of Staff has asked for it to change anything from here. And here's the thing, here's the thing. We are not. Things happen. Other Presidents have had similar situations."
And with that she ended the press conference.
Watch:
Yesterday the Press Secretary refused to comment on whether Biden would actually survive another four years:
SUBSCRIBE on YouTube:
Follow on Twitter:
Follow @PrisonPlanet
———————————————————————————————————————
Brand new merch now available! Get it at https://www.pjwshop.com/


ALERT! In the age of mass Silicon Valley censorship It is crucial that we stay in touch.

We need you to sign up for our free newsletter here.

Support our sponsor – Turbo Force – a supercharged boost of clean energy without the comedown.

Also, we urgently need your financial support here. ———————————————————————————————————————