"There's Poop Everywhere": San Francisco's Office District Not Only A Ghost Town, It's Also Covered In Sh*t
Everyone knows that San Francisco is the nation's largest public toilet – requiring the city to employ six-figure 'poop patrol' cleanup team, however a new report from the city Controller's Office really puts things in poo-spective.

For starters, feces were found far more often in commercial sectors, covering "approximately 50% of street segments in Key Commercial Areas and 30% in the Citywide survey," second only to broken glass as can be seen in the 'illegal dumping' section.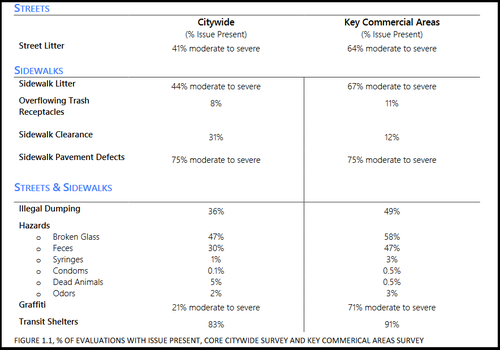 If you're wondering about the city's fecal methodology, look no further than a footnote on page 43;
Feces also includes bags filled with feces that are not inside trash receptacles. Feces that are spread or smeared on the street, sidewalk, or other objects along the evaluation route are counted. Stains that appear to be related to feces but have been cleaned are not counted. Bird droppings are excluded.
As far as where most of the poo is found, Nob Hill takes the top spot, followed by the Tenderloin and The Mission districts.

"It's terrible; this street is covered," Tenderloin resident Joe Souza told The San Francisco Standard earlier this month. "There's poop everywhere. You always see it along the wall and in front of the garage there."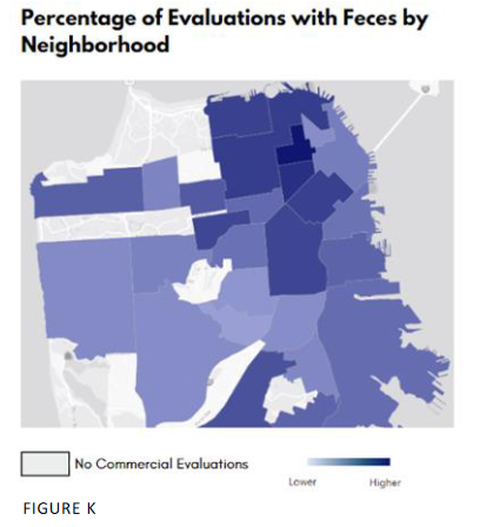 Meanwhile, nearly 2/3 of key commercial routes reported moderate to severe street litter, vs. 41% of the citywide streets struggling with the same problem.
As the San Francisco Standard reports;
San Francisco's commercial and residential streets are also highly tagged up, with every neighborhood except one—Visitacion Valley—reporting high levels of graffiti last year. The issue is once again worse in commercial areas, of which 71% said they had severe or moderate graffiti.
"In terms of actual counts of graffiti observed, there were about 10 times (160,000 vs. 16,000 respectively) as many instances of graffiti reported in the Key Commercial Areas survey in comparison to the Citywide sample," the report said.
And San Francisco's favorite cleanliness fixation, human or animal feces, continues to be a sore spot for the city: Almost half of the surveyed commercial areas observed feces. Citywide, that figure was just 30%.
* * *
San Francisco's poopocalypse comes amid a staggering commercial office vacancy rate as a combination of pandemic-era work-from-home policies, and people fleeing the city's notorious violence and poo-covered streets have made the once-thriving city into a ghost town.
This post was originally published at Zero Hedge
Video: Biden Almost Falls Down Steps On Same Day As Report About Handlers' 'Mission' To Prevent Him Falling
What the hell are "proprioceptive maintenance maneuvers"?
Joe Biden almost fell down the small set of Airforce One steps that are specifically used to prevent him falling On Tuesday. The incident occurred on the same day that a report emerged detailing the lengths that his handlers are going to to prevent Biden from constantly falling over.
Here's Biden almost decking it flat on his ass as he descended the smaller set of steps on a trip to Michigan for a photo op with striking UAW workers.
He was there for around 12 minutes, but had brought a convoy of scores of huge vehicles.
Earlier in the day a report emerged from Axios detailing how White House insiders are secretly working to prevent Biden falling and injuring himself.
The report states that Biden is working every day with physical therapist Drew Contreras doing exercises to counter his seriously impaired balance. Contreras has referred to these as "proprioceptive maintenance maneuvers," whatever that means.
Professor James Gordon, associate dean and chair of the Division of Biokinesiology and Physical Therapy at the University of Southern California, stated "I have never heard the term 'proprioceptive maintenance maneuvers', adding that it is not a clinical term in standard use.
Related:
SUBSCRIBE on YouTube:
Follow on Twitter:
Follow @PrisonPlanet
———————————————————————————————————————
Brand new merch now available! Get it at https://www.pjwshop.com/


ALERT! In the age of mass Silicon Valley censorship It is crucial that we stay in touch.

We need you to sign up for our free newsletter here.

Support my sponsor – Summit Vitamins – super charge your health and well being.

Also, we urgently need your financial support here. ———————————————————————————————————————
Fauci Was 'Smuggled' Into CIA Headquarters To "Influence" Covid-19 Origins Investigation: Select Subcommittee
Dr. Anthony Fauci was smuggled into CIA headquarters, "without a record of entry," where he "participated in the analysis to "influence" the Agency's" Covid-19 investigation, according to the House Select Subcommittee on the Coronavirus Pandemic.
Fauci's alleged CIA meeting was revealed in a Tuesday night letter from Subcommittee Chairman Brad Wenstrup (R-OH) to the Inspector General of the US Department of Health and Human Services, which demands documents, communications and other evidence between Fauci and the CIA.
This allegation is even more interesting in light of a report from two weeks ago that the CIA bribed analysts to say Covid-19 did not originate in a Chinese lab.
According to a 'senior-level' CIA whistleblower, the agency 'tried to pay off six analysts who found SARS-CoV-2 likely originated in a Wuhan lab if they changed their position and said the virus jumped from animals to humans.'
"According to the whistleblower, at the end of its review, six of the seven members of the Team believed the intelligence and science were sufficient to make a low confidence assessment that COVID-19 originated from a laboratory in Wuhan, China," reads the letter from Wenstrup.
"The seventh member of the Team, who also happened to be the most senior, was the lone officer to believe COVID-19 originated through zoonosis.
"The whistleblower further contends that to come to the eventual public determination of uncertainty, the other six members were given a significant monetary incentive to change their position," the letters continue, adding that the analysts were "experienced officers with significant scientific expertise."
Wenstrup and Turner also asked for documents and communications between the CIA and other federal agencies, including the State Department, FBI, the Department of Health and Human Services and the Energy Department.

In a separate letter, the House committee leaders identified former CIA Chief Operating Officer Andrew Makridis as having "played a central role" in the COVID investigation and asked him to sit for a transcribed interview. -NY Post
In June, the US Intelligence Community declassified a 10-page report on COVID origins, in which it found "biosafety concerns" and "genetic engineering" taking place in Wuhan, but that most of its "agencies assess that SARS-CoV-2 was not genetically engineered."
As the Committee noted on Tuesday;
Dr. Fauci's questionable presence at the CIA, coupled with recently uncovered evidence that he, Dr. Fauci, "prompted" the drafting of "Proximal Origin" — the infamous paper that was used to attempt to "disprove" the lab leak theory — lends credence to heightened concerns about the promotion of a false COVID-19 origins narrative by multiple federal government agencies.

Chairman Wenstrup is seeking all documents and communications related to Dr. Fauci's access to CIA facilities and CIA employees as it relates to these allegations. Also, after becoming aware of additional information, the Select Subcommittee is requesting Special Agent Brett Rowland appear for a transcribed interview regarding Dr. Fauci's purported movements to and from the CIA. As mounting evidence continues to imply that federal government officials covered-up the origins of COVID-19, investigating any improper influence will ensure future accountability of not only the intelligence community, but also public health officials.
Amazing…
This post was originally published at Zero Hedge
Biden Is In Big Trouble
RFK could hand Trump victory.
If RFK decides to run as a third party candidate, a third of Democrats would vote for him. Biden would be finished.
Please share this video! https://youtu.be/MtlyvCvm0aw
SUBSCRIBE on YouTube:
Follow on Twitter: Follow @PrisonPlanet
———————————————————————————————————————
Brand new merch now available! Get it at https://www.pjwshop.com/
ALERT!
In the age of mass Silicon Valley censorship It is crucial that we stay in touch.
I need you to sign up for my free newsletter here.
Support my sponsor – Summit Vitamins – super charge your health and well being.
Get early access, exclusive content and behind the scenes stuff by following me on Locals.
———————————————————————————————————————