ADL Ran An 'Extensive, Multi-Dimensional Counterintelligence Operation' to Destroy The John Birch Society
The Anti-Defamation League ran an "extensive, multi-dimensional counterintelligence operation" complete with "undercover agents with code names" to destroy the influential anti-communist John Birch Society, internal ADL documents reveal.
George Washington University professor Matthew Dallek was given access to "some" of the ADL's records on the spying operation from their historical archive for his new book, "Birchers: How the John Birch Society Radicalized the American Right."
From The Jewish Telegraphic Agency, "The historian who uncovered the ADL's spying operation against the far-right John Birch Society":
[Mathew] Dallek, who grew up in a Reform Jewish household in Los Angeles, recently sat with the Jewish Telegraphic Agency to discuss the rise of the Birchers, how the ADL infiltrated their ranks and whether such tactics are justified in the name of fighting extremism.

[…] JTA: Before we get into the Jewish aspect of the book, meaning the chapter on the Anti-Defamation League's relationship with the John Birch Society, let's take a step back. Who are so-called Birchers? Why do they matter?

Mathew Dallek: The John Birch Society was a household name in the 1960s, becoming the emblem of far-right extremism. It didn't have huge numbers, but it did penetrate the culture and the national consciousness. Its leader, Robert Welch, had argued at one point that President Dwight Eisenhower was a dedicated agent of a communist conspiracy taking over the United States. Welch formed the John Birch Society to educate the American people about the nature of the communist threat.

In its heyday, the group had about 60,000 to 100,000 members, organized into small chapters. They sent out literature trying to give members roadmaps or ideas for what they could do. They believed a mass education of the public was needed because traditional two-party politics was not going to be very effective at exposing the communist threat. They would form front groups such as Impeach Earl Warren [the Supreme Court's chief justice] or Support Your Local Police. They tried to ban certain books that they viewed as socialistic from being used in schools. Some Birchers ran for school board seats and protested at libraries.

Critics feared that the Birchers were a growing fascist or authoritarian group and that if they were not sidelined politically and culturally then the country could be overrun. The Nation magazine wrote that Birchers essentially had given their followers an invitation to engage in civil war, guerrilla-style. Those fears sparked a big debate about democracy. How does one sustain democracy and, at the height of the Cold War and in the shadow of World War II, Nazi fascist Germany, and the Holocaust?

As you were researching, you came across a trove of historical internal documents from the ADL in the archives of the American Jewish Historical Society in New York. Why did you devote a chapter to what you found in those documents? What did those files reveal to you about the John Birch Society?

These papers are a goldmine. They're this incredible and often detailed window into the far-right and, in particular, the John Birch Society. They show the ADL had an extensive, multi-dimensional counterintelligence operation that they were running against the Birch Society.

People knew at the time that the ADL was attending events where Birchers were speaking. But the ADL also had undercover agents with code names, who were able to infiltrate the society's headquarters in Belmont, Massachusetts, and various chapter officers. They dug up financial and employment information about individual Birchers. And they not only used the material for their own newsletters and press releases, but they also fed information to the media.

[…] Some critics of the ADL today say the organization has strayed from its mission by focusing not just on antisemitism but on a wider array of causes. But from reading your work, it sounds like the ADL even then took an expansive view of its role, examining not just direct attacks on Jews but also how the political environment can jeopardize Jews. Am I getting that right, and why did the ADL devote so many resources to a group like the John Birch Society?

So, a few things: It's the late '50s and '60s, and a civil rights coalition is emerging. Benjamin Epstein, the national director of the ADL, was friendly with Thurgood Marshall, the Supreme Court justice, and Martin Luther King. John F. Kennedy went to an ADL event and praised the ADL for speaking out very strongly in defense of democracy and pushing for the equal treatment of all Americans.

Isadore Zack, who helped lead the spy operation, at one point wrote to his colleagues that it was only in a democracy that the Jewish community has been allowed to flourish and so, if you want to defend Jewish Americans, you also have to defend democracy.

There certainly were other threats at the time, but the Birch Society was seen by liberal critics, including the ADL, as a very secretive group that promoted conspiracy theories about communists who often became conflated with Jews.

Would you consider the ADL successful in its campaign against the Birchers?

They were successful. They used surreptitious and in some cases underhanded means to expose the antisemitism and the racism and also interest in violence or the violent rhetoric of the Birch Society in the 1960s.

The ADL was at the tip of the spear of a liberal coalition that included the White House, sometimes the Department of Justice, depending on the issue, the NAACP, Americans for Democratic Action, labor unions, the union-backed Group Research Inc., which was tracking the far-right as well. The ADL was one of the most, if not the most effective at constraining and discrediting the society.

Clearly, however, the Birchers' ideas never died. They lived on and made a comeback.

It's somewhat ironic that you reveal the existence of this spying apparatus devoted to targeting an extremist and antisemitic group in the 1960s given the infamy the ADL would earn in a later era, the 1990s, for allegations that they colluded with police agencies in San Francisco to spy on and harass political activists. They eventually settled with the Arab American, Black and American Indian groups that brought a federal civil suit. I know you didn't study these revelations, which are outside the scope of your book, but could you perhaps reflect on why undercover tactics were seen as necessary or justified?

It's important to remember that in the mid-20th century, law enforcement in the United States was often led by antisemites or people who were much more concerned with alleged internal communist threats — the threat from the left.

From the ADL's vantage point, one could not rely on the government entities that were by law and by design supposed to protect Jewish Americans. There was a sense that this work had to be done, at least in part, outside of the parameters of the government.

When I first discovered the ADL's spying, I didn't quite know what to make of it. But I realized they weren't just spying to spy, they exposed a lot of scary things, with echoes in our own times — like easy access to firearms, a hatred of the government, a denigration and defamation of minority groups. And this was all happening in the shadow of the Holocaust and World War II. I became much more sympathetic; they were very effective, and they had a vision of equality of treatment for all Americans.

It's obviously controversial. I try not to shy away from it. But they had a lot of good reasons to fight back right and to fight back in this nonviolent way.

That last thought brings to mind another, right-wing Jewish group that existed in this era of taking things into our own hands, that did use violence, explosives even.

You mean the Jewish Defense League, led by Meir Kahane.

Yes, exactly.

He was a Bircher. Toward the end of my book, I mention that he was a member for a while, under his alias Michael King.

Antisemitism is on the rise, and lots of initiatives are being organized to address it, both by existing groups like the ADL and new ones. The ADL's budget has almost doubled over the past seven years. I am seeing Jews talk of fighting back and taking things into their own hands. And we are in this politically precarious movement in American history, all of which suggests parallels to the era you examined. What kind of wisdom can we glean from examining the ADL's secret and public fight against the John Birch Society as people who care about the issues affecting Jews today?

A lot of liberals in the 1960s and a lot of the leadership at the ADL grasped the axiom that things can always get worse.

In 2015-2016, you'll recall, there was Trump's demonization of Mexican immigrants, and the so-called "alt-right" around him and his campaign and expressions of vitriol by people like Steve Bannon.

There was an assumption among a lot of Americans and among a lot of Jewish Americans that the fringe right — the antisemites, the explicit racists, the white supremacists — that there's not a majority for them and they can never achieve power.

If you go back and you look at Trump's closing 2016 campaign ad, it's textbook antisemitism. He flashes on screen these wealthy Jewish international bankers, and he argues that basically, there's a conspiracy of these global elites who are stealing the wealth of honest Americans. There's also 2017, the white supremacists in Charlottesville, who said "Jews will not replace us" and Trump saying there are fine people on both sides.

The sense that democracy is incredibly fragile is not just a theory or a concept: It's an actuality, the sense as well, that the United States has only been a multiracial democracy for not very long and a haven for Jews for not that long either.

The work that the ADL and the NAACP and other groups did to try to constrain and discredit as fringe and extremist still goes on today. It's harder to do for all sorts of reasons today including social media and the loss of faith in institutions. But it still goes on. You see the importance of institutional guardrails including the Department of Justice that is prosecuting 1,000 Jan. 6 insurrectionists.

The last thing I'll say is that one of the admirable things in the 1960s about the ADL and the liberal coalition it belonged to is that it built support for landmark legislation like the Immigration Act of 1965, the Civil Rights Act of 1964, and the Voting Rights Act of '65. And a coalition eventually fell apart, but it was powerful, reminding us why Jewish American groups should care about or focus on issues that don't directly affect Jewish people.
City Journal has more in their review of Dallek's book:
Dallek's most significant contribution involves revealing a "previously undisclosed counterintelligence operation waged by the [Anti-Defamation League] to infiltrate and dig up damaging information about the John Birch Society." He notes how the so-called Birch Watchers tried to bait JBS leaders by issuing racist statements in their presence and how they even "posed as disgruntled Birchers to infiltrate white supremacist groups and assess the society's existing ties to them." He reveals that, in addition to the FBI, the press received reports that compiled the most unflattering material and that the targets of such operations "sometimes found their careers in jeopardy."

The code-name-using Birch Watchers included cops, bankers, and others privy to sensitive information. Dallek writes: "They obtained chapter membership lists, ran credit reports on individual Birchers, ferreted out their employment records, traced their financial transactions, wrote down their license plate numbers, obtained a codicil to a Bircher donor's will, stumped them with tough questions during call-in radio shows, set up a Birch chapter meeting on false pretenses so an ADL target could be 'interviewed,' and studied their personal and professional associations. Some of the scariest or most unflattering bits ended up in the press."

One suspects that some of the scariest or most unflattering bits did not end up in Dallek's book. He notes in his acknowledgments that the ADL "kindly allowed me to review some of the historical records in its archives." Someof the historical records?
All these years later, the ADL has basically merged with the FBI and together they're using the same Stasi-like tactics to suppress the right.
Former FBI Director James Comey in 2014 delivered a speech which he described as "love letter" to the ADL and in 2017 he told ADL CEO Jonathan Greenblatt during another speech, "Three years later I can say, from the perspective of the FBI, we're still in love with you."
"You have advocated for voting rights and immigration issues," Comey said. "You have fought against anti-Muslim prejudice and cyber bullying. You have stood up for LGBT and gender equality. You have pushed and prodded for hate crime legislation. And you have helped us identify and track domestic and international terrorist threats. And for all of that, we are grateful."
The average American is a MAGA extremist who must be put on an FBI watchlist for speaking out against critical race theory at a school board meeting but the ADL and their "multi-dimensional counterintelligence operation" that's used to subvert the will of the American people deserves nothing but praise!
This post was originally published at Information Liberation
Obama Judge Sentences Oath Keepers Founder Stewart Rhodes to 18 Years in Prison in J6 'Sedition' Case
Oath Keepers founder Stewart Rhodes, who came unarmed to DC and didn't even enter the Capitol Building on January 6th, was sentenced to 18 years in prison on Thursday for "seditious conspiracy" by Obama-appointed US district judge Amit Mehta.
Rhodes' crime was apparently mouthing off about revolution in private chats and lamenting after the event that "we should have brought rifles."
"You, sir, present an ongoing threat and a peril to this country and to the republic and to the very fabric of this democracy," Judge Amit Mehta, an Indian immigrant appointed to the DC district court by Obama in 2014, scolded Rhodes before handing down the longest sentence to date for any J6er.
Mehta's bio says he served on the board of the Mid-Atlantic Innocence Project (one of many groups which helps get convicted murderers like Shaurn Thomas out of prison).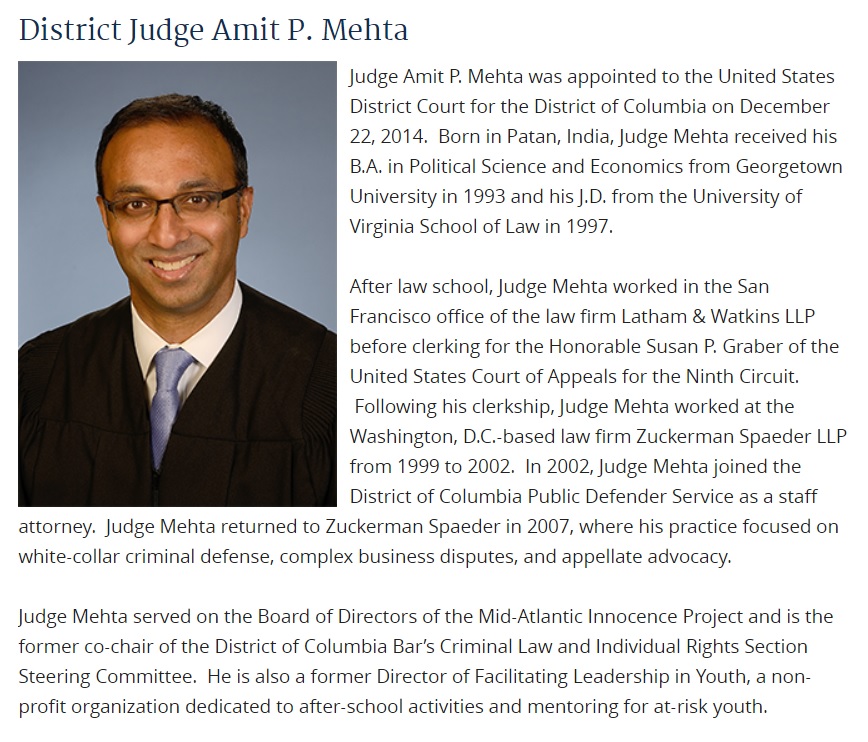 Though Mehta is a big believer in "criminal justice reform" when it comes to releasing thugs onto our streets, he opted to apply an enhancement for terrorism in Rhodes' sentencing.
From NBC News, "Oath Keepers founder sentenced to 18 years in Jan. 6 seditious conspiracy case":
The founder of the far-right Oath Keepers has been sentenced to 18 years in federal prison in connection with the Jan. 6 attack on the Capitol following his conviction on seditious conspiracy.

The sentence for Stewart Rhodes is the longest imposed on a Jan. 6 defendant to date. In a politically-charged speech in the courtroom just before his sentencing, Rhodes called himself a "political prisoner" and said that when he talked about "regime change" in a phone call with supporters earlier this week, he meant he hopes that former President Donald Trump will win in 2024.

The judge disagreed that Rhodes had been locked up for politics, saying it was his actions that led to his criminal convictions.

"You, sir, present an ongoing threat and a peril to this country and to the republic and to the very fabric of this democracy," Judge Amit Mehta said before handing down the sentence.

Rhodes was convicted of seditious conspiracy in November along with Kelly Meggs, a fellow Oath Keepers member who will be sentenced later Thursday afternoon.

"They won't fear us until we come with rifles in hand," Rhodes wrote in a message ahead of the Jan. 6 attack. After the attack, in a recording that was played in court during his trial, he said his only regret was that they "should have brought rifles."
That's called venting frustration.
They didn't bring rifles — they were unarmed — and they didn't take part in an "insurrection" — everyone left the Capitol after just a few hours — but apparently that's not relevant to the case.
The fact they legally brought some weapons to Virginia and left them in a hotel was proof enough of their "seditious conspiracy," according to Mehta.
Wearing an orange prison jumpsuit Thursday, Rhodes said he believes the only crime he committed was opposing those who are "destroying our country."

Mehta told Rhodes that he was found guilty of seditious conspiracy "not because of your beliefs, not because you supported the other guy, not because Joe Biden is president right now," but because of the facts of the case, and his actions before, during and after Jan. 6.

"You are not a political prisoner, Mr. Rhodes," Mehta said.
Fact check: false.
Rhodes and Meggs were put on trial alongside Jessica Watkins, Kenneth Harrelson and Thomas Caldwell, fellow Oath Keepers who were convicted of obstruction of an official proceeding and aiding and abetting, but not seditious conspiracy. Watkins and Harrelson will be sentenced on Friday.

Rhodes took the stand in his case, saying at trial that the other members of the Oath Keepers were "stupid" to storm the Capitol and that he disagreed with those who went inside; Rhodes did not enter the building. "I had no idea that any Oath Keeper was even thinking about going inside or would go inside," Rhodes said.

But the government also produced messages in which Rhodes said he thought that Jan. 6 was the last opportunity to stop what he saw as a takeover of the government.

"On the 6th, they are going to put the final nail in the coffin of this Republic, unless we fight our way out. With Trump (preferably) or without him, we have no choice," Rhodes wrote in a message ahead of Jan. 6.

He also celebrated Oath Keepers' actions in the immediate aftermath of the attack, after meeting with other members of the group at an Olive Garden in Virginia that night.

"Patriots, it was a long day but a day when patriots began to stand," Rhodes wrote the night of Jan. 6. "Stand now or kneel forever. Honor your oaths. Remember your legacy."
The Gateway Pundit has some longer excerpts from Stewart and Mehta.
In short, Rhodes — along with his fellow Oath Keepers — were convicted for mouthing off in their group chats.
If you say, "Give me liberty or give me death," that's essentially now evidence of a seditious conspiracy.
If you say, "The tree of liberty must be refreshed from time to time with the blood of patriots and tyrants," that's essentially now evidence of a seditious conspiracy.
This is all it takes to convict in the comically biased kangaroo courts in DC. Just as we saw in the Proud Boys case, the feds don't need any hard evidence — they just need a jury which doesn't like you.
This post was originally published at Information Liberation
Greenwald: Regime Journalists Promote The 'Right' Conspiracy Theories To Be Successful
"Journalists who spread conspiracy theories that the CIA wants them to spread get promoted, and the journalists who question the conspiracy theories of the CIA get destroyed."
Independent investigative journalist Glenn Greenwald succinctly summarises how 'regime media narratives' are formed and disseminated, and that any journalist who questions the process ends up a target for destruction by the establishment.
During his "System Update" broadcast on Rumble, Greenwald noted how "Journalists who spread conspiracy theories that the CIA wants them to spread get promoted, and the journalists who question the conspiracy theories of the CIA get destroyed."
"It's not prohibited in American corporate journalism to spread false stories and conspiracy theories," Greenwald asserted, adding "In fact, that's the only way you can thrive in journalism."
"The people who have lied the most, and who spread the most conspiracy theories, are the ones who have been promoted and enriched most within corporate journalism," he further urged.
"The difference is, the way to advance in journalism is to tell lies and spread conspiracy theories on behalf of the CIA, and that advance the interests of the U.S. government. That is not only permitted. That is required to be promoted," Greenwald emphasised.
He continued, "What you can't do, the thing that [Seymour] Hersh did that got him expelled from journalism, is he spread what are called conspiracy theories that are against the narrative of the U.S. security state, that undermined U.S. foreign policy. That is the only thing that is prohibited. That's what gets you kicked out of journalism."
Greenwald was referring to Hersh's reporting on the destruction of Russia's Nord Stream pipeline, which the veteran journalist is adamant was a coordinated operation by U.S. intelligence.
Greenwald continued, "As long as the conspiracy theories you're affirming and the false stories you're publishing are aligned with what the CIA, Pentagon, and the entire rest of the corporate media says, you're fine. In fact, you're better than fine. You're going to have all kinds of rewards lavished upon you."
Greenwald then cited the example of editor-in-chief of The Atlantic, Jeffrey Goldberg, who "did more [than anyone] to spread the false conspiracy theories that led to the Iraq War," and "also became ground zero for every Russiagate fraud."
Greenwald further proclaimed that Goldberg "was rewarded… as a result of the lying he did on behalf of the U.S. security state."
The journalist went on a further deep dive into the example of the 2001 anthrax attacks, which he posits is a prime example of how "people in the CIA, FBI, and DHS know they can lie to the media on purpose without any accountability because they do so while hiding behind the shield of anonymity."
"Even if you know they lied, the media will protect these liars, people who are deceiving America on purpose through the use of their media platforms," Greenwald further charged.
Watch:
SUBSCRIBE on YouTube:
Follow on Twitter:
Follow @PrisonPlanet
———————————————————————————————————————
Brand new merch now available! Get it at https://www.pjwshop.com/


ALERT! In the age of mass Silicon Valley censorship It is crucial that we stay in touch.

We need you to sign up for our free newsletter here.

Support our sponsor – Turbo Force – a supercharged boost of clean energy without the comedown.

Also, we urgently need your financial support here. ———————————————————————————————————————
Poll: Almost Two Thirds Of Americans View Media As "Truly the Enemy of the People"
"A mind-blowing damnation of the regime press"
A new Rasmussen poll has found that almost two thirds of Americans believe the media is "truly the enemy of the people".
The survey found that a total of 59 percent of likely voters either strongly or somewhat agree with the statement.
Among Republicans, the belief is even more prevalent at 77 percent. Only a slim majority of Democrats disagree.
The poll also noted that among Democrats there has been an 11 point drop in trust in the media.
Overall, a majority of 52 percent of Americans say they do not trust the political news they are getting from the establishment media.
The survey also found that 52 percent believe the media is bias towards Democrats.
This is yet another example of how Americans hold almost wholly opposite opinions to liberal corporate media narratives.
A new Harris-Harvard poll released earlier this week also demonstrated how despised the leftist media has become.
SUBSCRIBE on YouTube:
Follow on Twitter:
Follow @PrisonPlanet
———————————————————————————————————————
Brand new merch now available! Get it at https://www.pjwshop.com/


ALERT! In the age of mass Silicon Valley censorship It is crucial that we stay in touch.

We need you to sign up for our free newsletter here.

Support our sponsor – Turbo Force – a supercharged boost of clean energy without the comedown.

Also, we urgently need your financial support here. ———————————————————————————————————————