Video: Elon Musk Educates CNBC Hack That "Some 'Conspiracy Theories' Have Turned Out To Be True"
"Like the Hunter Biden laptop…that was a pretty big deal."
In another compelling appearance, Twitter owner Elon Musk provided a blinkered CNBC 'journalist' with an education on what is and what isn't 'misinformation' or 'conspiracy theory'.
The reporter David Faber said to Musk "Let's talk a bit about your tweets. It comes up a lot, even today, it came up. You know, in anticipation of this meeting. You do some tweets that seem to be, or at least give support to, what some call conspiracy theories."
Musk didn't hold back in his response.
"Well, yes, but I mean, honestly, you know, some of these conspiracy theories have turned out to be true," he replied.
"Which ones?" Faber asked.
"Well, like the Hunter Biden laptop," Musk shot back, adding "that was a pretty big deal. There was Twitter, and others engaged in an act of suppression of information that was relevant to the public. That's a terrible thing that happened. That's election interference."
Search engines are your friend Mr Faber. Maybe do some investigative journalism rather than just reading scripts given to you by Pharmaceutical sponsored executives?
Watch:
Faber also brought up the charges against Musk of being anti-Semitic after he compared George Soros to a super villain and charged that the billionaire leftist "hates humanity."
"I think that's true. That's my opinion" Musk responded, going on to state "I'm like, I'm like a pro-semite. If anything."
Faber seemed perplexed that Musk would tweet such things "when people who buy Teslas may not agree with you, advertisers on Twitter may not agree with you."
Musk shot back "I mean, there's freedom of speech. I'm allowed to say what I want to," before quoting a scene in the movie The Princess Bride "Where he confronts the person who killed his father. And he says, 'Offer me money. Offer me power. I don't care.'"
Continuing the conversation, Faber said "So, you just don't care. You want to share what you have to say?"
"I'll say what I want to say and if the consequence of that is losing money, so be it," Musk replied.  
Consulting his script, Faber then stated "Okay. But I mean, when you when you link to somebody who's talking about the guy who killed children in a mall in Allen, Texas, you say something like it might be a bad Psyop. I'm not quite sure what you meant…"
Musk fired back, "In that particular case, there was a somehow that's, not that most of the people were killed, but it was, I think incorrectly described to be a white supremacist action. And the evidence for that was some obscure Russian website that no one's ever heard of that had no followers and the company that, that found this is Bellingcat."
"Have you heard what Bellingcat does? Psyops," Musk schooled the 'journalist'.
"Right. I couldn't really even follow exactly what it was you were trying to express there. So that's in part why I was curious," Faber claimed, admitting that he has no clue about the topic.
"I'm saying that I thought ascribing it to white supremacy was bullshit," Musk emphasised, adding "and that the information for that came from an obscure Russian website and was somehow magically found by Bellingcat, which is a company that does Psyops."
When Faber wondered why Musk would want to "get into" such issues, the Twitter owner responded "because we should not be ascribing things to white supremacy if they're, if it's false."
Very little is accurately known about the Allen case at this point, apart from it seems that the perpetrator was mentally ill and his beliefs on race appear to have been all over the map.
Elsewhere in the interview Musk was asked if he regrets voting for Joe Biden, to which he expressed a desire to see "a normal human being as President."
"It's not simply a matter of do they share your beliefs," Musk said, adding "But are they good at getting things done."
"There's a lot of decisions that need to be made every day. Many that aren't related to beliefs. And you just want a good executive," Musk said.
SUBSCRIBE on YouTube:
Follow on Twitter:
Follow @PrisonPlanet
———————————————————————————————————————
Brand new merch now available! Get it at https://www.pjwshop.com/


ALERT! In the age of mass Silicon Valley censorship It is crucial that we stay in touch.

We need you to sign up for our free newsletter here.

Support our sponsor – Turbo Force – a supercharged boost of clean energy without the comedown.

Also, we urgently need your financial support here. ———————————————————————————————————————
Elon Musk: "We're Running Out Of Conspiracy Theories That Didn't Turn Out To Be True"
Twitter owner comments on Russell Brand "Witch Burning"
Twitter/X owner Elon Musk has commented on the coordinated political attempt to unperson Russel Brand, describing it as a "witch burning" and questioning "why now?"
Musk made the comments during a conversation on X Spaces Thursday, when asked about Brand being demonetized on YouTube owing to allegations of sexual assault dating back a decade.
"There needs to be, obviously, a conviction here. It can't be guilty until proven innocent," Musk noted, adding "we're just sort of in the witch burning phase here; just being declared a witch is enough to make you a witch and be burnt."
"Anyone could be accused at any time of false charges, and we can't be destroying their lives on the potential of false accusations," Musk continued.
Musk also said he found it interesting that the charges have emerged now after Brand has been "rattling the cage" of the "powers that be."
"Seems like an odd coincidence that it's happening when Russell is really gaining traction, questioning a lot of the conventional wisdom," Musk noted, adding that Brand has been targeted as someone who is now spreading "conspiracy theories." 
"I think we're running out of conspiracy theories that didn't turn out to be true," Musk asserted.
Listen:
Meanwhile, Musk has promised to trim down a list of 'wrong speak' words that Twitter had secretly instituted to demonetise content posted by anyone using them, noting that it is one of many "foolish things" that the platform adopted before he took over.
Musk also spent some of Thursday live-streaming from Eagle Pass in Texas where the Southern border crisis is overwhelming the community:
Fake lamestream media sellouts were big mad that Musk attempted to do some real journalism:
Related:
SUBSCRIBE on YouTube:
Follow on Twitter:
Follow @PrisonPlanet
———————————————————————————————————————
Brand new merch now available! Get it at https://www.pjwshop.com/


ALERT! In the age of mass Silicon Valley censorship It is crucial that we stay in touch.

We need you to sign up for our free newsletter here.

Support my sponsor – Summit Vitamins – super charge your health and well being.

Also, we urgently need your financial support here. ———————————————————————————————————————
'Mudpocalypse' Hits Burning Man, 73,000 Trapped In 'Toxic' Lake Bed In Nevada Desert
Update (1925ET):
On Sunday evening, a White House official said President Biden was briefed on the situation at the Burning Man festival located in one of the harshest environments on Earth.
As of Sunday evening, 73,000 attendees are still trapped in the toxic desert full of alkaline mud after a rainstorm transformed the dried-out lake bed into a swamp. Event organizers said, "The Gate remains closed. Please stay off of Gate Road — rain and mud make it impassable at the moment. We will update you when conditions improve. Stay safe!"
It's a muddy hellhole. 
* * *
Food and fuel are running low for the tens of thousands of attendees (and tech bros) trapped at the Burning Man festival located in one of the harshest environments on earth (high desert, on a dried-up alkaline lake bed) in the Black Rock Desert in Nevada. The situation deteriorated early Saturday when a rainstorm drenched the lake bed, transforming the area into a 'mudpocalypse.'
Since early Saturday, all entry and exit points of the Burning Man festival remained closed due to the thick, alkaline mud. As of 0900 ET Sunday, event organizers said, "The gate and airport in and out of Black Rock City remain closed. Ingress and egress are halted until further notice. No driving is permitted except emergency vehicles."
Organizers continued to advise the 73,000 attendees to "conserve food and water, and shelter in a warm space." 
The Independent confirmed local officials had reported at least one death but have not released details on the suspected cause of death. A major concern is that the toxic alkali dust that makes up the lake bed is now three inches of mud, and if attendees aren't wearing socks and closed shoes, it can cause chemical burns called "Playa Foot." 
And who attends this drug-infested event? The rich tech bros.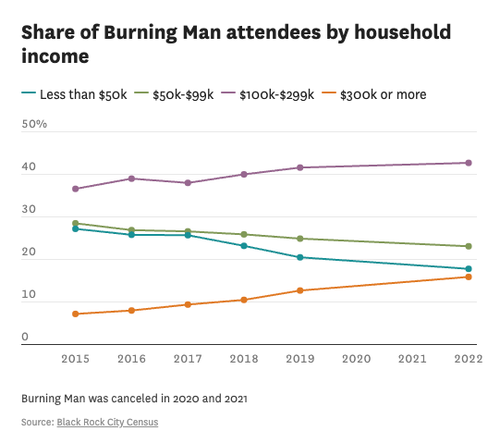 … rich white tech bros.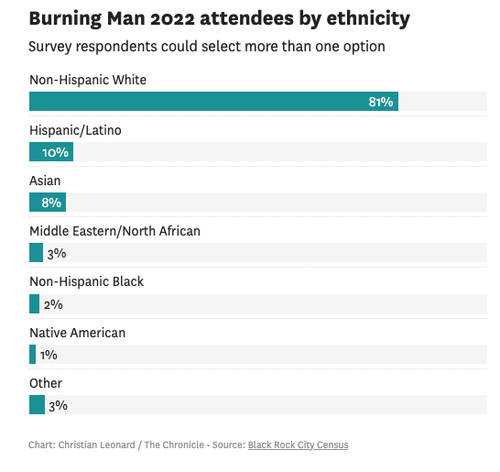 Surely, these 'informed' folks who are now stuck in a swamped toxic lake bed understood it was an El Nino year…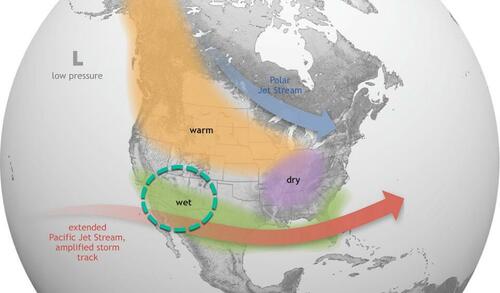 Probably not. They were fixated on the corporate media headlines hyping a non-existent climate crisis (well, that's according to these 1,600 scientists).
This post was originally published at Zero Hedge
Real Life 'Sound Of Freedom' Hero: 'Media Running Interference For Pedophiles And Human Traffickers Is Sick'
"Why would you want to lie to push an agenda whose goal is to have children be in captivity?"
The real life former government agent who exposed child trafficking rings, inspiring the wildly popular new film 'Sound of Freedom', has hit back at a coordinated media effort to categorise the movie as some sort of conspiracy theorist's wet dream.
In a Fox News interview, Tim Ballard, played by Jim Caviezel in the movie, responded to bizarre efforts to label it a 'QAnon' production.
"I can't explain, and neither can they," Ballard urged, adding "Every show I've seen, they just like to throw the word out, 'QAnon.' They make zero connection to the actual story. It's very difficult to make that connection when it's actually based on a true story."
"Where is the QAnon doctrine being spewed in the film and the script?" Ballard demanded to know, adding "This is just some other agenda."
"Who would want to get the backs or run interference for pedophiles and human traffickers?" Ballard emphasised, adding "That's the more important question in all this. Why would you want to lie to push an agenda whose goal is to have children be in captivity? It's kind of sick."
Watch:
The wild unmasking of the pro-child trafficking agenda seemingly started with this from The Washington Post and CNN:
Then the rest of the corporate media just ran with it:
All of this contributed to the film becoming a massive box office hit when it opened on July 4th, raking in over $40 million.
Here's a… different take on the movie:
SUBSCRIBE on YouTube:
Follow on Twitter:
Follow @PrisonPlanet
———————————————————————————————————————
Brand new merch now available! Get it at https://www.pjwshop.com/


ALERT! In the age of mass Silicon Valley censorship It is crucial that we stay in touch.

We need you to sign up for our free newsletter here.

Support our sponsor – Turbo Force – a supercharged boost of clean energy without the comedown.

Also, we urgently need your financial support here. ———————————————————————————————————————