Elites Manufacture Fake "Hate" Crisis As Pretext For Mass Spying, Blacklists, And Censorship
The public's hatred of racial, sexual, and religious minorities is so out of control that it imperils our democracy. At least, that's what influential leaders from Joe Biden and Barack Obama to former New Zealand Prime Minister Jacinda Arden and California Governor Gavin Newsom want us to believe.
Last week Newsom announced a state initiative for citizens to report disfavored speech (non-criminal "hate incidents") they see online:

California's "Civil Rights Department" (CRD) invites citizens to speculate about the motive of the "perpetrator."

In a statement, Newsom's office said the legislation was "in direct response to the rise in reported hate crimes in California, which in recent years, reached their highest levels since 2001 – jumping almost 33% from 2020 to 2021."
Indeed, criminal complaints of hate crimes rose significantly, not just 33% between 2020 and 2021 but also 80% from 2012 to 2021, according to California state data.
But convictions of hate crimes have been flat.
In 2012 there were 107 hate crime convictions in California. In 2021, there were 109, according to the same data.
It's possible that hate crimes really did rise by 80%, and juries decided not to give prosecutors convictions. In San Fransicko, I assemble a large body of evidence to show California residents have become more tolerant of crime.
But it's also possible that convictions stayed the same because there was no increase in prosecutable hate crimes.
And it may be that Californian prosecutors simply labeled more crimes as "hate" crimes because they were primed to do so by the media's 700% – 1,000% increased focus on racism between 2011 and 2020.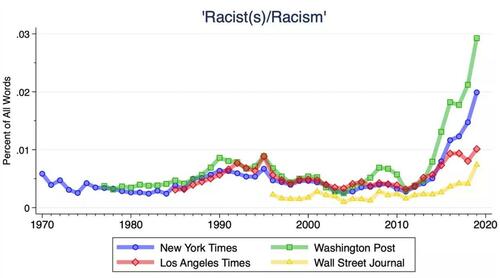 Zach Goldberg, "How the Media Led the Great Racial Awakening," Tablet, August 4, 2020
Whatever the case, California's total number of hate crime complaints is trivial.
There were just 285 hate crime complaints in California, a state with 39 million people, in 2021. There was an order of magnitude more homicides in California, 2,361, in 2021.
Prejudice still exists in the United States. The California church shooting from May 2022 was motivated by political hatred. And the recent mall shooter in Texas may have been motivated by racist ideology.
But the ideologies don't line up neatly politically. The California church shooter was Taiwanese and motivated by an obscure political grievance. The Texas shooter may have been racist, but he was also Latino. And the recent shooter in Nashville was trans and targeted Christians.
And in many instances, the political ideology is plainly secondary to mental illness. That was certainly the case with the psychotic and drug-addicted homeless man from Berkeley who attacked the husband of former House Speaker Nancy Pelosi in San Francisco last year. And it may have been the case with the shooters in Texas and Nashville.
In truth, acceptance of racial, religious, and sexual differences has never been higher in recorded human history. Never before have same-sex and mixed-race couples have been more accepted across all Western nations, which are far more tolerant than most other nations worldwide.
Trans people are celebrated, with an entire reality show dedicated to documenting in celebratory fashion the sexual reassignment surgery and hormone use of a trans girl named Jazz Jennings. And few places are more celebratory of transgenderism than California.
All of which raises a question. If there's no evidence that "hate incidents" are rising, abundant evidence that tolerance is rising, and overwhelming evidence that the media created a moral panic about racism, why are nations and nation-sized states like California urging mass spying and creating blacklists?
…
Germany is leading the West into a totalitarian future. Currently, the government is investigating 8,500 cases of wrongspeech and, according to the New York Times, "more than 1,000 people have been charged or punished since 2018."
…
The haters are the elites, not the people. Hilary Clinton called a significant percentage of the country "deplorables." Obama faulted his political enemies for "clinging to their religion" rather than being Woke. And it was Arden who called her political opponent a "prick."
Through their gatherings at Davos, Aspen, and the United Nations, global elites have decided they know what's best for the people and are deadset on imposing their Wokeism on the entire planet. As such, it's not the public's hatred that imperils democracy, it's the elites'.
* * *
Rand Paul: Elon Musk Will Go Down As A Historic Champion For Free Speech
"Somewhere along the way something happened and people began to think that only certain forms of speech were acceptable."
Senator Rand Paul praised Elon Musk Wednesday for standing up for free speech, predicting that the Twitter owner will be recorded as a key figure in history in the fight against censorship.
Referring to Musk's compelling take down of a CNBC hack earlier this week, Paul noted "Thank God for someone who can still speak their mind and won't take some guff off a journalist who tells him he can't speak his mind."
"Somewhere along the way something happened and people began to think that only certain forms of speech were acceptable," The Senator urged.
"Then along came Elon Musk," Paul continued, adding "The country, the Bill of Rights frankly, all of us, are going to be very thankful that a guy with a lot of money bought a social media entity and allowed us to see the government colluding to limit speech."
"People need to get this right. Private companies can decide what they want to air, newspapers can, television shows can. But what we cannot allow to happen is the government to collude with private business and use them basically as their extension and their arm of censor," Paul emphasised.
He added that "Elon Musk exposed this only because he had 44 billion dollars to buy a company and expose their inner workings off collusion with government."
Watch:
The full interview is below:
Related:
SUBSCRIBE on YouTube:
Follow on Twitter:
Follow @PrisonPlanet
———————————————————————————————————————
Brand new merch now available! Get it at https://www.pjwshop.com/


ALERT! In the age of mass Silicon Valley censorship It is crucial that we stay in touch.

We need you to sign up for our free newsletter here.

Support our sponsor – Turbo Force – a supercharged boost of clean energy without the comedown.

Also, we urgently need your financial support here. ———————————————————————————————————————
He Just Can't Understand It
Musk makes mainstream journo's head explode.
Elon Musk almost caused a mainstream journalist's head to explode when he explained how not everything should be about obtaining money and power.
Please share this video! https://youtu.be/Rm60Y4Xfms4
SUBSCRIBE on YouTube:
Follow on Twitter: Follow @PrisonPlanet
———————————————————————————————————————
Brand new merch now available! Get it at https://www.pjwshop.com/
ALERT!
In the age of mass Silicon Valley censorship It is crucial that we stay in touch.
I need you to sign up for my free newsletter here.
Support my sponsor – Turbo Force – a supercharged boost of clean energy without the comedown.
Get early access, exclusive content and behind the scenes stuff by following me on Locals.
———————————————————————————————————————
Crowder Declares "WAR" On YouTube For Removing Alex Jones Segments
"We will not pacify, we will not kowtow, and we will not stop. Not now. Not ever."
Conservative host Stephen Crowder has vowed "This means WAR," after YouTube removed several of his videos, including clips of Infowars founder Alex Jones guest hosting his show.
Crowder tweeted out screenshots of his inbox and notifications from YouTube that his content has been purged for "violating community guidelines."
Crowder came out punching, declaring that "I don't give a shit that we're ONE STRIKE AWAY from being banned permanently," and saying he will never stop whether YouTube likes it or not.
Despite having close to SIX MILLION subscribers on YouTube, Crowder made the cardinal sin of providing a platform to Alex Jones, whom YouTube censored, banned and completely erased from the platform several years ago, paving the way for hundreds more after him to be silenced.
Crowder has also recently partnered up with Rumble, a direct competitor to YouTube, and one which refuses to censor legitimate content.
YouTube long ago cemented its place as the establishment owned and run platform where only content approved and authorised by the 'powers that be' is allowed to be seen by the masses, and that continues to intensify.
Watch the clips that YouTube banned below, and share the entire show via Rumble, a video hosting platform that still believes in free speech.
SUBSCRIBE on YouTube:
Follow on Twitter:
Follow @PrisonPlanet
———————————————————————————————————————
Brand new merch now available! Get it at https://www.pjwshop.com/


ALERT! In the age of mass Silicon Valley censorship It is crucial that we stay in touch.

We need you to sign up for our free newsletter here.

Support our sponsor – Turbo Force – a supercharged boost of clean energy without the comedown.

Also, we urgently need your financial support here. ———————————————————————————————————————