Liberal Utopia: Two-Mile-Long Vehicle Encampment Spotted In California
The growing number of homeless encampments has spread like wildfire throughout the San Francisco Bay Area. For years, lawmakers in the state have implemented progressive policies that have backfired, sparking a multitude of crises, including soaring crime, rising homelessness, out-of-control drug overdoses, and population and business exodus.
One of the latest examples of implementing failed progressive policies is the inability to effectively address the homelessness and drug crisis on a two-mile stretch of road in Marin County, California, overrun by cars, tents, RVs, and trailers parked on the side of the road.
Just north of San Francisco along Binford Road, the Daily Mail counted at least 135 vehicles. This is one of the largest encampment sites in the state.
Police in Marin County have found some individuals dealing fentanyl and other drugs from their vehicles or tents. In one bust, agents seized a 'ghost gun' and large amounts of fentanyl, methamphetamine, and marijuana.
Photos taken by Daily Mail show a large number of vehicles.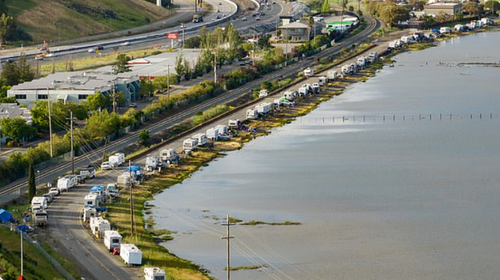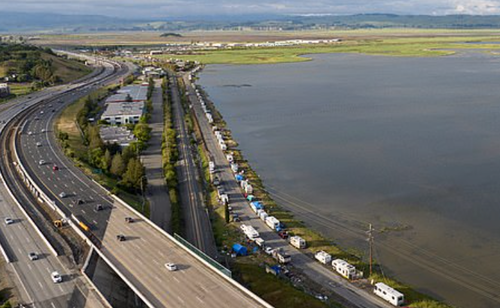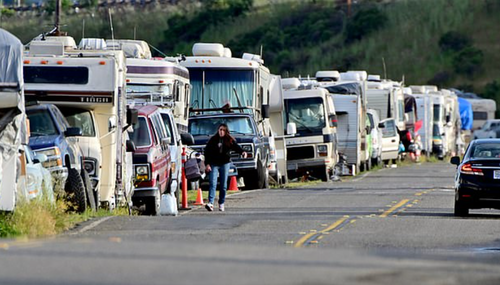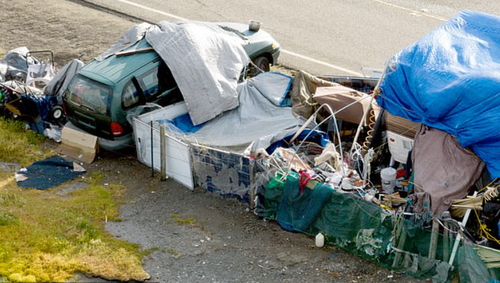 Many of the residents living in their vehicles are said to be from the surrounding area — many of which were kicked out of their homes because the coast of shelter and food spiked in recent years.
So why do California leaders deliberately choose to leave the homeless unsheltered and allow open-air drug markets that have transformed some parts of the state, such as the 2-mile strip on Binford Road, into what appears to be a 'third world'-like country?
Is it the mess they created is too large to solve?
This post was originally published at Zero Hedge
Gingrich: 'No More Pointless GOP Debates; Trump Is Going To Be The Nominee'
"The question now for everybody is do you want to see Joe Biden reelected or do you want to help Donald Trump?"
Former Speaker of the House Newt Gingrich dropped a truth bomb Thursday, noting that there is no use in having more 'debates' among Republican also-ran candidates because Donald Trump is polling so far ahead of them and is certain to be the nominee for 2024.
In a Fox News interview, Gingrich noted "I was talking to our mutual friend, the pollster Matt Towery this afternoon, and Matt said to me, based on what he saw last night, this race is over, Donald Trump will be the nominee, they might as well quit having the various debates because they don't work, they're not helping anybody, and I think that's where we are."
He continued, "I think Trump will be the nominee and the question now for everybody is do you want to see Joe Biden reelected or do you want to help Donald Trump? There's no middle ground here."
Gingrich added, "I think the Republican National Committee should cancel the future debates and say, 'Look, we recognize the objective fact that Trump will be the nominee. We want to work with him."
"In some of these races, some of these polls, Trump is like 43 points ahead of the next person, 43 points. He's gonna be the nominee," Gingrich reasserted.
In regards to other potential candidates, Gingrich noted "I suspect the money is there, but the votes aren't. I'm a big fan of Glenn Youngkin. I think he's doing a great job as governor. I think in 2028, he could be a very impressive, maybe even frontrunner for president, but not this time. Not this year."
Watch:
On the same night as the car crash GOP debate earlier this week, Trump threw every single one of the participants under the bus, stating that he wouldn't pick any of them as a Vice President.
"They are all running for a job," Trump told a crowd in Michigan, adding "They're all job candidates… they will do anything, secretary of something. They even say VP. I don't know. Anybody see any VP in the group? I don't think so."
SUBSCRIBE on YouTube:
Follow on Twitter:
Follow @PrisonPlanet
———————————————————————————————————————
Brand new merch now available! Get it at https://www.pjwshop.com/


ALERT! In the age of mass Silicon Valley censorship It is crucial that we stay in touch.

We need you to sign up for our free newsletter here.

Support my sponsor – Summit Vitamins – super charge your health and well being.

Also, we urgently need your financial support here. ———————————————————————————————————————
"The American People Know The Fix Is In" – O'Reilly Warns Carlson "We Are In The Age Of Disorder Now"
"We're in the age of disorder."
Outspoken conservative media personality Bill O'Reilly joined Tucker Carlson (the man who replaced him in his primetime Fox News slot) for a wide-ranging discussion of the dismal state of the world, and why progressive politicians are to blame.
"America has entered the age of disorder, and it's because of the progressive movement," O'Reilly lamented.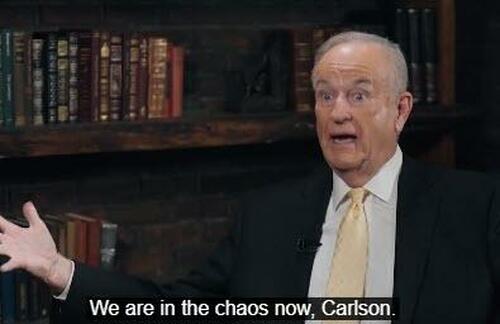 The former Fox News anchor lays out how this has occurred:
"President Biden, in my opinion, is diminished mentally, doesn't know what he's really doing from day-to-day. You can see that in his public statements," O'Reilly remarked, adding that "the progressives like that, because the people who control him inside the White House can tell him anything, and he'll do it."
O'Reilly said that Ron Klain and Susan Rice were the original string-pullers, but since their departure from The White House, their assistants took their place "basically telling Joe what to do and say."
He argued that Biden has harkened in an "age of disorder" which has resulted in the emergence of Black Lives Matter, higher taxes, lax crime laws, and progressive indoctrination of children at young ages.
"The more money you take from people, the less power they have, and the progressives want to run everything, including telling your children what to think when they're five years old," O'Reilly said.

"And most Americans don't get it, because the press is working with the progressive movement and suppresses all this."
However, O'Reilly notes that, given the constant overwhelming bias evident in the Biden admin's judicial actions, it is becoming too hard for media to suppress the reality of political persecution:
"The American people understand what this is… they understand that the documents in Mar A Lago basement parallel the documents in Joe Biden's garage. Yes it's the same thing, but one guy gets raided and charged and the other guy," remains under an opaque investigation.

"Does it really take nine months to figure out why Joe Biden illegally – because he was vice president had no right to take anything – had documents in his garage? Does it take nine months to do that? No. Has Joe Biden been interviewed? No."
"So," O'Reilly concludes, "the American people know the fix is in now."
And "Trump can stop the age of disorder."
Of course, the conversation between the two could not avoid the topic of 'being fired from Fox News' with O'Reilly reflecting on his 2017 removal (amid sexual harrassment claims): "I understood what most television news people don't – that you are expendable." The two candidly remarked on the fact that regardless of one's reputation or history, all television figures are ultimately replaceable.
Watch the full interview below:
This post was originally published at Zero Hedge
Here Is The Only Clip Of The GOP Debate You Need To See
"They're all job candidates…they will do anything, secretary of something."
There was literally just one interesting part of the Fox News Republican debate Wednesday night, the part when each candidate was asked to throw one of the others under a bus.
The rest of the 'debate' was little more than squabbling, backbiting and a set of supposed candidates, most who are polling in the low single digits, incessantly talking over each other like an unruly kindergarten class.
Host Dana Perino rightly pointed out that "It's now obvious that if you all stay in the race, former president Donald Trump wins the nomination."
"None of you have indicated that you're dropping out. So which one of you, on stage tonight, should be voted off the island?" Perino further asked, framing the debate as if it were a reality show popularity contest.
"Please use your marker to write your choice on the note pad in front of you, 15 seconds starting now," Perino stated, before Ron DeSantis piped up and said "With all due respect, like we're here, we're happy to debate but I think that's disrespectful to my fellow competitors."
The other moderator Stuart Varney noted that he saw Chris Christie beginning to write something down, to which Christie responded "I vote Donald Trump off the island right now."
"Every person on this stage has shown the respect for Republican voters to come here to express their views honestly candidly and directly and to take your questions honestly," Christie continued, adding that Trump "has not only divided our party; he's divided families all over this country. He's divided friends all over this country."
"I've spoken to people who have sat at Thanksgiving dinner or at a birthday party, and can't have a conversation anymore if they disagree with Donald Trump. He needs to be voted off this island and taken out of this process." he added.
Hilarious.
And replaced with who?
Meanwhile, Trump threw every single one of the debate participants under the bus, stating that he wouldn't pick any of them as a Vice President.
"It's all over television. This speech, you know, we're competing with the job candidates. They are all running for a job," Trump told a crowd in Michigan.
"They're all job candidates. They want to be in the, they will do anything, secretary of something. They even say VP. I don't know. Anybody see any VP in the group? I don't think so," Trump declared.
Watch:
SUBSCRIBE on YouTube:
Follow on Twitter:
Follow @PrisonPlanet
———————————————————————————————————————
Brand new merch now available! Get it at https://www.pjwshop.com/


ALERT! In the age of mass Silicon Valley censorship It is crucial that we stay in touch.

We need you to sign up for our free newsletter here.

Support my sponsor – Summit Vitamins – super charge your health and well being.

Also, we urgently need your financial support here. ———————————————————————————————————————