NYC Mayor Blasts AOC For 'Interfering' in Investigation of Jordan Neely Subway Death
Congresswoman claimed Neely was murdered for being poor.
New York City Mayor Eric Adams has blasted Rep. Alexandria Ocasio-Cortez, D-N.Y., for 'interfering' with the investigation into the subway death of Jordan Neely.
Neely, who is black, was tackled and placed in a chokehold during the incident which occurred onboard an F train in lower Manhattan on Monday.
Neely was tackled by a white marine and other non-white passengers after reportedly making violent threats.
"I don't mind going to jail and getting life in prison," freelance journalist Juan Alberto Vazquez, who shot the video of the incident, recalled Neely saying. "I'm ready to die."
More facts that have to be suppressed in Operation Bum Floyd, video:

[Jordan Neely]…"started threatening riders and saying 'I'm ready to go back to jail' and 'I'll hurt anyone.'"

Threaten people and have 40 prior arrests, people will defend themselves from hostile behavior. pic.twitter.com/NDwwrRku8K

— James Lindsay, Darth Lindsay (@ConceptualJames) May 4, 2023
Neely had over 40 prior arrests to his name and an open warrant out for his arrest in the assault of a 67-year-old woman in Manhattan's East Village.
According to Neely's aunt, he was a homeless schizophrenic.
As you can see there are three men involved in subduing Neely. One is also black or hispanic. The white ex-marine was telling other passengers to call 911, so that police & ambulance could arrive on the scene at the next station. Don't listen to liars who lie about what happened. pic.twitter.com/nMM6h82wnK

— Aimee Terese (@aimeeterese) May 4, 2023
Although the marine who put him in a chokehold was initially taken into custody and later released, the District Attorney is mulling over whether to press involuntary manslaughter charges.
Prominent Democrats responded to the incident by holding up Neely as a martyr who was murdered unjustly or even "lynched," with New York Governor Kathy Hochul (D) claiming Neely was "killed for being a passenger."
Others are circulating videos of him doing Michael Jackson impersonations on the subway.
He was 30 years old.

Black men deserve to grow old—not be lynched on a Subway because they were having a mental health crisis.

Jordan deserved better. Accountability now. pic.twitter.com/aX5qcryrbx

— Ayanna Pressley (@AyannaPressley) May 4, 2023
However, as far back as 9 years ago, subway riders were warning other passengers that Neely had started acting like a "maniac".
A post on Reddit from nine years ago warns the public about #JordanNeely. The man's death after being restrained by passengers has ignited BLM rage because one of the passengers involved appears to be white. https://t.co/H2x7htqD8J pic.twitter.com/eHKarkHgj7

— Andy Ngô 🏳️‍🌈 (@MrAndyNgo) May 5, 2023
Others claimed he had tried to push people onto the tracks.
My favorite part is that he had 40+ prior to include aggravated assault, and also someone on reddit recognized him because Neely had tried to push him( the reddit user) onto the tracks prior to this 🤣 Reminder, they lie about all of these "poor victims" all of the time. pic.twitter.com/jnySwAkFxC

— Whackeray (@MrPerkwile) May 4, 2023
Another video shows Neely violently confronting a man on the street.
Joey Boots harassed Jordan Neely AND Tucker Carlson.

One was performing in Times Square as a Michael Jackson impersonator.

Another was fishing, in solitude, by himself.

Their reactions are incredibly different. pic.twitter.com/SAbYlAujLt

— The Atticus Flynn Talent Agency (@atticusflynch) May 3, 2023
AOC responded to the incident by suggesting Neely was murdered for being poor, tweeting, "Jordan Neely was murdered. But bc Jordan was houseless and crying for food in a time when the city is raising rents and stripping services to militarize itself while many in power demonize the poor, the murderer gets protected w/ passive headlines + no charges. It's disgusting."
Jordan Neely was murdered.

But bc Jordan was houseless and crying for food in a time when the city is raising rents and stripping services to militarize itself while many in power demonize the poor, the murderer gets protected w/ passive headlines + no charges.

It's disgusting. https://t.co/YJeQp9bbgE

— Alexandria Ocasio-Cortez (@AOC) May 3, 2023
However, New York City Mayor Eric Adams blasted the Congresswoman for her comments during an appearance on CNN.
"I don't think that's very responsible at the time when we're still investigating the situation. Let the DA conduct his investigation with the law enforcement officials," said Adams.
"To really interfere with that is not the right thing to do. I'm going to be responsible and allow them to do their job," he added.
I asked @NYCMayor Eric Adams to respond to comments from @AOC and @bradlander regarding the death of #JordanNeely on the NYC subway Monday. Here's what he said:

"I don't think that's very responsible at a time when we're still investigating the situation."@CNN #CNNPrimetime pic.twitter.com/NNkBjrexef

— Abby D. Phillip (@abbydphillip) May 4, 2023
SUBSCRIBE on YouTube:
Follow on Twitter: Follow @PrisonPlanet
———————————————————————————————————————
Brand new merch now available! Get it at https://www.pjwshop.com/
ALERT!
In the age of mass Silicon Valley censorship It is crucial that we stay in touch.
I need you to sign up for my free newsletter here.
Support my sponsor – Turbo Force – a supercharged boost of clean energy without the comedown.
Get early access, exclusive content and behind the scenes stuff by following me on Locals.
———————————————————————————————————————
Murder Crisis Plagues DC As Mayor Begs For More Officers After 'Defunding Police'
How it started.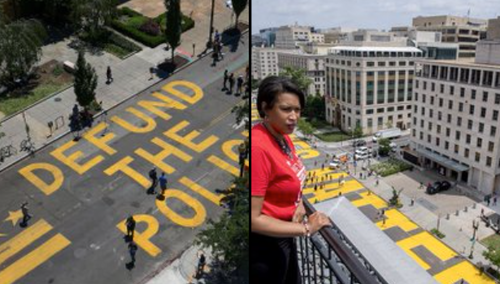 How it's going? 
D.C. Mayor Muriel Bowser, a former supporter of the 'defund the police' movement, urgently calls for increased policing as the nation's capital faces an out-of-control murder crisis.
"What I can say is this: To me, numbers are just numbers. When we lose one person — whether it's one or 200 — that's too many," Bowser said at a press conference earlier this week.
Of course, Bowser, like many Democrat mayors, blames firearms as the issue, deflecting any possibility her disastrous social justice reforms only embolden criminals – while punishing law-abiding taxpayers -across the imploding Washington, DC metro area.
Even the Washington Post can't ignore the murder crisis:
For the first time in a quarter-century, the year's homicide toll in Washington has surpassed 200 before October — a mark of surging violence that has angered and distressed local leaders, drawn scrutiny from Congress and made some residents question whether they can safely live in the nation's capital.
WaPo added:
The last time D.C. logged its 200th homicide before October was Aug. 12, 1997, in a year that ended with 303 people slain, according to police data. After that, annual totals generally trended downward, staying below 200 from 2004 to 2020, with a low of 88 in 2012. But the killing pace has picked up again, reaching 226 in 2021.
Heading into the 2024 presidential election cycle, Democrats will never admit their social justice reforms have failed. They conveniently blame guns.
Directly north of D.C. lies another crime-ridden metro area: Baltimore City. And this week, mass looting was seen in Philadelphia. And just north of Baltimore and Philadelphia, New York City's progressive mayor recently warned of financial ruins due to a migrant crisis.
Democrats have transformed cities into absolute messes.
This post was originally published at Zero Hedge
Lawlessness Spreads To Suburbia: Westport Man Carjacked In Own Garage
Violent crime appears to be spreading to suburbia. For the millions of Americans who fled crime-ridden metro areas where Democrat leaders failed to enforce law and order, the dramatic video of a carjacker assaulting a Westport, Connecticut, man in his garage for his Aston Martin serves as a wakeup call to better defend yourself and loves ones. 
Westport Journal reports that the Westport Police Department released dramatic security footage from a Ring camera that shows a residential burglary and carjacking on Bayberry Lane on Sunday afternoon. Two suspects assaulted the man in his garage and stole his Aston Martin.
"They surround the vehicle and drag the man from the car as he calls for someone in the home to contact police. The intruders appear to repeatedly strike the man as he tries to fend them off," the local media outlet said.
Westport police Lt. Eric Woods said the victim was targeted and followed back to his residence. "Therefore, Westport Police are encouraging residents to be aware of their surroundings and report any suspicious behavior to 911," he said.
The consequence of failed Democrat policies in major cities has only emboldened criminals who are now expanding their theft wave to suburbia. It's also a cautionary sign for homeowners who might want to explore firearms training to defend themselves, their families, and their property.
Meanwhile, the average police response time is more than ten minutes. And Democrat lawmakers want to strip the public of firearms (see New Mexico Governor Michelle Lujan Grisham's latest 2A overreach).
The video proves the Westport man couldn't afford to wait just one minute.
This post was originally published at Zero Hedge
Serial Killer Billy Chemirmir 'Killed by Cellmate' in Texas Prison
The judge in the case declared a mistrial.
Convicted murderer Billy Chemirmir, an illegal alien from Kenya suspected of being one of the most prolific serial killers in American history, was reportedly killed in prison on Tuesday morning by his cellmate.
From WFAA, "Convicted North Texas killer Billy Chemirmir killed in prison, officials say":
Convicted North Texas killer Billy Chemirmir, who was suspected in over 20 murders, was killed in a state prison Tuesday morning, officials confirmed to WFAA.

Chemirmir, 50, was serving life in prison without parole after he was twice found guilty of capital murder by Dallas County juries. He was accused of killing 20 other women in Dallas and Collin counties and still faced charges in those cases.

The Dallas County District Attorney's office confirmed they were notified by Texas prison officials that Chemirmir was killed Tuesday morning. State prison officials confirmed that Chemirmir was found dead in his cell early Tuesday and his cellmate, who was serving on a murder charge out of Harris County, was "identified as the assailant."

Dallas County District Attorney John Creuzot told WFAA that Chemirmir was killed after apparently making inappropriate comments sexual in nature towards his cellmate's children. According to Creuzot, the cellmate allegedly beat Chemirmir, dragged him out of his cell and killed him while other inmates watched. No one intervened and Chemirmir may have been stabbed with a pen, Creuzot said.
They should identify the cellmate so the public can send him letters of appreciation.
Authorities suspected Chemirmir could be involved in around 1,000 suspicious deaths in Texas but tried to convict him in 2021 specifically for killing 24 elderly patients who were overwhelmingly female and white.
Despite having a slam dunk case, one single female juror who "didn't even go back to [look at the evidence]" and "had her mind made up before she walked in" refused to convict, according to family member of a victim who was in the courtroom.
The judge in the case declared a mistrial and two new trials had to be held for separate victims in order to secure convictions.
Follow InformationLiberation on Twitter, Facebook, Gab, Minds and Telegram.