WSJ: Former Israeli PM and Head of Israeli Military Intelligence Ehud Barak Visited Jeffrey Epstein's Apartment Monthly
Former Israeli Prime Minister and head of Israeli Military Intelligence Ehud Barak visited Jeffrey Epstein's New York City apartment dozens of times between 2013 and 2017, documents obtained by the Wall Street Journal reveal.
"After Epstein was arrested in 2019, photos were published in newspapers showing Mr. Barak, the Israeli politician, entering Epstein's townhouse in 2016," WSJ reported.
"The documents provide new details about his scheduled meetings," WSJ continued. "They show that between 2013 and 2017, Epstein planned at least three dozen meetings with Mr. Barak. They had appointments every month for 11 consecutive months starting in December 2015, the documents show."
Mr. Barak told the Journal he was introduced to Epstein in 2003 by Shimon Peres, another former prime minister of Israel, at a social event with U.S. dignitaries, and that he would regularly visit Epstein when he traveled to New York. "Quite often, I came to the townhouse with my wife," Mr. Barak said. Mr. Peres died in 2016.

Mr. Barak also took flights on Epstein's private jet, the documents show. In January 2014, he met Epstein at his Palm Beach mansion and then they flew together to Tampa, where Epstein dropped him off and continued on to New York.

"I flew only twice on his airplane, together with my wife and Israeli security detail," Mr. Barak said. He said he remembers the trip in Florida was to visit a U.S. military installation in Tampa.

"I never participated in any party or any other improper event around [Epstein], and never met him with girls or minors, or even adult women in improper context or behavior," Mr. Barak said.
Barak was photographed "hiding his face" while entering Epstein's New York City townhouse in 2016.
Barek didn't say he was with his wife after getting exposed by the Daily Mail but did claim that he "never met Epstein in the company of women or young girls."
Epstein "entered a partnership worth millions" with Barak in 2015.
Pro-Israel billionaire Leon Black, who funded Epstein together with pro-Israel billionaire Les Wexner to the tune of hundreds of millions of dollars, "scheduled more than 100 meetings with Epstein from 2013 to 2017," the WSJ reported.
Epstein also met with former US Secretary of the Treasury Larry Summers after his conviction for child solicitation:
Lawrence Summers wanted $1 million to fund an online poetry project his wife was developing. The former Treasury secretary and onetime Harvard University president turned to Jeffrey Epstein.

"I need small scale philanthropy advice. My life will be better if i raise $1m for Lisa," Mr. Summers said in an email to Epstein in April 2014, referring to his wife, Elisa New, a Harvard professor. "Mostly it will go to make it a pbs series and for teacher training. Ideas?"

Epstein replied that they could meet in Cambridge, Mass. Mr. Summers invited him to dinner, according to a trove of documents reviewed by The Wall Street Journal. Two days later they made plans to meet at The Fireplace, a cozy restaurant in nearby Brookline, one of several meetings the two men scheduled that year.

In 2016, a nonprofit linked to Epstein donated $110,000 to Ms. New's nonprofit, which develops video content about poetry, according to tax records.
Billionaire LinkedIn co-founder Reid Hoffman, who was caught staging a false flag operation with fake Russian bots to influence the Alabama Senate election in 2017, visited Jeffrey Epstein's "Pedophile Island," Epstein's records show.
Hoffman has been using his wealth to pour money into electing pro-Israel Democrats, fund the E. Jean Carroll's rape lawsuit against Donald Trump and work with George Soros to censor the internet.
From The Wall Street Journal:
[Reid] Hoffman, the LinkedIn co-founder, has apologized for his interactions with Epstein, including inviting him in 2015 to a dinner in Palo Alto with Silicon Valley leaders. After Epstein was arrested in 2019, Mr. Hoffman said he had met with him to help raise funds for MIT at the request of the then director of MIT's Media Lab, Joi Ito.

The documents reveal that Epstein had plans for Mr. Hoffman and Mr. Ito to visit his private island in March 2014 and in November 2014. On the second date, Epstein planned to travel with both men from Palm Beach to the island for a weekend and then fly together to Boston.

When the venture capitalist had a flight scheduled to land late at night in New York on Dec. 4, 2014, Epstein arranged for Mr. Hoffman to stay overnight in his townhouse, the documents show. The following morning, Mr. Hoffman was scheduled to attend a "breakfast party" with Epstein, Mr. Gates and others, according to the documents.

Mr. Hoffman told the Journal he only once visited Epstein's island residence, Little St. James, for an MIT fundraising trip with Mr. Ito. He said he regrets ever meeting with Epstein and his last interaction with Epstein was in 2015.

"It gnaws at me that, by lending my association, I helped his reputation, and thus delayed justice for his survivors," Mr. Hoffman said in an email. He said he met with Epstein to discuss science projects at universities. "While I relied on MIT's endorsement, ultimately I made the mistake," he said, "and I am sorry for my personal misjudgment."

Mr. Ito said in an email: "Reid attended a few fundraising events at my request, including one trip to Little St. James, after I confirmed to Reid that Mr. Epstein had been an approved donor target for MIT in accordance with university rules and regulations."
Mr. Hoffman here is the real victim, folks!
I guess it's just a coincidence that Epstein was in bed with the former Israeli Prime Minister and head of Israeli Military Intelligence, was funded by pro-Israel billionaires and was giving large donations to the man who Netanyahu wanted to run the Bank of Israel.
Epstein must have been working for the Russians!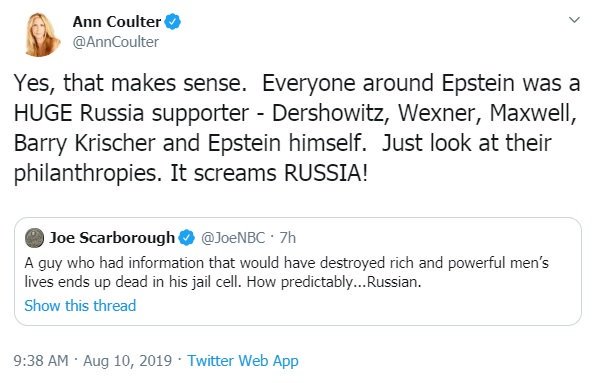 This post was originally published at Information Liberation
Time To Name The Clients: JPMorgan Flagged Over $1 Billion In Suspicious Epstein Transfers
JPMorgan flagged over $1 billion in suspicious transactions linked to deceased pedophile Jeffrey Epstein, which the bank reported to the US government, the US Virgin Islands has claimed in its lawsuit against the bank.
"JPMorgan was a full-service bank for Jeffrey Epstein's sex trafficking," said Mimi Liu, an attorney for the USVI, which says the enormous sum bolsters key allegations in their legal action against the bank, which they say knowingly benefited from Epstein's wrongdoing, Bloomberg reports, noting that this is the first time in the case that the 'sheer volume of Epstein's financial activity at JPMorgan over a 16-year period has been disclosed.'
The suspicious activity was detailed in a 2019 filing to the US Department of Treasury, a USVI attorney told a federal court in Manhattan on Thursday. The filing was made after Epstein died in a Manhattan jail cell a month after his arrest on sex trafficking charges. Epstein had been with the bank from the late 1990s through 2013, when they finally cut ties with him.
Epstein notoriously trafficked some of his victims to a private island in the USVI.
JPMorgan denies that it let Epstein's activities slide, and says it reported around 150 cash transactions to a federal regulator between 2002 and 2013.
Last month, the USVI told the judge in the case that the bank facilitated over $1.1 million in payments from Jeffrey Epstein to "girls or women," many of whom had Eastern European surnames.
Over $320,000 of the payments were made to "numerous individuals for whom JPMorgan had no previously identified payments," Singer wrote, accusing the bank of failing to disclose the payments until after the end of discovery – the period in which parties in a lawsuit exchange evidence.
The bank claims that's irrelevant, because the USVI doesn't have legal standing to claim JPMorgan obstructed a trafficking investigation because it wasn't a victim.
That said, Liu is urging the judge in the case to decide various claims in the USVI's favor without a trial.
"The only reason that JPMorgan after 16 years reported the $1 billion in suspicious transactions was because he was arrested and then he was dead," she said.
JPMorgan claims they had no idea what Epstein was up to – pointing to depositions from current and former employees who say they had no knowledge of the trafficking.
"There is hotly disputed testimony and evidence," said Feliia Ellsworth, an attorney for the bank.
The USVI is seeking at least $190 million from JPMorgan.
The case is USVI v. JPMorgan Chase Bank, 22-cv-10904-UA, US District Court, Southern District of New York (Manhattan).
This post was originally published at Zero Hedge
Video: Ramaswamy Vows To Publish Epstein Client List
"Roll the log over, let's see what crawls out"
Republican Presidential candidate Vivek Ramaswamy has promised to make public the Jeffrey Epstein client list, outing elite pedophiles, should he be elected.
"I think what we have a lot in this country are a lot of conspiracy realists. And so, I'm one of them just because everything you sort of suspect oftentimes becomes true," Ramaswamy noted in response to a question from a voter who urged that she is "tired of being called a conspiracy theorist."
"We will publish the Jeffrey Epstein client list… Roll the log over, let's see what crawls out," he added.
"At least publish it, we've got to see it. Sunlight is the best disinfectant," Ramaswamy continued, adding "And I trust the people of this country to say it is not just what is easy but what is hard, we will confront the truth."
Watch:
Ramaswamy said a lot more than President Trump did when he was asked recently about Epstein:
Trump recently hinted that he would consider Ramaswamy as a VP pick, however the candidate has said that he isn't interested.
Related:
SUBSCRIBE on YouTube:
Follow on Twitter:
Follow @PrisonPlanet
———————————————————————————————————————
Brand new merch now available! Get it at https://www.pjwshop.com/


ALERT! In the age of mass Silicon Valley censorship It is crucial that we stay in touch.

We need you to sign up for our free newsletter here.

Support my sponsor – Summit Vitamins – super charge your health and well being.

Also, we urgently need your financial support here. ———————————————————————————————————————
"That Cretin Never Advised Me On Anything Whatsoever": Musk Responds To Epstein Subpoena
Update (2230ET): Musk has replied news that he's been subpoenaed in the US Virgin Islands lawsuit against JPMorgan over their relationship with Epstein.
"This is idiotic on so many levels," said Musk, adding "That cretin never advised me on anything whatsoever."
"The notion that I would need or listen to financial advice from a dumb crook is absurd."
Lastly, Musk claims that JPMorgan "let Tesla down ten years ago, despite having Tesla's global commercial banking business, which I then withdrew. I have never forgiven them."
Elon Musk was issued a subpoena by the US Virgin Islands as part of its lawsuit against JPMorgan Chase over the bank's alleged facilitation of Jeffrey Epstein's sex trafficking ring, a court filing revealed Monday.
According to the filing, the Virgin Islands has attempted to serve Musk since late April, because Epstein "may have referred or attempted to refer" Musk as a client to JPMorgan.
The USVI hired an investigative firm to try to locate an address from Musk, and also contacted one of the CEO's lawyers, who in the past has waived the requirement of him being personally served with legal documents in past federal cases, according to the filing in U.S. District Court in Manhattan. -CNBC
"The Government contacted Mr. Musk's counsel via email to ask if he would be authorized to accept service on Mr. Musk's behalf in this matter but did not receive a response confirming or denying his authority," reads the filing.
JPMorgan is accused of servicing approximately 55 Epstein accounts between 1998 and 2013, years after his 2006 arrest for soliciting minors in Florida.
Meanwhile, the US Virgin Islands has also been unable to subpoena Google co-founder Larry Page in connection with its investigation into Jeffrey Epstein, according to federal court filings.
In a motion filed last week by the USVI Attorney General, process servers have attempted to reach Page at four different addresses – none of which were 'valid.'
"The Government made good-faith attempts to obtain an address for Larry Page, including hiring an investigative firm to search public records databases for possible addresses," reads a filing. "Our process server attempted service at the addresses identified by our investigative firm, but discovered the addresses were not valid for Mr. Page."
As such, prosecutors are asking the court to allow Page to be summoned via Alphabet, Google's parent company, as Page still serves on its board.
Page's whereabouts are largely unknown, though he was said in December to have spent the bulk of the COVID pandemic on one of his growing number of private islands – some of which are within the US Virgin Islands.

Page purchased Hans Lollik and its smaller neighboring island, Little Hans Lollik, in 2014 for $23 million. -Daily Mail
"Larry Page – the co-founder and co-owner of Alphabet Inc. (Google LLC's parent company) – is a high-net-worth individual who Epstein may have referred or attempted to refer to JPMorgan," reads a filing in the case.
As Ben Bartee notes in PJ Media;
It seems there are two potential explanations for Mr. Page's disappearing act: either he himself doesn't want to testify because of personal fears of what crimes it might implicate him in, or someone or something else doesn't want Mr. Page discussing what he knows about Jeffrey Epstein's activities.
I recently made a half-serious petition for Elon Musk to slap a Twitter "red check" on all known Jeffrey Epstein associates. When this ordeal is said and done, there might be a new Silicon Valley tech overlord to add to the list.
The subpoena efforts are part of the ongoing Virgin Islands prosecution of JPMorgan CEO Jamie Dimon, implicating the highest level of multinational banking as potential accomplices in the years-long trafficking ring.
Via CNBC:
CEO Jamie Dimon in an interview Thursday said he was "so sad" the bank had any business relationship with Jeffrey Epstein — but denied the firm is legally liable for the dead predator's sex trafficking.

Dimon also said, in the televised interview with Bloomberg, that if JPMorgan had known everything that has become public in recent years about its former customer Epstein "we would have done things differently."
What sad propaganda.
If anyone believes that a multinational banker like Jamie Dimon is psychologically capable of regret over facilitating immoral/illegal activities on behalf of his clientele, I have oceanfront property in Montana to sell you.
This post was originally published at Zero Hedge