US Navy Enlists Drag Queen For 'Digital Ambassador' Role To Attract More Recruits
And the Department of Defense wonders why multiple military branches are projected to miss their recruitment goals this year? The Navy expects to fall short by over 6000 sailors in 2023, while the military struggles with a growing lack of interest, not to mention a lack of physically viable candidates. So, they have embarked on a new strategy, giving their marketing the Bud Light treatment.
That's right, the Navy has recruited a squadron administrator and drag queen using the name "Harpy Daniels" to be their new "Digital Ambassador." The post is designed to inspire more civilians to join the Navy.
The attempted "woke-ification" of the US armed forces is a growing trend, with military brass defending the teaching of CRT (Critical Race Theory) among officers and numerous recruitment ads depicting far-left concepts. Here is a training video from the Navy featuring two engineers from the Naval Undersea Warfare Center explaining the use of pronouns, gender neutral language and how to be a "good ally" to the LGBT community.
And who can forget this social justice advertising gem from the US Army:
For good measure, let's not forget the woke and narcissistic messaging of recent CIA recruitment ads:
The Navy claims that DEI (Diversity, Equity and Inclusion) initiatives are not hurting recruitment, yet interest in military service continues to plummet in the face of the woke shift.
The repellent nature of leftist branding efforts in the military should be obvious. In the past, the majority of those volunteering for military service have always been politically conservative or independent, with only 29% of current serving identifying as Democrats. Leftists have long been widely opposed to military participation in general, even though, ironically, the Democrats are now becoming the preeminent party of war when it comes to Russia and the Ukraine situation.
They want America to go to war, they just don't want to be forced to fight those wars themselves. War is an ugly business replete with unfairness and inequity. Trying to appeal to progressives within Gen Z is not going to work out well for the DoD.
Another factor is the mindset of the average leftist – It is a philosophy that lends itself to weakness, entitlement and often mental illness, making training goals difficult or impossible. Over 42% of Gen Z has been diagnosed with at least one mental health condition. This is why many businesses are now more likely to reject applications from job seekers that use preferred pronouns in their resumes. These people are far more trouble than they're worth.
The only recourse for a woke military would be to dramatically lower standards and turn basic training into a day care, which is exactly what they have been doing incrementally over the past several years. The question is if this is delusional or deliberate self sabotage. Is the US military being deconstructed from within? Or, are these people simply inept?
This post was originally published at Zero Hedge
Beyond the Realms of Absurdity
Welcome to the new crime of not joining in.
UK police telephoned and warned a woman because she refused to accept an LGBT-themed 'Pride' carrier bag after buying something in a shop.
Please share this video! https://youtu.be/bU1VkNZKakk
SUBSCRIBE on YouTube:
Follow on Twitter: Follow @PrisonPlanet
———————————————————————————————————————
Brand new merch now available! Get it at https://www.pjwshop.com/
ALERT!
In the age of mass Silicon Valley censorship It is crucial that we stay in touch.
I need you to sign up for my free newsletter here.
Support my sponsor – Summit Vitamins – super charge your health and well being.
Get early access, exclusive content and behind the scenes stuff by following me on Locals.
———————————————————————————————————————
Author Of 'Gender Queer' Book Found In Schools Says "I Don't Recommend This Book For Kids"
"'Gender Queer' is a comic, and in full color, but that doesn't mean it's for children"
The author of the book titled 'Gender Queer', one of the controversial LGBTQ+ materials featuring explicit images that has cropped up again and again in schools has stated that the book is not meant to be available for young children.
Maia Kobabe, who identifies as non-binary told the Washington Post that her book is aimed at "older teens," not kindergarten aged kids.
"It keeps being called a children's book … but I think that's coming from a misreading of the comic-book form. 'Gender Queer' is a comic, and in full color, but that doesn't mean it's for children," Kobabe stated.
"I originally wrote it for my parents, and then for older teens who were already asking these questions about themselves. I don't recommend this book for kids!" she said in the interview published last week.
The comments come after GOP Senator John Kennedy read aloud graphic excerpts during a Senate Judiciary Committee hearing:
Kennedy read "I got a new strap-on harness today. I can't wait to put it on you. It will fit my favorite dildo perfectly. You're going to look so hot. I can't wait to have your c**k in my mouth. I'm going to give you the blow job of your life. Then I want you inside of me."
"The words you spoke are disturbing, especially coming out of your mouth, it's very disturbing," Illinois Secretary of State Alexander Giannoulias told Kennedy in response.
The book is one of several that have prompted outrage and protests among parents as it features graphic illustrations of sex between two men, use of sex toys, oral sex, and masturbation, among other things.
Passages from the book have been read out by parents during school board meetings, in some cases leading to them being shut down and asked to leave.
The Gender Queer book was also cited by Chelsea Clinton in tweets defending the use of such material in schools:
Related:
SUBSCRIBE on YouTube:
Follow on Twitter:
Follow @PrisonPlanet
———————————————————————————————————————
Brand new merch now available! Get it at https://www.pjwshop.com/


ALERT! In the age of mass Silicon Valley censorship It is crucial that we stay in touch.

We need you to sign up for our free newsletter here.

Support my sponsor – Summit Vitamins – super charge your health and well being.

Also, we urgently need your financial support here. ———————————————————————————————————————
Indeed Out-Wokes Corporate America With $10,000 Relocation Checks For Trans Employees
Austin-based online job search platform, "Indeed," aims to 'out woke' corporate America by offering transgender employees or those with transgender children a $10,000 relocation payment. Both Bloomberg and Axios confirmed the relocation payment program. 
Before we discuss relocation payments, it's important to note that Indeed proudly states on its website that it had the wokest corporate policies in America in 2018. It said its 2018 Corporate Equality Index (CEI), a national benchmarking survey and report on corporate policies and practices related to lesbian, gay, bisexual, transgender, and queer (LGBTQ) workplace equality, score "received a perfect score of 100 percent."
For some context, CEI is administered by the Human Rights Campaign, the largest LGBTQ+ political lobbying group in the world. HRC has received millions of dollars in funding from George Soros' Open Society Foundation.
Indeed's executives appear to have one objective in mind: rank the highest on the CEI index this year (we all remember earlier this year what happened to Bud Light when they tried that on TikTok). One way execs are attempting to achieve a high score is to offer a relocation program to trans workers, cutting them a $10,000 check to cover 'travel-related expenses' out of conservative states (or areas where they don't feel comfortable) to safer grounds.
"While Indeed introduced the program to its employees in July, until now, the company has not discussed it publicly," Bloomberg said.
Indeed provided further details about the program to Axios:
It's for US-based employees and immediate family members who seek gender-affirming care and live in a location where state laws or government-issued directives criminalize or restrict access to such medical care.
It also applies to those who live in places that attempt to restrict support for children who are gender non-conforming, transgender or non-binary.
Eligible employees will receive approval to relocate to a state or jurisdiction where they will be able to access the care and support they need, as well as a $10,000 flat-rate benefit to support their relocation expenses.
None of this comes as a surprise given Indeed's mission since 2018 has been to 'out woke' corporate America in its pursuit of a high CEI score. But why?
Some netizens were confused by Indeed's move considering the Bud Light backlash earlier this year after a white privileged liberal executive believed the brewer was time for a change. However, its customer base thought otherwise, nuking the beer as demand has since crashed.
"Kinda weird that companies never did stuff like this for black people or disabled people," one netizen asked. 
Another asked, "Does Indeed offer any relocation money for women who live in particularly misogynistic states? Of course not. "
Someone else pointed out: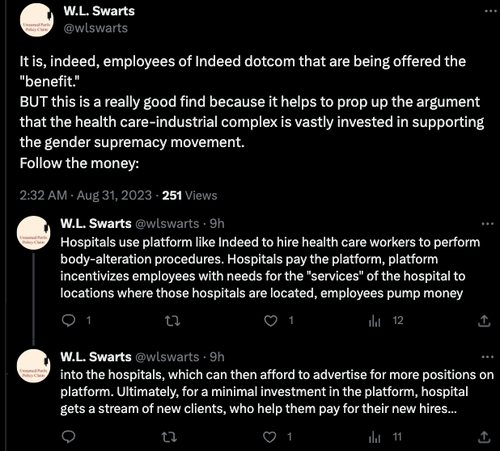 We wonder if Indeed will have an increase in the number of trans workers trying to capitalize on the free money.
This post was originally published at Zero Hedge