Report: Tucker Carlson Was Ousted For Talking About Prayer, Christianity
Rupert Murdoch 'freaked out' by "end-times" talk.
A source told Vanity Fair that the primary reason for Tucker Carlson being ousted by Fox News was because he gave a speech on Friday night in which he talked about spirituality and prayer, something that "freaks Rupert (Murdoch) out."
Yes, really.
Fox News announced on Monday that Tucker and the network will be parting ways, although he apparently remains on the payroll and has not technically been fired.
In the two days since, Fox News has refused to specify precisely why Carlson was let go, prompting speculation as to the real reason.
Vanity Fair Reports that Tucker's speech at the Heritage Foundation's 50th Anniversary gala three days before was the final straw.
During the speech, Carlson talked about how the situation was beyond debate and that the battle for America was a war between "good" and "evil," characterized by the bitter tussle over transgenderism and abortion.
"We should say that and stop engaging in these totally fraudulent debates…I've tried. That doesn't work," said Carlson. "I have concluded it might be worth taking just 10 minutes out of your busy schedule to say a prayer for the future, and I hope you will," he added.
According to Vanity Fair's source, "That stuff freaks Rupert out. He doesn't like all the spiritual talk," the source said.
Fox Corp chair Rupert Murdoch reportedly removed Tucker Carlson from the air over religious remarks the host made during a speech Friday night.

"That stuff freaks Rupert out. He doesn't like all the spiritual talk," a source tells @gabrielsherman. https://t.co/8RIecVdhjG

— VANITY FAIR (@VanityFair) April 25, 2023
Apparently, Murdoch was triggered into dismissing Carlson because he was unnerved by a speech in which the former host promoted Christian values.
Fox Corp. CEO Lachlan Murdoch and Fox News CEO Suzanne Scott made the decision to give Carlson the boot on Friday night after the speech, although he wasn't told until 10 minutes before the media found out.
"Rupert Murdoch was perhaps unnerved by Carlson's messianism because it echoed the end-times worldview of Murdoch's ex-fiancée Ann Lesley Smith," writes Gabriel Sherman.
Murdoch reportedly cancelled his wedding with Smith because she had called Carlson a "messenger from God" and had started reading passages from the Book of Exodus during a dinner at Murdoch's Bel Air vineyard where Carlson was present.
"Rupert just sat there and stared," the source said, with the report suggesting that one of his motivations for canning Carlson was to remove his ex's favorite host from the air.
"Fox fired their number one host for being too Christian," commented Matt Walsh.
Fox fired their number one host for being too Christian https://t.co/7GbkDXSa2a

— Matt Walsh (@MattWalshBlog) April 26, 2023
As we highlighted earlier, members of the military-industrial complex reacted with glee at Carlson's exit, with one proclaiming, "Good riddance!"
As we document in the video below, there are a myriad of factors that fueled Carlson's departure, prime amongst them his vehement opposition to deep state regime narratives.
SUBSCRIBE on YouTube:
Follow on Twitter: Follow @PrisonPlanet
———————————————————————————————————————
Brand new merch now available! Get it at https://www.pjwshop.com/
ALERT!
In the age of mass Silicon Valley censorship It is crucial that we stay in touch.
I need you to sign up for my free newsletter here.
Support my sponsor – Turbo Force – a supercharged boost of clean energy without the comedown.
Get early access, exclusive content and behind the scenes stuff by following me on Locals.
———————————————————————————————————————
"The American People Know The Fix Is In" – O'Reilly Warns Carlson "We Are In The Age Of Disorder Now"
"We're in the age of disorder."
Outspoken conservative media personality Bill O'Reilly joined Tucker Carlson (the man who replaced him in his primetime Fox News slot) for a wide-ranging discussion of the dismal state of the world, and why progressive politicians are to blame.
"America has entered the age of disorder, and it's because of the progressive movement," O'Reilly lamented.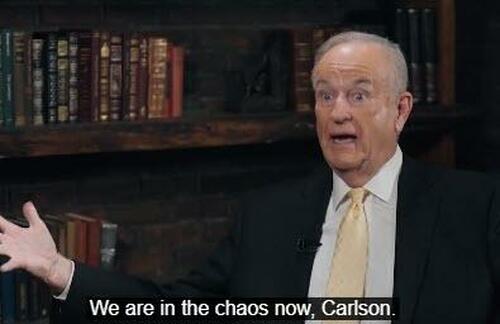 The former Fox News anchor lays out how this has occurred:
"President Biden, in my opinion, is diminished mentally, doesn't know what he's really doing from day-to-day. You can see that in his public statements," O'Reilly remarked, adding that "the progressives like that, because the people who control him inside the White House can tell him anything, and he'll do it."
O'Reilly said that Ron Klain and Susan Rice were the original string-pullers, but since their departure from The White House, their assistants took their place "basically telling Joe what to do and say."
He argued that Biden has harkened in an "age of disorder" which has resulted in the emergence of Black Lives Matter, higher taxes, lax crime laws, and progressive indoctrination of children at young ages.
"The more money you take from people, the less power they have, and the progressives want to run everything, including telling your children what to think when they're five years old," O'Reilly said.

"And most Americans don't get it, because the press is working with the progressive movement and suppresses all this."
However, O'Reilly notes that, given the constant overwhelming bias evident in the Biden admin's judicial actions, it is becoming too hard for media to suppress the reality of political persecution:
"The American people understand what this is… they understand that the documents in Mar A Lago basement parallel the documents in Joe Biden's garage. Yes it's the same thing, but one guy gets raided and charged and the other guy," remains under an opaque investigation.

"Does it really take nine months to figure out why Joe Biden illegally – because he was vice president had no right to take anything – had documents in his garage? Does it take nine months to do that? No. Has Joe Biden been interviewed? No."
"So," O'Reilly concludes, "the American people know the fix is in now."
And "Trump can stop the age of disorder."
Of course, the conversation between the two could not avoid the topic of 'being fired from Fox News' with O'Reilly reflecting on his 2017 removal (amid sexual harrassment claims): "I understood what most television news people don't – that you are expendable." The two candidly remarked on the fact that regardless of one's reputation or history, all television figures are ultimately replaceable.
Watch the full interview below:
This post was originally published at Zero Hedge
Here Is The Only Clip Of The GOP Debate You Need To See
"They're all job candidates…they will do anything, secretary of something."
There was literally just one interesting part of the Fox News Republican debate Wednesday night, the part when each candidate was asked to throw one of the others under a bus.
The rest of the 'debate' was little more than squabbling, backbiting and a set of supposed candidates, most who are polling in the low single digits, incessantly talking over each other like an unruly kindergarten class.
Host Dana Perino rightly pointed out that "It's now obvious that if you all stay in the race, former president Donald Trump wins the nomination."
"None of you have indicated that you're dropping out. So which one of you, on stage tonight, should be voted off the island?" Perino further asked, framing the debate as if it were a reality show popularity contest.
"Please use your marker to write your choice on the note pad in front of you, 15 seconds starting now," Perino stated, before Ron DeSantis piped up and said "With all due respect, like we're here, we're happy to debate but I think that's disrespectful to my fellow competitors."
The other moderator Stuart Varney noted that he saw Chris Christie beginning to write something down, to which Christie responded "I vote Donald Trump off the island right now."
"Every person on this stage has shown the respect for Republican voters to come here to express their views honestly candidly and directly and to take your questions honestly," Christie continued, adding that Trump "has not only divided our party; he's divided families all over this country. He's divided friends all over this country."
"I've spoken to people who have sat at Thanksgiving dinner or at a birthday party, and can't have a conversation anymore if they disagree with Donald Trump. He needs to be voted off this island and taken out of this process." he added.
Hilarious.
And replaced with who?
Meanwhile, Trump threw every single one of the debate participants under the bus, stating that he wouldn't pick any of them as a Vice President.
"It's all over television. This speech, you know, we're competing with the job candidates. They are all running for a job," Trump told a crowd in Michigan.
"They're all job candidates. They want to be in the, they will do anything, secretary of something. They even say VP. I don't know. Anybody see any VP in the group? I don't think so," Trump declared.
Watch:
SUBSCRIBE on YouTube:
Follow on Twitter:
Follow @PrisonPlanet
———————————————————————————————————————
Brand new merch now available! Get it at https://www.pjwshop.com/


ALERT! In the age of mass Silicon Valley censorship It is crucial that we stay in touch.

We need you to sign up for our free newsletter here.

Support my sponsor – Summit Vitamins – super charge your health and well being.

Also, we urgently need your financial support here. ———————————————————————————————————————
"A CIA Front Organization": Revisiting EcoHealth COVID-19 Claims After Fauci 'Influence' Campaign Bombshell
Following Tuesday night's bombshell report from Congressional investigators that Dr. Anthony Fauci was smuggled into CIA headquarters "without a record of entry" where he "participated in the analysis to "influence" the Agency's" Covid-19 investigation," it's worth revisiting claims made by former EcoHealth Alliance scientist, Andrew Huff, about the CIA's alleged connections to EcoHealth and Covid-19.
A Brief Review
Recall that EcoHealth received lucrative contracts to perform experiments on bat Covid in Wuhan, China after the Obama administration banned gain-of-function research in 2014. Four months prior to the ban, the NIH effectively shifted this research to EcoHealth, headed by Peter Daszak. The research was shielded from government oversight by Fauci's NIAID, and Daszak was forced to report after the fact that he'd engaged in gain-of-function experiments.
"As a virologist, I personally think creating chimeras of SARS-related bat coronaviruses that are thought to pose high risk to humans entails unacceptable risks," virologist Jesse Bloom told The Intercept.
After Sars-CoV-2 broke out in the same town where Daszak was manipulating Bat Covid, The Lancet published a screed by Daszak (signed by over two-dozen scientists), which insisted the virus could have only come from a natural spillover event, likely from a wet market, and that the scientists "stand together to strongly condemn conspiracy theories suggesting that COVID-19 does not have a natural origin." The Lancet only later noted Daszak's conflicts of interest.
Back To Huff And The CIA
According to a January, 2022 Twitter (now "X") thread by Huff, who worked at EcoHealth from 2014 to 2016, "I knew in December of 2019 that COVID was likely a lab leak." Huff then claimed that "Not only is EcoHealth Alliance a CIA front organization, but the United States of America is primarily responsible for COVID, not China."
Huff also told Fox Business in January: "This was actually a failed intelligence operation. We were actually trading China advanced biotechnology for access to and collect intelligence on their bioweapons laboratory. I believe. I can't prove that but a number of agencies that I discuss in the book, including Dr. Peter Daszak telling me he worked with the CIA."
From Huff's book, "The Truth About Wuhan":"These discussions resulted in publications indicating that Dr. Peter Daszak, president of EcoHealth Alliance, was working with the CIA, and that the biological agent commonly known as COVID-19 (SARS-CoV-2) had been in development at EcoHealth Alliance since 2012, and other evidence suggested that SARS-CoV-2 began earlier than 2012. The development of SARS-CoV-2 included several prominent US-based scientists and US academic institutions that received funding from numerous federal government agencies and private non-governmental organizations to complete the gain of function work on SARS-CoV-2."
Huff also posted a document obtained by Project Veritas and published in January of 2022 purportedly authored (and not denied) by Maj. Joseph Murphy (USMC), which states "SARS-CoV-2 is an American-created recombinant bat vaccine" which was "created by an EcoHealth Alliance program at the Wuhan Institute of Virology (WIV)."
Project Veritas has obtained a separate report to the Inspector General of the Department of Defense written by U.S. Marine Corp Major, Joseph Murphy, a former DARPA Fellow.

The report states that EcoHealth Alliance approached DARPA in March 2018, seeking funding to conduct gain of function research of bat borne coronaviruses. The proposal, named Project Defuse, was rejected by DARPA over safety concerns and the notion that it violates the basis gain of function research moratorium.

According to the documents, NAIAD, under the direction of Dr. Fauci, went ahead with the research in Wuhan, China and at several sites across the U.S. -Project Veritas
More on that:
Huff also provided a report to Congress, under oath, which claims:
1. SARS-COV2 was created in the lab in Wuhan, China;
2. Anthony Fauci funded the creation of SARS-COV2 and lied to Congress about funding Gain-of-Function work;
3. The US Intelligence Community was aware of and appeared to have been involved with the funding of said Gain-of-Function work;
4. A number of well-connected public and private partners were involved in the Gain-of-Function work that resulted in the creation and release of SARS-COV2;
5. Anthony Fauci and others coordinated to cover-up the funding of the Gain-of-Function work that resulted in SARS-COV2.
And if you really want to get into the weeds on this, check out these threads by journalist KanekoaTheGreat (@KanekoaTheGreat) which includes claims by Huff, DRASTIC, RFK Jr. and more. Click on each tweet to jump into said threads.
More on Baric and the programs:
EcoHealth – no strangers to damage control, refuted Huff's claims, writing in December 2022 (almost a year after Huff turned whistleblower), that claims of gain-of-function research aren't true, that a lab leak is 'not true,' and that his claims about the 'nature of the collaboration between EcoHealth Alliance and the Wuhan Institute of Virology' are similarly, 'not true.'
Ecohealth notably did not refute Huff's claims about working with, or for, the CIA.
This post was originally published at Zero Hedge