Anheuser-Busch Loses $6BN In Six Days After Trans Ad Campaign That Top Execs Never Approved
After reaching a three-year high of $66.73 per share, Bud Light parent company Anheuser Busch Inbev lost more than $6 billion in market cap since announcing its partnership with 26-year-old transgender 'influencer' Dylan Mulvaney on April 2, as bar owners and distributors report a sharp decline in Bud Light sales over the past week.
The company's market cap fell as low as $125.7 billion, down from $132.8 billion six days ago, a drop of more than five-percent.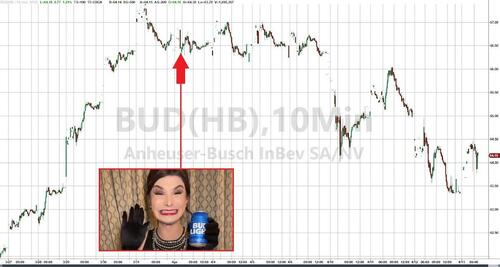 Meanwhile competitor Molson Coors (TAP) saw $350 million added to its market cap over the last week.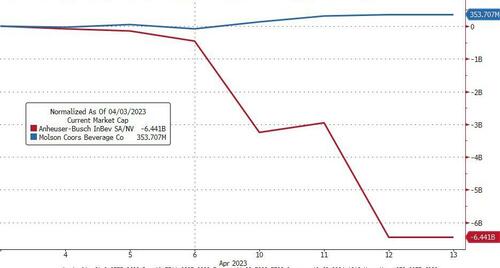 Bud Light's partnership with Mulvaney included custom cans featuring his face and pro-LGBTQ language to commemorate the biological male's 'being a woman' for over a year. The ad campaign kicked off with naked Mulvaney drinking Bud Light in a bathtub
And while Anheuser-Busch issued a statement in support of Mulvaney, saying it "works with hundreds of influencers across our brands as one of many ways to authentically connect with audiences across various demographics," the Daily Wirereports that company executives had no idea about the ad campaign.
"No one at the senior level" of the company was aware of Bud Light's polarizing partnership with Dylan Mulvaney, sources close to the situation claim. The company is also allegedly pausing its marketing effortsand scrambling to implement a more "robust" process for evaluating future influencer partnerships.

…

"No one at a senior level was aware this was happening," said one source, who was granted anonymity to discuss sensitive internal discussions. "Some low-level marketing staffer who helps manage the hundreds of influencer engagements they do must have thought it was no big deal. Obviously it was, and it's a shame because they have a well-earned reputation for just being America's beer — not a political company. It was a mistake."

A second source also claimed that a lower level employee had made the decision to include Mulvaney in the campaign, a move that appears to have cost the company $5 billion in market value. The backlash to the iconic American beer brand has been so intense that a Budweiser distributor in Missouri canceled an event with the company's famous Clydesdale horses because everything was "still sensitive" over the matter. -Daily Wire
This comes after the company's woke vice president of marketing touted her mandate that that brand be more "inclusive."
As we noted on Wednesday, bar owners and distributors have reported a sharp decline in Bud Light sales since the campaign launched.
According to John Ruch, country music singer and owner of the Redneck Riviera bar in Nashville, TN, Bud Light used to be their most popular beer.
"The customers decide. Customers are king," he told Fox News host Tucker Carlson on Monday. "I own a bar in downtown Nashville called Redneck Riviera. Our number-one selling beer up until a few days ago was what? Bud Light. We got cases and cases and cases of it sitting back there. But in the past several days, you're hard-pressed to find anyone ordering one. So as a business owner, I go, hey if you aren't ordering it, we got to put something else in here. At the end of the day, that's capitalism. That's how it works."
According to Rich, fans are finding it "hard to stay loyal" to now-woke brands, and are instead voting with their wallets.
"And there are tons of up-and-coming American brands that people are flooding to right now," he said.
In one video, a beer merchandiser said of the situation; "I've never seen such little sales as in the past few days… I can't feed my family."
Meanwhile, Woke, Inc. loves Mulvaney – who's scored ads with Nike, Oil of Olay and other companies.
This post was originally published at Zero Hedge
Author Of 'Gender Queer' Book Found In Schools Says "I Don't Recommend This Book For Kids"
"'Gender Queer' is a comic, and in full color, but that doesn't mean it's for children"
The author of the book titled 'Gender Queer', one of the controversial LGBTQ+ materials featuring explicit images that has cropped up again and again in schools has stated that the book is not meant to be available for young children.
Maia Kobabe, who identifies as non-binary told the Washington Post that her book is aimed at "older teens," not kindergarten aged kids.
"It keeps being called a children's book … but I think that's coming from a misreading of the comic-book form. 'Gender Queer' is a comic, and in full color, but that doesn't mean it's for children," Kobabe stated.
"I originally wrote it for my parents, and then for older teens who were already asking these questions about themselves. I don't recommend this book for kids!" she said in the interview published last week.
The comments come after GOP Senator John Kennedy read aloud graphic excerpts during a Senate Judiciary Committee hearing:
Kennedy read "I got a new strap-on harness today. I can't wait to put it on you. It will fit my favorite dildo perfectly. You're going to look so hot. I can't wait to have your c**k in my mouth. I'm going to give you the blow job of your life. Then I want you inside of me."
"The words you spoke are disturbing, especially coming out of your mouth, it's very disturbing," Illinois Secretary of State Alexander Giannoulias told Kennedy in response.
The book is one of several that have prompted outrage and protests among parents as it features graphic illustrations of sex between two men, use of sex toys, oral sex, and masturbation, among other things.
Passages from the book have been read out by parents during school board meetings, in some cases leading to them being shut down and asked to leave.
The Gender Queer book was also cited by Chelsea Clinton in tweets defending the use of such material in schools:
Related:
SUBSCRIBE on YouTube:
Follow on Twitter:
Follow @PrisonPlanet
———————————————————————————————————————
Brand new merch now available! Get it at https://www.pjwshop.com/


ALERT! In the age of mass Silicon Valley censorship It is crucial that we stay in touch.

We need you to sign up for our free newsletter here.

Support my sponsor – Summit Vitamins – super charge your health and well being.

Also, we urgently need your financial support here. ———————————————————————————————————————
Indeed Out-Wokes Corporate America With $10,000 Relocation Checks For Trans Employees
Austin-based online job search platform, "Indeed," aims to 'out woke' corporate America by offering transgender employees or those with transgender children a $10,000 relocation payment. Both Bloomberg and Axios confirmed the relocation payment program. 
Before we discuss relocation payments, it's important to note that Indeed proudly states on its website that it had the wokest corporate policies in America in 2018. It said its 2018 Corporate Equality Index (CEI), a national benchmarking survey and report on corporate policies and practices related to lesbian, gay, bisexual, transgender, and queer (LGBTQ) workplace equality, score "received a perfect score of 100 percent."
For some context, CEI is administered by the Human Rights Campaign, the largest LGBTQ+ political lobbying group in the world. HRC has received millions of dollars in funding from George Soros' Open Society Foundation.
Indeed's executives appear to have one objective in mind: rank the highest on the CEI index this year (we all remember earlier this year what happened to Bud Light when they tried that on TikTok). One way execs are attempting to achieve a high score is to offer a relocation program to trans workers, cutting them a $10,000 check to cover 'travel-related expenses' out of conservative states (or areas where they don't feel comfortable) to safer grounds.
"While Indeed introduced the program to its employees in July, until now, the company has not discussed it publicly," Bloomberg said.
Indeed provided further details about the program to Axios:
It's for US-based employees and immediate family members who seek gender-affirming care and live in a location where state laws or government-issued directives criminalize or restrict access to such medical care.
It also applies to those who live in places that attempt to restrict support for children who are gender non-conforming, transgender or non-binary.
Eligible employees will receive approval to relocate to a state or jurisdiction where they will be able to access the care and support they need, as well as a $10,000 flat-rate benefit to support their relocation expenses.
None of this comes as a surprise given Indeed's mission since 2018 has been to 'out woke' corporate America in its pursuit of a high CEI score. But why?
Some netizens were confused by Indeed's move considering the Bud Light backlash earlier this year after a white privileged liberal executive believed the brewer was time for a change. However, its customer base thought otherwise, nuking the beer as demand has since crashed.
"Kinda weird that companies never did stuff like this for black people or disabled people," one netizen asked. 
Another asked, "Does Indeed offer any relocation money for women who live in particularly misogynistic states? Of course not. "
Someone else pointed out: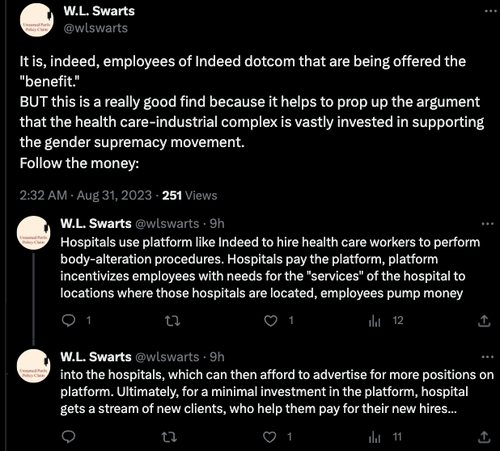 We wonder if Indeed will have an increase in the number of trans workers trying to capitalize on the free money.
This post was originally published at Zero Hedge
Tucker Carlson: Media Didn't Care When Obama Was Having Gay Sex And Smoking Crack
"Barack Obama likes dudes, I think this was well-known"
While discussing the corporate media's leftist agenda, Tucker Carlson noted that a prominent associate of Barack Obama claimed to have smoked crack with the former President and had gay sex with him prior to his campaign in 2008, but the media didn't bother reporting on it.
Appearing on Adam Carolla's podcast, Carlson noted "A guy came forward, Larry Sinclair, and said 'I'll sign an affidavit' and he did, 'I'll do a lie detector' and he did."
Carlson added that Sinclair claimed "'I smoked crack with Barack Obama and had sex with him.'" adding "Well, that was obviously true." 
"I talked to Larry Sinclair about it. Definitely it happened," Carlson contused, adding that Sinclair "has a record of deception but this story if you listen to it in detail, is clearly true."
Carlson added that the media dutifully kept quiet about the claims after "the Obama campaign said anyone who reports on this gets no access to the Obama campaign." 
"It's not going to change the world that Barack Obama likes dudes, I think this was well-known," Carlson further asserted, adding that Obama himself acknowledged his own gay impulses in a past letter to a former girlfriend. 
Watch:
Related:
SUBSCRIBE on YouTube:
Follow on Twitter:
Follow @PrisonPlanet
———————————————————————————————————————
Brand new merch now available! Get it at https://www.pjwshop.com/


ALERT! In the age of mass Silicon Valley censorship It is crucial that we stay in touch.

We need you to sign up for our free newsletter here.

Support my sponsor – Summit Vitamins – super charge your health and well being.

Also, we urgently need your financial support here. ———————————————————————————————————————