Mayor Adams And NYPD Unveil Dystopian Robot Dog To Fight Crime
Mayor Eric Adams and the New York City Police Department have reintroduced the controversial robotic dog for surveillance patrols, and there's another surprise this time: an R2-D2-style robot. These robots are set to debut in Times Square, making this already bustling area of the city appear even more than dystopian ever.
According to local news ABC 7, Mayor Adams said Tuesday he is modernizing the NYPD with the latest technology to fight crime.
"We are scanning the globe to find technology that will assure this city is safe," the mayor said.
The return of the $74,000 Boston Dynamics' four-legged robotic dog called "Digidog" is set to assist the NYPD in investigating high-risk or hazardous incidents. Digidog first appeared on the streets in 2020 and was shelved months later after civil rights advocates called the technology 'aggressive policing.'
Besides the robotic canine, the NYPD will add a K5 Autonomous Security Robot to its force and the StarChase GPS system.
Think of the K5 robot as Robocop; Its R2-D2 style with real-time situational awareness and cameras will allow the NYPD to monitor streets. There's yet to be a word if the police will be operating facial tracking software from the robot's cameras…
"This K5 robot provides real-time situational awareness and actionable intelligence to first responders and also provides a physical crime deterrence," Chief of Department Jeffrey Maddrey said.
And then there's the StarChase GPS system, which allows police, in a hand-held or vehicle-mounted launcher, to track a tagged vehicle remotely.
"We want the public to know that the use of these technologies will be transparent, consistent, and always done in collaboration with the people that we serve.

"And as with every NYPD initiative, we will continuously evaluate their use and impact on our city. Our job is to fight crime and keep people safe. And these tools are significant steps forward in that vital mission," Police Commissioner Keechant Sewell.
If you're curious about how the StarChase GPS system works. Watch this:
The introduction of these new technologies coincides with a rise in crime in New York City amid a worsening police shortage.
This post was originally published at Zero Hedge
Murder Crisis Plagues DC As Mayor Begs For More Officers After 'Defunding Police'
How it started.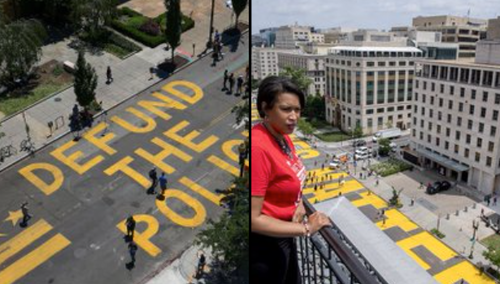 How it's going? 
D.C. Mayor Muriel Bowser, a former supporter of the 'defund the police' movement, urgently calls for increased policing as the nation's capital faces an out-of-control murder crisis.
"What I can say is this: To me, numbers are just numbers. When we lose one person — whether it's one or 200 — that's too many," Bowser said at a press conference earlier this week.
Of course, Bowser, like many Democrat mayors, blames firearms as the issue, deflecting any possibility her disastrous social justice reforms only embolden criminals – while punishing law-abiding taxpayers -across the imploding Washington, DC metro area.
Even the Washington Post can't ignore the murder crisis:
For the first time in a quarter-century, the year's homicide toll in Washington has surpassed 200 before October — a mark of surging violence that has angered and distressed local leaders, drawn scrutiny from Congress and made some residents question whether they can safely live in the nation's capital.
WaPo added:
The last time D.C. logged its 200th homicide before October was Aug. 12, 1997, in a year that ended with 303 people slain, according to police data. After that, annual totals generally trended downward, staying below 200 from 2004 to 2020, with a low of 88 in 2012. But the killing pace has picked up again, reaching 226 in 2021.
Heading into the 2024 presidential election cycle, Democrats will never admit their social justice reforms have failed. They conveniently blame guns.
Directly north of D.C. lies another crime-ridden metro area: Baltimore City. And this week, mass looting was seen in Philadelphia. And just north of Baltimore and Philadelphia, New York City's progressive mayor recently warned of financial ruins due to a migrant crisis.
Democrats have transformed cities into absolute messes.
This post was originally published at Zero Hedge
Lawlessness Spreads To Suburbia: Westport Man Carjacked In Own Garage
Violent crime appears to be spreading to suburbia. For the millions of Americans who fled crime-ridden metro areas where Democrat leaders failed to enforce law and order, the dramatic video of a carjacker assaulting a Westport, Connecticut, man in his garage for his Aston Martin serves as a wakeup call to better defend yourself and loves ones. 
Westport Journal reports that the Westport Police Department released dramatic security footage from a Ring camera that shows a residential burglary and carjacking on Bayberry Lane on Sunday afternoon. Two suspects assaulted the man in his garage and stole his Aston Martin.
"They surround the vehicle and drag the man from the car as he calls for someone in the home to contact police. The intruders appear to repeatedly strike the man as he tries to fend them off," the local media outlet said.
Westport police Lt. Eric Woods said the victim was targeted and followed back to his residence. "Therefore, Westport Police are encouraging residents to be aware of their surroundings and report any suspicious behavior to 911," he said.
The consequence of failed Democrat policies in major cities has only emboldened criminals who are now expanding their theft wave to suburbia. It's also a cautionary sign for homeowners who might want to explore firearms training to defend themselves, their families, and their property.
Meanwhile, the average police response time is more than ten minutes. And Democrat lawmakers want to strip the public of firearms (see New Mexico Governor Michelle Lujan Grisham's latest 2A overreach).
The video proves the Westport man couldn't afford to wait just one minute.
This post was originally published at Zero Hedge
Serial Killer Billy Chemirmir 'Killed by Cellmate' in Texas Prison
The judge in the case declared a mistrial.
Convicted murderer Billy Chemirmir, an illegal alien from Kenya suspected of being one of the most prolific serial killers in American history, was reportedly killed in prison on Tuesday morning by his cellmate.
From WFAA, "Convicted North Texas killer Billy Chemirmir killed in prison, officials say":
Convicted North Texas killer Billy Chemirmir, who was suspected in over 20 murders, was killed in a state prison Tuesday morning, officials confirmed to WFAA.

Chemirmir, 50, was serving life in prison without parole after he was twice found guilty of capital murder by Dallas County juries. He was accused of killing 20 other women in Dallas and Collin counties and still faced charges in those cases.

The Dallas County District Attorney's office confirmed they were notified by Texas prison officials that Chemirmir was killed Tuesday morning. State prison officials confirmed that Chemirmir was found dead in his cell early Tuesday and his cellmate, who was serving on a murder charge out of Harris County, was "identified as the assailant."

Dallas County District Attorney John Creuzot told WFAA that Chemirmir was killed after apparently making inappropriate comments sexual in nature towards his cellmate's children. According to Creuzot, the cellmate allegedly beat Chemirmir, dragged him out of his cell and killed him while other inmates watched. No one intervened and Chemirmir may have been stabbed with a pen, Creuzot said.
They should identify the cellmate so the public can send him letters of appreciation.
Authorities suspected Chemirmir could be involved in around 1,000 suspicious deaths in Texas but tried to convict him in 2021 specifically for killing 24 elderly patients who were overwhelmingly female and white.
Despite having a slam dunk case, one single female juror who "didn't even go back to [look at the evidence]" and "had her mind made up before she walked in" refused to convict, according to family member of a victim who was in the courtroom.
The judge in the case declared a mistrial and two new trials had to be held for separate victims in order to secure convictions.
Follow InformationLiberation on Twitter, Facebook, Gab, Minds and Telegram.