Watch: Body Cam Video From Officers Responding to Louisville Rampage
Update (1925ET): Louisville police have released footage captured by body cameras worn by two police officers responding to Monday's mass shooting at an Old National Bank office in the city's downtown. Both were wounded by gunfire, one of them — Nickolas Wilt — critically, as he was shot in the head and has undergone brain surgery.
In the press conference that accompanied the initial release of the video, Deputy Chief Paul Humphrey noted that these first responding officers were hampered by a lack of visibility due to the difference between the bright outdoors and the darkened interior lobby where killer Connor Sturgeon had been waiting to ambush them.
Glare from the floor-to-ceiling windows also made it difficult to pinpoint the threat. After Sturgeon's shots at subsequent responding officers shattered the glass, Officer Cory Galloway was able to engage and kill him.
* * *
The 25-year-old employee of Old National Bank who killed five people and wounded nine more in Louisville, Kentucky on Monday morning livestreamed his rampage on Instagram. A city official has related specifics of the stream to CNN,while many new details about the attack and its perpetrator have emerged.
Connor Sturgeon, whose LinkedIn profile says he was a "syndications associate and portfolio banker," wrote to his parents and a friend of his intent to shoot up the bank, but it's not clear yet whether that communication was physical or electronic, or whether the recipients received them before he opened fire with an AR-15 rifle around 8:30 am.
While there's no official confirmation of it so far, Louisville's WDRB reported that the last three posts on Sturgeon's apparent Instagram account on Monday morning were:
A meme of Star Wars character Kylo Ren saying "I know what I have to do, but I don't know if I have the strength to do it."
Accompanied by the label "MONDAY VIBES," a meme of a character from the movie Office Space saying "I could burn this whole place down."
Sturgeon's apparent own words: "THEY WON'T LISTEN TO WORDS OR PROTESTS. LET'S SEE IF THEY HEAR THIS."

Citing a police source, CNN reported that the shooter had learned that he was going to be fired after working at Old National for two years and previously interning there for three summers.
His attack began before the bank's operating hours, and he livestreamed it on Instagram. The platform has since taken the video offline, but police have a copy.
A Louisville official tells CNN the stream begins with a view of his AR-15. A woman greets the shooter with a "good morning," and he replies "you need to get out of here." Sturgeon attempts to shoot her but the weapon on is on safe and doesn't have round chambered. He corrects those issues and shoots her in the back.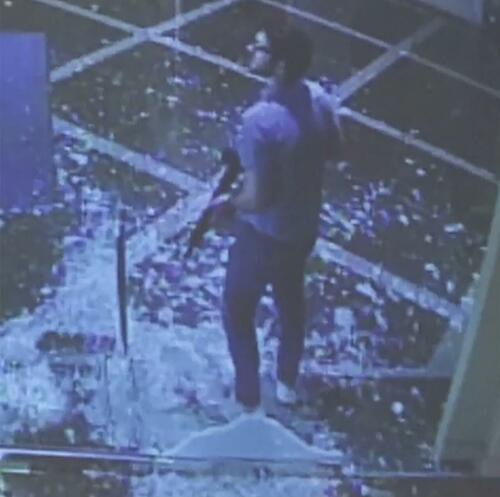 He then proceeds to shoot many other employees who try to outrun him, before sitting down in the lobby and seemingly waiting for police. That wait lasts about 90 seconds, and the then is hit and killed in the gun battle.
An employee meeting had been underway, with some attending in person and others via video. Manager Rebecca Buchheit-Sims told CNN she attended remotely, and saw her coworkers being gunned down on her computer screen: "I witnessed people being murdered. I don't know how else to say that…I'm just as much in shock and disbelief and was in disbelief as I watched it unravel."

Employee Tammy Madigan told the Daily Beast of her rush to find shelter: "The bathrooms on our floor have keycode entry, so it was probably the safest place we could think of to hide. So the six of us went into the men's room, turned off all the sound on our phones, tried to be as quiet as we could." Others hid in a vault.
The first cops arrived on the scene within three minutes of being dispatched. Dispatchers told officers to look for a 6′ 4″ white male in dark pants, adding that he'd left a voicemail for a friend declaring his intent to "kill everyone at the bank," reports Heavy.
Seven employees and two officers were wounded. The five dead are Joshua Barrick (40), Thomas Elliot (63), Juliana Farmer (45), James Tutt (64) and Deana Eckert (57).
Police officer Nickolas Wilt, a 26-year-old rookie who graduated just 10 days before the shooting, was critically wounded with a gunshot to the head and underwent brain surgery. The other wounded officer has not been identified.
As with every mass shooting, people raced to discern the shooter's political orientation. Some of his social media posts reflected support for the Black Lives Matters protests and criticism of police and Donald Trump. Trying to reach conclusions about his sexuality, others highlighted the fact that the shooter's LinkedIn profile said he uses "he/him" pronouns.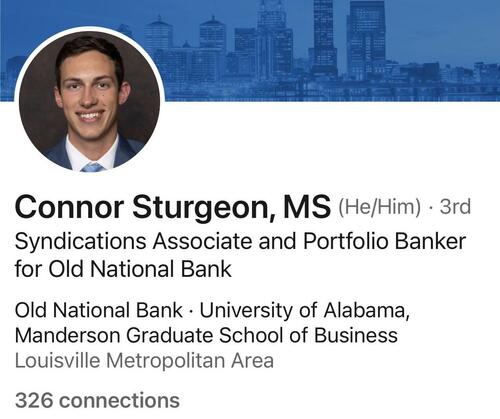 A 2020 University of Alabama graduate with a masters in finance, Sturgeon is described as a star multi-sport athlete in high school. Amid the shock of learning what Sturgeon did, a former classmate told Daily Beast:
"The big thing I keep going back to is that in the first year of high school, we played football together in eighth grade, he was out most of the year because he had multiple concussions. Then he had a couple more in high school. I'm not saying it's the cause but I always think back to that… There were times I'd wonder, will this catch up with him? But never in this way. He's the last person I'd expect would do this."
An autopsy would be needed to determine if Sturgeon had Chronic Traumatic Encephalopathy (CTE). The degenerative brain disease caused by multiple episodes of head trauma, CTE leaves people prone to aggression, mood swings, depression and paranoia. Murderous New England Patriot Aaron Hernandez is perhaps the most infamous example.
High school friends described Sturgeon as smart and popular. However, in an introspective 2018 essay at the the University of Alabama, Sturgeon wrote,
"My self-esteem has long been a problem for me. As a late bloomer in middle and high school, I struggled to a certain extent to fit in, and this has given me a somewhat negative self-image that persists today. Making friends has never been especially easy, so I have more experience than most in operating alone."
Jim Ryan, CEO of Chicago- and Evansville-based Old National Bank, immediately traveled to Louisville along with other senior executives. "As we await more details, we are deploying employee assistance support and keeping everyone affected by this tragedy in our thoughts and prayers," said Ryan.
At a Tuesday morning press conference, Louisville's police chief said Sturgeon acquired his rifle legally from a local dealer on April 4.
On Monday, President Biden issued a statement calling for gun control measures that seemingly have no relevance whatsoever to Monday's shooting:
"How many more Americans must die before Republicans in Congress will act to protect our communities? It's long past time that we require safe storage of firearms. Require background checks for all gun sales.Eliminate gun manufacturers' immunity from liability."
Not letting a crisis go to waste, Team Biden also threw in a thinly-veiled opportunistic shot at potential 2024 presidential opponent Ron DeSantis, as the statement condemned Republican officials "from Florida to North Carolina to the U.S. House of Representatives, [who've] double[d] down on dangerous bills that make our schools, places of worship, and communities less safe."
Presumably that statement refers to laws enabling law-abiding citizens to carry firearms into those places. Does the White House really think the people at Louisville's Old National Bank would have been worse off if some of the bankers were carrying pistols?
Sadly, they were prohibited to do so — by CEO Ryan and Old National Bank — without "proper authorization." Per page 49 of the bank's employee handbook:
"Firearms, weapons, and other dangerous or hazardous devices or substances are prohibited from the premises of Old National without proper authorization. Firearms may be kept in parking areas in accordance with state law where recognizing such possession is required by state law."
This post was originally published at Zero Hedge
Trump Vows To Investigate MSNBC & NBC News For "Country Threatening Treason"
"The LameStream Media will be thoroughly scrutinized for their knowingly dishonest and corrupt coverage."
President Trump has promised that should he be elected for a second term in office he will investigate MSNBC And NBC News.
"They are almost all dishonest and corrupt, but Comcast, with its one-side and vicious coverage by NBC NEWS, and in particular MSNBC, often and correctly referred to as MSDNC (Democrat National Committee!), should be investigated for its 'Country Threatening Treason,'" Trump wrote on Truth Social.
Trump added that the networks have relentlessly pushed the Russia Collusion hoax, describing it as a "big campaign contribution" to the Democrats.
"Their endless coverage of the now fully debunked SCAM known as Russia, Russia, Russia, and much else, is one big Campaign Contribution to the Radical Left Democrat Party," he urged.
Labeling the leftist media a "true threat to Democracy" and "THE ENEMY OF THE PEOPLE!" Trump added "I say up front, openly, and proudly, that when I WIN the Presidency of the United States, they and others of the LameStream Media will be thoroughly scrutinized for their knowingly dishonest and corrupt coverage."
As we noted yesterday, Trump has opened up a near ten point lead over Biden in a hypothetical 2024 matchup according to a Washington Post/ABC News poll.
The numbers were so alarming to the outlets that they both attempted to rubbish their own survey.
Meanwhile, during a rally Monday, Trump hit out at Biden's disastrous border crisis, noting that the thousands of illegal immigrants coming into the country all seem to have fancy cell phones.
"Biden puts China first, Mexico first, Ukraine first, Europe first, Asia first, illegal aliens first above our great veterans, you know that. Puts the illegal aliens above our veterans," Trump noted, adding "Our veterans live like hell, and you know, you see what's happening. You ever see the illegal aliens? One of the weirdest things. They come in by the tens of thousands, sometimes a day, and they all have cell phones."
"Where do they get the cell phones? Everybody has a cell phone," Trump canted, adding "They're all talking on these beautiful cell phones, and they're expensive ones too, they're nice ones. Somebody who was into that said, 'Those are good phones.' And then I say, who pays their bills? Who's paying their bills, Marjorie? Do you wanna check that? I'll give it to Marjorie, she'll figure that one out fast."
Watch:
SUBSCRIBE on YouTube:
Follow on Twitter:
Follow @PrisonPlanet
———————————————————————————————————————
Brand new merch now available! Get it at https://www.pjwshop.com/


ALERT! In the age of mass Silicon Valley censorship It is crucial that we stay in touch.

We need you to sign up for our free newsletter here.

Support my sponsor – Summit Vitamins – super charge your health and well being.

Also, we urgently need your financial support here. ———————————————————————————————————————
Busted! Adam Schiff Funneled Millions To Defense Contractors After Taking Donations
While Rep. Adam Schiff (D-CA) campaigns for a Senate seat on a platform of earmarks for local causes, the 12-term Congressman has been busted steering millions in taxpayer dollars to for-profit defense contractors, many of whom have been political donors to his campaigns.
According to an investigation by Politico, Schiff "has offered an incomplete and potentially misleading account of his record on earmarks."
A POLITICO review of congressional earmarks and political contributions found that in addition to the money for homelessness and drug treatment, Schiff also steered millions to for-profit companies and raised tens of thousands for his House reelection campaigns from corporate executives and people connected to them. The review was mostly limited to publicly available data from the brief three-year window when corporate earmarks were disclosed.
In two particularly egregious cases, Schiff channeled millions in funding to Smiths Detection and Phasebridge, Inc., two defense companies within his district – with $6 million steered to Smiths Detection and $3 million to Phasebridge. Both moves would have been barred under reforms adopted in 2010. This financial maneuvering coincided with Schiff receiving $8,500 in contributions from PMA Group PAC and two family members of Paul Magliocchetti, founder and owner of the lobbying firm retained by both defense companies.
In 2011, Paul Magliocchetti was sentenced to 27 months in prison for making illegal campaign contributions.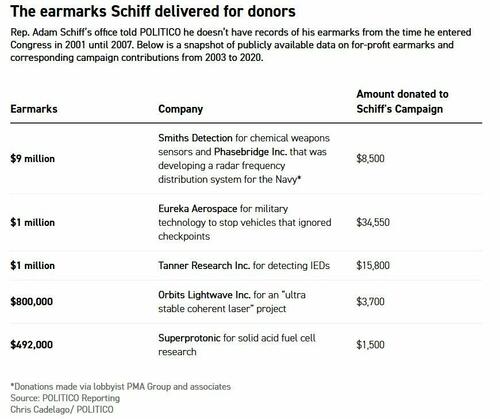 Schiff claims not to have a full accounting of his earmarks.
The Congressman's campaign has been quick to minimize these connections, emphasizing the small proportion of these contributions in his overall fundraising and underscoring his commitment to ensuring Californians' tax dollars work for their benefit. In a boilerplate response, spokesperson Marisol Samayoa said: "Californians know and trust Adam's record of getting things done, and as a U.S. senator, he will do what it takes to ensure Californians' tax dollars are put to work for them and their priorities," adding "These contributions amount to less than one tenth of one percent of what Adam has raised over 20 years in Congress, and were driven by what was best for our troops and his constituents. It is ridiculous to suggest otherwise."
However, Schiff's lack of transparency in providing a complete list of his earmarks further fuels the cloud of skepticism surrounding his actions.
"We were always concerned about the pay-to-play aspects and that's something that every lawmaker must live with," said Steve Ellis, president of Taxpayers for Common Sense, a nonpartisan budget watchdog, who has been analyzing earmarks for decades."If you're getting a campaign contribution and getting your earmark for that same company or for a client of that lobbyist, it has that perception."
The earmark process was changed following rising spending an a series of congressional pay-to-play scandals in the mid-2000s, including that of former Rep. Randy "Duke" Cunningham (R-CA), who admitted to taking millions in bribes from defense contractors, as well as disgraced lobbyist Jack Abramoff, who dubbed the appropriations panel a "favor factory."
More of Schiff's shiftyness via Politico…
— Schiff directed $1 million to Pasadena-based Eureka Aerospace, which was developing military technology to stop vehicles that ignored checkpoints. Eureka Aerospace CEO James Tatoian contributed $24,600 to Schiff between 2006 and 2016. Others in Tatoian's household gave another $9,950 through 2020. His only other federal contributions in recent years went to former Republican Sen. Martha McSally of Arizona, a retired Air Force colonel and former pilot.

— Schiff channeled $1 million to Tanner Research Inc. of Monrovia for detecting IEDs. CEO John Tanner donated $15,800 to him from 2003 to 2012.

— Schiff got an $800,000 earmark for Orbits Lightwave Inc. for an ultra stable coherent laser project. Yaakov Shevy, Orbits Lightwave's co-founder and president, donated $2,500 to him over his time in Congress and executive Katrin Saroukhanian gave $1,200 from 2007 to 2010.

— Schiff also secured $492,000 for Superprotonic for solid acid fuel cell research. Co-founder Calum Chisholm of Pasadena and executive Sami Mardini of Duarte combined to donate $1,500 to Schiff in 2007 and 2008.

…

POLITICO could not analyze many of Schiff's earmarks or possible corresponding donations because the public record of dollars that flowed to companies is extremely limited. Schiff's campaign declined to provide the list of earmarks from between 2001 and 2007, contending they didn't have one. Schiff refused a Los Angeles Daily News request to reveal his projects when pressed in 2007.
Meanwhile – still waiting on that Trump evidence, Adam…
This post was originally published at Zero Hedge
Washington Post Rubbishes Its Own Poll Showing Trump Has Close To 10 Point Lead Over Biden
"This survey…is probably an outlier"
The Washington Post has dismissed its own poll after it found that President Trump has a commanding approval lead over Joe Biden among voters.
The poll, conducted in conjunction with ABC News found that Trump has a 51% to 42% lead in a hypothetical 2024 general election matchup.
ABC News reported that support for Trump over Biden is up three percent since February, while Biden is down by two points. 
However, The Post disavowed the poll, noting "The Post-ABC poll shows Biden trailing Trump by 10 percentage points at this early stage in the election cycle, although the sizable margin of Trump's lead in this survey is significantly at odds with other public polls that show the general election contest a virtual dead heat."
"The difference between this poll and others, as well as the unusual makeup of Trump's and Biden's coalitions in this survey, suggest it is probably an outlier," the outlet also claimed.
The poll also found that Trump is beating Biden by a massive 20 points among young voters:
ABC News reported that the numbers registered in the poll are "simply staggering":
Meanwhile, a similar NBC News poll has recorded a record high disapproval rating for Biden:
SUBSCRIBE on YouTube:
Follow on Twitter:
Follow @PrisonPlanet
———————————————————————————————————————
Brand new merch now available! Get it at https://www.pjwshop.com/


ALERT! In the age of mass Silicon Valley censorship It is crucial that we stay in touch.

We need you to sign up for our free newsletter here.

Support my sponsor – Summit Vitamins – super charge your health and well being.

Also, we urgently need your financial support here. ———————————————————————————————————————