Report: Biden To Deploy "Army" Of Social Media Influencers, Station Them In White House
The Tik Tok President
According to an Axios report, Joe Biden's campaign team is readying an "Army" of social media influencers and intends to station them within a briefing room at the White House.
Biden's handlers have apparently decided that the only way he's going to win another election against Donald Trump is by securing the youth vote, a tough task given that he's the oldest President ever.
Deputy chief of staff Jen O'Malley Dillon said, "We're trying to reach young people, but also moms who use different platforms to get information and climate activists and people whose main way of getting information is digital."
Going after the brainwashed Tik Tok obsessed woke crowd then, essentially.
The report further notes that in February The White Host brought more than a dozen influencers to a State of Union watch party and was asked by one "when are we going to get press briefing passes?" prompting the administration to become "actually very responsive to it."
It's like something out of Idiocracy:
Biden's handlers have done this before, back in March last year they hosted around 30 TikTok stars and gave them a briefing on events in Ukraine. White House director of digital strategy, Rob Flaherty decried that the influencers should be getting information from "an authoritative source."
The news also comes amid revelations that George Soros' son is a regular visitor to the White House, having been invited 14 times since Biden took office.
Why?
As we highlighted last week, Biden is drowning with voters on every issue, and only one third want to see him win another term.
When it comes to Democrats or Democratic-leaning independents, a majority, 54 percent, said they would prefer a different candidate, with only 44 percent giving approval of Biden as the nominee.
Among voters under the age of 35, Biden is favoured as a candidate by just 26 percent.
SUBSCRIBE on YouTube:
Follow on Twitter:
Follow @PrisonPlanet
———————————————————————————————————————
Brand new merch now available! Get it at https://www.pjwshop.com/


ALERT! In the age of mass Silicon Valley censorship It is crucial that we stay in touch.

We need you to sign up for our free newsletter here.

Support our sponsor – Turbo Force – a supercharged boost of clean energy without the comedown.

Also, we urgently need your financial support here. ———————————————————————————————————————
Busted! Adam Schiff Funneled Millions To Defense Contractors After Taking Donations
While Rep. Adam Schiff (D-CA) campaigns for a Senate seat on a platform of earmarks for local causes, the 12-term Congressman has been busted steering millions in taxpayer dollars to for-profit defense contractors, many of whom have been political donors to his campaigns.
According to an investigation by Politico, Schiff "has offered an incomplete and potentially misleading account of his record on earmarks."
A POLITICO review of congressional earmarks and political contributions found that in addition to the money for homelessness and drug treatment, Schiff also steered millions to for-profit companies and raised tens of thousands for his House reelection campaigns from corporate executives and people connected to them. The review was mostly limited to publicly available data from the brief three-year window when corporate earmarks were disclosed.
In two particularly egregious cases, Schiff channeled millions in funding to Smiths Detection and Phasebridge, Inc., two defense companies within his district – with $6 million steered to Smiths Detection and $3 million to Phasebridge. Both moves would have been barred under reforms adopted in 2010. This financial maneuvering coincided with Schiff receiving $8,500 in contributions from PMA Group PAC and two family members of Paul Magliocchetti, founder and owner of the lobbying firm retained by both defense companies.
In 2011, Paul Magliocchetti was sentenced to 27 months in prison for making illegal campaign contributions.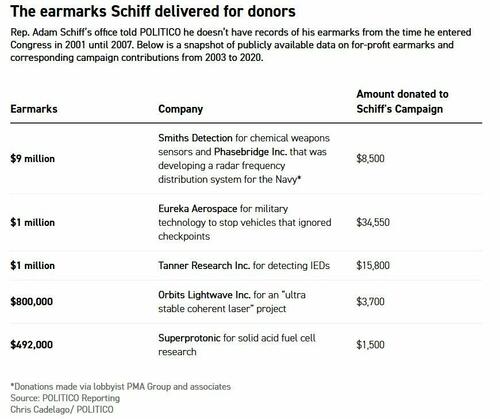 Schiff claims not to have a full accounting of his earmarks.
The Congressman's campaign has been quick to minimize these connections, emphasizing the small proportion of these contributions in his overall fundraising and underscoring his commitment to ensuring Californians' tax dollars work for their benefit. In a boilerplate response, spokesperson Marisol Samayoa said: "Californians know and trust Adam's record of getting things done, and as a U.S. senator, he will do what it takes to ensure Californians' tax dollars are put to work for them and their priorities," adding "These contributions amount to less than one tenth of one percent of what Adam has raised over 20 years in Congress, and were driven by what was best for our troops and his constituents. It is ridiculous to suggest otherwise."
However, Schiff's lack of transparency in providing a complete list of his earmarks further fuels the cloud of skepticism surrounding his actions.
"We were always concerned about the pay-to-play aspects and that's something that every lawmaker must live with," said Steve Ellis, president of Taxpayers for Common Sense, a nonpartisan budget watchdog, who has been analyzing earmarks for decades."If you're getting a campaign contribution and getting your earmark for that same company or for a client of that lobbyist, it has that perception."
The earmark process was changed following rising spending an a series of congressional pay-to-play scandals in the mid-2000s, including that of former Rep. Randy "Duke" Cunningham (R-CA), who admitted to taking millions in bribes from defense contractors, as well as disgraced lobbyist Jack Abramoff, who dubbed the appropriations panel a "favor factory."
More of Schiff's shiftyness via Politico…
— Schiff directed $1 million to Pasadena-based Eureka Aerospace, which was developing military technology to stop vehicles that ignored checkpoints. Eureka Aerospace CEO James Tatoian contributed $24,600 to Schiff between 2006 and 2016. Others in Tatoian's household gave another $9,950 through 2020. His only other federal contributions in recent years went to former Republican Sen. Martha McSally of Arizona, a retired Air Force colonel and former pilot.

— Schiff channeled $1 million to Tanner Research Inc. of Monrovia for detecting IEDs. CEO John Tanner donated $15,800 to him from 2003 to 2012.

— Schiff got an $800,000 earmark for Orbits Lightwave Inc. for an ultra stable coherent laser project. Yaakov Shevy, Orbits Lightwave's co-founder and president, donated $2,500 to him over his time in Congress and executive Katrin Saroukhanian gave $1,200 from 2007 to 2010.

— Schiff also secured $492,000 for Superprotonic for solid acid fuel cell research. Co-founder Calum Chisholm of Pasadena and executive Sami Mardini of Duarte combined to donate $1,500 to Schiff in 2007 and 2008.

…

POLITICO could not analyze many of Schiff's earmarks or possible corresponding donations because the public record of dollars that flowed to companies is extremely limited. Schiff's campaign declined to provide the list of earmarks from between 2001 and 2007, contending they didn't have one. Schiff refused a Los Angeles Daily News request to reveal his projects when pressed in 2007.
Meanwhile – still waiting on that Trump evidence, Adam…
This post was originally published at Zero Hedge
Washington Post Rubbishes Its Own Poll Showing Trump Has Close To 10 Point Lead Over Biden
"This survey…is probably an outlier"
The Washington Post has dismissed its own poll after it found that President Trump has a commanding approval lead over Joe Biden among voters.
The poll, conducted in conjunction with ABC News found that Trump has a 51% to 42% lead in a hypothetical 2024 general election matchup.
ABC News reported that support for Trump over Biden is up three percent since February, while Biden is down by two points. 
However, The Post disavowed the poll, noting "The Post-ABC poll shows Biden trailing Trump by 10 percentage points at this early stage in the election cycle, although the sizable margin of Trump's lead in this survey is significantly at odds with other public polls that show the general election contest a virtual dead heat."
"The difference between this poll and others, as well as the unusual makeup of Trump's and Biden's coalitions in this survey, suggest it is probably an outlier," the outlet also claimed.
The poll also found that Trump is beating Biden by a massive 20 points among young voters:
ABC News reported that the numbers registered in the poll are "simply staggering":
Meanwhile, a similar NBC News poll has recorded a record high disapproval rating for Biden:
SUBSCRIBE on YouTube:
Follow on Twitter:
Follow @PrisonPlanet
———————————————————————————————————————
Brand new merch now available! Get it at https://www.pjwshop.com/


ALERT! In the age of mass Silicon Valley censorship It is crucial that we stay in touch.

We need you to sign up for our free newsletter here.

Support my sponsor – Summit Vitamins – super charge your health and well being.

Also, we urgently need your financial support here. ———————————————————————————————————————
Democratic Mayor Of Dallas: "American Cities Need Republicans… & I'm Becoming One"
While the Democratic Mayor of Dallas says the city has thrived, Eric Johnson writes in a very frank WSJ op-ed that, elsewhere, Democratic policies have exacerbated crime and homelessness.
"The future of America's great urban centers depends on the willingness of the nation's mayors to champion law and order and practice fiscal conservatism.

Our cities desperately need the genuine commitment to these principles (as opposed to the inconsistent, poll-driven commitment of many Democrats) that has long been a defining characteristic of the GOP."
As we have written in detail previously, cities governed by Democrat mayors have seen the largest increases in homicide rates over the past year as well as registered the highest homicide rate per capita in Q1 out of 45 cities, according to a new report.
Homicide rates in 45 of the most populated American cities rose by approximately 10 percent on average between Q1, 2021 and Q1, 2023, and continue to rise, according to an April 26 report by WalletHub. Blue cities were found to have a higher increase in homicide rates compared to red cities. The report designated a city as red or blue based on the mayor's political affiliation.

The top five cities that saw the greatest increase in per capita homicide are Richmond, Virginia; Memphis, Tennessee; Durham, North Carolina; Garland, Texas; and Washington, D.C.

Except for Garland, where Mayor Scott LeMay is a Republican, the remaining four cities have mayors who are affiliated with the Democratic Party.

The highest homicide rate per capita in the first quarter of 2023 was in Memphis at 14.19 per 100,000 residents. New Orleans, Louisiana, came in second at 12.76, followed by Baltimore, Maryland, with 10.47, St. Louis, Missouri, with 9.91, and Detroit, Michigan, with 8.52.

Excluding St. Louis, the other four cities have mayors affiliated with the Democratic Party. The mayor of St. Louis, Tishaura Jones, was a former Democrat member of the Missouri House of Representatives.
"In other words," the Dallas Mayor adds:
"American cities need Republicans – and Republicans need American cities."
And that's exactly what he does – changing his party affiliation to 'Republican', ready to leave office in 2027 as a Republican.
He is able to lift the 'mask' and see the problem that troubles so many of America's cities.
"Unfortunately, many of our cities are in disarray… Most of these local leaders are proud Democrats who view cities as laboratories for liberalism rather than as havens for opportunity and free enterprise."
Again, he nails it, daring to suggest the unmentionables that we have previously reported, Gregg W. Etter, a professor at the Department of Criminal Justice at the University of Central Missouri, blamed the tendency of politicians to seek "simplistic, one-size-fits-all solutions to complex problems" as a reason behind the spike in homicides across the nation.
Politicians offer such solutions to gain favor with political interest groups during elections, he pointed out. For instance, when faced with the issue of police using force in isolated instances, such politicians might support defunding the police rather than dealing with problematic officers.

This ends up resulting in a less-effective police force, higher response times, lower morale among officers, and an "increasing unwillingness" to engage in proactive policing, he said.

"This has left many police forces in a strictly reactive mode, only responding to crimes that have already occurred. In addition, no-cash bail rulings have put many dangerous criminals back onto the streets even though they are arrested several times for violent crimes," Etter said.

"In cities where these two things are happening, the crime rate has spiked. You have less police officers and more dangerous criminals at large."
"Too often, local tax dollars are spent on policies that exacerbate homelessness, coddle criminals and make it harder for ordinary people to make a living," writes Johnson.
"And too many local Democrats insist on virtue signaling – proposing half-baked government programs that aim to solve every single societal ill – and on finding new ways to thumb their noses at Republicans at the state or federal level. Enough. This makes for good headlines, but not for safer, stronger, more vibrant cities."
He concludes, with a strong suggestion at the ballot box
"…the overwhelming majority of Americans who call our cities home deserve to have real choices—not "progressive" echo chambers—at city hall."
We can only imagine the anger raging among the leftists as this one man steps up and unleashes the terrible truth about liberal-run urbania. You're not supposed to say any of that in your out-loud voice.
Is it time for change?
This post was originally published by Zero Hedge