Shots Fired: The Twitter-Substack War & Matt Taibbi's Not-So-Good-Friday
As the first Easter weekend in three years with the possibility of 'normality' in social interactions, 'Good Friday' turned into a 'No Good, Very Bad Friday' for many Substack-ers, including most notably Twitter Files-amplifying journalist Matt Taibbi.
As The Epoch Times' Tom Ozimek writes, Taibbi, who posts his articles on Substack and is one of the most popular contributors on the platform, announced he's leaving Twitter in protest of apparent changes that have made the platform unusable for him.
The indefatigable independent journalist made the announcement in a post titled "The Craziest Friday Ever" and a series of tweets, in which he said that he had just learned that Substack links were being blocked on Twitter.
"When I asked why, I was told it's a dispute over the new Substack Notes platform," Taibbi wrote in a tweet.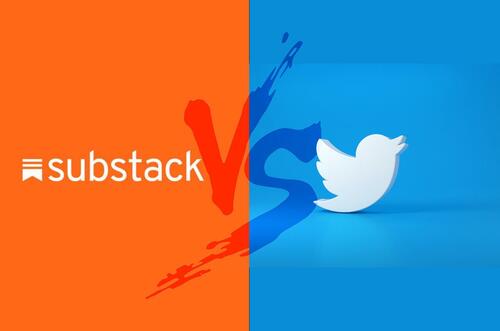 By way of background, Substack recently announced Notes, a feature that allows short-form posts similar to tweets.
The move appears to have prompted Twitter to retaliate by blocking the ability to share Substack links on Twitter or like, retweet, and comment on tweets that include a link to Substack articles.
"We're investigating reports that Twitter embeds and authentication no longer work on Substack," Substack said on its own Twitter account.

"We are actively trying to resolve this and will share updates as additional information becomes available."
Which could be a major problem for writers who have chosen Substack as their distribution and marketing platform, since 25% of Substack traffic comes from Social Media…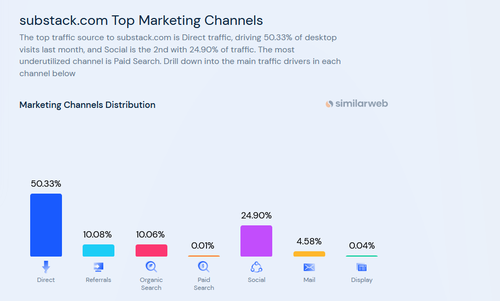 …and 61% of that traffic comes from Twitter…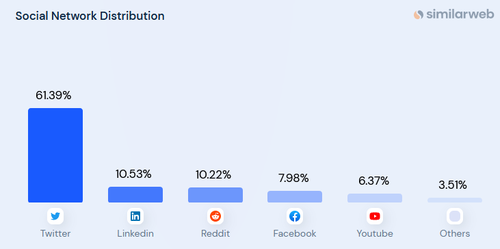 So one can see why this would be an issue for Substack writers as a key marketing platform is reportedly removed.
Taibbi confirmed the problem on his Substack platform:
"It turns out Twitter is upset about the new Substack Notes feature, which they see as a hostile rival,"adding that when he asked how he was supposed to market his work, he was given the option of posting his articles on Twitter rather than on Substack.
"Not much suspense there; I'm staying at Substack," Taibbi wrote, confirming his decision to leave Musk's platform:
"Beginning early next week I'll be using the new Substack Notes feature (to which you'll all have access) instead of Twitter, a decision that apparently will come with a price as far as any future Twitter Files reports are concerned."

"It was absolutely worth it and I'll always be grateful to those who gave me the chance to work on that story, but man is this a crazy planet," he added.
But Twitter CEO Elon Musk said in a tweet that Taibbi's assertion that Substack links were being blocked on Twitter is false.
"Substack links were never blocked. Matt's statement is false," Musk wrote.
In line with Musk's remarks, there is no direct block but Twitter has started marking links to Substack as unsafe…
…something we at ZeroHedge know a thing or two about…
Musk said that Substack was trying to "download a massive portion of the Twitter database to bootstrap their Twitter clone, so their IP address is obviously untrusted."
Finally, Musk added that it "turns out Matt [Taibbi] is/was an employee of Substack."
While many have remarked on this being antithetical to Musk's free-speech mission, it is clearly more nuanced than that given the Substack's leveraging the openness of Twitter while creating a product that would directly compete with it…
Additinally, as The Brownstone Institute's Jeffrey Tucker notes, the timing itself is alarming because the very woke ADL just published a big attack on Substack with the usual litany of complaints about how the platform is enabling disinformation.
"The ADL Center on Extremism observed a recent increase in Substack's popularity, as well as several conspiratorial or extremist influencers either creating their own Substacks or directing their followers to others. A number of these Substack accounts were dedicated to spreading extremist, antisemitic and conspiratorial narratives, and several problematic authors are popular enough to have earned a 'bestseller' ranking on the platform."

The article proceeds along familiar tactics. It lists aggressively hateful sites promoting real hate and anti-Semitism. As the reader warms up to the thesis and sees the point, the article starts including merely partisan material from Libs of TikTok, then goes after poor Steve Kirsch who writes mostly entirely about vaccines, and then even includes eminent scientist Robert Malone, just so we are clear about what is going on here.

The attack here is entirely pointless. The reader can handle egregious sites on Substack by simply not reading or subscribing. By throwing in good scientists with absolute hate-mongers, the article only serves a censorious agenda.
We can only hope that this situation gets ironed out sooner rather than later as Musk's 'opening' of the public square for those of us who may not toe-the-line 100% with every press release from The White House and Taibbi's detailed exposé of every 'conspiracy theory' we have pointed out becoming 'conspiracy fact' has moved America (and perhaps the world) inch by inch closer to real democracy… as opposed to the escalating narrative-control that we have experienced over the last decade.
But it appears the rumble in the social media jungle just escalated…
Make Orwell Proud Again!
This post was originally published at Zero Hedge
Elon Musk Has Fired Most Of Twitter's 'Election Integrity' Team
Says they were "undermining election integrity"
Twitter/X owner Elon Musk has fired most of a team at Twitter that was supposedly in charge of maintaining 'election integrity', stating that in reality they were doing the exact opposite.
Musk commented on a post from X News Daily, noting that the head of the team was fired, stating "Oh you mean the "Election Integrity" Team that was undermining election integrity? Yeah, they're gone."
According to reports some of the U.S. election integrity team were based in Dublin.
A recent blog post with regards to election integrity states "You may not use X's services for the purpose of manipulating or interfering in elections or other civic processes, such as posting or sharing content that may suppress participation, mislead people about when, where, or how to participate in a civic process, or lead to offline violence during an election."
It adds that "Any attempt to undermine the integrity of civic participation undermines our core tenets of freedom of expression and as a result, we will apply labels to violative posts informing users that the content is misleading."
It appears that Musk believed the election integrity team were promoting the opposite of integrity at X.
Musk has downsized X's workforce by a whopping 80% since he took over, meaning that there are no more latte sipping TikTok trendies with made up job titles working there.
The post added that "Not all false or untrue information about politics or civic processes constitutes manipulation or interference. In the absence of other policy violations, the following are generally not in violation of this policy: inaccurate statements about an elected or appointed official, candidate, or political party; organic content that is polarizing, biased, hyperpartisan, or contains controversial viewpoints expressed about elections or politics; discussion of public polling information; voting and audience participation for competitions, game shows, or other entertainment purposes; using X pseudonymously or as a parody, commentary, or fan account to discuss elections or politics."
Meanwhile, Musk posted a link to a video earlier this week that highlights Fauci and others making false claims about the COVID 19 vaccine:
SUBSCRIBE on YouTube:
Follow on Twitter:
Follow @PrisonPlanet
———————————————————————————————————————
Brand new merch now available! Get it at https://www.pjwshop.com/


ALERT! In the age of mass Silicon Valley censorship It is crucial that we stay in touch.

We need you to sign up for our free newsletter here.

Support my sponsor – Summit Vitamins – super charge your health and well being.

Also, we urgently need your financial support here. ———————————————————————————————————————
EU Chief Boasts About Vaccine Passports, Calls For More Global Digital Collaboration – Paving The Way For Digital IDs
Von der Leyen audaciously proclaimed our collective future to be digital.
With an ominous call for increased global collaboration and centralization, European Commission President, Ursula von der Leyen at a G20 Summit session, dubbed "One Future," today appealed for an international regulatory body for Artificial Intelligence and digital ID systems similar to coronavirus vaccine passports.
Von der Leyen audaciously proclaimed our collective future to be digital, hence the implied necessity for global entities to draw boundaries and enforce regulations.
Von der Leyen, in her position as the EU Commission President, touched on AI and the digital landscape in her address. She acknowledged the potential dangers and gargantuan opportunities linked with advancing AI technology and emphasized the importance of channeling such explosive technology.
"Today I want to focus on AI and digital infrastructure. As it has been described, AI has risks but also offers tremendous opportunities. The crucial question is how to harness a rapidly changing technology.
"In the EU, in 2020, we presented the first-ever law on artificial intelligence. We want to facilitate innovation while building trust. But we need more. What the world does now will shape our future. I believe that Europe — and its partners — should develop a new global framework for AI risks," von der Leyen said.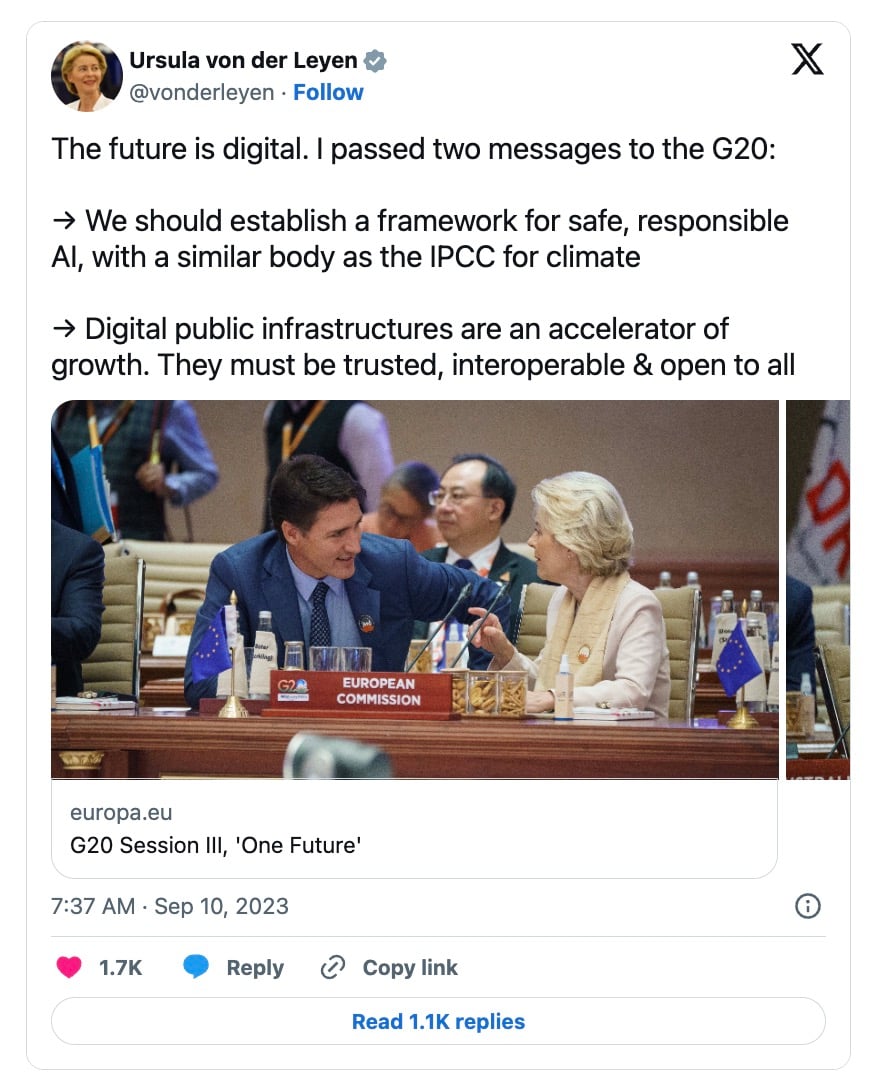 Von der Leyen praised the European Union's move in 2020 to introduce the first legal framework on AI, a step taken with the intent of fostering innovation alongside trust. However, she insisted that this wasn't sufficient. She suggested a multinational adoption of a coping mechanism for managing AI risks.
The EU Chief also stressed that globally accepted standards must be created under the purview of the United Nations, akin to their Intergovernmental Panel on Climate Change. Humanity stood to benefit, she argued, if an international authority could clarify the risks and rewards related to AI, akin to the IPCC for climate concerns.
Concurrently, von der Leyen championed the concept of digital public infrastructure similar to the coronavirus passport system – a system developed by the EU as a response to the Covid saga. The World Health Organization embraced it with open arms as a global standard for combating health threats.
"Many of you are familiar with the COVID-19 digital certificate. The EU developed it for itself. The model was so functional and so trusted that 51 countries on 4 continents adopted it for free. Today, the WHO uses it as a global standard to facilitate mobility in times of health threats," von der Leyen continued.
Alarmingly, von der Leyen praised the EU's strides towards a bloc-wide digital identity app capable of storing a citizen's personal information, including credit cards, driver's license, and passport data.
These developments ring alarm bells for individuals and nations valuing free speech and privacy.
Whoops!
Paper straws cause cancer.
A new study has found that paper straws contain cancer-causing chemicals and are harmful to humans, wildlife and the environment.
Please share this video! https://youtu.be/EoV3e4m2mcw
SUBSCRIBE on YouTube:
Follow on Twitter: Follow @PrisonPlanet
———————————————————————————————————————
Brand new merch now available! Get it at https://www.pjwshop.com/
ALERT!
In the age of mass Silicon Valley censorship It is crucial that we stay in touch.
I need you to sign up for my free newsletter here.
Support my sponsor – Summit Vitamins – super charge your health and well being.
Get early access, exclusive content and behind the scenes stuff by following me on Locals.
———————————————————————————————————————