Israel Introduces Bill to Outlaw Teaching The Gospel of Jesus Christ, Sentence Violators to Prison
Two influential members of Israel's Knesset have introduced a bill to outlaw teaching the Gospel of Jesus Christ in Israel and sentence violators to prison. 
Israel already bans Christians from proselytizing minors but this new bill will go even further and "ban any and all efforts to tell people about Jesus."
From All Israel News, "EXCLUSIVE: Two Knesset members propose legislation to outlaw sharing the Gospel in Israel and send violators to prison – could it become law?":
JERUSALEM, ISRAEL – Is it possible that the Israeli government this year could pass legislation making it illegal for people to share the Gospel message in the very land where Jesus was born, raised, preached, died, buried and rose from the dead?

Unfortunately, yes.

As Palm Sunday and Easter approach – the two most sacred days on the calendar for those who follow Jesus as both God and Messiah – two members of the Knesset (Israel's parliament) introduced a bill last week that would ban any and all efforts to tell people about Jesus.

The bill would send violators to prison.

[…] The proposed legislation would outlaw all efforts by people of one faith who, in any way, want to discuss or try to persuade people of other faiths to consider changing their current religious beliefs.

The punishment for doing so would be "one year imprisonment."

If the conversation is with minor – someone under the age of 18 – the punishment would be "two years imprisonment."

This bill would apply to people having spiritual conversations with Israelis of any religion.

However, in their official explanation of the bill, the two Israeli legislators specifically emphasized the warning to stop Christians, in particular.

The bill's primary objective, therefore, appears to be making it illegal for followers of Jesus ("Yeshua" in Hebrew) to explain why they believe that Jesus is both Messiah and God with the hope that Israelis might consider following Him.

The bill does not only make a simple personal conversation about Jesus with another individual a crime.

It would also make it illegal for "someone who solicits a person – directly, digitally, by mail or online – in order to convert his religion."

Thus, producing and publishing online videos explaining the Gospel to Jewish or Muslim people in Israel – and to those of any other religious faiths – would suddenly become illegal.

Publishing books, other printed literature, online articles, podcasts, or other forms of media that explains the life and ministry of Jesus and His message found in the New Testament would also become illegal.

So would discussing the Gospel message via email, text messages, written letters and/or on social media, including answering questions initiated by people who don't follow Jesus.
All Israel News has the full text of the bill.
This is how Christians are treated when they preach the Gospel in Israel:
A new Pew Research poll in America found that Evangelicals have a +39 favorability rating towards Jews but Jews have a -40 favorability rating of Evangelicals. 
Anti-Christian attitudes are even worse in Israel.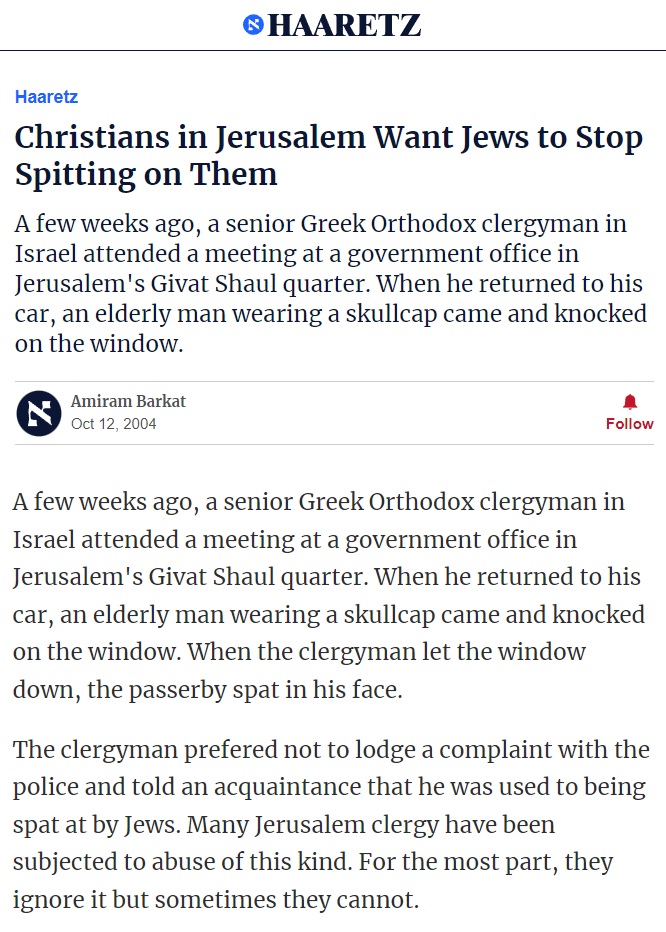 In 2019, the pro-Israel Christian TV broadcasting network Daystar had their headquarters burned to the ground by suspected Jewish extremists who were never caught.
The Greek Orthodox Patriarch of Jerusalem warned last year that "our presence in Jerusalem is under threat."
"Our churches are threatened by Israeli radical fringe groups," Patriarch Theofilos III said. "At the hands of these Zionist extremists the Christian community in Jerusalem is suffering greatly. Our brothers and sisters are the victims of hate crimes. Our churches are regularly desecrated and vandalized. Our clergy are subject to frequent intimidation."
Just last month, a Jewish extremist from America desecrated a statue of Jesus inside a Jerusalem church.
"We cannot have idols in Jerusalem," the Jewish-American vandal said. "This is a very serious matter, we cannot worship stones of false gods in Jerusalem." 
A poll from Gallup released last week found that Israel is losing support among American Democrats, though support among Republicans – especially Evangelicals — remains strong.
For the first time ever, Democrats said "their sympathies in the Middle East now lie more with the Palestinians than the Israelis, 49% versus 38%," Gallup reported:
Today's attitudes reflect an 11-percentage-point increase over the past year in Democrats' sympathy with the Palestinians. At the same time, the percentages sympathizing more with the Israelis (38%) and those not favoring a side (13%) have dipped to new lows.

Sympathy toward the Palestinians is also at a new high among political independents, up six points to 32%. However, more independents still lean toward the Israelis (49%).

Republicans' views are unchanged, with nearly eight in 10 (78%) continuing to sympathize more with the Israelis while 11% side with the Palestinians.
All Israel News said the bill to outlaw teaching the Gospel in Israel has a solid chance of passing now that Orthodox and ultra-Orthodox Jewish members control the legislature.
"These members are far more aggressive in this legislative session than ever before in pushing for legislations to be passed that advance their theological worldview," All Israel News reported.
This post was originally published at Information Liberation
China's Military Chief Says Clash With US Would Be "Unbearable Disaster" For World
Over the weekend Chinese Defense Minister Li Shangfu told the Shangri-La Dialogue security summit that any potential future conflict between the United States and China would bring "unbearable disaster for the world".
But he said both rival powerful countries should be able to grow together and to avoid confrontation. His words came as the US condemned what it called unsafe and aggressive maneuvers by a Chinese PLA Navy warship in the Taiwan Strait as the American destroyer USS Chung-Hoon conducted a 'freedom of navigation' transit on Saturday.
"It is undeniable that a severe conflict or confrontation between China and the US would be an unbearable disaster for the world," Li said.
While at the conference the top Chinese defense leader refused a sit-down bilateral meeting with his US counterpart Lloyd Austin, but there was at least a cordial handshake.
Li, who took up his posts in March, additionally said China "believes that a big power should behave like one, instead of provoking bloc confrontation for self-interest."
He urged that Washington "take concrete action" to find common ground with China and to reverse the trend of spiraling ties, which has been on display and intensified ever since the US Chinese 'spy balloon' shootdown in early February.
While not naming the US, Li also said at the defense summit over the weekend that "some country" practices "exceptionalism and double standards and only serves the interests and follows the rules of a small number of countries."
He stressed that China remains "strongly opposed to imposing one's own will on others, placing one's own interests above those of others and pursuing one's own security at the expense of others."
Currently Washington and Beijing are trading harsh words over the aforementioned Saturday 'close-call' between the US and Chinese warships off Taiwan.
Gen. Li upon taking his post in March told his country and military that "we must prevent attempts that try to use those freedom of navigation (patrols), that innocent passage, to exercise hegemony of navigation."
He remains under US sanctions – something which has served to thwart talks with US defense officials and the Biden administration. China has demanded that the White House first drop the sanctions on him before direct military dialogue can be restored.
This post was originally published at Zero Hedge
German Investigators Find Nord Stream Evidence Points To Ukraine
Seven months after explosions severed three of Russia's four Nord Stream gas pipelines in the Baltic Sea, German investigators are now pursuing leads that point to Ukraine as the responsible country. At the same time, a multinational consortium of European investigative journalists has also found leads pointing to Kiev.
A long-running Western propaganda campaign — abetted by media that's credulous at best and complicit at worst — would have us believe Russia blew up pipelines that took the country 15 years of construction — and painstaking diplomacy to overcome U.S. interference — to bring to reality.
According to The Times of London, Germany's Federal Office of Criminal Investigation (BKA) has investigated Russian naval movements that have been declared "suspicious," but found nothing that suggests Moscow is responsible for the attack.
Rather, BKA investigators are now focusing on a yacht that sailed from the German port of Rostock weeks before the explosions. That 15-meter yacht — the Andromeda — was hired from a Polish company, and docked at a tiny Danish island near the blast site. Most strikingly, investigators found traces of "military-grade and underwater-deployable" explosives on the vessel.
Given the complexity of the operation, the BKA believes a government must have backed the undertaking, and has found evidence pointing to Ukraine, via a shell company — a travel agency — formed by two Ukrainians in Warsaw. According to the team of journalists, the purported travel agency is one of more than 100 entities listed at a single address. In 2022, the travel agency, which had a Ukrainian woman named as president, received about $3 million for no documented reason.
According to the BKA's working theory, five men and one woman with forged Romanian and Bulgarian passportsentered Germany before using the yacht as a base for expert divers who planted the charges more than 200 feet below the sea. Germans have identified two other people — Ukrainians — who were aboard the vessel. Journalists say one of them is a Ukraine infantry veteran.
It's an intriguingly detailed scenario — and quite different from Seymour Hersh's own blockbuster account. Citing unnamed national security sources, the legendary investigative journalist reported in February that the United States blew up the pipeline, in a plan crafted by the CIA with the cooperation of Norway and executed by US Navy divers deploying from a Norwegian mine-hunting vessel.
Meanwhile, Hersh has just reported that Ukraine's neighbor's are quietly pressuring President Zelensky to find a way to bring the 15-month-old war to an end — with some apparently willing to compensate him personally for doing so.
This post was originally published at Zero Hedge
CIA Releases Video Urging Russians To Spy On Their Own Country
In an unusual attempt at public outreach 'spy-style', the world's most powerful intelligence organization is openly encouraging Russians to spy on their own country. 
The CIA released a nearly 2-minute video Monday on its official YouTube, Twitter, and Telegram channels. The Russian-language, professionally produced video urges individual Russians to provide intelligence on their country in the midst of the Ukraine war. Watch:
The video has a 'patriotic' orientation, assuring Russians they can do something to improve their country and its situation by handing over intelligence to the CIA.
"The CIA wants to know the truth about Russia, and we are looking for reliable people who can tell us that truth," the agency said in the video, according to a translation. "Your information may be more valuable than you know."
The text on the screen of the clip further tells Russians to "Contact us. Perhaps the people around you don't want to hear the truth. We want to."
Some of the narration includes the following messaging, according to a description:
In the video – published on the CIA's official YouTube channel and the Telegram messaging app, popular in Russia – a male voice reflects on the meaning of heroism and endurance as lone individuals are seen weighing their decisions: a man trudging through snow, a woman staring through a window.

"We are easily swayed by lies. But we do know what our reality is. The reality we live in. And the reality we talk about in whispers," the voice says.

At the end, a man and a woman are shown in separate scenes with their fingers hovering over mobile phone screens with a link saying "Contact CIA".

"This is my Russia. This will always be my Russia. I will endure. My family will endure. We will live with dignity because of my actions," the narrator concludes.
The video at the end informs viewers how to submit information with a Tor browser utilizing the dark web and suggests tools for encrypted communications. 
Kremlin spokesman Dmitry Peskov in a daily briefing was asked about the CIA's asset recruitment efforts. He responded, "I am convinced that our special services are monitoring this space in the necessary way."
He added: "We all know perfectly well that the CIA and other Western intelligence services are not reducing their activity on the territory of our country."
This post was originally published at Zero Hedge