Arrest Warrant Issued For President Putin By Hague-Based ICC
As part of the West's attempt to ramp up the pressure on President Vladimir Putin, the International Criminal Court (ICC) on Friday issued an arrest warrant for the Russian leader. It's a largely symbolic step, given detaining Putin remains entirely unenforceable, but is enough to create a firestorm of hyped and breathless headlines.
Another arrest warrant for a top official was announced simultaneously for Russia's commissioner for children's rights Maria Alekseyevna Lvova-Belova. The warrants for both Putin and Lvova-Belova allege severe human rights violations against children, and mark the first formal international charges brought by the ICC against Moscow.
The ICC said in a statement that Putin "is allegedly responsible for the war crime of unlawful deportation of population (children) and that of unlawful transfer of population (children) from occupied areas of Ukraine to the Russian Federation."
According to Axios, it stems from allegations that "Russia systematically relocated at least 6,000 children from Ukraine to Russia since the start of the war" – based on findings by a group called Conflict Observatory and their report published in February.
"Many of the children, who were taken to camps or other facilities, engaged in pro-Russia reeducation efforts, per the report," Axios details. "Some of the facilities were used for foster care or adoption in Russia and Crimea."
But it remains that the warrants are largely merely symbolic. "The ICC is doing its part of work as a court of law," ICC court president Piotr Hofmanski said. "The judges issued arrest warrants. The execution depends on international cooperation."
Given the ICC doesn't have a police force, any actual attempt to detain Putin would be the decision of a government, so needless to say it could not possibly be enforced. However, it does complicate Putin's ability to travel to European or other capitals which cooperate with the ICC. This also means it could hinder peace efforts in the scenario Putin might choose to personally engage in negotiations or diplomacy in a European city.
The Kremlin responded quickly to the ICC warrants, with Dmitry Peskov stressing that Russia doesn't recognize the international court, calling its decisions "legally void." He blasted the attempt to go after the recognized head of state of Russia as "outrageous and unacceptable."
Recent debate at the Hague-based ICC ahead of Friday's announcement certainly put Washington in an awkward position, with Axios pointing out that "The New York Times reported earlier this month that the Pentagon was blocking the Biden administration from sharing U.S. intelligence with the ICC about Russian war crimes in Ukraine for fear that it could set a precedent for prosecuting Americans."
This post was originally published at Zero Hedge
Satellite Image Reveals Supersonic Drone At Chinese Military Base
There are increasing fears that China may invade Taiwan in the next several years. An image captured by a satellite and obtained by Defense News reveals what appears to be a next-generation unmanned aerial vehicle that Beijing could use in future conflicts.  
The delta-shaped UAV "appears to be a WZ-8 supersonic reconnaissance drone parked outside one of two newly built hangars at China's Lu'an Airbase," Defense News said. Planet Labs, a US satellite-imaging company, photographed the spy drone on Dec. 21, which was recently shared with the military blog.
The satellite image, provided to Defense News by Planet Labs, shows Lu'an Airbase in China's Anhui province. The previously unoccupied base is undergoing an upgrade, with construction beginning sometime between April 2018 and early 2019. Improvements include the resurfacing of the 3,200-meter (3,500-yard) runway, the widening of taxiways, and the construction of 20 bomber-sized aircraft shelters and two hangars to replace open aircraft parking bays.
Here's the satellite image of the spy drone.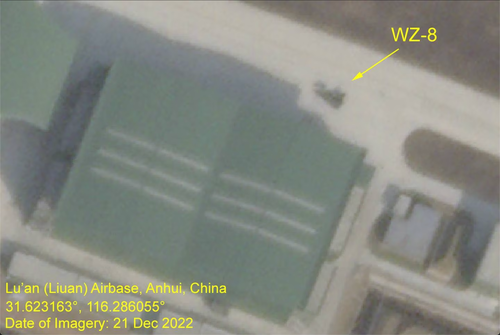 In a separate image, the drone was recently unveiled at a military parade.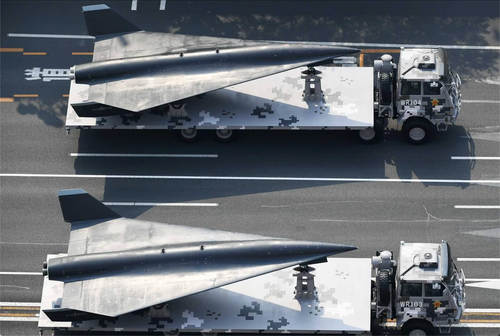 Last month, a secret document from the National Geospatial-Intelligence Agency said the Chinese military could soon deploy a high-altitude spy drone that travels at Mach 3, or three times the speed of sound, at an altitude of 100,000 feet. The document was seen by The Washington Post in April and initially posted on a Discord server by a member of the Massachusetts Air National Guard.
According to Andreas Rupprecht, who studies Chinese military aviation, the spy drone was seen at Lu'an Airbase, home to the 29th Air Regiment of the People's Liberation Army Air Force's 10th Bomber Division.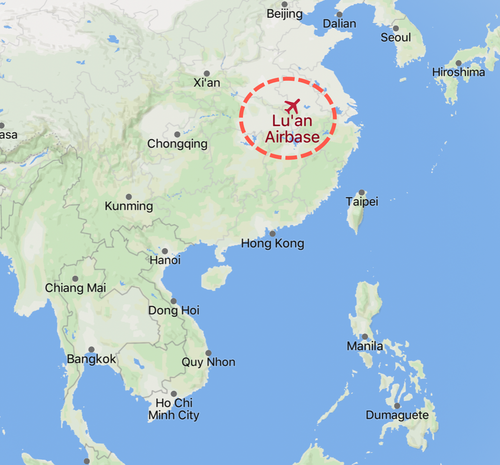 US defense officials are concerned the new drone could expand China's surveillance capacity in the Indo-Pacific region and around Taiwan.
China has been rapidly modernizing its military forces over the last decade as then commander of the Indo-Pacific Command, Philip Davidson, warned in 2021 at a US Senate hearing that the Chinese People's Liberation Army's invasion of Taiwan could occur by 2027.
This post was originally published at Zero Hedge
Ukraine Claims Russian Hypersonic Missile Shot Down Using US Patriot System
In an alleged first which is no doubt making US Congressional hawks very proud, Ukraine says it has intercepted a Russian ballistic missile for the first time using a US-made anti-air defense system. What's more, and perhaps the more dubious aspect, is that it was a hypersonic missile shot down over Kiev, according to top Ukrainian officials.
Commander of Ukraine's air force, Mykola Oleshchuk, announced in a Saturday Telegram post that a Russian Kinzhal, or Kh-47, was inbound until being successfully intercepted using American Patriot missiles. The intercept occurred Thursday night in what's the first time known time Patriot defenses were put into successful use by Ukraine.
Moscow has long touted its hypersonic ballistic missiles as essentially "impossible to intercept" given the projectile can travel at 10 times the speed of sound with a range of up to 2,000 kilometers (or about 1,250 miles).
According to the top Ukrainian commander's words:
"Yes, we shot down the 'unique' Kinzhal," Oleshchuk stated. "It happened during the night time attack on May 4 in the skies of the Kyiv region."

Oleshchuk said the Kh-47 missile was launched by a MiG-31K aircraft from the Russian territory and was shot down with a Patriot missile.
And a separate statement from Air Force spokesman Yurii Ihnat taunted the Russians while boasting of the US Patriot's proven capabilities:
"They were saying that the Patriot is an outdated American weapon, and Russian weapons are the best in the world," Air Force spokesman Yurii Ihnat said on Ukraine's Channel 24 television. "Well, there is confirmation that it effectively works against even a super hypersonic missile." Ihnat said.

He said successfully intercepting the Kinzhal is "a slap in the face for Russia."
It was only late last month that Ukraine confirmed delivery of the first Patriot batteries from the United States, though an unknown quantity, alongside anti-air systems from Germany and the Netherlands.
More self-congratulations from Ukraine's top brass was issued Saturday follows:
"I congratulate the Ukrainian people on a historic event," Lt. Gen. Mykola Oleshchuk, the commander of the Ukrainian air force, said in a statement posted on the Telegram messaging app. "Yes, we have shot down the 'unparalleled' 'Kinzhal.'"
It should be noted that amid the atmosphere of heavy war propaganda and disinformation which is part and parcel of modern conflict, even The New York Times has expressed caution in its headline, "Ukraine Claims It Shot Down Russia's Most Sophisticated Missile for First Time."
The Times describes, "The U.S. officials said they were relying on information from the Ukrainian military coming through classified channels, but added they had no reason to doubt its authenticity."
"Nevertheless, independent analysts were reluctant to confirm the interception until more information was available about the type of missile Russia fired and whether it was hit by a Patriot," the report notes.
One Moscow-based analyst was quick to dismiss the reports as "fake news"…
Meanwhile, Russia's air war is likely only to heat up further, given also on Saturday the defense ministry said Ukraine sent two ballistic missiles into Crimea. "A ballistic missile launched by Ukraine's Hrim-2 OTRK was shot down over the Republic of Crimea by the air defense," a top Crimean official announced.
Sputnik further quoted him as follows: "Russia's air defense systems on Saturday shot down two ballistic missiles launched by Ukraine's Grom-2 operational-tactical missile system (OTRK) over Crimea, Oleg Kryuchkov, an adviser to Head of Crimea Sergey Aksyonov, said on Saturday."
This post was originally published at Zero Hedge
Former CIA Officer Says Decision to Drone Attack Kremlin Was Made by the United States
Deadly escalation an effort to provoke major Russian response.
Former CIA intelligence officer Larry Johnson says the decision to launch a drone attack on the Kremlin was made by the United States.
The Wednesday attack, which was likely to have been targeting Russian President Vladimir Putin, was stopped by electronic warfare systems which disabled the drones before they could reach their target.
According to Johnson, the attack must have been spearheaded by the Biden administration and the US military-industrial complex because "decisions on such attacks are made not in Kiev, but in Washington."
"Washington should understand clearly that we know this," Johnson told reporters.
Although the attack, which Ukraine denied it was involved in, failed to accomplish its tactical goal, it was still highly "symbolic," according to Johnson.
KREMLIN DRONE ATTACK

– Russia says two Ukrainian drones attacked Kremlin overnight

– Drones downed with no victims or material damage to the Kremlin

– Moscow says it was a terrorist attack and attempt on Putin's life

– Russia says it reserves right to respond when and how it… pic.twitter.com/loZA6c3Fvd

— The Spectator Index (@spectatorindex) May 3, 2023
"[It] didn't cause significant damage. The psychological impact, though, there are people that disagree on this, my view is that this is going to galvanize Russia, not create fear or discontent or division. There are others who believe that by doing this, it is going to portray Russia as weak and create internal problems. I simply note that the reactions of former [Russian] President [Dmitry] Medvedev, as well as members of the Duma – they are livid, they are outraged, and calling for escalatory retaliation against Ukraine. So I think in many respects this backfired," said the former State Department official.
He also added that the attack smacked of desperation and was an attempt to provoke Russia into a major escalation "to get the United States more deeply involved in this conflict."
"At the same time, I think, Washington correctly notes that they try to discourage this [escalation], because they recognize that it's spun out of control. And the United States is in no position militarily to confront Russia and survive that confrontation," Johnson said.
Democratic presidential candidate Robert F. Kennedy Jr. denounced the attempted drone attack as a dangerous escalation.
"Imagine how we would respond if Russian-backed forces launched a drone strike on the Capitol. We must stop these deranged attempts to escalate the war," said Kennedy.
"After successfully defusing the Cuban Missile Crisis, President John Kennedy warned against ever again forcing Russia to choose between national humiliation and nuclear war. We should heed his advice," he added.
Meanwhile, Ukraine continued its drone bombardment by targeting an oil refinery in Krasnodar Region in southern Russia on Friday morning.
A fire broke out, but it was quickly extinguished by authorities and no one was hurt.
SUBSCRIBE on YouTube:
Follow on Twitter: Follow @PrisonPlanet
———————————————————————————————————————
Brand new merch now available! Get it at https://www.pjwshop.com/
ALERT!
In the age of mass Silicon Valley censorship It is crucial that we stay in touch.
I need you to sign up for my free newsletter here.
Support my sponsor – Turbo Force – a supercharged boost of clean energy without the comedown.
Get early access, exclusive content and behind the scenes stuff by following me on Locals.
———————————————————————————————————————