Trump-Appointed Judge Allows DOJ to Hide Exculpatory Evidence From Jury in Proud Boys J6 Sedition Trial
Trump-appointed US District Judge Timothy Kelly sided with Attorney General Merrick Garland's DOJ to allow the feds to hide a host of exculpatory evidence from the jury in the Proud Boys January 6th sedition trial after it was mistakenly leaked to the defense by an FBI agent involved in the case.
As I reported last week, unintentionally leaked chat logs from FBI Special Agent Nicole Miller revealed she said she was ordered by her boss to "destroy" "338 items of evidence."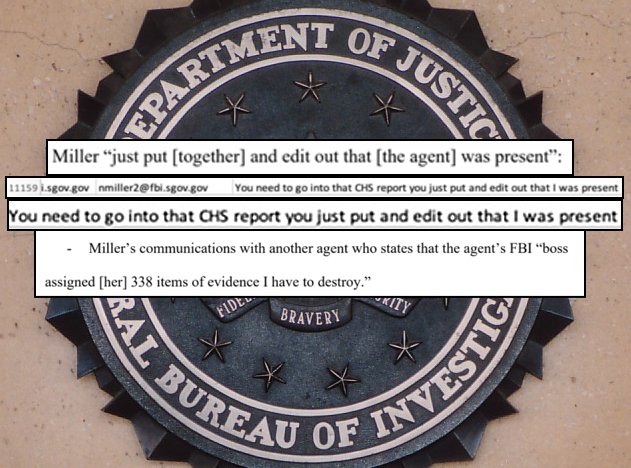 The leaked chats also suggest Miller failed to reveal relevant communications to the defense, potentially spied on privileged attorney-client communications and was asked by another agent to "edit out that I was present" during a meeting with a Confidential Human Source Informant.
Rather than throw the entire case out with prejudice, Judge Kelly, a member of the Federalist Society, sided with the DOJ on nearly every issue on Monday to allow them to shield all that evidence from the jury with the sole exception of the agent discussing "edit[ing] out" their presence from a CHS report.
From The Epoch Times, "Judge Denies Requests from Jan. 6 Defendants to Cross-Examine FBI Agent on Leaked Messages":
Defendants in the ongoing Jan. 6, 2021, Capitol Breach trial suffered a defeat on Monday, as the court ordered that the defendants may not cross-examine an FBI agent for most of the defense attorneys' allegations that spawned from internal FBI messages inadvertently leaked in court.

Judge Timothy Kelly, a Trump-appointed judge, on Monday addressed allegations made by attorneys of the Jan. 6 defendants that targeted leaked internal FBI messages, which were revealed in court when Nick Smith, a defense attorney representing Ethan Nordean, cross-examined FBI Special Agent Nicole Miller on Thursday last week.

The judge denied all but one of the defendant's arguments about the leaked messages. That leaves a narrowed space for the defendants to maneuver should they wish to upend the trial based on these messages alone.

Leaked Messages in the Crosshair

The leaked messages emerged when Smith showed in court hidden rows in an Excel spreadsheet provided to him by the DOJ, which contained thousands of lines of correspondence among FBI agents—mostly addressed to Agent Miller—in the agency's Lync system. The files were "hidden" via a "filter" function in Excel, according to a Thursday filing by Nordean.

These messages include a directive from FBI personnel to Miller to "destroy" 338 pieces of evidence and another directive to Miller to "edit out" an FBI agent from a Confidential Human Source (CHS) informant report, the filing read.

Since last Thursday, these internal messages were the focus of defense attorneys, who alleged that the messages showed that the DOJ altered evidence, violated due process, and intruded on the defendants' rights to counsel by monitoring the defendants' communications with their counsel.

Based on these allegations, the defendants' attorneys made a range of requests to the court, including the appointment of a special counsel to review the messages, further cross-examination of Agent Miller about these messages, and dismissal of the case altogether.

Cross-examination refers to the defense lawyer's questioning of the plaintiff's witness—Agent Miller, in this case—and comes after the plaintiff questions the witness in direct examinations. The scope of cross-examinations usually limits to that touched by the line of questioning by the plaintiff in direct examinations for the purpose of checking the witness's testimony, knowledge, or credibility.

The defense attorneys, in this case, requested to further cross-examine Agent Miller on the leaked FBI communications, which is extraneous information to the plaintiff's original line of questioning. The DOJ sought to stop all further questioning about these leaked messages and push defense attorneys back to the DOJ's original line of questioning in direct examination, according to its court filings over the weekend.

The judge rejected all but one of the defendants' allegations since the revealing of the FBI messages last Thursday.

'Editing' of Informant Reports

The judge allowed only one request from the defendants, which was a request from Nordean's attorney to cross-examine Agent Miller regarding the "editing" of an FBI personnel out of a CHS informant report.

In a Sunday filing, the DOJ said the editing request in the disputed message was sent by another FBI personnel who is trying to remove his name from correspondence with a confidential source he was no longer handling. The DOJ maintained that the FBI personnel instructed Miller to edit out the agent's name in pursuant to FBI policy and characterized the message as a "routine clerical matter" unrelated to the Proud Boys.

In response, the defense said the DOJ's words could not be assumed true and required further investigation.

"Nordean does not deny that those facts could be true. However, the government's summary presentation of facts in a brief—accompanied by no sworn declaration and without even an identified source for the information—cannot eliminate Nordean's rule-based right to cross-examine the witness about an exchange that, on its face, does not appear benign," Nordean's attorney wrote in a filing on Sunday, adding that the defense should be able to cross-examine Agent Miller for this reason.

In an order issued at the beginning of the trial, Kelly agreed with Nordean that cross-examination of Agent Miller on the message containing the CHS report would be appropriate and found the messages, at least at face value, that show it is plausible that the agent may have provided a CHS report that was inaccurate or incomplete.

Nordean's attorney cross-examined Miller on the CHS report. As of Monday, the judge has not found that the witness contradicted her own testimony on record.

Monitoring of Attorney-Client Communications

Another allegation, one that spurred heated exchanges in court, which Kelly ruled void, was the defendants' claim that the DOJ monitored attorney-client communications and crafted a trial strategy around the said communications.

"An agent involved in the investigation states to Miller, 'this one email [definitely] indicates that [Defendant Rehl and his attorney] want to go to trial,'" wrote Nordean in a filing on Sunday, citing an FBI email message. "The agent says that one of the lead prosecutors on this matter should not be alerted, 'yet.'"

Attorneys acting for Jan. 6 defendants Dominic Pezzola and Nordean said in court filings over the weekend that the messages violate the defendants' right to counsel, as the FBI allegedly monitored communications between a co-defendant, Zachary Rehl, and his attorney. The message thus violated the Sixth Amendment, the defense stated, which prohibits invasion of the right to counsel (Matter of Fusco v. Moses).

But the DOJ said that because Rehl and his attorney communicated over a monitored prison system, they had waived the right to attorney-client privileges.

"The government has not obtained any privileged communications between defendant Rehl and Moseley," the government wrote in response to Roots's contentions in a filing on Sunday. "Rehl and Moseley made a fully informed choice to communicate with one another over a monitored jail email system. In doing so, they waived any privilege."

Kelly, during trial on Monday, ruled in favor of the government and affirmed its stance that because the messages were made in a prison communications system, the defense's claim that the FBI's monitoring constitutes a Sixth Amendment violation is void. Therefore, Kelly said, the defendants may not cross-examine Agent Miller on this point.

Destruction of Evidence

Furthermore, Kelly ruled on Monday that the defendants may not cross-examine Miller on a leaked message that appeared to direct Agent Miller to "destroy" 338 pieces of evidence.

Kelly affirmed the government's stance that the defense had not shown sufficient evidence to connect the said evidence to the case.

"There's nothing in the record to suggest the agent was involved with this case or the destruction was related to evidence in this case," Kelly said in court on Monday when talking about the message.

Furthermore, the judge said that because the defendants have not provided any substantial backing as to connect the messages to the case, the messages' probative (evidentiary) value would be marginal and largely outweighed by risks of unfair prejudice, confusion of issues, and misleading the jury.

On the grounds above, Kelly ruled that the defendants would not have an opportunity to cross-examine Agent Miller on the messages that the defense said showed the destruction of evidence.

Defense lawyers attempted to object to the judge's order in court, but their objections were overruled.

What Remains: Deleted Messages

As Judge Kelly struck down most of the defense's proposed actions on the FBI's leaked messages, the only point unresolved was related to roughly 80 lines of messages that the DOJ removed from the Excel sheet after Smith revealed the hidden rows in court.

When Smith first revealed the hidden rows on Thursday, Kelly paused the jury trial and sent the jury home to allow the DOJ to determine if any classified material is contained in the hidden rows in the Excel Sheet. The defense was not allowed to further review Miller's Lync messages, according to Smith's Sunday filing.

On Friday, the DOJ returned the Excel sheet to the defense, with 80 lines of information removed that it deemed "classified" and other materials that it deemed "not subject to production under the Jencks Act," Smith's filing reads.

Defense attorneys took issue with this removal, arguing that the deleted messages may be of value to the case. However, the judge sustained the government's removal of these lines.

During Monday's trial arguments, the judge said he would likely review the 80 lines of messages later in the week to see if they constitute "Jencks" material or any inculpatory material that the government uses in prosecution and that is relied upon by the government's witnesses.

"The first question is: Are they Jencks material?" Kelly said in the trial, referring to the deleted messages. If the deleted messages constitute Jencks material, the government's withholding of that material would open up possibilities for the defendant to request the judge to declare a mistrial or strike out Agent Miller's testimony according to 18 U.S.C.S. section 3500(d).

Further, defense attorneys disputed the government's definition of classified material on Monday, stating that the government should not be able to arbitrarily decide what is included in the trial based on classification standards that have not been provided on the record.

"When I get those 80 lines of messages, it should be clear what the government contends as classified and non-classified," the judge said Monday in response to the defense's contention.
Not only were the Proud Boys denied a change of venue out of 92.15% Democrat Washington, DC but now they're being denied the right to show the jury this bombshell exculpatory evidence they got thanks to a colossal government screw-up.
"There is no such thing as justice in America," Paul Craig Roberts commented in response to the news. "The system is set up to convict, not to find innocence or guilt."
This post was originally published at Information Liberation
Video: MSNBC Panel Says That Criticising George Soros In Any Way Is "DANGEROUS"
"It definitely feels like a dog whistle that is dangerous."
During a discussion on the potential Trump indictment, an MSNBC panel claimed that Trump supporters, and anyone else for that matter, are "dangerous" for criticising George Soros.
Perpetual race baiting grifter Joy Reid turned to former CIA officer Tracy Walder, and said "The fact that they keep throwing George Soros' name, we've talked a lot in our show meetings, is it definitely feels like a dog whistle that is dangerous."
Walder replied, "It absolutely feels like a dog whistle that's dangerous."
She continued, "Look, most of these groups, the Oath Keepers, Boogaloo Boys, Proud Boys, they all subscribe to what you are all referring to as the great replacement theory."
"This is why we see these spikes in racism and anti-semitism," and "they are ascribing to this belief and it's stoking this division," Walder added. 
She then suggested that "Trump has for multiple years now called for a civil war."
There were no actual facts provided as to why criticising George Soros' manipulation of U.S. politics and culture is racist.
Watch:
Of course, Joy Reid and MSNBC are going to propagandise for Soros, given that he pumps millions into Democrat election campaigns, as well as "black-led justice organizations".
Is journalist Glenn Greenwald a dangerous racist for pointing out how Soros continually seeks to control the reality narrative?
SUBSCRIBE on YouTube:
Follow on Twitter:
Follow @PrisonPlanet
———————————————————————————————————————
Brand new merch now available! Get it at https://www.pjwshop.com/


ALERT! In the age of mass Silicon Valley censorship It is crucial that we stay in touch.

We need you to sign up for our free newsletter here.

Support our sponsor – Turbo Force – a supercharged boost of clean energy without the comedown.

Also, we urgently need your financial support here. ———————————————————————————————————————
Videos: Biden Literally Can't Talk Anymore
"I'm having trouble"
On Tuesday, Joe Biden attempted to string together sentences in English but completely failed again and again.
Biden attempted to announce the establishment of a new national monument, but he can't talk:
It's like watching someone who is learning English for the first time try to put words together:
Later, Biden attempted to recite a poem, but he can't talk.
He started over in a second attempt, but he can't talk:
Biden attempted to crack a joke while giving Bruce Springsteen a medal, but he can't talk:
Biden didn't even attempt to say Puerto Rican artist Antonio Martorell-Cardona's full name when slurring this sentence out:
It's probably a good thing he can't talk, because when he does manage a sentence, he comes out with something embarrassing like this:
SUBSCRIBE on YouTube:
Follow on Twitter:
Follow @PrisonPlanet
———————————————————————————————————————
Brand new merch now available! Get it at https://www.pjwshop.com/


ALERT! In the age of mass Silicon Valley censorship It is crucial that we stay in touch.

We need you to sign up for our free newsletter here.

Support our sponsor – Turbo Force – a supercharged boost of clean energy without the comedown.

Also, we urgently need your financial support here. ———————————————————————————————————————
Chris Rock Tells Crowd 'Arresting Trump Will Make Him More Popular Than Ever'
"It's like arresting Tupac. He's just gonna sell more records. Are you stupid?"
Comedian Chris Rock made a salient point during a performance at an event in Washington DC, commenting that arresting Donald Trump is only going to end up with him becoming more popular.
Rock was appearing at a Mark Twain Prize awards ceremony honouring Adam Sandler, where in attendance were Nancy Pelosi and several Biden administration officials.
"Are you guys really going to arrest Trump?" Rock asked the crowd at the Kennedy Center, going on to note "Do you know this is only going to make him more popular?"
Drawing laughter in his inimitable style Rock continued, "It's like arresting Tupac. He's just gonna sell more records," before asking "Are you stupid?" 
It's funny because it's true.
During the same performance, Rock took aim at Biden's age, stating "Trump was so bad as a president, he was so bad that Joe Biden had to burst off a monument. Biden was dead for 16 years." 
The comments come amid scheduled protests in New York ahead of Trump's potential arrest related to payments made to his former attorney Michael Cohen, who then allegedly used them as 'hush money' in the Stormy Daniels saga.
Rock's comments echo those of Elon Musk who predicted a "landslide victory" for Trump in 2024 if he is arrested.
SUBSCRIBE on YouTube:
Follow on Twitter:
Follow @PrisonPlanet
———————————————————————————————————————
Brand new merch now available! Get it at https://www.pjwshop.com/


ALERT! In the age of mass Silicon Valley censorship It is crucial that we stay in touch.

We need you to sign up for our free newsletter here.

Support our sponsor – Turbo Force – a supercharged boost of clean energy without the comedown.

Also, we urgently need your financial support here. ———————————————————————————————————————