Ron DeSantis Asks Biden to Allow Djokovic to Play at the Miami Open
Florida Governor Ron DeSantis has written to President Joe Biden to ask him to end the "absurd" ban on tennis number one Novak Djokovic from entering the United States to play at the Miami Open due to his vaccination status.
Here is the letter in full.
March 7th 2023

The Honorable Joseph R. Biden
President of the United States
The White House 1600 Pennsylvania Avenue
Northwest Washington, DC 20500

Dear President Biden:

It has been reported that Novak Djokovic has formally applied and been denied permission from your administration to enter the United States so that he may compete at the upcoming Miami Open tennis tournament. This denial is unfair, unscientific and unacceptable. I urge you to reconsider. It's time to put pandemic politics aside and give the American people what they want — let him play.

While Mr. Djokovic is surely a supreme competitive threat to his fellow tennis professionals, his presence in our country poses no meaningful health or public safety risk. I note that since the onset of COVID-19, Mr. Djokovic has visited the United States at least twice – including once during your presidency – without any apparent health incident. It is also not clear to me why, even by the terms of your own proclamation, Mr. Djokovic could not legally enter this country via boat. Please confirm no later than Friday March 10th 2023 that this method of travel into Florida would be permissible.

Furthermore, even as you enacted the Proclamation on air travel that remains in force to this day, your administration pointedly allowed thousands of unvaccinated migrants to enter our country through the southern border. In sum, the current 'travel ban' as applied to Mr. Djokovic and presumably millions of other potential unvaccinated foreign visitors seems completely ungrounded in logic, common sense, or any genuine concern for the health and welfare of the American people.

Affectionately known as 'Tennis's Fifth Grand Slam', the Miami Open is the second most popular tennis event in the United States and routinely attracts hundreds of thousands of fans as well as premier tennis professionals from around the world. Novak Djokovic, as you surely know, is the most accomplished tennis player in history and the reigning top-ranked player in his sport. As a result of his illustrious career and philanthropic efforts, he has a strong following of loyal fans in the United States. There can be no question that his inclusion in the Miami Open would be a tremendous boon both for this treasured tournament and the tennis community at large.

The only thing keeping Mr. Djokovic from participating in this tournament is your administration's continued enforcement of a misguided, unscientific, and out-of-date COVID-19 vaccination requirement for foreign guests seeking to visit our great country. American tennis legend John McEnroe recently termed this restriction "absurd". He was quite right to say so.

We are now three years since the onset of COVID-19, and we have learned many valuable – and often painful – lessons during that time. For one thing, it is now clear that the COVID-19 vaccines are not as effective as initially advertised. A new study in the Lancet has found that natural immunity is at least as effective as the Covid vaccines. ("Our analysis of the available data suggests that the level of protection afforded by previous infection is at least as high, if not higher than that provided by two-dose vaccination using high-quality mRNA vaccines.") Furthermore, data also suggest that exposure to COVID-19 is now significantly less likely to result in hospitalisation or fatality. Finally, not only is the efficacy of the COVID-19 vaccine now in question, but recent scientific studies have identified serious potential health risks from the vaccine. Florida's Surgeon General has issued guidance recommending against the COVID-19 mRNA vaccines for males ages 18-39 years old – precisely the cohort of Mr. Djokovic.

Here in Florida, we took a leadership role in rejecting vaccination mandates. Since November 2021, it has been illegal for businesses to require their patrons to be vaccinated against COVID-19. I am proud of these efforts, which unquestionably promoted personal liberty and economic growth without exposing our citizens to any substantiated harm. Although it has taken some time, most of the rest of the world has now come to recognise COVID-19 vaccination requirements as obsolete. At present, it appears that the United States is one of only a handful of countries that requires foreign visitors to have received a COVID-19 vaccination. Indeed, in an interview on September 18th 2022, you personally declared that "the pandemic is over", and your administration has already communicated to Congress that the COVID-19 emergency will formally end on May 11th. The time has come to give up the fiction that Covid vaccines remain a necessary tool to promote public health.

Mr. Djokovic is an extraordinary tennis player who should have every right to compete in this year's Miami Open, which will commence on March 20th. I respectfully ask you to grant his requested exemption so that he may delight and inspire tennis fans in Florida and around the Nation.

Sincerely,

Ron DeSantis
Governor
This post was originally published at The Daily Sceptic
Gingrich: 'No More Pointless GOP Debates; Trump Is Going To Be The Nominee'
"The question now for everybody is do you want to see Joe Biden reelected or do you want to help Donald Trump?"
Former Speaker of the House Newt Gingrich dropped a truth bomb Thursday, noting that there is no use in having more 'debates' among Republican also-ran candidates because Donald Trump is polling so far ahead of them and is certain to be the nominee for 2024.
In a Fox News interview, Gingrich noted "I was talking to our mutual friend, the pollster Matt Towery this afternoon, and Matt said to me, based on what he saw last night, this race is over, Donald Trump will be the nominee, they might as well quit having the various debates because they don't work, they're not helping anybody, and I think that's where we are."
He continued, "I think Trump will be the nominee and the question now for everybody is do you want to see Joe Biden reelected or do you want to help Donald Trump? There's no middle ground here."
Gingrich added, "I think the Republican National Committee should cancel the future debates and say, 'Look, we recognize the objective fact that Trump will be the nominee. We want to work with him."
"In some of these races, some of these polls, Trump is like 43 points ahead of the next person, 43 points. He's gonna be the nominee," Gingrich reasserted.
In regards to other potential candidates, Gingrich noted "I suspect the money is there, but the votes aren't. I'm a big fan of Glenn Youngkin. I think he's doing a great job as governor. I think in 2028, he could be a very impressive, maybe even frontrunner for president, but not this time. Not this year."
Watch:
On the same night as the car crash GOP debate earlier this week, Trump threw every single one of the participants under the bus, stating that he wouldn't pick any of them as a Vice President.
"They are all running for a job," Trump told a crowd in Michigan, adding "They're all job candidates… they will do anything, secretary of something. They even say VP. I don't know. Anybody see any VP in the group? I don't think so."
SUBSCRIBE on YouTube:
Follow on Twitter:
Follow @PrisonPlanet
———————————————————————————————————————
Brand new merch now available! Get it at https://www.pjwshop.com/


ALERT! In the age of mass Silicon Valley censorship It is crucial that we stay in touch.

We need you to sign up for our free newsletter here.

Support my sponsor – Summit Vitamins – super charge your health and well being.

Also, we urgently need your financial support here. ———————————————————————————————————————
"The American People Know The Fix Is In" – O'Reilly Warns Carlson "We Are In The Age Of Disorder Now"
"We're in the age of disorder."
Outspoken conservative media personality Bill O'Reilly joined Tucker Carlson (the man who replaced him in his primetime Fox News slot) for a wide-ranging discussion of the dismal state of the world, and why progressive politicians are to blame.
"America has entered the age of disorder, and it's because of the progressive movement," O'Reilly lamented.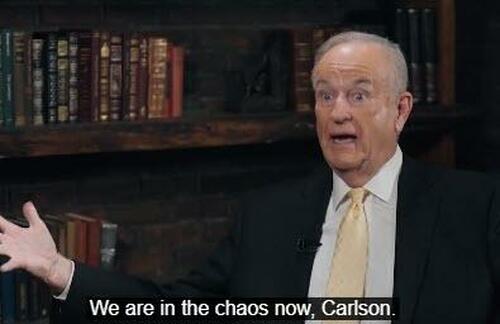 The former Fox News anchor lays out how this has occurred:
"President Biden, in my opinion, is diminished mentally, doesn't know what he's really doing from day-to-day. You can see that in his public statements," O'Reilly remarked, adding that "the progressives like that, because the people who control him inside the White House can tell him anything, and he'll do it."
O'Reilly said that Ron Klain and Susan Rice were the original string-pullers, but since their departure from The White House, their assistants took their place "basically telling Joe what to do and say."
He argued that Biden has harkened in an "age of disorder" which has resulted in the emergence of Black Lives Matter, higher taxes, lax crime laws, and progressive indoctrination of children at young ages.
"The more money you take from people, the less power they have, and the progressives want to run everything, including telling your children what to think when they're five years old," O'Reilly said.

"And most Americans don't get it, because the press is working with the progressive movement and suppresses all this."
However, O'Reilly notes that, given the constant overwhelming bias evident in the Biden admin's judicial actions, it is becoming too hard for media to suppress the reality of political persecution:
"The American people understand what this is… they understand that the documents in Mar A Lago basement parallel the documents in Joe Biden's garage. Yes it's the same thing, but one guy gets raided and charged and the other guy," remains under an opaque investigation.

"Does it really take nine months to figure out why Joe Biden illegally – because he was vice president had no right to take anything – had documents in his garage? Does it take nine months to do that? No. Has Joe Biden been interviewed? No."
"So," O'Reilly concludes, "the American people know the fix is in now."
And "Trump can stop the age of disorder."
Of course, the conversation between the two could not avoid the topic of 'being fired from Fox News' with O'Reilly reflecting on his 2017 removal (amid sexual harrassment claims): "I understood what most television news people don't – that you are expendable." The two candidly remarked on the fact that regardless of one's reputation or history, all television figures are ultimately replaceable.
Watch the full interview below:
This post was originally published at Zero Hedge
Here Is The Only Clip Of The GOP Debate You Need To See
"They're all job candidates…they will do anything, secretary of something."
There was literally just one interesting part of the Fox News Republican debate Wednesday night, the part when each candidate was asked to throw one of the others under a bus.
The rest of the 'debate' was little more than squabbling, backbiting and a set of supposed candidates, most who are polling in the low single digits, incessantly talking over each other like an unruly kindergarten class.
Host Dana Perino rightly pointed out that "It's now obvious that if you all stay in the race, former president Donald Trump wins the nomination."
"None of you have indicated that you're dropping out. So which one of you, on stage tonight, should be voted off the island?" Perino further asked, framing the debate as if it were a reality show popularity contest.
"Please use your marker to write your choice on the note pad in front of you, 15 seconds starting now," Perino stated, before Ron DeSantis piped up and said "With all due respect, like we're here, we're happy to debate but I think that's disrespectful to my fellow competitors."
The other moderator Stuart Varney noted that he saw Chris Christie beginning to write something down, to which Christie responded "I vote Donald Trump off the island right now."
"Every person on this stage has shown the respect for Republican voters to come here to express their views honestly candidly and directly and to take your questions honestly," Christie continued, adding that Trump "has not only divided our party; he's divided families all over this country. He's divided friends all over this country."
"I've spoken to people who have sat at Thanksgiving dinner or at a birthday party, and can't have a conversation anymore if they disagree with Donald Trump. He needs to be voted off this island and taken out of this process." he added.
Hilarious.
And replaced with who?
Meanwhile, Trump threw every single one of the debate participants under the bus, stating that he wouldn't pick any of them as a Vice President.
"It's all over television. This speech, you know, we're competing with the job candidates. They are all running for a job," Trump told a crowd in Michigan.
"They're all job candidates. They want to be in the, they will do anything, secretary of something. They even say VP. I don't know. Anybody see any VP in the group? I don't think so," Trump declared.
Watch:
SUBSCRIBE on YouTube:
Follow on Twitter:
Follow @PrisonPlanet
———————————————————————————————————————
Brand new merch now available! Get it at https://www.pjwshop.com/


ALERT! In the age of mass Silicon Valley censorship It is crucial that we stay in touch.

We need you to sign up for our free newsletter here.

Support my sponsor – Summit Vitamins – super charge your health and well being.

Also, we urgently need your financial support here. ———————————————————————————————————————