"Worst Violent Crime Surge In Three Centuries": Op-Ed Says Philly Dem Voters Owe The City "An Apology"
A scathing new op-ed in the Washington Examiner this week calls for Democratic voters in Philadelphia to offer up an apology to the rest of the city for helping usher in what is being called the city's "worst violent crime surge in three centuries of its history".
The piece was written by Christopher Tremoglie and published yesterday. It opens by calling Philadelphia's criminal justice policies and reforms "radical" and "incompetent":
It's no secret that Philadelphia's voters elected a mayor and district attorney so incompetent that the city has experienced its worst violent crime surge in three centuries of its history. This is mainly because of the radical (and incompetent) left-wing criminal justice policies and reforms that were put into effect during their terms. Nor is it a secret that Philadelphia is one of the worst poverty-stricken cities in the nation. It is consistently ranked as the "poorest" of the country's biggest cities.
Tremoglie writes: "As a lifelong resident of the City of Brotherly Love, its continued allegiance to Democrats boggles my mind. No matter the horrors of the reality of living in the city, Philadelphians overwhelmingly continue to vote for Democrats who just keep making things worse. Something has to change. It's time, well beyond time really, for Philadelphia's Democratic voters to apologize to the rest of the city for the mess they have caused."
He says that "Crime, poverty, and corruption are the hallmarks of cities under Democratic control, and it has been since there was an Elvis Presley (the last Republican mayor was elected in 1948). The city's voters are to blame because they never learn."
The op-ed also pointed out recent corruption among the ranks of the city government:
"Last week, a former Democratic City Council member was sentenced to three-and-a-half years in prison after being convicted on bribery and fraud charges. Among his crimes was his involvement in a scheme in which he tried to force the Children's Hospital of Philadelphia to use labor unions to install MRI machines. Bobby Henon attempted to extort a hospital dedicated to helping terminally ill children to make money. There were other crimes too, but this was the most egregious."
"Henon won his most recent election in November 2019. During the campaign, it became public knowledge that he was under federal indictment for the crimes mentioned above, including the shakedown of the children's hospital. Yet the voters still elected him. His opponent at the time, a local community organizer named Pete Smith, tried to warn residents about Henon's corruption. They didn't care — they knowingly voted for a crook," the op-ed concludes.
"Philadelphia's voters are harming their communities. At some point, people will have to admit that those in cities like Philadelphia who routinely vote to keep the status quo deserve the crime, poverty, and other misfortunes that result from their decisions."
Meanwhile, as the city crumbles in the background, Philadelphia Mayor Jim Kenney has famously all but gone on record in stating that he "hates his job as mayor", as was reported late last year. To those who live in Center City Philadelphia and have spoken to waitstaff that have served Kenney, it appears to be an open secret that he does not, in fact, like his job.
"I'll be happy when I'm not here," Kenney said back in summer 2022. "When I'm not mayor and I can enjoy some stuff".
"F- you," Kenney more recently responded to Brian Tierney, previously the editor of The Inquirer and Daily News, at a late 2022 event, when questioned about whether or not he liked his job.
Tierney responded: "That's a terrible mayor. He says he doesn't like his job. stop it Go ahead and do something different."
This post was originally published at Zero Hedge
"It's Just Not Safe": Decades-Old Baltimore Business Closes Shop Because Of Crime, Blames Democrats
In cities stretching from Washington, D.C., to Baltimore, New York City, Chicago, and numerous cities along the West Coast, progressive leadership has failed to enforce law and order. These crime-ridden metropolises are experiencing an exodus of businesses of all sizes due to a tidal wave of thefts.
The latest incident comes as a mom-and-pop business, operating in Baltimore City for more than four decades, has been forced to shutter operations because of numerous armed robberies.
Jody Rosoff, the owner of Doc's Smoke Shop in Baltimore's Highlandtown neighborhood, told local media Fox 45 that she has been robbed at gunpoint for the second time in six months and just recently had to shoot an intruder.
"This is our second armed robbery in six months," Rosoff said.
She said her business has been operating in the city for decades and now has to close up shop because "it's not safe for anybody on this street that's a small business owner."
"We have been here in the city for 44 years. For 44 years, we've paid property taxes, retail sales taxes, and we have employed people. It's just not safe. It's not safe for my employees or for me. It's not safe for anybody on this street that's a small business owner. We can't afford armed security. The business just isn't there."
It turns out the robber was a convicted felon with a lengthy record spanning more than two decades. She pointed to the city's progressive leadership for "soft on crime policies" that keep dangerous people on the street.
"Shame on the mayor, shame on the judges, and the prosecutors and our former state's attorney for letting this happen to Baltimore City," Rosoff said.
Meanwhile, in the city's downtown district, shootings, carjackings, muggings, and out-of-control packs of teenagers are wreaking havoc.
Why Democrat leadership has let the city deteriorate so badly is beyond comprehension… There is no accountability with leadership's failed policies. However, businesses are leaving (read:"Entire Downtown Is Effectively Dead:" Baltimore City Descends Further Into Turmoil).
Beyond Baltimore, businesses across NYC, Chicago, Portland, and San Francisco, to name a few, are leaving as crime surges. While Democrats don't want to be accountable for their failed policies, a symptom of such failure is the exodus of companies (as well as people).
The exodus of liberal cities is an ongoing theme post-virus pandemic and will continue until law and order is re-established. Just look at the chaos earlier last week in San Francisco.
Democrats have transformed parts of this country into a clown world by abandoning law and order.
This post was originally published at Zero Hedge
Elon Musk: Why Does The Media Misrepresent Interracial Crime Stats 'To Such An Extreme Degree'?
Twitter CEO Elon Musk on Saturday questioned why the media misrepresents "the real situation" when it comes to interracial violence "to such an extreme degree."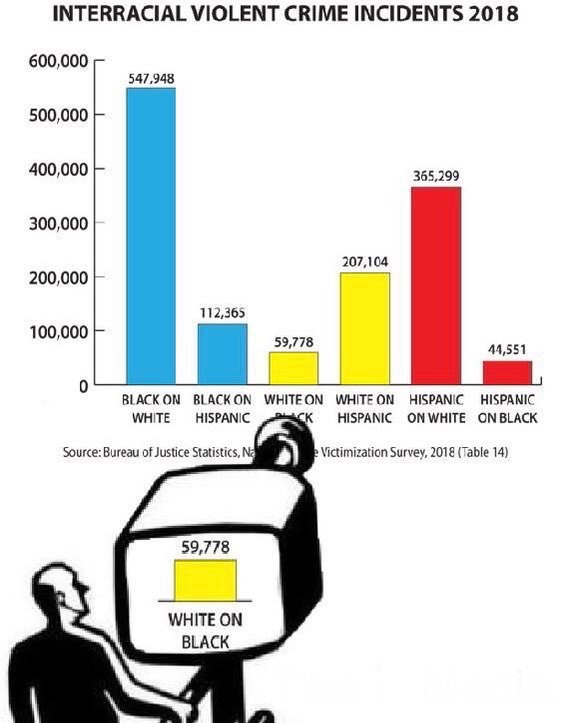 The media's lies are getting innocent people killed and may be inciting more anti-white violence than ever.
Whereas Twitter was used in the past to incite anti-white hatred, Twitter under Musk is actually countering hate hoaxes and disinformation, including the media's lies about Jordan Neely.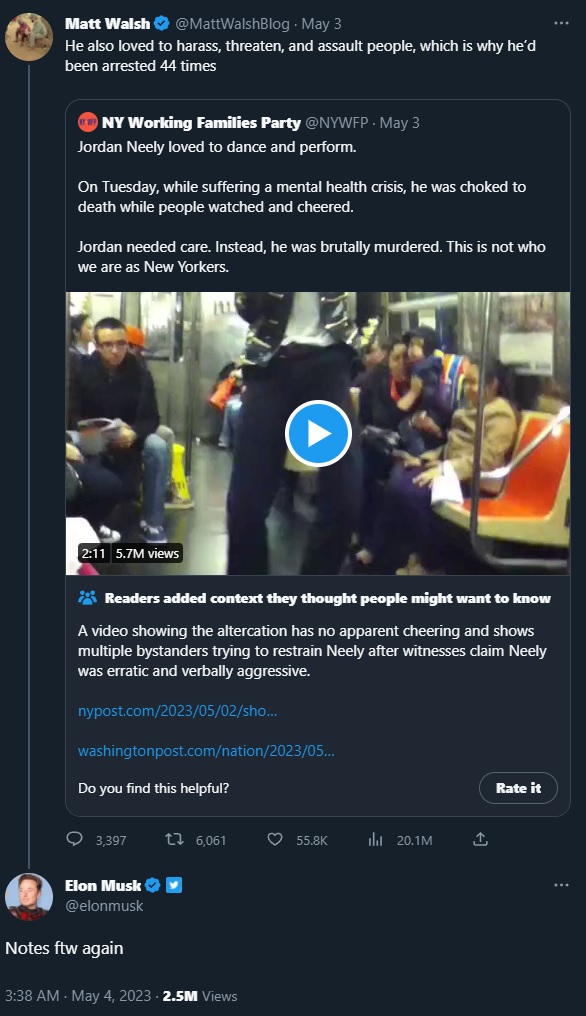 The significance of Musk's Twitter takeover could be monumental.
This post was originally published at Information Liberation
NYC Mayor Blasts AOC For 'Interfering' in Investigation of Jordan Neely Subway Death
Congresswoman claimed Neely was murdered for being poor.
New York City Mayor Eric Adams has blasted Rep. Alexandria Ocasio-Cortez, D-N.Y., for 'interfering' with the investigation into the subway death of Jordan Neely.
Neely, who is black, was tackled and placed in a chokehold during the incident which occurred onboard an F train in lower Manhattan on Monday.
Neely was tackled by a white marine and other non-white passengers after reportedly making violent threats.
"I don't mind going to jail and getting life in prison," freelance journalist Juan Alberto Vazquez, who shot the video of the incident, recalled Neely saying. "I'm ready to die."
More facts that have to be suppressed in Operation Bum Floyd, video:

[Jordan Neely]…"started threatening riders and saying 'I'm ready to go back to jail' and 'I'll hurt anyone.'"

Threaten people and have 40 prior arrests, people will defend themselves from hostile behavior. pic.twitter.com/NDwwrRku8K

— James Lindsay, Darth Lindsay (@ConceptualJames) May 4, 2023
Neely had over 40 prior arrests to his name and an open warrant out for his arrest in the assault of a 67-year-old woman in Manhattan's East Village.
According to Neely's aunt, he was a homeless schizophrenic.
As you can see there are three men involved in subduing Neely. One is also black or hispanic. The white ex-marine was telling other passengers to call 911, so that police & ambulance could arrive on the scene at the next station. Don't listen to liars who lie about what happened. pic.twitter.com/nMM6h82wnK

— Aimee Terese (@aimeeterese) May 4, 2023
Although the marine who put him in a chokehold was initially taken into custody and later released, the District Attorney is mulling over whether to press involuntary manslaughter charges.
Prominent Democrats responded to the incident by holding up Neely as a martyr who was murdered unjustly or even "lynched," with New York Governor Kathy Hochul (D) claiming Neely was "killed for being a passenger."
Others are circulating videos of him doing Michael Jackson impersonations on the subway.
He was 30 years old.

Black men deserve to grow old—not be lynched on a Subway because they were having a mental health crisis.

Jordan deserved better. Accountability now. pic.twitter.com/aX5qcryrbx

— Ayanna Pressley (@AyannaPressley) May 4, 2023
However, as far back as 9 years ago, subway riders were warning other passengers that Neely had started acting like a "maniac".
A post on Reddit from nine years ago warns the public about #JordanNeely. The man's death after being restrained by passengers has ignited BLM rage because one of the passengers involved appears to be white. https://t.co/H2x7htqD8J pic.twitter.com/eHKarkHgj7

— Andy Ngô 🏳️‍🌈 (@MrAndyNgo) May 5, 2023
Others claimed he had tried to push people onto the tracks.
My favorite part is that he had 40+ prior to include aggravated assault, and also someone on reddit recognized him because Neely had tried to push him( the reddit user) onto the tracks prior to this 🤣 Reminder, they lie about all of these "poor victims" all of the time. pic.twitter.com/jnySwAkFxC

— Whackeray (@MrPerkwile) May 4, 2023
Another video shows Neely violently confronting a man on the street.
Joey Boots harassed Jordan Neely AND Tucker Carlson.

One was performing in Times Square as a Michael Jackson impersonator.

Another was fishing, in solitude, by himself.

Their reactions are incredibly different. pic.twitter.com/SAbYlAujLt

— The Atticus Flynn Talent Agency (@atticusflynch) May 3, 2023
AOC responded to the incident by suggesting Neely was murdered for being poor, tweeting, "Jordan Neely was murdered. But bc Jordan was houseless and crying for food in a time when the city is raising rents and stripping services to militarize itself while many in power demonize the poor, the murderer gets protected w/ passive headlines + no charges. It's disgusting."
Jordan Neely was murdered.

But bc Jordan was houseless and crying for food in a time when the city is raising rents and stripping services to militarize itself while many in power demonize the poor, the murderer gets protected w/ passive headlines + no charges.

It's disgusting. https://t.co/YJeQp9bbgE

— Alexandria Ocasio-Cortez (@AOC) May 3, 2023
However, New York City Mayor Eric Adams blasted the Congresswoman for her comments during an appearance on CNN.
"I don't think that's very responsible at the time when we're still investigating the situation. Let the DA conduct his investigation with the law enforcement officials," said Adams.
"To really interfere with that is not the right thing to do. I'm going to be responsible and allow them to do their job," he added.
I asked @NYCMayor Eric Adams to respond to comments from @AOC and @bradlander regarding the death of #JordanNeely on the NYC subway Monday. Here's what he said:

"I don't think that's very responsible at a time when we're still investigating the situation."@CNN #CNNPrimetime pic.twitter.com/NNkBjrexef

— Abby D. Phillip (@abbydphillip) May 4, 2023
SUBSCRIBE on YouTube:
Follow on Twitter: Follow @PrisonPlanet
———————————————————————————————————————
Brand new merch now available! Get it at https://www.pjwshop.com/
ALERT!
In the age of mass Silicon Valley censorship It is crucial that we stay in touch.
I need you to sign up for my free newsletter here.
Support my sponsor – Turbo Force – a supercharged boost of clean energy without the comedown.
Get early access, exclusive content and behind the scenes stuff by following me on Locals.
———————————————————————————————————————