Residents Told To Shelter In Place After Norfolk Southern Freight Train Derails In Ohio
Another Norfolk Southern freight train has derailed in Ohio.
"The Clark County Emergency Management Agency is asking residents within 1,000 feet of a train derailment at Ohio 41 near the Prime Ohio Business Park to shelter-in-place out of an abundance of caution," the county wrote in a Facebook post.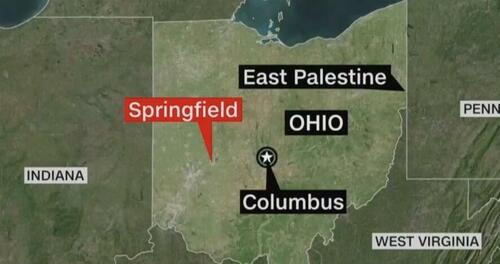 The post continued, "We ask that all residents in need of travel to Ohio 41 find alternate routes. Local and state officials are on scene, including the Springfield Fire Rescue Division and the Springfield Police Department."
The Ohio State Highway Patrol reported 20 railcars of a 212-car Norfolk Southern freight train derailed while traveling southbound in Springfield.
A video shows the moment the freight train derailed.
A drone video reveals a variety of railcars, such as boxcars, hopper wagons, and what appear to be tanker cars, were involved in the derailment.
Local media reported that a hazmat crew had arrived at the incident area.
Clean-up operations by Norfolk Southern crews are expected soon.
Saturday's train derailment occurred one month after the train crash in East Palestine.
… and this aged well.
This post was originally published at
Zero Hedge
'Go, Go, Go! Help Them Up! Push Them Up': New Leaked J6 Footage 'Shows DC Metro Cop Encouraging People to Go Towards The Capitol'
Newly leaked footage from January 6th shows undercover DC Metropolitan Police officers pushing protesters to move towards the US Capitol and helping them climb the scaffolding outside the Capitol building.
The full video was leaked Saturday on Rumble by an anonymous account named OverwatchJ6:
From The Epoch Times, "Prosecutor Admits DC Police Officers Acted as Provocateurs at US Capitol on Jan. 6":
A federal prosecutor admitted in court papers that three D.C. Metropolitan Police Department undercover officers acted as provocateurs at the northwest steps of the U.S. Capitol on Jan. 6, 2021.

The admission came in a March 24 filing before U.S. District Judge Rudolph Contreras that seeks to keep video footage shot by the officers under court seal.

Prosecutors accused the case defendant—William Pope of Topeka, Kansas—of an "illegitimate" attempt to unmask the video as part of his alleged strategy to try the case in the news media. Pope filed a motion to remove the court seal on Feb. 21.

"The defendant is not entitled to 'undesignate' these videos to share them with unlimited third parties," said Assistant U.S. Attorney Kelly Moran. "His desire to try his case in the media rather than in a court of law is illegitimate, and the government has met its burden to show the necessity of the protective order."
The feds worked together with the media to smear everyone involved in this protest for two years straight and bias the already biased DC juries against them but their victims are not allowed to share this footage to defend themselves?
The fact these cases are even being tried in DC is an absolute disgrace. J6 protesters are blatantly being denied their right to a fair trial on top of being held indefinitely in pre-trial detention and tortured in prison.
Videos long hidden under court seal have become a major topic, especially with prosecutors disclosing in a number of high-profile Jan. 6 cases the involvement of multiple FBI informants.

Pope is seeking to lift the court seal on the undercover video as part of his drive to obtain full access to video evidence held by the government. Pope is representing himself in the criminal case being prosecuted against him. At a hearing on March 3, Judge Contreras seemed sympathetic to Pope's motion to unmask the videos.

"The officer clearly incited that area, and we still don't have video from all other undercover MPD," Pope told The Epoch Times. "And as the numerous informants in the Proud Boys trial demonstrates, we are only just beginning to scratch the surface on FBI involvement."

[…] "This video clearly evidences undercover law enforcement officers urging the crowds to advance up the stairs and scaffolding towards the Capitol on January 6," Pope wrote in an earlier case filing. "The government may claim that incidents like this did not happen, but the facts show they did."

Prosecutor Moran acknowledges such in a motion filed on March 24.

"The specific footage, GoPro video recorded by an MPD police officer who was stationed at the Capitol in an evidence-gathering capacity, captures the officer shouting words to the effect of, "Go! Go! Go!" Moran wrote.
"At other times in these videos, the officer and the two other plainclothes officers with him appear to join the crowd around them in various chants, including "drain the swamp," "U.S.A.! U.S.A.! U.S.A.!", and "Whose house? Our house!"

Moran also argued against unsealing large amounts of closed-circuit television (CCTV) security video, which she said could put officers at risk.

"There are very specific and highly worrisome risks associated with the specific videos the defendant seeks to share en masse," she wrote.

"Given the highly volatile nature of the discourse surrounding these cases, releasing the identities of the officers depicted in these videos—officers the defendant now claims to have instigated the entire attack on the U.S. Capitol—would surely put the lives of those officers at risk."

Pope told The Epoch Times that he never made such a claim. He has not yet filed a response to the government's memorandum.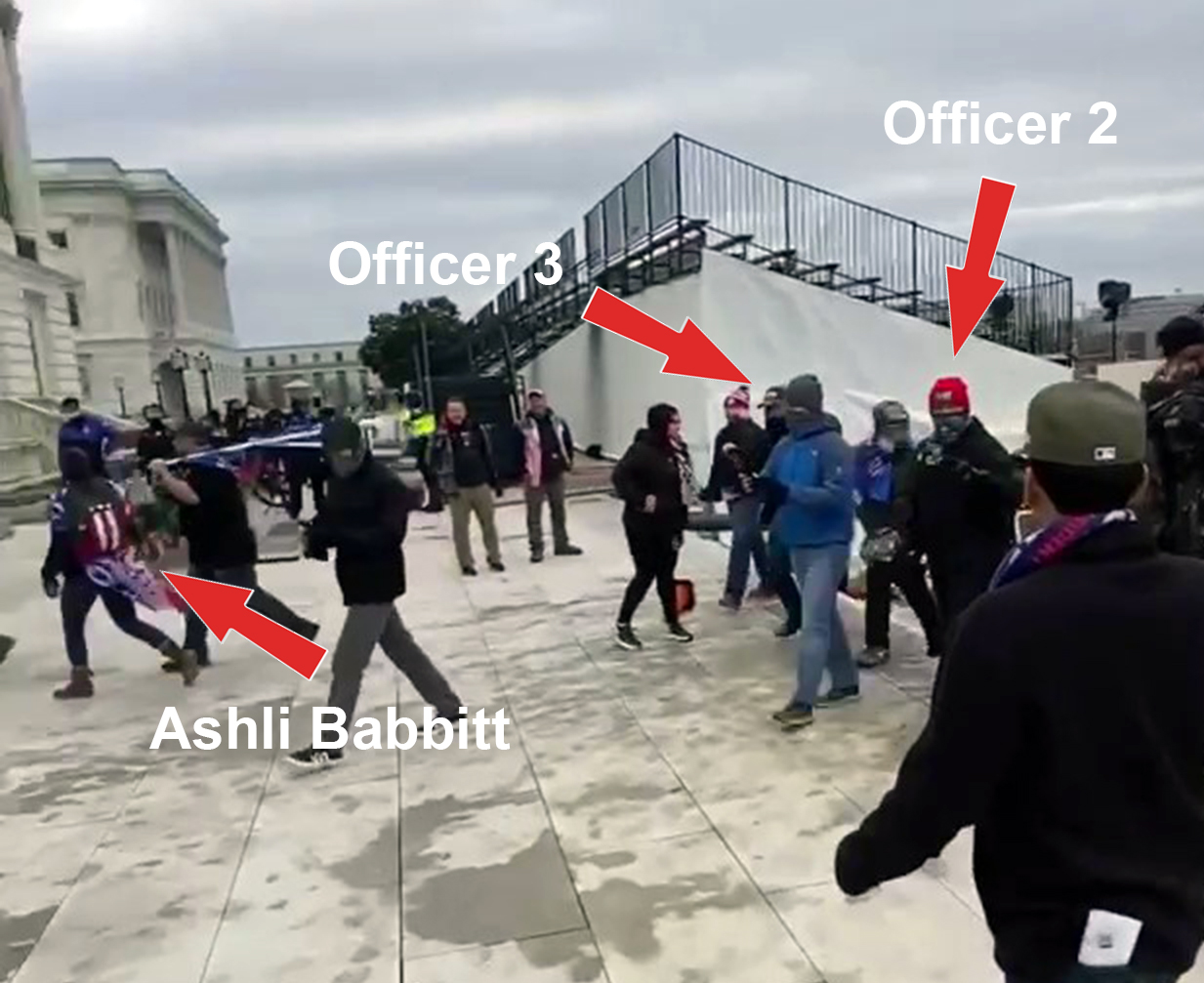 Another video Pope discovered in his research shows Officer 2 and Officer 3 walking behind the late Ashli Babbitt on the northwest steps. About an hour later, Babbitt was shot at the entry of the Speaker's Lobby by Capitol Police Lt. Michael Byrd. She died a half-hour later.
The only "risk" involved in releasing this footage and more from J6 is the police and feds being caught helping provocateur the event.
House Speaker Kevin McCarthy and Tucker Carlson need to get on with it already and release the 40,000 hours of footage they have to the public.
This post was originally published at Information Liberation
Shocking Video Shows Chocolate Factory Explosion In Pennsylvania
Update:
An explosion at a chocolate factory in Pennsylvania on Friday resulted in the tragic loss of five lives, with six individuals still unaccounted for.
* * *
On Friday evening, a devastating explosion rocked a chocolate factory in Pennsylvania, tragically leaving two people dead, nine unaccounted for, and eight others injured.
West Reading Borough Police Department Chief Wayne Holben confirmed to Fox News the blast occurred at the R.M. Palmer Co. chocolate factory in West Reading, about 60 miles northwest of Philadelphia, around 1700 ET.
Shocking footage of the explosion emerged on social media.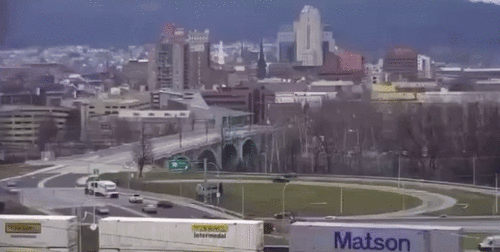 "The explosion was so big that it moved that building four feet forward," Mayor Samantha Kaag told reporters. She said, "It wasn't a great scene to come into. It was pretty scary."
Kaag said she felt the explosion at her home, four or five blocks from the factory.
"I didn't hear a boom," she said. "I just felt it shake my house."
Law enforcement officials stated that the cause of the explosion is currently under investigation. This incident adds to the increasing number of food processing plants throughout the US experiencing fires or, in this instance, devastating explosions.
This post was originally published at Zero Hedge
Proud Boys Sedition Trial Suspended AGAIN After Feds Admit Defense Witness Was An FBI Informant
The Proud Boys sedition trial was suspended for a second time on Wednesday after the feds admitted in court that a witness intimately involved in the Proud Boys defense team was secretly an FBI informant.
From The Epoch Times, "Did FBI Informant Spy on Proud Boys Defendants and Their Jan. 6 Trial Attorneys?":
Defense attorneys in the Proud Boys seditious-conspiracy trial in Washington D.C. learned late March 22 that one of their own defense witnesses who was about to testify had worked as an FBI informant for at least 22 months.

They asked for an emergency hearing before U.S. District Judge Timothy Kelly and filed a motion to compel the U.S. Department of Justice to disclose if the witness has been spying on the defense team.

Judge Kelly suspended the trial until March 24 and converted March 23 from a day of testimony into a motions hearing.

Zachary Rehl, one of five Proud Boys defendants, filed a motion on behalf of his co-defendants seeking a court order to compel prosecutors to disclose any recordings or reports made by confidential human sources (CHS)—informants—about the defendants and their attorneys.

Defense attorney Carmen Hernandez said the information given to the defense team on March 22 raises "serious and substantiated allegations of governmental misconduct surrounding the surreptitious invasion and interference of the defense team by the government through a confidential human source, at the government's behest."

Judge Kelly ordered prosecutors to file a response to the motion by 1 p.m. EDT on March 23. A hearing on the matter will begin at 3 p.m.

The trial began Dec. 19, 2022, in U.S. District Court. Prosecutors wrapped up their case on March 17.

Defense Witness was Prosecution Informant

After the close of testimony on March 22, prosecutors disclosed that a witness on the defense list who was due in court on March 23 had worked as an FBI informant from April 2021 through to at least January 2023.

"During this period of time, the CHS [informant] has been in contact via telephone, text messaging, and other electronic means, with one or more of the counsel for the defense and at least one defendant," the motion said.

"The CHS also participated in prayer meetings with members of one or more of the defendants' families. The CHS also engaged in discussions with one of the defendant's family members about replacing one of the defense counsel."
Judge Kelly should have thrown the case out rather than suspend it.
The evidence is now overwhelming that the feds are hiding exculpatory evidence from the defense and denying the Proud Boys their right to a fair trial.
This post was originally published at Information Liberation