Girls Basketball Team Withdraws From State Tournament in Protest Against Transgender Player Who Dominates Games
"In what world is this even remotely fair?"
A girls basketball team has withdrawn from the Vermont Division IV state tournament in protest against a transgender player who has routinely been dominating games.
After finding out that their opponents the Long Trail School Mountain Lions (LTS) had a biological male on their team, the Mid Vermont Christian School Eagles (MVCS) forfeited their playoff game.
"We believe playing against an opponent with a biological male jeopardizes the fairness of the game and the safety of our players," said MVCS head of school Vicky Fogg. "Allowing biological males to participate in women's sports sets a bad precedent for the future of women's sports in general."
In a previous interview, Mountain Lions coach Courtney Stasny boasted about Rose Johnson, who at 6'1 is the tallest member of their team, and his ability to block shots.
"Rose brings such a great energy to the floor. We nicknamed her Rose 'not in my house' Johnson because she just does not let anything come through the lane," Stasny said.
After being beaten 47-43 by LTS, Proctor High School player Aubrey Lanning lamented about how, "Rose guards the whole post."
DORSET — Long Trail's Rose Johnson controlled the opening tip of Tuesday night's girls basketball game against Mill River and deflected it to a teammate who immediately found Molly Luikart for a layup on the left side of the basket. The opening sequ… https://t.co/ceAgm5OzVj

— Bennington Banner (@banner_news) February 1, 2023
Professional coach and fitness expert Aaron Warner told the Vermont Daily Chronicle that Johnson clearly had an unfair physical advantage on the other players.
"In one game [Johnson] had seven blocked shots. That means seven shots, typically closer to the basket so much more likely to go in, were blocked by the guy who is taller than every other girl on the floor, can jump higher and likely is significantly stronger. In what world is this even remotely fair to other Vermont Division IV girls?" he asked.
Warner also sounded the alarm bell on potential injuries that female players could sustain as a result of Johnson's dominance.
"Bone mass, lean mass, cardiac output, strength capacity, work capacity and kinesiological potential all heavily advantage males. This is why men's competition records (i.e. sprinting, jumping, weight lifting) dwarf women's…Add to this fact that men are larger, faster and stronger than women and the potential for males injuring girls increases dramatically in competition."
"In October, a North Carolina school district voted to forfeit all girls volleyball games against a rival school that featured a trans-identifying male player over safety concerns after he injured a girl on an opposing team with a forcefully-spiked ball to the face," reports Reduxx. "Video that went viral showed the girl collapsing to the ground after being hit with the ball. She reportedly suffered head and neck injuries and long-term concussion symptoms."
As we highlighted yesterday, a transgender athlete who now identifies as a woman has won four different female running competitions so far this year alone after smashing a women's 5000 meter record last year.
Studies have consistently shown that biological male competitors retain significant advantages over female competitors even after undergoing 'transition' and starting hormone therapy.
A poll conducted last summer found that only 28 per cent of Americans support transgender athletes being allowed to compete in female sports tournaments.
SUBSCRIBE on YouTube:
Follow on Twitter: Follow @PrisonPlanet
———————————————————————————————————————
Brand new merch now available! Get it at https://www.pjwshop.com/
ALERT!
In the age of mass Silicon Valley censorship It is crucial that we stay in touch.
I need you to sign up for my free newsletter here.
Support my sponsor – Turbo Force – a supercharged boost of clean energy without the comedown.
Get early access, exclusive content and behind the scenes stuff by following me on Locals.
———————————————————————————————————————
Indeed Out-Wokes Corporate America With $10,000 Relocation Checks For Trans Employees
Austin-based online job search platform, "Indeed," aims to 'out woke' corporate America by offering transgender employees or those with transgender children a $10,000 relocation payment. Both Bloomberg and Axios confirmed the relocation payment program. 
Before we discuss relocation payments, it's important to note that Indeed proudly states on its website that it had the wokest corporate policies in America in 2018. It said its 2018 Corporate Equality Index (CEI), a national benchmarking survey and report on corporate policies and practices related to lesbian, gay, bisexual, transgender, and queer (LGBTQ) workplace equality, score "received a perfect score of 100 percent."
For some context, CEI is administered by the Human Rights Campaign, the largest LGBTQ+ political lobbying group in the world. HRC has received millions of dollars in funding from George Soros' Open Society Foundation.
Indeed's executives appear to have one objective in mind: rank the highest on the CEI index this year (we all remember earlier this year what happened to Bud Light when they tried that on TikTok). One way execs are attempting to achieve a high score is to offer a relocation program to trans workers, cutting them a $10,000 check to cover 'travel-related expenses' out of conservative states (or areas where they don't feel comfortable) to safer grounds.
"While Indeed introduced the program to its employees in July, until now, the company has not discussed it publicly," Bloomberg said.
Indeed provided further details about the program to Axios:
It's for US-based employees and immediate family members who seek gender-affirming care and live in a location where state laws or government-issued directives criminalize or restrict access to such medical care.
It also applies to those who live in places that attempt to restrict support for children who are gender non-conforming, transgender or non-binary.
Eligible employees will receive approval to relocate to a state or jurisdiction where they will be able to access the care and support they need, as well as a $10,000 flat-rate benefit to support their relocation expenses.
None of this comes as a surprise given Indeed's mission since 2018 has been to 'out woke' corporate America in its pursuit of a high CEI score. But why?
Some netizens were confused by Indeed's move considering the Bud Light backlash earlier this year after a white privileged liberal executive believed the brewer was time for a change. However, its customer base thought otherwise, nuking the beer as demand has since crashed.
"Kinda weird that companies never did stuff like this for black people or disabled people," one netizen asked. 
Another asked, "Does Indeed offer any relocation money for women who live in particularly misogynistic states? Of course not. "
Someone else pointed out: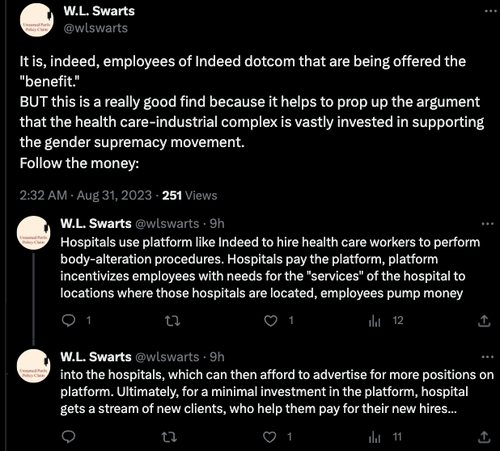 We wonder if Indeed will have an increase in the number of trans workers trying to capitalize on the free money.
This post was originally published at Zero Hedge
Tucker Carlson: Media Didn't Care When Obama Was Having Gay Sex And Smoking Crack
"Barack Obama likes dudes, I think this was well-known"
While discussing the corporate media's leftist agenda, Tucker Carlson noted that a prominent associate of Barack Obama claimed to have smoked crack with the former President and had gay sex with him prior to his campaign in 2008, but the media didn't bother reporting on it.
Appearing on Adam Carolla's podcast, Carlson noted "A guy came forward, Larry Sinclair, and said 'I'll sign an affidavit' and he did, 'I'll do a lie detector' and he did."
Carlson added that Sinclair claimed "'I smoked crack with Barack Obama and had sex with him.'" adding "Well, that was obviously true." 
"I talked to Larry Sinclair about it. Definitely it happened," Carlson contused, adding that Sinclair "has a record of deception but this story if you listen to it in detail, is clearly true."
Carlson added that the media dutifully kept quiet about the claims after "the Obama campaign said anyone who reports on this gets no access to the Obama campaign." 
"It's not going to change the world that Barack Obama likes dudes, I think this was well-known," Carlson further asserted, adding that Obama himself acknowledged his own gay impulses in a past letter to a former girlfriend. 
Watch:
Related:
SUBSCRIBE on YouTube:
Follow on Twitter:
Follow @PrisonPlanet
———————————————————————————————————————
Brand new merch now available! Get it at https://www.pjwshop.com/


ALERT! In the age of mass Silicon Valley censorship It is crucial that we stay in touch.

We need you to sign up for our free newsletter here.

Support my sponsor – Summit Vitamins – super charge your health and well being.

Also, we urgently need your financial support here. ———————————————————————————————————————
Video: School Board Fires Satan Worshipping Non-Binary Teacher
It only happened after Libs of Tiktok exposed the person, who admitted to being violent and driven by 'mania and psychosis'
A teacher at an Illinois elementary school was fired by the board after conservative influencer Libs of TikTok pointed out that the 'non-binary' person was also a Satan worshipper and had a history of bipolar disorder with mania and psychosis.
The Homer Community Consolidated School District 33C took action after the teacher Kris Martin's online posts promoting Satanism, as well as anti-police rhetoric were exposed.
District Superintendent Craig Schoppe wrote in an August 17 statement "As you may have heard or seen online, there has been some question and concern with regards to 33C hiring protocol and details surrounding the conditions of hire for new employees," before announcing an investigation was underway.
Now Martin has been terminated, much to the delight of parents in attendance at the latest board meeting:
The question remains, why did this person get hired as an elementary school teacher in the first place?
And how many more are out there?
SUBSCRIBE on YouTube:
Follow on Twitter:
Follow @PrisonPlanet
———————————————————————————————————————
Brand new merch now available! Get it at https://www.pjwshop.com/


ALERT! In the age of mass Silicon Valley censorship It is crucial that we stay in touch.

We need you to sign up for our free newsletter here.

Support my sponsor – Summit Vitamins – super charge your health and well being.

Also, we urgently need your financial support here. ———————————————————————————————————————