Subprime Auto Lender And Used Car Retailer Collapses As Distress Cycle Finally Arrives
One month ago, when discussing the "perfect storm" hitting the US auto market, we showed that according to Fitch "More Americans Can't Afford Their Car Payments Than During The Peak Of Financial Crisis"…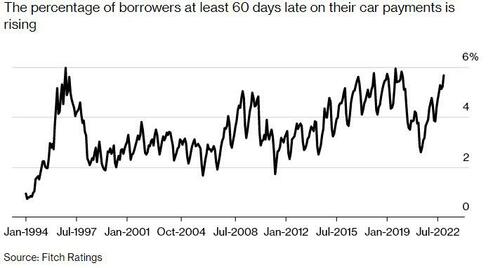 … which was to be expected: after all the latest consumer credit report from the Fed revealed an exponential spike in the amount of new car loans, which increased by more than $2,000 in one quarter, from just over $38,000 (a record), to $40,155 (a new record).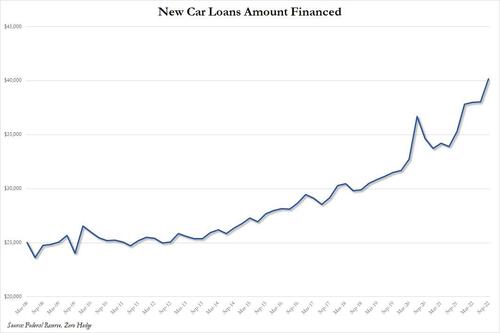 And yet something just didn't click: if so many subprime Americans were saddled with record amounts of auto loans – on average more than $40K – where were the defaults? After all, the average loan rate for new car loans just hit a 13 year high and will soon rise to the highest level this centiry.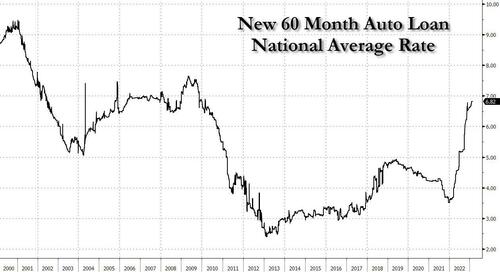 Well, after a lengthy period in which nothing seemed to happen, suddenly the dominoes are starting to fall, and as Bloomberg reports, used car retailer and subprime auto loan lender, American Car Center, told employees the business was closing its doors, just one day after the company had hoped to pull off a funding Hail Mary by selling a $222 million bond (it failed).
According to Bloomberg, the used car retailer, which targets consumers regardless of their credit history (and thus targets almost entirely subprime borrowers who can't get a loan elsewhere), said in an email to employees on Friday the firm was ceasing all operations, closing its headquarters in Memphis, Tennessee, and that all employees would be terminated by the end of the business day, the people said. It employed about 288 people at its headquarters.
The closure email came a day after the company sent another message to staff saying management and advisors had been working with lenders to improve liquidity and continue operations. American Car Center, which has more than 40 dealerships across 10 states, is owned by York Capital's private equity group.
The long overdue collapse – the first of many – comes as more Americans are starting to fall behind on their car payments, and the distress cycle is rapidly accelerating.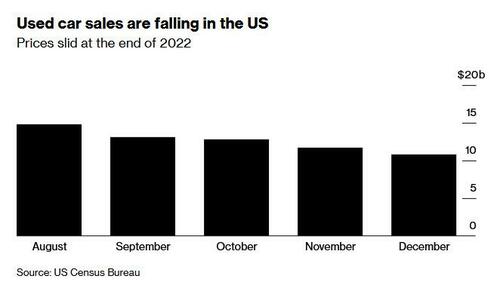 Think of it as the infamous New Century domino that signaled the collapse of subprime housing… only for cars.
Just before the announcement, American Car Center shelved a bond deal backed by subprime loans citing market conditions despite investors placing orders for the debt. It wasn't clear why ACC backed down in the last moment as the alternative was liquidation. However, since many more auto subprime lenders will now follow in ACC's footsteps, we are confident the answer will emerge.
Meanwhile, we can't help but be amused by the mindblowing divergence in Wall Street mental models, where on one hand speculation that used car pries are somehow surging has sent risk assets lower driven by fears of a rebound in inflation (remember that spike in the Manheim used car price index?), while on the other companies like ACC and Carvana are either liquidating or on the verge of doing so, simply because the used car auto segment has completely imploded.
This post was originally published at Zero Hedge
Video: Amid Banking Collapse, White House Says "We See A Strong Economy"
Strange choice of words
As inflation continues to skyrocket and amid huge banking collapses, the White House press secretary declared Wednesday that the Biden administration "sees a strong economy."
CBC's Caitlin Huey-Burns asked Karine Jean-Pierre about Joe Biden's support for Federal Reserve Chairman Jerome Powell and what the Fed is doing to attempt to reduce inflation. 
"We understand what the American people are feeling, that is why we have made it a priority to do everything that we can to lower costs for Americans," Jean-Pierre responded.
Then came the kicker.
"We do not see a recession or pre-recession. We see a strong economy and it's because of the work that this president has done," Jean-Pierre declared.
You don't see it or there isn't a recession?
Strange choice of words.
Keep saying it and it might become reality:
When asked if there will be an economic downturn owing to two giant bank collapses, KJP had no answer, other than to quote the Fed chairman saying the economy is sound:
Powell claims that rampant money printing isn't driving inflation:
Treasury Secretary Janet Yellen claims that just growing debt forever is sustainable:
Are they wilfully ignorant or just flat out lying?
SUBSCRIBE on YouTube:
Follow on Twitter:
Follow @PrisonPlanet
———————————————————————————————————————
Brand new merch now available! Get it at https://www.pjwshop.com/


ALERT! In the age of mass Silicon Valley censorship It is crucial that we stay in touch.

We need you to sign up for our free newsletter here.

Support our sponsor – Turbo Force – a supercharged boost of clean energy without the comedown.

Also, we urgently need your financial support here. ———————————————————————————————————————
Elon Musk Responds To Biden's "Pay Your Fair Share" Tax Tweet
"I paid more income tax than anyone ever in the history of Earth"
The world's richest man Elon Musk has responded to a tweet sent out by Joe Biden calling for higher taxes for billionaires, noting that he's paid more tax than any human ever in the history of the planet.
Biden sent out the following tweet calling on rich people to "pay your fair share," along with a claim that the average tax billionaires pay is three percent.
Musk responded, noting that he paid a whopping 53 percent tax on Tesla stock options at both the state and federal level, and that he paid more taxes than any person on Earth in 2021 ($11 billion) and will do so again for the 2022 fiscal year.
Musk also called for a fact check on Biden's three percent claim.
Musk's call led to the following correction from the Tax Foundation being added to Biden's tweet, showing how Biden is either just flat wrong or lying:
Others chimed in on Musk's comments:
While others had some choice responses for Biden:
SUBSCRIBE on YouTube:
Follow on Twitter:
Follow @PrisonPlanet
———————————————————————————————————————
Brand new merch now available! Get it at https://www.pjwshop.com/


ALERT! In the age of mass Silicon Valley censorship It is crucial that we stay in touch.

We need you to sign up for our free newsletter here.

Support our sponsor – Turbo Force – a supercharged boost of clean energy without the comedown.

Also, we urgently need your financial support here. ———————————————————————————————————————
SVB's London Bankers Received Up To $36 Million In Bonuses Days After BoE-Orchestrated Bailout
Bankers at the London branch of Silicon Valley Bank reportedly received tens of millions of dollars in bonuses just days after the Bank of England orchestrated a rescue package that led to Europe's largest lender, HSBC, buying the failed bank's subsidary for just £1, Sky News reports.
Sources described the bonus pool as "modest", and said it totalled between £15m and £20m.

It was unclear on Saturday how much had been awarded to Erin Platts, the UK bank's chief executive or her senior colleagues.

One insider said the bonus payments were a signal of HSBC's confidence in the talent base at its new subsidiary and that the buyer had been keen to honour previously agreed payments in order to help retain key staff. –Sky
What's more, bonuses were reportedly doled out to US staff just hours before the Santa Clara, California-based bank collapsed. The bank was taken into FDIC ownership, while SVB Financial Group has filed for Chapter 11 bankruptcy protection as it looks to find buyers for their remaining assets.
The UK arm of (formerly) SVB employs around 700 people. The London branch's 'guided demolition' was coordinated with UK Prime Minister Rishi Sunak, who played a pivotal role in an emergency auction that drew interest from several challenger banks, including the Bank of London and Oaknorth.
According to insiders, if HSBC hadn't stepped up, the bonuses wouldn't have been paid, while another insider pointed out that stock held by senior executives and other employees had been rendered worthless amid the implosion.
"The UK's tech sector is genuinely world-leading and of huge importance to the British economy, supporting hundreds of thousands of jobs," said chancellor Jeremy Hunt. "We have worked urgently to deliver on that promise and find a solution that will provide SVB UK's customers with confidence."
"[This] ensures customer deposits are protected and can bank as normal, with no taxpayer support."
The government had been lobbied intensively last weekend by hundreds of tech entrepreneurs about the parlous state of SVB UK.

They warned of "an existential threat to the UK tech sector", adding: "The Bank of England's assessment that SVB going into administration would have limited impact on the UK economy displays a dangerous lack of understanding of the sector and the role it plays in the wider economy, both today and in the future."

The founders warned Mr Hunt that the collapse of SVB UK would "cripple the sector and set the ecosystem back 20 years". -Sky
"Many businesses will be sent into involuntary liquidation overnight," were SVB UK not rescued, wrote the entrepreneurs.
This post was originally published at Zero Hedge