Four Hypotheses About the Secular-Corporatist Global Elite
Everyone has a theory about what is going on. But many are partial, or fragmentary, or too simple in explanation – attributing too much significance to 'capitalism' or 'globalism' or 'opportunism' or 'unintended consequences'. We have to keep trying to make sense of the whole scenario. And I mean that while the exact and quantitative writers have to keep writing – as the Daily Sceptic regulars do – so do those of us who write about things less exact.
Let us begin with a few grand hypotheses about what is going on. Rene Guenon's hypothesis, first sketched around 1930, was that all civilisations possess spiritual and temporal powers and so somehow incorporate a tension between the two: but that, for the first time in history, our modernity from any time after 1500 placed the temporal above the eternal, the material above the spiritual: in short, 'state' above 'church'. There were a few related hypotheses offered at the same time: such as Julien Benda's hypothesis that the clercs, or intellectuals, had shifted their concern: so the immense value they had always attributed to unworldly matters was now attributed to worldly matters. That was to say, the intellectuals were now corrupt, coming after filthy lucre.
An American friend of mine recently drew my attention to some of the recent writings of a novelist and essayist, Paul Kingsnorth. Originally an anti-capitalist, he thought he was on the Left, and now finds himself more or less on the Right. His hypothesis is that the decline of Christianity in our civilization – the decline of the eternal and spiritual – coincides and was probably ultimately caused by the rise of what he calls 'the myth of progress'. Progress is the conviction that the world, this world, is getting better. This myth is the sort of thing we may associate with Francis Bacon or John Stuart Mill, or indeed Bayle, Mandeville, Voltaire, Smith, Hegel, Comte, Marx – more or less everyone of the 17th to 19th centuries but for the most extreme Bossuet or Maistre types, and but for Burke at the very end of his life. Kingsnorth builds a very effective vision of history on this hypothesis, which enables him to explain why leftists and corporatists are so agreed nowadays. They all, he says, want progress. They are all contributing to what he calls the Machine.
Let us accept these two hypotheses. But I have to add a third, which adds some inner complication to the second, and thus renders the whole scenario a bit more dynamic. It may even explain why there is so much confusion about what has gone on. The hypothesis is that there was never a single 'myth of progress': the power of the myth of progress was that it contained an inner diremption, as translators of Hegel used to call it: an inner division. There were two rival positions, which disagreed on the how even while they agreed on the what. The what was an absolute presupposition – something so fundamental it was never questioned by either side. As is ever the case, the disagreement in the foreground distracted from the deeper agreement which dominated everything in the background.
What they agreed on was that progress was happening and should happen. What they disagreed on was how this was supposed to take place. I am of course simplifying here, but to simplify an argument into two positions is a great deal less simple than simplifying it into one position.
On one side, there was the argument that progress was occurring whether we liked it or not. It was occurring through what Adam Smith called the invisible hand, what Samuel Johnson called the secret concatenation, what we now sometimes call the law of unintended consequences. This is the process by which many humans, in pursuit of their own individual interests, contributed to the emergence of a good which none had ever intended, and which none had anticipated, but which could be understood in retrospect.
On the other side, there was the argument that progress would only occur if we adopted the right rational beliefs, the correct enlightened views (liberté, égalité, fraternité, etc.), and set our minds to imposing on the world the policies or schemes suggested by the right rational beliefs and the correct enlightened views. This was to emphasise planning rather than unintended consequences: and planning could only be effective if it was carried out by those in power. So the powerful had to be subjugated by the experts in enlightenment.
The difference between these two positions is that one sees an unconscious process, the other sees a conscious impetus. These two positions have dominated political debate for two centuries: by and large, one side has favoured markets and independent private and apparently (but not actually or eventually) selfish activity, and the other side has favoured a cameralism, colbertism or comtism of scientific planning and collective public activity.
In practice, of course, the two have been mixed together, given a variety of names, and some people who began on one side have ended up on the other: consider John Stuart Mill's or T.H. Green's drift from liberalism to socialism; but also consider Kingsley Amis's, Paul Johnson's and John Osborne's drift in the other direction. Unpicking all this is the devil of a job: and it should be left to historians who have the patience for it. But historians usually leave everything only slightly less complicated than they found it: or, let's say, one step more complicated than previous historians left it. So all this requires some explaining: and explaining it in the abstract, as I do here, certainly makes it possible to explain why Liberals have sometimes been on one side or the other, and why Conservatives are just as quixotic: some Conservatives have favoured the plan; others favoured the invisible hand. There is no certain logic in any of this politics. No name in politics has any fixed meaning – except when we give it one.
The point of this hypothesis is to say that all of the politics of the last two centuries was dominated by arguments about whether progress would take place in the observance or in the breach, so to speak: whether it would have to be consciously theorised and then imposed by some careful policy, or whether it would have to arise without deliberate planning in such a way that only later historians would try to understand it fully. But this has come to an end. We are now at the next stage.
Part of this is because, as Kingsnorth says, the myth of progress – though not entirely dead – is having the last rites. Arguably it has been in trouble since the 1890s, and was jolted by the First World War; but has suffered its recent shocks since the 1970s, what with pollution, population, stagflation, ozone, carbon dioxide, subprime mortgages, and so on. For the moment, the globalists are unsure exactly how to square the circle of wanting 'progress' (or, at least, wanting to be 'progressive') and wanting 'sustainability' at the same time. If we have a myth at the moment it is surely the myth of sustainability. Perhaps the globalists and the localists like Kingsnorth will find that though they disagree on much – COVID-19, for instance – they agree on sustainability. The myth of sustainability is that by retreating to local life and luddism or by advancing to technological repurposing and rewilding and transhumanism we can settle on a mode of existence which will enable us to survive in a less frenetic, destructive, galloping manner.
But there is something to be added to this, a fourth hypothesis, and this is really the crowning hypothesis. I have said that for a few centuries there was planning versus laissez-faire, or consciousness versus unintended consequences – both trying to find out how to make the world, this world, better. But there is something else. The fourth hypothesis is that some figures in the early nineteenth century glimpsed that the two positions could be fused. Hegel was one of these figures; even Marx. There were others; and are many now. Fusion meant something like the following
Until now we have made the mistake of thinking that good can be imposed consciously – usually through religious precepts – but we have discovered, courtesy of Mandeville, Smith and the economists, that good can be achieved through unintended consequences. This, however, does not mean that we should adopt laissez-faire politics: on the contrary, now that we understand unintended consequences, we know how the whole unconscious system of the world works, and since we know how to incorporate our knowledge of this into our politics, we can finally achieve a perfect scientic-and-moral or evidential-and-justified world order.
Is this clear? The Scottish Enlightenment created the empirical expert, who was fused with the morally certain conscious progressive, to become the hope of the world. Doubtless, most of us have abandoned Hegelian and Marxist fantasies of 'the end of history' or of 'emancipation', but I think that the shadow of these fantasies survived and has come to final fruition in the recent scientific-and-moral majoritarianism seen clearly since COVID-19 arrived in the world.
If I am right about this fourth hypothesis, then it explains why we are so confused. We cannot make sense of our situation by using the old language of 'collectivism' versus 'individualism'. The fact is that in our post-progressive era, the experts feel more justified than ever in imposing on everyone an 'evidence-based' and 'morally-justified' set of protocols and precepts. They feel more justified because they are combining knowledge of how things work individually (through modelling and observation of unconscious processes or of unintended consequences) with certainty about what it is right to do collectively (given that the old fantasies of progress have been modified by a puritanical and restraining ideology of sustainability and survival, plus diversity, equity and inclusion – which incidentally serves more as a restraining impetus than an anticipation of Marxist emancipation).
This is not only toxic but tangled. The levels of hypocrisy and self-deception involved in this are formidable. The globalists have an ironclad doctrine in their world-saving sustainable politics, or 'sustainabilitics'. It is almost unassailable, since it draws on the greatest achievements of natural and moral science. It is of course powered by ancient acquisitive greed, but also by sentiment for those who require to be levelled up, or offered something in exchange for their lack of privilege; and, besides, it makes the world better, 'saves' the planet, and gilds the cages of the unprivileged and the palaces of the privileged in the same foolish golden moral lacquer.
Perhaps, as Guenon and Kingsnorth glimpse – also Delingpole and Hitchens – the truth is that we need to actually work our way back through the whole Age of Sustainability and Age of Progress to the Age of Faith. Certainly, someone or something needs to force these 'elites' to submit to a higher vision: and I think that the only way we can make sense of this at the moment is to imagine that a church or prophet or philosopher could strike down their state-corporate secularity, show them that their faith is just an ideology serving their interests, and that they should submit to a genuinely graceful doctrine that can admit fault, error, even sin. This would not be done by public apology, or hypocritical political display, but by interrogating their own souls.
I am certain not saying that this is what will happen, or even that it should happen (or that it could): but it is certainly the type of thing that needs to happen. That is, it is the type of thing we ought to imagine happening. What will happen will either be more of the same old White Swannery, or perhaps some unexpected 'Black Swan' event (not necessarily a good thing: we seem to be overly fond of crisis at the moment). But, either way, a reactionary sensibility seems to be the only one which is capable of exhibiting any awareness of what is going on.
For the sake of clarity, let me again state the four hypotheses about what has been going on:
1. Through all ages there has been a balance of spirituality and secularity. In our modernity, secularity is dominant. There is only this world.
2. For three or so centuries we have believed that this world is getting better and should get better. This is the 'myth of progress'.
3. There was always disagreement about progress: some supposed it was happening as a result of accident and individual interest; others supposed it could only happen as a result of deliberate design.
4. But we should not ignore that there has been a very clever fusion of the two positions: a fusion which has not faded away with the fading of the 'myth of progress' but which survives to support the strange and novel politics of what we could call the 'myth of sustainability'. This fusion is extremely condescending and sure of itself because it combines scientific certainty about what has gone on unconsciously to better the world with moral certainty about what should now be done consciously to better the world. It appears to harness the individual and the collective together in a way that is meant to make gainsaying impossible.
This post was originally published at The Daily Sceptic
Elon Musk Warns World Government Will Lead to "Collapse" of Civilization
Globalism kills true diversity.
During an appearance at the 2023 World Government Summit in United Arab Emirates, Elon Musk warned that any attempt to create a world government would lead to the "collapse" of human civilization.
Musk made the comments virtually while addressing government officials at the event in Dubai. The SpaceX CEO cautioned that "too much cooperation between governments" creates a civilizational risk because it stifles diversity. Musk argued that throughout history major civilizations have been separated by distance so that when one went into decline, such as the Roman Empire, others were allowed to rise, such as Islam. In a globalized world, this is impossible and the world will forever be dependent on its weakest link, the Tesla founder asserted.
BREAKING: @ElonMusk speaks out against the idea of a "World Government" at the "World Government Summit" and warns it could lead to civilizational collapse. pic.twitter.com/7hBrIY9SMP

— ALX 🇺🇸 (@alx) February 15, 2023
"We want to have some amount of civilizational diversity, such that if something goes wrong with one civilization, that the whole thing doesn't collapse, and humanity keeps moving forward," said Musk. Musk went on to stress the importance of preserving humanity because it "is like a tiny candle in a vast darkness, and a very vulnerable tiny candle that could easily be blown out." The billionaire also mused on the question of extraterrestrial life, saying it appeared to be a "troubling" fact that there is no sign of aliens. "I have seen no evidence of alien technology or any alien life whatsoever. I think I'd know," he stated, adding, "SpaceX – we do a lot. I don't think anyone knows more about space than me, at least about space technology." Musk's warning about world government doesn't appear to strike much of a chord with those still aggressively pursuing one. As we
highlighted
yesterday, WEF globalist Klaus Schwab called for elites to come together in order to "master" advanced technologies, warning them that if they don't act swiftly the world could "escape our power."
SUBSCRIBE on YouTube:
Follow on Twitter:
Follow @PrisonPlanet
———————————————————————————————————————
Brand new merch now available! Get it at https://www.pjwshop.com/


ALERT! In the age of mass Silicon Valley censorship It is crucial that we stay in touch.

We need you to sign up for our free newsletter here.

Support our sponsor – Turbo Force – a supercharged boost of clean energy without the comedown.

Also, we urgently need your financial support here. ———————————————————————————————————————
Video: Klaus Schwab Calls For Global Government To "Master" AI Technologies
"Who masters those technologies – in some way – will be the master of the world."
Arch globalist Klaus Schwab has called for elites to come together globally in order to "master" advanced technologies, warning them that if they don't act swiftly the world could "escape our power".
Yes really. The guy doesn't hold back.
The World Economic Forum founder was speaking at a gathering in Dubai not so subtly titled the World Government Summit.
Schwab pointed to "fourth industrial revolution technologies," and stated "Who masters those technologies – in some way – will be the master of the world."
"Ten years from now we will be completely different," Schwab said, adding "My deep concern is that [with] #4IR technologies, if we don't work together on a global scale, if we do not formulate, shape together the necessary policies, they will escape our power to master those technologies."
Schwab is obsessed with AI and other advanced technologies and has previously predicted that "What the Fourth Industrial Revolution will lead to is a fusion of our physical, our digital, and our biological identities." 
Schwab also openly endorses something the media still claims is solely a domain of discussion for conspiracy theorists, namely "active implantable microchips that break the skin barrier of our bodies."
SUBSCRIBE on YouTube:
Follow on Twitter:
Follow @PrisonPlanet
———————————————————————————————————————
Brand new merch now available! Get it at https://www.pjwshop.com/


ALERT! In the age of mass Silicon Valley censorship It is crucial that we stay in touch.

We need you to sign up for our free newsletter here.

Support our sponsor – Turbo Force – a supercharged boost of clean energy without the comedown.

Also, we urgently need your financial support here. ———————————————————————————————————————
George Soros Urged Use Of Eastern European Soldiers To "Reduce The Risk Of Body-Bags For NATO Countries" In 'New World Order' Article
As the war in Ukraine rages on, there is little doubt that the human cost has been enormous for Ukraine, including what is likely more than 100,000 soldiers who have died in combat operations.
However, there was one man who predicted much of what has come to pass in the battle in the east of Europe: George Soros.
The billionaire oligarch financier, often portrayed as a humanist, promoted a hard-nosed geopolitical strategy in his 1993 piece entitled "Toward a New World Order: The Future of NATO."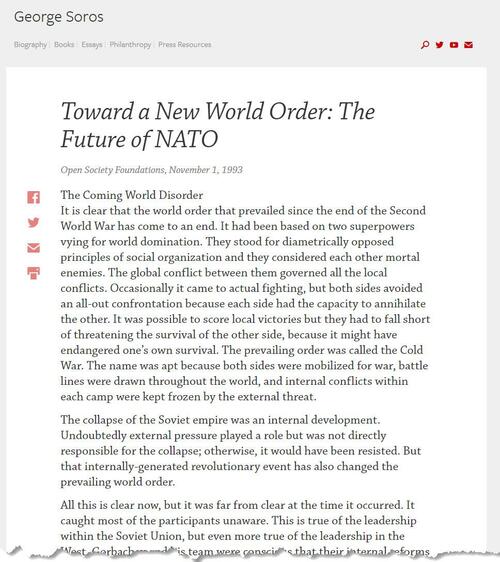 In the piece, he outlines how Eastern Europeans could be used as the "manpower" in coming conflicts in an effort to reduce the number of deaths in Western countries, which Soros argues the West would not politically tolerate, unlike the east of Europe.
"The United States would not be called upon to act as the policeman of the world. When it acts, it would act in conjunction with others. Incidentally, the combination of manpower from Eastern Europe with the technical capabilities of NATO would greatly enhance the military potential of the Partnership because it would reduce the risk of body bags for NATO countries, which is the main constraint on their willingness to act. This is a viable alternative to the looming world disorder," wrote Soros in the article.
Soros acknowledges that the NATO countries have no appetite for "body bags," but his statement implicitly indicates that Eastern Europeans can fill this role.
What Soros described appears to be unfolding exactly as he predicted regarding the war in Ukraine. Armed with high-end NATO weapons, Ukrainian soldiers are actively countering Russia, which Soros had already feared would become a nationalist nation opposed to the global order he was promoting in 1993. The powerful Western countries have the necessary weapons, and Ukraine has the manpower. Given that Soros already saw the potential of what this symbiotic match could produce on the battlefield decades in advance will likely bolster his reputation as a calculating — and perhaps ruthless — strategic thinker.
As Soros predicted, Ukrainian society appears to be tolerating the high death toll in its current conflict with Russia.During the Vietnam War, the U.S. lost 58,220 over the course of approximately 10 years, and yet, the war saw strong opposition from the American public. Despite a far higher death toll in a far shorter period of time, Ukrainian society has seen little in terms of protests.
The lack of protest in Ukraine may also be helped by the fact that Ukraine has suspended most of civil society, banned opposition parties and media, and even outlawed the Russian Orthodox Church. Another key factor in society's perspective on the conflict is that the war is taking place on Ukrainian soil, which is a highly motivating factor for Ukrainian soldiers.
All those Ukrainian bodies, of course, have come with a major price tag for Russia, with the country's cemeteries also filling up as quickly or even more so. Exact figures on casualties for either side remain unofficial and are likely inexact, but the war is costing both nations dearly in terms of life.
In the same article, Soros called for a "new world order." The term is often derided in establishment media as a conspiracy theory, but Soros openly uses it. In addition, in the piece, the new world order he calls for is remarkably globalist and centralized. In other words, exactly the type of new world order critics of his, such as Hungarian Prime Minister Viktor Orbán, have been warning about for over a decade.
"Therefore, the only basis for action is collective security. And that is where the problem lies. The collapse of the Soviet empire has created a collective security problem of the utmost gravity. Without a new world order, there will be disorder; that much is clear. But who will act as the world's policeman? That is the question that needs to be answered," Soros wrote.
Soros outlines a number of his theories in the piece, referring to open and closed societies as well as the "theory of revolutionary change," which he said he had also applied to financial markets. The billionaire describes how the dissolution of the Soviet Union presented new global security challenges but also opportunities.
The original mission was to defend the free world against the Soviet empire. That mission is obsolete; but the collapse of the Soviet empire has left a security vacuum which has the potential of turning into a "black hole." This presents a different kind of threat than the Soviet empire did. There is no direct threat from the region to the NATO countries; the danger is within the region, and it concerns conditions within states as much as relationships between states. Therefore, if NATO has any mission at all, it is to project its power and influence into the region, and the mission is best defined in terms of open and closed societies.
Closed societies based on nationalist principles constitute a threat to security because they need an enemy, either outside or within. But the threat is very different in character from the one NATO was constructed to confront, and a very different approach is required to combat this threat. It involves the building of democratic states and open societies and embedding them in a structure which precludes certain kinds of behavior.
Soros also writes in his piece that NATO was racing to grant membership to countries in Central and Eastern Europe before "Russia recovers." Soros appears to see NATO as actively transgressing against Russia during a time the country was still in chaos following the fall of communism.
"The countries of Central Europe are clamoring for full membership of NATO as soon as possible, preferably before Russia recovers. Russia objects, not because it harbors any designs on its former empire but because it sees no advantage in consenting. Its national pride has been hurt and it is sick and tired of making concessions without corresponding benefits," writes Soros.
The billionaire activist also makes a number of other proposals in the piece, including offering NATO membership to Japan, his goal being the creation of a "new world order."
"Japan should be asked to join NATO. Then we would have the beginnings of an architecture for a new world order. It is based on the United States as the remaining superpower and on open society as the organizing principle. It consists of a series of alliances, the most important of which is NATO and, through NATO, the Partnership for Peace which girds the Northern Hemisphere," he writes.
This post was originally published at Remix News