GOP Kick Ilhan Omar Off Committee Over Criticisms of Israel, AOC Says Omar Was Actually Targeted For Being A 'Woman Of Color'
House Republicans on Thursday scandalously voted to kick Rep Ilhan Omar (D-MN) off the Foreign Affairs Committee due to her past criticisms of Israel but Rep Alexandria Ocasio-Cortez (D-NY) wants her followers to think they were motivated not by advancing Israel's interests but instead by generic anti-black racism. 
The GOP's resolution to boot Omar off specifically states her criticisms of Israel and AIPAC are the driving force behind their move against her: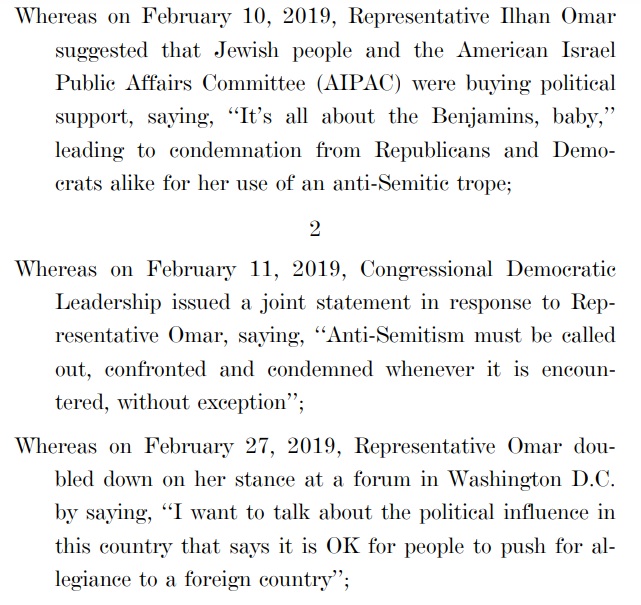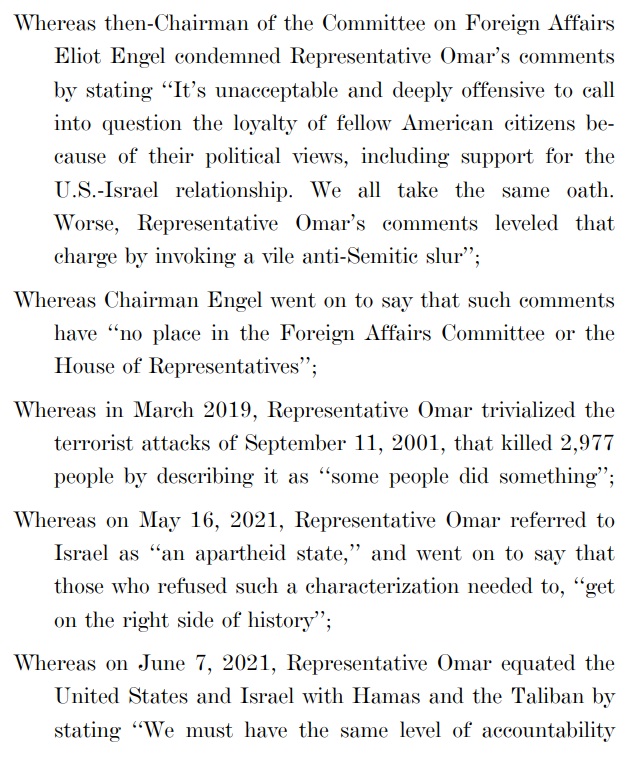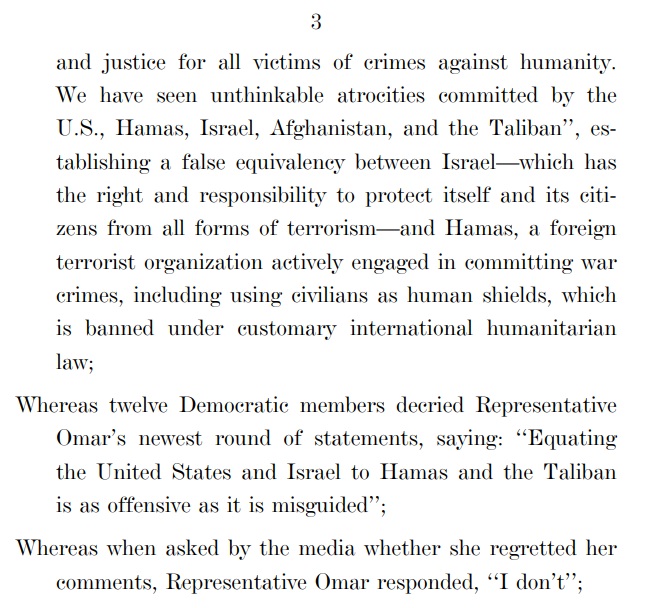 The resolution says far more about her criticisms of Israel than America and doesn't even mention her anti-white comments.
Nonetheless, rather than respond to the GOP's scandalous decision by saying representatives should not be kicked off committees for criticizing a foreign power, AOC said the GOP wasn't actually driven to act due to her criticisms of Israel but instead due to generic racism towards "women of color."
"Don't tell me that this is about a condemnation of anti-Semitic remarks," Cortez said while taking on a bizarre new accent. "This is about targeting women of color in the United States of America!" 
"I had a member of the Republican caucus threaten my life and the Republican caucus rewarded him with one of the most prestigious committee assignments in this Congress," Cortez said, further derailing the issue at hand by referencing a satirical anime meme Rep. Paul Gosar (R-AZ) shared on Twitter a few years ago which triggered the Democrats to kick him off his committees.
Omar was unquestionably kicked off the Foreign Affairs Committee for criticizing Israel.
Nonetheless, AOC, Omar herself and the rest of "The Squad" are too afraid to even say it. 
Despite being a total stooge, even former President Barack Obama said in his 2020 book "A Promised Land" that politicians who "criticize Israel policy too loudly" get smeared as "anti-Israel" and "anti-Semitic" and get "confronted with a well-funded opponent in the next election."
Obama was never canceled for his comments — perhaps because he was already out of office and is too important to the Democratic coalition — but what he described is exactly what happened to Ilhan Omar.
Omar wasn't targeted because she's a "woman of color" — the GOP are doing everything in their power to recruit as many minority candidates as possible even if it means recruiting ex-cons to run for office like Solmon Peña in New Mexico — she was targeted because at one point, years ago, she criticized Israel.
That should be a scandal itself.
This post was originally published at Information Liberation
Proud Boys Sedition Trial Suspended AGAIN After Feds Admit Defense Witness Was An FBI Informant
The Proud Boys sedition trial was suspended for a second time on Wednesday after the feds admitted in court that a witness intimately involved in the Proud Boys defense team was secretly an FBI informant.
From The Epoch Times, "Did FBI Informant Spy on Proud Boys Defendants and Their Jan. 6 Trial Attorneys?":
Defense attorneys in the Proud Boys seditious-conspiracy trial in Washington D.C. learned late March 22 that one of their own defense witnesses who was about to testify had worked as an FBI informant for at least 22 months.

They asked for an emergency hearing before U.S. District Judge Timothy Kelly and filed a motion to compel the U.S. Department of Justice to disclose if the witness has been spying on the defense team.

Judge Kelly suspended the trial until March 24 and converted March 23 from a day of testimony into a motions hearing.

Zachary Rehl, one of five Proud Boys defendants, filed a motion on behalf of his co-defendants seeking a court order to compel prosecutors to disclose any recordings or reports made by confidential human sources (CHS)—informants—about the defendants and their attorneys.

Defense attorney Carmen Hernandez said the information given to the defense team on March 22 raises "serious and substantiated allegations of governmental misconduct surrounding the surreptitious invasion and interference of the defense team by the government through a confidential human source, at the government's behest."

Judge Kelly ordered prosecutors to file a response to the motion by 1 p.m. EDT on March 23. A hearing on the matter will begin at 3 p.m.

The trial began Dec. 19, 2022, in U.S. District Court. Prosecutors wrapped up their case on March 17.

Defense Witness was Prosecution Informant

After the close of testimony on March 22, prosecutors disclosed that a witness on the defense list who was due in court on March 23 had worked as an FBI informant from April 2021 through to at least January 2023.

"During this period of time, the CHS [informant] has been in contact via telephone, text messaging, and other electronic means, with one or more of the counsel for the defense and at least one defendant," the motion said.

"The CHS also participated in prayer meetings with members of one or more of the defendants' families. The CHS also engaged in discussions with one of the defendant's family members about replacing one of the defense counsel."
Judge Kelly should have thrown the case out rather than suspend it.
The evidence is now overwhelming that the feds are hiding exculpatory evidence from the defense and denying the Proud Boys their right to a fair trial.
This post was originally published at Information Liberation
Video: Rand Paul Grills Blinken On Stonewalling Of COVID Origin Investigation
"You won't help us investigate this."
Senator Rand Paul grilled Secretary of State Antony Blinken Wednesday, accusing the State Department of engaging in a lack of transparency when it comes to providing documents related to the ongoing probe of the origins of COVID.
Paul asked Blinken why documents related to funding of coronavirus research have not been provided to him despite repeated requests.
The Senator told Blinken that he had requested the material "on September 12th and November 7th of last year."
"My question is, what's the State Department hiding?" Paul asked, adding "Why won't you give these records to the American people?"
"There's a difference between can and may," Paul continued, adding "You won't do it, but you can do it."
Blinken responded "My understanding is that our teams have been working to find an accommodation," adding he hopes to "find a way forward that answers your concerns so that you get the information that you're looking for."
"We're talking about unclassified material," Paul shot back, adding "most of this is unclassified. And so we just had a unanimous vote in the Senate and in the House and President Biden just signed a bill saying he's going to declassify stuff. But if you declassify it and you still hide it from the American people, that's a problem."
The Senator continued, "We spend all of this time lambasting authoritarians for lack of transparency, we have these silly networks on TV that are aligned with the Democrat Party saying democracy is under attack. Well, do you think transparency has something to do with democracy? You're refusing to give records on research, money that went for research."
"We want to read the research grant proposals. We want to read what the people in Wuhan sent back to the State Department saying they did. Which viruses did they create?" Paul further urged.
"And yet you won't help us investigate this. You refuse and it makes — it is reminiscent of the countries we criticize for lack of transparency. And yet you sit there and say you're still going to continue to refuse," Paul asserted.
Blinken tried to squirm out of the grilling by saying he doesn't have the expertise to comment, prompting Paul to respond "We don't want to hear your spin."
"We can't just accept your spin on it because people — there may be self-interested the people who funded the program. We're just asking to look at the data. But so far it has been no. We've had a few phone calls, but we don't want your spin on it. We want to look at the documents ourselves," Paul emphasised.
Related:
SUBSCRIBE on YouTube:
Follow on Twitter:
Follow @PrisonPlanet
———————————————————————————————————————
Brand new merch now available! Get it at https://www.pjwshop.com/


ALERT! In the age of mass Silicon Valley censorship It is crucial that we stay in touch.

We need you to sign up for our free newsletter here.

Support our sponsor – Turbo Force – a supercharged boost of clean energy without the comedown.

Also, we urgently need your financial support here. ———————————————————————————————————————
Video: MSNBC Panel Says That Criticising George Soros In Any Way Is "DANGEROUS"
"It definitely feels like a dog whistle that is dangerous."
During a discussion on the potential Trump indictment, an MSNBC panel claimed that Trump supporters, and anyone else for that matter, are "dangerous" for criticising George Soros.
Perpetual race baiting grifter Joy Reid turned to former CIA officer Tracy Walder, and said "The fact that they keep throwing George Soros' name, we've talked a lot in our show meetings, is it definitely feels like a dog whistle that is dangerous."
Walder replied, "It absolutely feels like a dog whistle that's dangerous."
She continued, "Look, most of these groups, the Oath Keepers, Boogaloo Boys, Proud Boys, they all subscribe to what you are all referring to as the great replacement theory."
"This is why we see these spikes in racism and anti-semitism," and "they are ascribing to this belief and it's stoking this division," Walder added. 
She then suggested that "Trump has for multiple years now called for a civil war."
There were no actual facts provided as to why criticising George Soros' manipulation of U.S. politics and culture is racist.
Watch:
Of course, Joy Reid and MSNBC are going to propagandise for Soros, given that he pumps millions into Democrat election campaigns, as well as "black-led justice organizations".
Is journalist Glenn Greenwald a dangerous racist for pointing out how Soros continually seeks to control the reality narrative?
SUBSCRIBE on YouTube:
Follow on Twitter:
Follow @PrisonPlanet
———————————————————————————————————————
Brand new merch now available! Get it at https://www.pjwshop.com/


ALERT! In the age of mass Silicon Valley censorship It is crucial that we stay in touch.

We need you to sign up for our free newsletter here.

Support our sponsor – Turbo Force – a supercharged boost of clean energy without the comedown.

Also, we urgently need your financial support here. ———————————————————————————————————————