Highly-Cited 'Hamilton 68' Russiagate Tracker Is Total Hoax: Taibbi
Out of the caterwaul of cries proclaiming that Russian collusion, and Russian influence operations, were the only reason Donald Trump won the 2016 US election (a hoax funded and promoted by his opponent, Hillary Clinton), a website which claimed to track said Kremlin efforts sprung forth, and was used to justify baseless allegations;
Hamilton 68: a widely-cited, (indirectly) state-sponsored propaganda tool.
The website claims to monitor a secret list of Twitter accounts which they accused of Kremlin control, however it's impossible to verify their claims as the group has never disclosed their methodology.
As Matt Taibbi notes via Racket:
Hamilton 68 was and is a computerized "dashboard" designed to be used by reporters and academics to measure "Russian disinformation". It was the brainchild of former FBI agent (and current MSNBC "disinformation expert") Clint Watts, and backed by the German Marshall Fund and the Alliance for Securing Democracy, a bipartisan think-tank. The latter's advisory panel includes former acting CIA chief Michael Morell, former Ambassador to Russia Michael McFaul, former Hillary for America chair John Podesta, and onetime Weekly Standard editor Bill Kristol. –Racket
And now, Taibbi has torn Hamilton 68's 'black box' asunder after reviewing the latest batch of "Twitter Files."
s Taibbi notes via Racket:
Ambitious media frauds Stephen Glass and Jayson Blair crippled the reputations of the New Republic and New York Times, respectively, by slipping years of invented news stories into their pages. Thanks to the Twitter Files, we can welcome a new member to their infamous club: Hamilton 68.
If one goes by volume alone, this oft-cited neoliberal think-tank that spawned hundreds of fraudulent headlines and TV news segments may go down as the single greatest case of media fabulism in American history. Virtually every major news organization in America is implicated, including NBC, CBS, ABC, PBS, CNN, MSNBC, The New York Times and the Washington Post. Mother Jones alone did at least 14 stories pegged to the group's "research." Even fact-checking sites like Politifact and Snopes cited Hamilton 68 as sources.
Twitter thought they were full of shit
Taibbi reveals that Twitter was concerned enough about Hamilton 68's claims that they ordered a forensic analysis which found that of 644 accounts, just 36 were registered in Russia – many of which were associated with news outlet RT.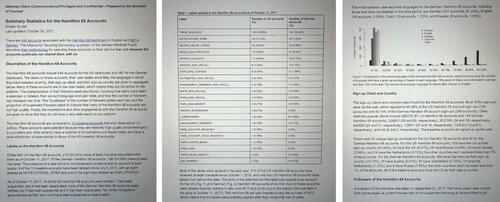 As Taibbi further notes (emphasis ours):
Examining further, Twitter execs were shocked. The accounts Hamilton 68 claimed were linked to "Russian influence activities online" were not only overwhelmingly English-language (86%), but mostly "legitimate people," largely in the U.S., Canada, and Britain. Grasping right away that Twitter might be implicated in a moral outrage, they wrote that these account-holders "need to know they've been unilaterally labeled Russian stooges without evidence or recourse."
Other comments in internal company emails:
"These accounts are neither strongly Russian nor strongly bots."

"No evidence to support the statement that the dashboard is a finger on the pulse of Russian information ops."

"Hardly evidence of a massive influence campaign."
Declared Trust and Safety chief Yoel Roth: "I think we need to just call this out on the bullshit it is."
The two founders of Hamilton 68, the blue-and-red team of former counselor to Marco Rubio Jamie Fly and Hillary for America Foreign Policy Advisor Laura Rosenberger, told Politico they couldn't reveal the names of the accounts because "the Russians will simply shut them down." Tchya, right. One look at the list reveals the real reason they couldn't make it public.
This was not faulty science. It was a scam. Instead of tracking how "Russia" influenced American attitudes, Hamilton 68 simply collected a handful of mostly real, mostly American accounts, and described their organic conversations as Russian scheming. As Roth put it, "Virtually any conclusion drawn from [the dashboard] will take conversations in conservative circles on Twitter and accuse them of being Russian."
Twitter execs wanted to out Hamilton 68!?
"Why can't we say we've investigated… and citing Hamilton 68 is being wrong, irresponsible, and biased?" one exec asked, after Russians were blamed for hyping the #ParklandShooting hashtag.
Trust and Safety head Yoel Roth even wanted to confront Hamilton 68 – writing in one email "My recommendation at this stage is an ultimatum: you release the list or we do."
"I also have been very frustrated in not calling out Hamilton 68 more publicly, but understand we have to play a longer game here," said Carlos Monje, the future senior advisor to Transportation Secretary Pete Buttigieg.
But Future White House and NSC spokesperson Emily Horne advised against it.
As Taibbi further notes:
"So the "legitimate people," as one Twitter exec called them, never found out they'd been used as fodder for mountains of news stories about "Russian influence." Because the #TwitterFiles contain the list, they've begun finding out."
Hamilton's victims speak out
"I'm shocked," said Sonia Monsour, who as a child lived through civil war in Lebanon. "Supposedly in a free world, we are being watched at many levels, by what we say online."
Another person alleged by Hamilton to be a Russian is Chicago-based lawyer David Shestokas.
"I've written a book about the U.S. Constitution," he said, adding "How I made a list like this is incredible to me."
Continued:
The Hamilton 68 story shows how the illusion of ongoing "Russian interference" worked. The magic trick was generated via a confluence of interests, between think-tanks, media, and government. Before, we could only speculate. Now we know: the "Russian threat" was, in this case at least, just a bunch of ordinary Americans, dressed up to look like a Red Menace. Jayson Blair had a hell of an imagination, but even he couldn't have come up with a scheme this obscene. Shame on every news outlet that hasn't renounced these tales. -Matt Taibbi
And Elon with the last word:
This post was originally published at Zero Hedge
Is Google Rigging The 2024 Election? The Controversy Over Invisible Republicans
A new report from the right-leaning Media Research Center concludes that Google is burying search results for 2024 presidential candidates, but an expert in search engine optimization has suggested it's unlikely.
According to various tests conducted by MRC and Just the News, the online visibility of these sites in generic searches for the GOP's 2024 bench is practically nil, and not significantly better for RFK Jr., Biden's primary challenge on the left.
Google's search engine failed to produce even-handed results in multiple searches performed by MRC Free Speech America over the course of a week prior to today's Republican presidential primary debate. Researchers broadly searched for "presidential campaign websites" as well as two additional searches specifying the party affiliation of the candidates. When MRC searched for "republican presidential campaign websites," only two candidates' websites appeared on the first page in the search results — a Democrat candidate and a Republican who is polling at less than half a percent. -MRC
Both MRC and Senator Ted Cruz claim this is unambiguous proof of Google's bias.
"Google is either the most incompetent search engine on the planet, or it is intentional. This is not a coincidence," states Dan Schneider, MRC Free Speech America Vice President, following the group's extensive analysis of search tests conducted between September 20 and 25.
This is ABSURD.

Blatant election interference. #GoogleCensorship https://t.co/qfcSfk1cHx— Ted Cruz (@tedcruz) September 27, 2023
In 2018, Trump accused Google of "rigging" search results against him.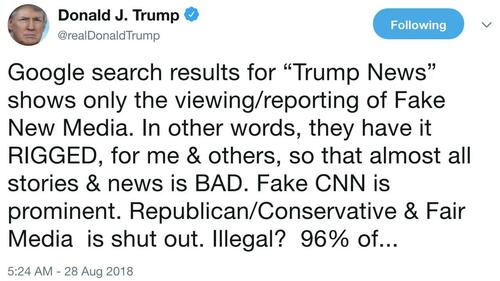 Google responded at the time, saying that "Search is not used to set a political agenda and we don't bias our results toward any political ideology."
In 2021, the Daily Mail sued Google for 'illegally building its dominance in ad tech industry by harming rivals, bid-rigging on ad auctions and manipulating news search results."
And of course, former Alphabet Chairman Eric Schmidt – who said the Trump administration would do "evil things" – was an advisor to the 2016 Clinton campaign.
A simple matter of SEO?
While the evidence certainly looks damning, Just the News spoke with Eric Goldman, an SEO researcher and co-director of Santa Clara University's High Tech Law Institute, who proposed several benign possibilities to explain these search anomalies. Goldman argues for the necessity of a comprehensive academic study into search engine indexing and ordering, terming MRC's tests an "advocacy stunt".
"Search engine indexing and ordering is the kind of topic that would benefit from a proper academic study, not an advocacy stunt," he said.
Yet, Google also told Just the News that it couldn't explain the replicated results until Friday.
Meanwhile, Google, the world's dominant search engine, is grappling with a Justice Department antitrust trial. The company's explanations of its search dominance have raised eyebrows, bringing more scrutiny upon its practices. With accusations flying, former Psychology Today editor-in-chief Robert Epstein states, "Google poses a serious threat to democracy."
This post was originally published at Zero Hedge
Elon Musk Has Fired Most Of Twitter's 'Election Integrity' Team
Says they were "undermining election integrity"
Twitter/X owner Elon Musk has fired most of a team at Twitter that was supposedly in charge of maintaining 'election integrity', stating that in reality they were doing the exact opposite.
Musk commented on a post from X News Daily, noting that the head of the team was fired, stating "Oh you mean the "Election Integrity" Team that was undermining election integrity? Yeah, they're gone."
According to reports some of the U.S. election integrity team were based in Dublin.
A recent blog post with regards to election integrity states "You may not use X's services for the purpose of manipulating or interfering in elections or other civic processes, such as posting or sharing content that may suppress participation, mislead people about when, where, or how to participate in a civic process, or lead to offline violence during an election."
It adds that "Any attempt to undermine the integrity of civic participation undermines our core tenets of freedom of expression and as a result, we will apply labels to violative posts informing users that the content is misleading."
It appears that Musk believed the election integrity team were promoting the opposite of integrity at X.
Musk has downsized X's workforce by a whopping 80% since he took over, meaning that there are no more latte sipping TikTok trendies with made up job titles working there.
The post added that "Not all false or untrue information about politics or civic processes constitutes manipulation or interference. In the absence of other policy violations, the following are generally not in violation of this policy: inaccurate statements about an elected or appointed official, candidate, or political party; organic content that is polarizing, biased, hyperpartisan, or contains controversial viewpoints expressed about elections or politics; discussion of public polling information; voting and audience participation for competitions, game shows, or other entertainment purposes; using X pseudonymously or as a parody, commentary, or fan account to discuss elections or politics."
Meanwhile, Musk posted a link to a video earlier this week that highlights Fauci and others making false claims about the COVID 19 vaccine:
SUBSCRIBE on YouTube:
Follow on Twitter:
Follow @PrisonPlanet
———————————————————————————————————————
Brand new merch now available! Get it at https://www.pjwshop.com/


ALERT! In the age of mass Silicon Valley censorship It is crucial that we stay in touch.

We need you to sign up for our free newsletter here.

Support my sponsor – Summit Vitamins – super charge your health and well being.

Also, we urgently need your financial support here. ———————————————————————————————————————
EU Chief Boasts About Vaccine Passports, Calls For More Global Digital Collaboration – Paving The Way For Digital IDs
Von der Leyen audaciously proclaimed our collective future to be digital.
With an ominous call for increased global collaboration and centralization, European Commission President, Ursula von der Leyen at a G20 Summit session, dubbed "One Future," today appealed for an international regulatory body for Artificial Intelligence and digital ID systems similar to coronavirus vaccine passports.
Von der Leyen audaciously proclaimed our collective future to be digital, hence the implied necessity for global entities to draw boundaries and enforce regulations.
Von der Leyen, in her position as the EU Commission President, touched on AI and the digital landscape in her address. She acknowledged the potential dangers and gargantuan opportunities linked with advancing AI technology and emphasized the importance of channeling such explosive technology.
"Today I want to focus on AI and digital infrastructure. As it has been described, AI has risks but also offers tremendous opportunities. The crucial question is how to harness a rapidly changing technology.
"In the EU, in 2020, we presented the first-ever law on artificial intelligence. We want to facilitate innovation while building trust. But we need more. What the world does now will shape our future. I believe that Europe — and its partners — should develop a new global framework for AI risks," von der Leyen said.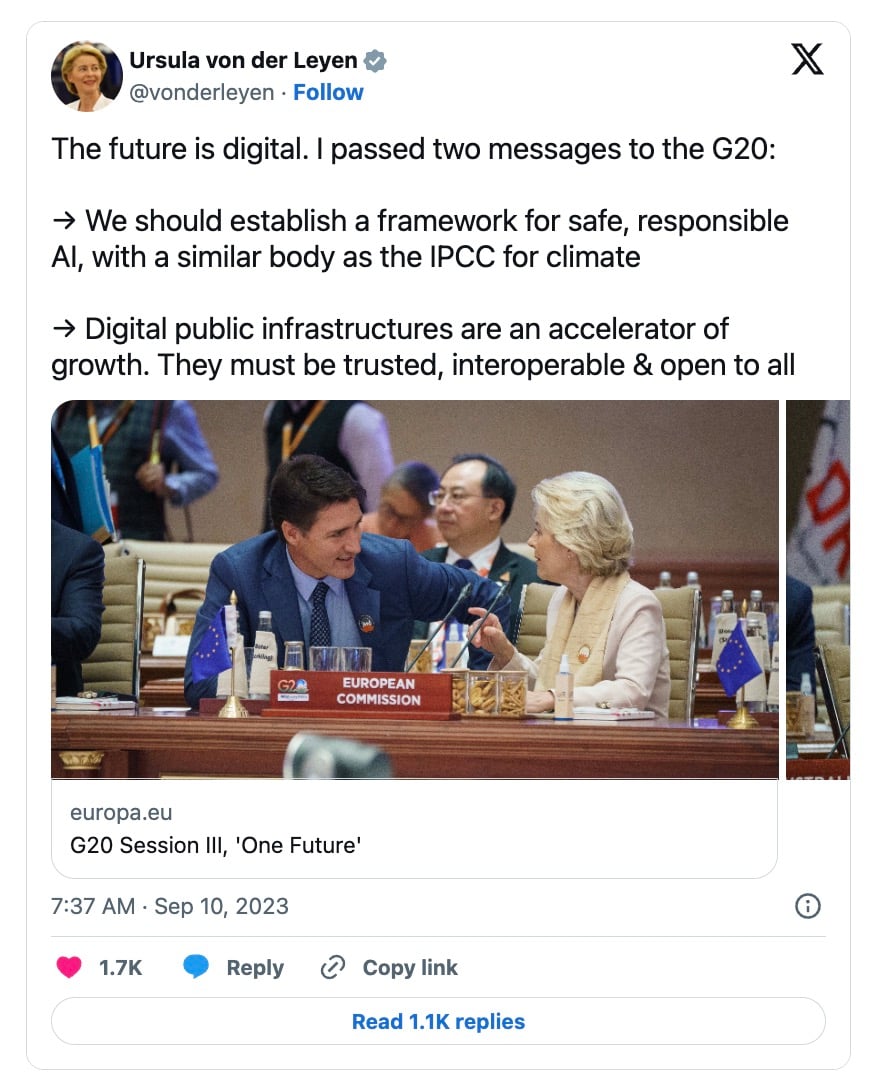 Von der Leyen praised the European Union's move in 2020 to introduce the first legal framework on AI, a step taken with the intent of fostering innovation alongside trust. However, she insisted that this wasn't sufficient. She suggested a multinational adoption of a coping mechanism for managing AI risks.
The EU Chief also stressed that globally accepted standards must be created under the purview of the United Nations, akin to their Intergovernmental Panel on Climate Change. Humanity stood to benefit, she argued, if an international authority could clarify the risks and rewards related to AI, akin to the IPCC for climate concerns.
Concurrently, von der Leyen championed the concept of digital public infrastructure similar to the coronavirus passport system – a system developed by the EU as a response to the Covid saga. The World Health Organization embraced it with open arms as a global standard for combating health threats.
"Many of you are familiar with the COVID-19 digital certificate. The EU developed it for itself. The model was so functional and so trusted that 51 countries on 4 continents adopted it for free. Today, the WHO uses it as a global standard to facilitate mobility in times of health threats," von der Leyen continued.
Alarmingly, von der Leyen praised the EU's strides towards a bloc-wide digital identity app capable of storing a citizen's personal information, including credit cards, driver's license, and passport data.
These developments ring alarm bells for individuals and nations valuing free speech and privacy.