Ukraine Rocked By Corruption Scandal, Wave Of Top Officials Resign: Sports Cars, Mansions & Luxury Vacations As People Suffered
The Ukrainian government on Tuesday confirmed the resignation of multiple high ranking officials amid large-scale corruption allegations, in what's being called the biggest mass resignation and graft scandal since the Russian invasion began.
Some dozen officials have quit their posts after a huge political shake-up over allegations and probes into cases ranging from bribery, to mismanagement of aid funds for purchasing food, to embezzlement, to driving expensive cars while common people suffer under wartime conditions.
A top presidential adviser and four deputy ministers – among these two defense officials, along with five regional governors were forced out of their posts. And among the regional governors to step down included officials overseeing regions which have seen intense fighting, including the Zaporizhzhia and Kherson regions, where Russian forces have lately reported gains.
In reference to the announcement by a senior government official, Oleg Nemchinov, international reports detail the following list:
Deputy Prosecutor General Oleskiy Symonenko
Deputy Minister for Development of Communities and Territories Ivan Lukeryu
Deputy Minister for Development of Communities and Territories Vyacheslav Negoda
Deputy Minister for Social Policy Vitaliy Muzychenk
And the regional governors of Dnipropetrovsk, Zaporizhzhia, Kyiv, Sumy and Kherson
And separately, "the defense ministry had earlier announced the resignation of deputy minister Vyacheslav Shapovalov, who was in charge of the army's logistical support, on the heels of accusations it was signing food contracts at inflated prices."
In this case regarding the food contracts, Shapovalov is accused of signing a deal with an unknown, shady firm. In his role as deputy defense minister, his is the most notable and visible resignation. Crucially he would have had no small part in overseeing the billions of dollars flowing from the pockets of US and European taxpayers as authorized defense aid.
He purchased military rations at inflated prices in what appears a scheme to line the pockets of contractors, and potentially involving kickbacks to himself.
While the defense ministry is still trying to downplay it as a "technical error" – Politico reviews of the details to the scandal:
An exposé from the Ukrainian news website ZN.UA revealed last week that the defense ministry purchased overpriced food supplies for its troops. For instance, the ministry bought eggs at 17 hryvnias per piece, while the average price of an egg in Kyiv is around 7 hryvnias. According to ZN.UA, a contract for food procurement for soldiers in 2023 amounted to 13.16 billion hryvnias (€328 million).
This is two to three times higher than current rates for such food items, reports say. Shapovalov's resignation letter indicated he's stepping down so as "not to pose a threat to the stable supply of the Armed Forces of Ukraine as a result of a campaign of accusations related to the purchase of food services."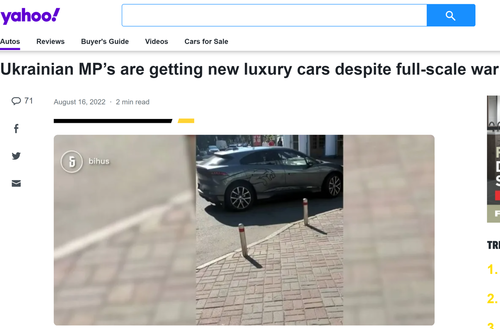 There's also deputy head of the Zelensky administration Kyrylo Tymoshenko, who stands accused of living a lavish wartime lifestyle. Many current mainstream media reports on Tuesday are burying some of the key verified details. For example, BBC writes simply that "Tymoshenko was implicated in several scandals during his tenure, including in October last year when he was accused of using a car donated to Ukraine for humanitarian purposes."
But starting in early December local Ukrainian outlets, angered at the posh lifestyle of Ukrainian leaders at a moment tens of millions are without power amid Russian aerial bombardment of the nation's power grid, began confirming that Tymoshenko drove high-end sports cars in and out of the capital, to and from mansions which typically range in cost from $10,000 to $25,000 per month.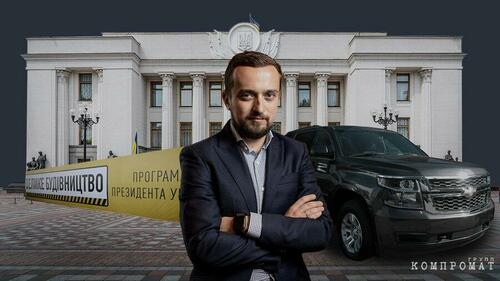 Below are photos published by The New Voice of Ukraine, republished in Yahoo News, in early December of last year, showing Tymoshenko frequently behind the wheel of a shiny new Porsche Taycan…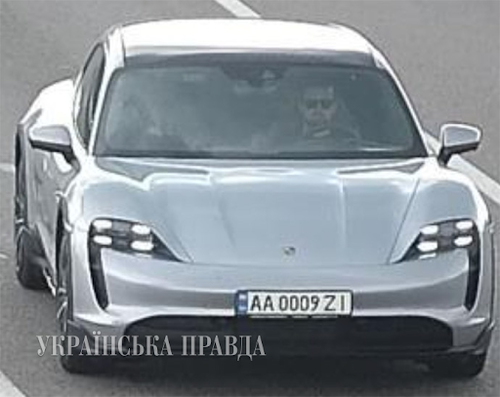 One outlet published a photo series entitled Not the "martial law" of Kyrylo Tymoshenko, deputy head of Ukraine's Office of the President
US taxpayer dollars at work in Ukraine…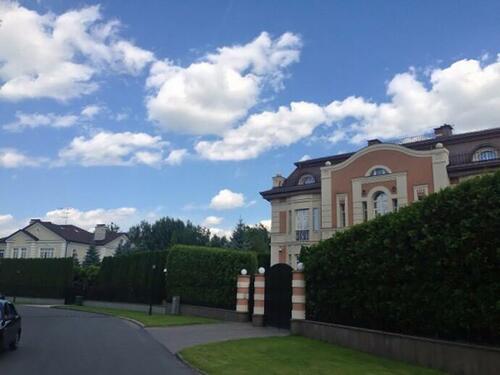 As another example of Western MSM seeking to downplay or soften this latest wave of graft-related forced resignations, the AFP writes, "Ukraine has long suffered endemic corruption, including among the political elite, but efforts to stamp out graft have been overshadowed by Moscow's full-scale war that began in February." And yet officials like Tymoshenko were spotted around Kiev and oligarchs' neighborhoods driving luxury sports cars for months throughout the war.
Additionally, there's this laughable and embarrassing line out of the AFP report: "Kyiv's Western allies, who have allocated billions of dollars in financial and military support, have been pushing for anti-corruption reforms for years, sometimes as a precondition for aid."
From a government supposedly "pushing anti-corruption reforms for years" to over $100 billion in US defense and foreign aid being pledged to Kiev's coffers over the past year… to now this from within the heart of the Zelensky administration:
It doesn't stop at posh and expensive cars, but the controversy has even extended to luxury vacations abroad as Ukrainians suffer the deprivations of war at home. "The departure of Symonenko, a deputy prosecutor general, comes after media reports that he spent a holiday in Spain this winter, reportedly using a car belonging to a Ukrainian businessman." The government has as a result now reportedly barred top officials from vacationing abroad as a result of the scandal.
Just prior to the wave of resignations, another official named Vasyl Lozynskiy was accused of receiving bribes to "facilitate" the purchase of generators at greatly hiked-up prices. Crucially, Lozynskiy as Deputy Minister of Infrastructure and Communities Development would have also been directly involved in overseeing how billions of dollars in Western humanitarian and infrastructure assistance gets doled out.
Commenting on this, mainstream media is now belatedly acknowledging a fact that's long been well-known, but which would get a person 'canceled' in public discourse if they dared pointed it out:
"Transparency International ranked Ukraine 122 out of 180 in its corruption ranking for 2021," the AFP now writes (the second most corrupt in Europe, with Russia the most at 136.)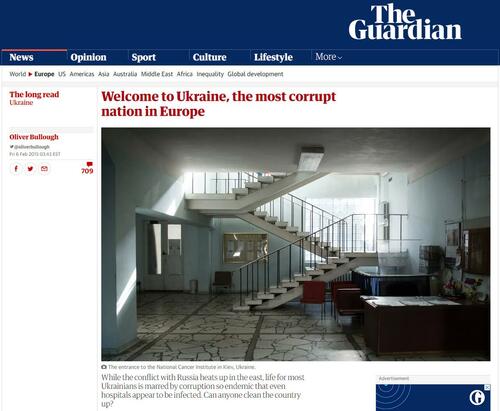 And now Ukraine's Defense Minister Oleksii Reznikov is under scrutiny related to the growing probe and scandal. Meanwhile, as news of the widening scandal hits world headlines…
This post was originally published at Zero Hedge
Satellite Image Reveals Supersonic Drone At Chinese Military Base
There are increasing fears that China may invade Taiwan in the next several years. An image captured by a satellite and obtained by Defense News reveals what appears to be a next-generation unmanned aerial vehicle that Beijing could use in future conflicts.  
The delta-shaped UAV "appears to be a WZ-8 supersonic reconnaissance drone parked outside one of two newly built hangars at China's Lu'an Airbase," Defense News said. Planet Labs, a US satellite-imaging company, photographed the spy drone on Dec. 21, which was recently shared with the military blog.
The satellite image, provided to Defense News by Planet Labs, shows Lu'an Airbase in China's Anhui province. The previously unoccupied base is undergoing an upgrade, with construction beginning sometime between April 2018 and early 2019. Improvements include the resurfacing of the 3,200-meter (3,500-yard) runway, the widening of taxiways, and the construction of 20 bomber-sized aircraft shelters and two hangars to replace open aircraft parking bays.
Here's the satellite image of the spy drone.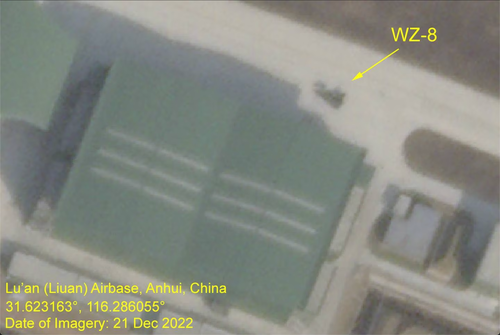 In a separate image, the drone was recently unveiled at a military parade.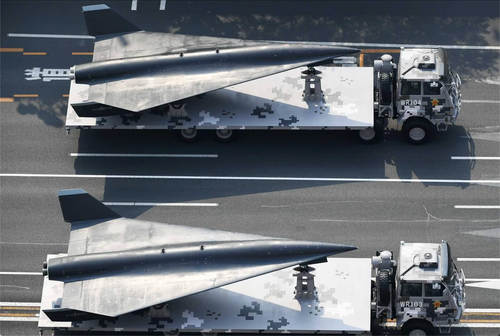 Last month, a secret document from the National Geospatial-Intelligence Agency said the Chinese military could soon deploy a high-altitude spy drone that travels at Mach 3, or three times the speed of sound, at an altitude of 100,000 feet. The document was seen by The Washington Post in April and initially posted on a Discord server by a member of the Massachusetts Air National Guard.
According to Andreas Rupprecht, who studies Chinese military aviation, the spy drone was seen at Lu'an Airbase, home to the 29th Air Regiment of the People's Liberation Army Air Force's 10th Bomber Division.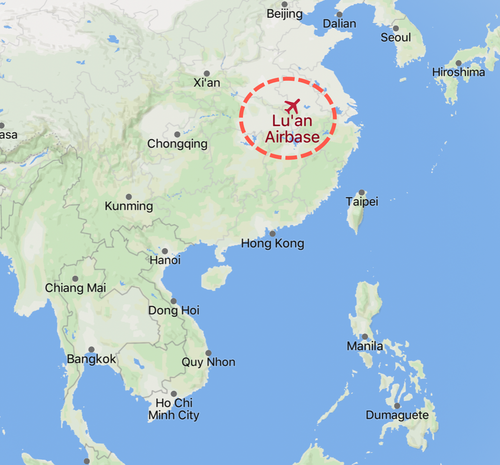 US defense officials are concerned the new drone could expand China's surveillance capacity in the Indo-Pacific region and around Taiwan.
China has been rapidly modernizing its military forces over the last decade as then commander of the Indo-Pacific Command, Philip Davidson, warned in 2021 at a US Senate hearing that the Chinese People's Liberation Army's invasion of Taiwan could occur by 2027.
This post was originally published at Zero Hedge
Ukraine Claims Russian Hypersonic Missile Shot Down Using US Patriot System
In an alleged first which is no doubt making US Congressional hawks very proud, Ukraine says it has intercepted a Russian ballistic missile for the first time using a US-made anti-air defense system. What's more, and perhaps the more dubious aspect, is that it was a hypersonic missile shot down over Kiev, according to top Ukrainian officials.
Commander of Ukraine's air force, Mykola Oleshchuk, announced in a Saturday Telegram post that a Russian Kinzhal, or Kh-47, was inbound until being successfully intercepted using American Patriot missiles. The intercept occurred Thursday night in what's the first time known time Patriot defenses were put into successful use by Ukraine.
Moscow has long touted its hypersonic ballistic missiles as essentially "impossible to intercept" given the projectile can travel at 10 times the speed of sound with a range of up to 2,000 kilometers (or about 1,250 miles).
According to the top Ukrainian commander's words:
"Yes, we shot down the 'unique' Kinzhal," Oleshchuk stated. "It happened during the night time attack on May 4 in the skies of the Kyiv region."

Oleshchuk said the Kh-47 missile was launched by a MiG-31K aircraft from the Russian territory and was shot down with a Patriot missile.
And a separate statement from Air Force spokesman Yurii Ihnat taunted the Russians while boasting of the US Patriot's proven capabilities:
"They were saying that the Patriot is an outdated American weapon, and Russian weapons are the best in the world," Air Force spokesman Yurii Ihnat said on Ukraine's Channel 24 television. "Well, there is confirmation that it effectively works against even a super hypersonic missile." Ihnat said.

He said successfully intercepting the Kinzhal is "a slap in the face for Russia."
It was only late last month that Ukraine confirmed delivery of the first Patriot batteries from the United States, though an unknown quantity, alongside anti-air systems from Germany and the Netherlands.
More self-congratulations from Ukraine's top brass was issued Saturday follows:
"I congratulate the Ukrainian people on a historic event," Lt. Gen. Mykola Oleshchuk, the commander of the Ukrainian air force, said in a statement posted on the Telegram messaging app. "Yes, we have shot down the 'unparalleled' 'Kinzhal.'"
It should be noted that amid the atmosphere of heavy war propaganda and disinformation which is part and parcel of modern conflict, even The New York Times has expressed caution in its headline, "Ukraine Claims It Shot Down Russia's Most Sophisticated Missile for First Time."
The Times describes, "The U.S. officials said they were relying on information from the Ukrainian military coming through classified channels, but added they had no reason to doubt its authenticity."
"Nevertheless, independent analysts were reluctant to confirm the interception until more information was available about the type of missile Russia fired and whether it was hit by a Patriot," the report notes.
One Moscow-based analyst was quick to dismiss the reports as "fake news"…
Meanwhile, Russia's air war is likely only to heat up further, given also on Saturday the defense ministry said Ukraine sent two ballistic missiles into Crimea. "A ballistic missile launched by Ukraine's Hrim-2 OTRK was shot down over the Republic of Crimea by the air defense," a top Crimean official announced.
Sputnik further quoted him as follows: "Russia's air defense systems on Saturday shot down two ballistic missiles launched by Ukraine's Grom-2 operational-tactical missile system (OTRK) over Crimea, Oleg Kryuchkov, an adviser to Head of Crimea Sergey Aksyonov, said on Saturday."
This post was originally published at Zero Hedge
Former CIA Officer Says Decision to Drone Attack Kremlin Was Made by the United States
Deadly escalation an effort to provoke major Russian response.
Former CIA intelligence officer Larry Johnson says the decision to launch a drone attack on the Kremlin was made by the United States.
The Wednesday attack, which was likely to have been targeting Russian President Vladimir Putin, was stopped by electronic warfare systems which disabled the drones before they could reach their target.
According to Johnson, the attack must have been spearheaded by the Biden administration and the US military-industrial complex because "decisions on such attacks are made not in Kiev, but in Washington."
"Washington should understand clearly that we know this," Johnson told reporters.
Although the attack, which Ukraine denied it was involved in, failed to accomplish its tactical goal, it was still highly "symbolic," according to Johnson.
KREMLIN DRONE ATTACK

– Russia says two Ukrainian drones attacked Kremlin overnight

– Drones downed with no victims or material damage to the Kremlin

– Moscow says it was a terrorist attack and attempt on Putin's life

– Russia says it reserves right to respond when and how it… pic.twitter.com/loZA6c3Fvd

— The Spectator Index (@spectatorindex) May 3, 2023
"[It] didn't cause significant damage. The psychological impact, though, there are people that disagree on this, my view is that this is going to galvanize Russia, not create fear or discontent or division. There are others who believe that by doing this, it is going to portray Russia as weak and create internal problems. I simply note that the reactions of former [Russian] President [Dmitry] Medvedev, as well as members of the Duma – they are livid, they are outraged, and calling for escalatory retaliation against Ukraine. So I think in many respects this backfired," said the former State Department official.
He also added that the attack smacked of desperation and was an attempt to provoke Russia into a major escalation "to get the United States more deeply involved in this conflict."
"At the same time, I think, Washington correctly notes that they try to discourage this [escalation], because they recognize that it's spun out of control. And the United States is in no position militarily to confront Russia and survive that confrontation," Johnson said.
Democratic presidential candidate Robert F. Kennedy Jr. denounced the attempted drone attack as a dangerous escalation.
"Imagine how we would respond if Russian-backed forces launched a drone strike on the Capitol. We must stop these deranged attempts to escalate the war," said Kennedy.
"After successfully defusing the Cuban Missile Crisis, President John Kennedy warned against ever again forcing Russia to choose between national humiliation and nuclear war. We should heed his advice," he added.
Meanwhile, Ukraine continued its drone bombardment by targeting an oil refinery in Krasnodar Region in southern Russia on Friday morning.
A fire broke out, but it was quickly extinguished by authorities and no one was hurt.
SUBSCRIBE on YouTube:
Follow on Twitter: Follow @PrisonPlanet
———————————————————————————————————————
Brand new merch now available! Get it at https://www.pjwshop.com/
ALERT!
In the age of mass Silicon Valley censorship It is crucial that we stay in touch.
I need you to sign up for my free newsletter here.
Support my sponsor – Turbo Force – a supercharged boost of clean energy without the comedown.
Get early access, exclusive content and behind the scenes stuff by following me on Locals.
———————————————————————————————————————