George Soros Urged Use Of Eastern European Soldiers To "Reduce The Risk Of Body-Bags For NATO Countries" In 'New World Order' Article
As the war in Ukraine rages on, there is little doubt that the human cost has been enormous for Ukraine, including what is likely more than 100,000 soldiers who have died in combat operations.
However, there was one man who predicted much of what has come to pass in the battle in the east of Europe: George Soros.
The billionaire oligarch financier, often portrayed as a humanist, promoted a hard-nosed geopolitical strategy in his 1993 piece entitled "Toward a New World Order: The Future of NATO."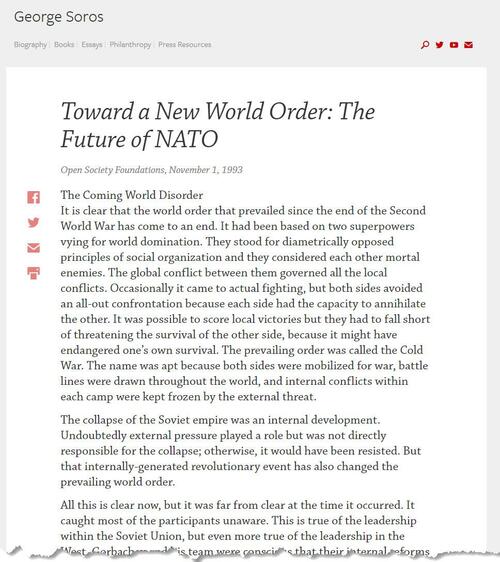 In the piece, he outlines how Eastern Europeans could be used as the "manpower" in coming conflicts in an effort to reduce the number of deaths in Western countries, which Soros argues the West would not politically tolerate, unlike the east of Europe.
"The United States would not be called upon to act as the policeman of the world. When it acts, it would act in conjunction with others. Incidentally, the combination of manpower from Eastern Europe with the technical capabilities of NATO would greatly enhance the military potential of the Partnership because it would reduce the risk of body bags for NATO countries, which is the main constraint on their willingness to act. This is a viable alternative to the looming world disorder," wrote Soros in the article.
Soros acknowledges that the NATO countries have no appetite for "body bags," but his statement implicitly indicates that Eastern Europeans can fill this role.
What Soros described appears to be unfolding exactly as he predicted regarding the war in Ukraine. Armed with high-end NATO weapons, Ukrainian soldiers are actively countering Russia, which Soros had already feared would become a nationalist nation opposed to the global order he was promoting in 1993. The powerful Western countries have the necessary weapons, and Ukraine has the manpower. Given that Soros already saw the potential of what this symbiotic match could produce on the battlefield decades in advance will likely bolster his reputation as a calculating — and perhaps ruthless — strategic thinker.
As Soros predicted, Ukrainian society appears to be tolerating the high death toll in its current conflict with Russia.During the Vietnam War, the U.S. lost 58,220 over the course of approximately 10 years, and yet, the war saw strong opposition from the American public. Despite a far higher death toll in a far shorter period of time, Ukrainian society has seen little in terms of protests.
The lack of protest in Ukraine may also be helped by the fact that Ukraine has suspended most of civil society, banned opposition parties and media, and even outlawed the Russian Orthodox Church. Another key factor in society's perspective on the conflict is that the war is taking place on Ukrainian soil, which is a highly motivating factor for Ukrainian soldiers.
All those Ukrainian bodies, of course, have come with a major price tag for Russia, with the country's cemeteries also filling up as quickly or even more so. Exact figures on casualties for either side remain unofficial and are likely inexact, but the war is costing both nations dearly in terms of life.
In the same article, Soros called for a "new world order." The term is often derided in establishment media as a conspiracy theory, but Soros openly uses it. In addition, in the piece, the new world order he calls for is remarkably globalist and centralized. In other words, exactly the type of new world order critics of his, such as Hungarian Prime Minister Viktor Orbán, have been warning about for over a decade.
"Therefore, the only basis for action is collective security. And that is where the problem lies. The collapse of the Soviet empire has created a collective security problem of the utmost gravity. Without a new world order, there will be disorder; that much is clear. But who will act as the world's policeman? That is the question that needs to be answered," Soros wrote.
Soros outlines a number of his theories in the piece, referring to open and closed societies as well as the "theory of revolutionary change," which he said he had also applied to financial markets. The billionaire describes how the dissolution of the Soviet Union presented new global security challenges but also opportunities.
The original mission was to defend the free world against the Soviet empire. That mission is obsolete; but the collapse of the Soviet empire has left a security vacuum which has the potential of turning into a "black hole." This presents a different kind of threat than the Soviet empire did. There is no direct threat from the region to the NATO countries; the danger is within the region, and it concerns conditions within states as much as relationships between states. Therefore, if NATO has any mission at all, it is to project its power and influence into the region, and the mission is best defined in terms of open and closed societies.
Closed societies based on nationalist principles constitute a threat to security because they need an enemy, either outside or within. But the threat is very different in character from the one NATO was constructed to confront, and a very different approach is required to combat this threat. It involves the building of democratic states and open societies and embedding them in a structure which precludes certain kinds of behavior.
Soros also writes in his piece that NATO was racing to grant membership to countries in Central and Eastern Europe before "Russia recovers." Soros appears to see NATO as actively transgressing against Russia during a time the country was still in chaos following the fall of communism.
"The countries of Central Europe are clamoring for full membership of NATO as soon as possible, preferably before Russia recovers. Russia objects, not because it harbors any designs on its former empire but because it sees no advantage in consenting. Its national pride has been hurt and it is sick and tired of making concessions without corresponding benefits," writes Soros.
The billionaire activist also makes a number of other proposals in the piece, including offering NATO membership to Japan, his goal being the creation of a "new world order."
"Japan should be asked to join NATO. Then we would have the beginnings of an architecture for a new world order. It is based on the United States as the remaining superpower and on open society as the organizing principle. It consists of a series of alliances, the most important of which is NATO and, through NATO, the Partnership for Peace which girds the Northern Hemisphere," he writes.
This post was originally published at Remix News
WHO Pushes "Early Childhood Masturbation" For Toddlers, Encourages Questions About Gender Identity For Kids Aged 4
"sexuality education starts from birth"
Backlash has ensued following the renewed focus on the World Health Organisation's "sexuality education" guidance for schools to provide to children as young as four years old.
As reported by the Daily Mail, the guidance states that children under four should be encouraged to "ask questions about sexuality" and "explore gender identities."
The 68-page report titled Standards For Sexuality Education in Europe, also calls for supplying information to toddlers about "enjoyment and pleasure when touching one's own body, early childhood masturbation."
The policy paper also states that kids between four and six years should "talk about sexual matters" and "consolidate their gender identity."
The document also asserts that sexuality is present from birth, claiming "From birth, babies learn the value and pleasure of bodily contact, warmth and intimacy. Soon after that, they learn what is 'clean' and what is 'dirty'," adding "In other words, they are engaging in sexuality education."
The WHO told reporters that "Our guidelines reflect established psychological facts based on decades of research."
Covering the issue, GB News reporter Mark Dolan called the development "sick" and urged that the WHO can "go to hell."
Conservative shadow minister for education in Wales, Laura Anne Jones, has called for the global health body to "rescind the advice immediately," further labelling it "disturbing."
Jones urged "We must stop this pushing of harmful gender ideology into sex education in Wales and the UK, with immediate effect."
Advocacy Group Safe Schools Alliance also demanded an "urgent enquiry" be conducted into potential links between the guidance and education policies in the UK.
"We find it extremely concerning that the UN and WHO are promoting an approach that is experimental, unscientific, and appears to be aligned to the work of unethical individuals and organisations, including those promoting the acceptance of paedophilia," the organisation recently asserted.
"We call upon them to revise their standards to align with a safeguarding-first approach that protects children while allowing them to develop a healthy and age-appropriate understanding of sex," a statement further noted.
The development comes on the heels of two UN bodies publishing a report that outlines an agenda to decriminalise all 'consensual' sexual activity, even between adults and minors.
SUBSCRIBE on YouTube:
Follow on Twitter:
Follow @PrisonPlanet
———————————————————————————————————————
Brand new merch now available! Get it at https://www.pjwshop.com/


ALERT! In the age of mass Silicon Valley censorship It is crucial that we stay in touch.

We need you to sign up for our free newsletter here.

Support our sponsor – Turbo Force – a supercharged boost of clean energy without the comedown.

Also, we urgently need your financial support here. ———————————————————————————————————————
Video: Days Before Being Fired, Tucker Carlson Exposed WEF Efforts To Force People To Eat Bugs
"You must eat ze bugs!"
Just days before he was fired from Fox News, Tucker Carlson put out an exposé on the efforts of Klaus Schwab's World Economic Forum to change the diets of people worldwide by pushing bug eating.
Carlson has been fired apparently for being the most successful and popular anchor on any network. So, in order to understand why, it makes sense to look at exactly who Tucker wasn't popular with.
Here is one of his last Fox programs to air:
Carlson was heavily promoting the special in the past few days:
According to reports, Rupert Murdoch personally took the decision to fire Carlson.
Rupert Murdoch is a regular Davos attendee, appearing practically every year.
Interesting.
As we highlighted earlier, in one of his last broadcasts, Carlson spoke out against news networks, including Fox who "took hundreds of millions of dollars from Big Pharma companies and then they shilled for their sketchy products on the air."
SUBSCRIBE on YouTube:
Follow on Twitter:
Follow @PrisonPlanet
———————————————————————————————————————
Brand new merch now available! Get it at https://www.pjwshop.com/


ALERT! In the age of mass Silicon Valley censorship It is crucial that we stay in touch.

We need you to sign up for our free newsletter here.

Support our sponsor – Turbo Force – a supercharged boost of clean energy without the comedown.

Also, we urgently need your financial support here. ———————————————————————————————————————
UN, Globalists Seek To Decriminalise Sex With Minors
Report claims "Sexual conduct involving persons below the domestically prescribed minimum age of consent to sex may be consensual in fact, if not in law."
In tandem with another globalist organisation, two UN bodies have published a report that outlines an agenda to decriminalise all 'consensual' sexual activity, even between adults and minors.
While it is couched in 'human rights' and 'trans rights', the report outlines a strategy that would effectively make Pedophilia legal.
Fox News reports that "international legal experts" working for the Geneva-based International Commission of Jurists (ICJ), along with UNAIDS and the Office of the United Nations High Commissioner for Human Rights (OHCHR), made the suggestions in a recent report titled "The 8 March Principles for a Human Rights-Based Approach to Criminal Law Proscribing Conduct Associated with Sex, Reproduction, Drug Use, HIV, Homelessness and Poverty."
The report calls for offenses pertaining to "sex, drug use, HIV, sexual and reproductive health, homelessness and poverty" to be decriminalized.
The document does not offer a suggested age of sexual consent, but states that "Sexual conduct involving persons below the domestically prescribed minimum age of consent to sex may be consensual in fact, if not in law."
The report further suggests that lawyers, judges, and law enforcement should take into account "the rights and capacity of persons under 18 years of age to make decisions about engaging in consensual sexual conduct and their right to be heard in matters concerning them."
"Pursuant to their evolving capacities and progressive autonomy, persons under 18 years of age should participate in decisions affecting them, with due regard to their age, maturity and best interests, and with specific attention to non-discrimination guarantees," it further states.
The report was published on International Women's Day:
In an accompanying press release, Ian Seiderman, Law and Policy Director at ICJ noted that "Criminal law is among the harshest of tools at the disposal of the State to exert control over individuals … as such, it ought to be a measure of last resort however, globally, there has been a growing trend towards overcriminalization," adding "We must acknowledge that these laws not only violate human rights, but the fundamental principles of criminal law themselves."
Having sex with minors is "overcriminalized" is it?
They lumped it in there with everything else, including abortion, which the report argues "must be taken entirely out of the purview of the criminal law," along with making punishments less harsh for pregnant women who consume drugs or alcohol when they know they are expecting a child.
A spokesperson for the bodies who produced the report told Fox News that "The process of elaboration… included expert jurists, academics, legal practitioners, human rights defenders and various civil society organizations working in diverse legal traditions," and that the report was "developed over a five-year consultative process."
So 'Trust the experts,' right?
Believe it or not, there is a growing academic driven movement to 'destigmatize' pedophilia:
SUBSCRIBE on YouTube:
Follow on Twitter:
Follow @PrisonPlanet
———————————————————————————————————————
Brand new merch now available! Get it at https://www.pjwshop.com/


ALERT! In the age of mass Silicon Valley censorship It is crucial that we stay in touch.

We need you to sign up for our free newsletter here.

Support our sponsor – Turbo Force – a supercharged boost of clean energy without the comedown.

Also, we urgently need your financial support here. ———————————————————————————————————————