Hunter Biden Lived In Classified Doc House While Raking In Millions Through Chinese Intelligence Ties
National security concerns over Joe Biden's classified document scandal just got worse, as two reports have emerged which place Hunter Biden at the Bidens' Wilmington, Delaware residence while he was raking in millions of dollars from CCP-linked business dealings.
First, Seamus Bruner (researcher for legendary bombshell-dropper Peter Schweizer), reports via Breitbart News, that "While addicted to drugs, cavorting with prostitutes, and making deals with businessmen tied to the highest levels of Chinese intelligence, Hunter Biden lived in the house where Joe Biden stored classified documents."
While filling out a background check, Hunter made a crackhead error and listed his 'rent' as $49,910 – when in fact that's the amount of the security deposit and 6 months of rent for prime office space at the prestigious House of Sweden in Washington DC. What's most interesting, however, is that the dates Hunter listed as living at the Wilmington, DE residence – as claimed on other documents and financial statements – overlap with the period in which multiple Biden family members were taking money from foreign businessmen with connections at the highest levels of Chinese state intelligence services through energy company CEFC. As Bruner further notes, CNN described CEFC as a state-directed entity in 2018.
CEFC, and at least four of its executives and associates – Ye Jianming, Patrick Ho, Gongwen Dong and Jiaqi Bao, have been linked to the CCP and its military intelligence apparatus. In one case, Hunter described Patrick Ho as "the fucking spy chief of China."
More via Breitbart,
By early 2017, Hunter was directly corresponding with CEFC personnel and flew to Miami in February of that year to meet with CEFC Chairman Ye Jianming. During this trip, Ye Jianming gave Hunter a 3.16 carat diamond valued at approximately $80,000..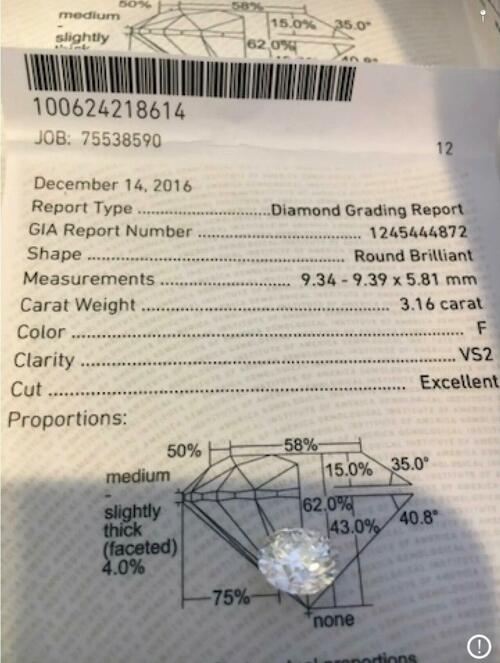 When Hunter's ex-wife discovered that he had obtained something of such immense value, she had her divorce attorney send an "Urgent" email seeking to determine the whereabouts of the diamond and secure the asset before Hunter could "dissipate" it. Hunter's attorney offered a shady denial:
"There is no diamond in Hunter's possession. I don't know where Kathleen is getting access to this information, but on this score, what your email purports below is inaccurate."
Metadata gleaned from photos of the diamond on the abandoned laptop indicate that Hunter lied about not having the diamond and he in fact had the diamond with him in Wilmington. The current location of the 3.16 carat diamond remains unknown
After the fateful February 2017 meeting with Ye, and around the time Hunter claimed to have moved into the Wilmington house where classified documents were found, the Bidens' business with CEFC exploded.
Nine days after Miami meeting, Hunter received two separate wire transfers of $3 million which the Department of Treasury's Financial Crimes Enforcement Network flagged as suspicious.
We encourage you to read the rest of the Breitbart report here, as it goes into extensive detail.
Second, the Washington Free Beacon reports that photos from Hunter Biden's abandoned laptop place him at the Wilmington House in July, 2017. Of note, the classified documents were reportedly brought to the house in January of that year.
The photos 'are the most concrete evidence to date' that Hunter – who was actively negotiating a deal with a CCP-linked Chinese energy company – had access to areas of his father's home where classified documents were stored.
A Washington Free Beacon review of the laptop found four 2017 photographs of Hunter Biden, clad in a white collared shirt and a camouflage baseball cap, behind the wheel of his father's 1967 Corvette Stingray. GPS metadata embedded in the photos indicate they were taken within a minute of each other at 6:49 p.m. on July 30 of that year, just outside the president's Wilmington, Del., residence. The photos show Hunter Biden posing in the vehicle beside two young girls. One appears to be his then-12-year-old niece, Natalie Biden. The other could not be identified.
Former Secret Service agent and certified cyber forensics expert, Konstantinos Gus Dimitrelos, analyzed the photos and confirmed their authenticity.
"If requested, I will testify the photographs are genuine and were taken on July 30, 2017," he told the Free Beacon.
And as the Beacon further reports – corroborating Breitbart's reporting, "At the time the photos were taken, Hunter Biden was negotiating a lucrative business deal with the now-defunct Chinese energy conglomerate CEFC, which was closely tied to the Chinese government. Biden's former business partner Tony Bobulinski claimed to have met with Joe Biden in person in early May 2017—less than three months before Hunter Biden was pictured taking the wheel of his father's prized vehicle—to discuss the Biden family's Chinese business dealings."
In total, CEFC paid Hunter Biden $6 million in legal and consulting fees in 2017 and 2018.
And of course, the same media which suggested the Trumps were Russian operatives based on a hoax – are virtually silent at actual risks to national security posed by the Biden family.
This post was originally published at Zero Hedge
Harvard Poll: Six In Ten Have Doubts Over Biden's Mental Fitness
A quarter of Democrats say he's too old to be President
A new Harvard/ Harris survey has revealed that six in ten Americans have reservations over Joe Biden's mentally capacity to run again in 2024, with 65 percent agreeing that at 80-years-old, Biden is "too old" to continue as President.
Over a third of that 65 percent are Democrats, with almost a quarter of Democrats also saying they have doubts about Biden's mental fitness.
The poll found that a whopping 90 percent of Republicans and 73 percent of Independents agree Biden is now showing he is too old and it should preclude him from running again in 2024.
Eighty seven percent of GOP voters say Biden doesn't have the mental fitness to run again, while 67 percent of independents agree.
The poll also found that 61 percent of Americans believe the country is heading in the wrong direction, with a majority, 56 percent, expressing an unfavorable view of Biden. 
The survey also notes that just 37 percent approve of how Biden has handled the border crisis, while 62 percent highly disapprove of his handling of the economy.
According to the survey, if an election were held today between Trump and Biden, the former would win by 5 points.
Biden's mental decline was on display again Thursday, when during an event in Springfield, Virginia, he joked about people thinking he was "stupid" before making yet another embarrassing verbal gaffe, referring to Rep. Don Beyer as "Doug".
He stammered his way through the appearance:
Biden also managed to get lost on stage again:
SUBSCRIBE on YouTube:
Follow on Twitter:
Follow @PrisonPlanet
———————————————————————————————————————
Brand new merch now available! Get it at https://www.pjwshop.com/


ALERT! In the age of mass Silicon Valley censorship It is crucial that we stay in touch.

We need you to sign up for our free newsletter here.

Support our sponsor – Turbo Force – a supercharged boost of clean energy without the comedown.

Also, we urgently need your financial support here. ———————————————————————————————————————
Video: Rand Paul Warns Overclassification Being Used To Cover Up COVID Lab Leak
"The intelligence community does this so they have more power and we have less power"
Senator Rand Paul warned Wednesday that over classification of information is being used to avoid oversight and institute cover ups, such as regarding the origins of COVID.
Appearing on Newsmax TV's "Eric Bolling The Balance," Paul explained "I think there's an overclassification problem here. Everything's classified. And in all likelihood, what we'll find is this is not some sort of organized scheme to have the secrets to the nuclear weapon in [Biden's] Corvette. I think it's more likely than not that we've classified so many documents that it's hard to find documents that are not classified."
He continued, "The one problem with classifying so much is that there is, right now, to my knowledge, pretty good information out there in the intelligence community about the virus originating from the lab in China, and yet they classify it to try to prohibit people [like] me giving you the information that we already know that this came from a lab. And so this is a real problem."
"We need to allow less classification so the American people can understand more about what's going on with their government," Paul urged.
He added, "I go to classified hearings, and I haven't actually been to a classified hearing where I actually thought I heard a secret, to tell you the truth."
Paul further noted that when President Trump was found to have some documents, "the left-wing media acted as if oh, these are the Manhattan Project. This is the secrets to the nuclear weapon… Really, most of the stuff we see is not really that secret. But it's all stamped that way."
"The intelligence community does this so they have more power and we have less power," the Senator continued, adding "I have long argued that Congress needs to know more and the American people need to know more about what the CIA does, what the FBI does. Because we can't oversee them, we can't have oversight and reform if we don't know what they're doing."
"They avoid oversight by classifying things, and often there's a policy decision like, for example, with COVID, we need to know if COVID came from a lab so we can prevent this from happening again. Some of this is being stymied by the intelligence agencies classifying things that need to be declassified," Paul further asserted.
Paul has previously labeled the subterfuge over the coronavirus lab leak as "the biggest coverup in the history of science," and has vowed to continue to expose the origins of the pandemic and uncover a paper trail that he is positive will lead back to the Wuhan lab research funded by Anthony Fauci and the National Institutes of Health.
SUBSCRIBE on YouTube:
Follow on Twitter:
Follow @PrisonPlanet
———————————————————————————————————————
Brand new merch now available! Get it at https://www.pjwshop.com/


ALERT! In the age of mass Silicon Valley censorship It is crucial that we stay in touch.

We need you to sign up for our free newsletter here.

Support our sponsor – Turbo Force – a supercharged boost of clean energy without the comedown.

Also, we urgently need your financial support here. ———————————————————————————————————————
Non-Violent J6 Protester Who Put Feet Up On Pelosi's Desk Found Guilty On All Charges, Faces Life in Prison
Richard "Bigo" Barnett, 62, is facing a potential life sentence for peacefully entering the Capitol on January 6th and putting his feet up on Nancy Pelosi's desk.
Barnett was wildly overcharged by vindictive prosecutors and denied a change of venue out of Washington, DC.
Prosecutors seized on the fact his cane doubled as a stun gun and could have been used as a weapon even thought it wasn't.
From The Washington Post, "Man photographed in Pelosi's office on Jan. 6 convicted of 8 counts":
An Arkansas man who entered the U.S. Capitol with rioters on Jan. 6, 2021, and was photographed lounging at a desk in then-House Speaker Nancy Pelosi's office suite was convicted Monday of eight federal crimes related to the incursion.

Richard "Bigo" Barnett, now 62, who left a crude written message for Pelosi before departing the office suite with a purloined envelope bearing the California Democrat's digital signature, sat impassively as a jury in U.S. District Court in Washington delivered its decisions.

After nine days of testimony and legal arguments in the trial, the panel began deliberating Monday morning and reached guilty verdicts on all eight counts against Barnett, including four felonies, in less than two hours.

The most serious charge he faced, obstructing an official government proceeding, carries a maximum penalty of 20 years in prison. But advisory sentencing guidelines used by the court are likely to recommend a much shorter term in his case.

[…] Barnett, an ardent supporter of former president Donald Trump, was carrying a walking stick equipped with a high-voltage stun device when he entered the Capitol. […]

Besides obstructing an official proceeding, Barnett was convicted of two felonies related to carrying a dangerous weapon in the Capitol and a felony charge of civil disorder. The four misdemeanors he was convicted of included theft of government property, meaning the envelope.
DC is currently working to lower penalties for carjackers, robbers and armed felons in the name of fighting "systemic racism" but Bigo and other J6 protesters are getting the book thrown at them.
Carjacking thugs need "restorative justice" but J6 protesters must face retribution.
RELATED: As Capitol Stormers Rot In DC Jails Stripped Of All Rights, Accused 2017 Inauguration Antifa Rioters Get $1.6M Payout From DC Govt
This post was originally published at Information Liberation