Japan's Experts Baffled by High 'Covid' Deaths From Heart Problems Despite High Vaccination Rate
What could possibly explain this?
After three booster campaigns in 2022, the Japanese are now in a league of their own among mRNA consuming countries, administering far more boosters than countries that had far more coercive vaccination campaigns.
Japanese over-65s have done their best to reduce Japan's 612-million-dose stockpile of mRNA jabs, with third, fourth and fifth jab rates of 91%, 82.5%, and 56%, respectively. But unfortunately, Japan has started 2023 by reporting its highest ever daily Covid death tolls. During the booster era starting in early 2022, each wave has been noticeably higher than the last.
What could possibly explain this? Let's ask Takaji Wakita, Chairman of Japan's Covid Response Advisory Board: "The cause of the rise in Covid deaths is hard to explain."
What about Dr. Satoshi Kamayachi, Director of the Japan Medical Association? "There's a lot we don't know, and we don't have evidence."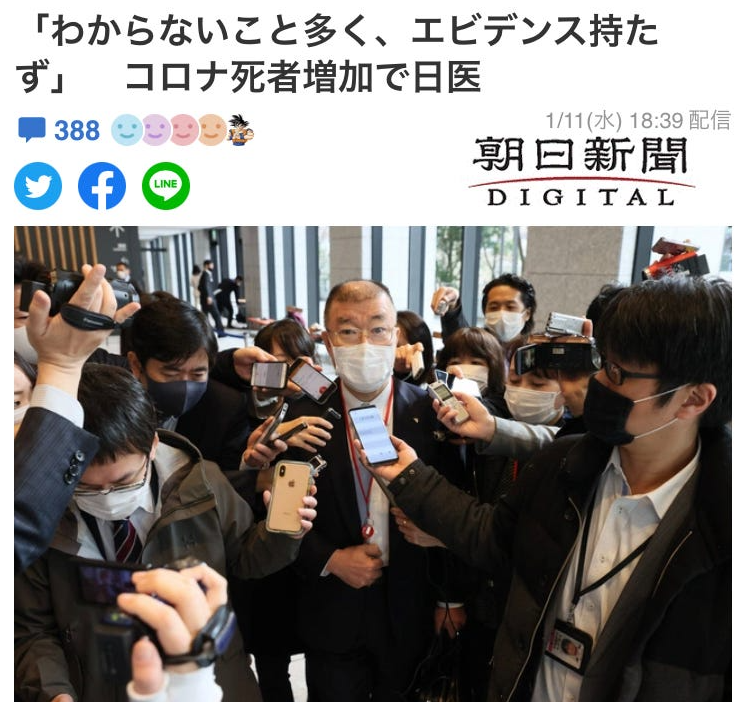 Nice to see an expert admit the limit of his knowledge. But there must be something Dr. Kamayachi can tell us, right?
Dr. Kamayachi, citing the rapid spread of Covid infections as one reason, explained that the majority of those who died were over 60 and many had underlying medical conditions. The direct cause of death is often heart failure or kidney disease, and he said that "thorough analysis is needed".
Heart failure, you say? Well, it's not like most Japanese over 60 have been injected multiple times with anything that causes cardiovascular problems, is it? And kidney disease is coincidentally a side-effect of Remdesivir, an approved Covid treatment in Japan.
Of course, Japan has been counting anyone who dies with a positive test result as a Covid death regardless of actual cause of death since 2020, but Dr. Kamayachi and the rest of Japan's experts haven't bothered bringing up the issue of attribution until now. In fact, they were more than happy to cite inflated mortality data to help promote the jabs. But now that people may question why daily reported Covid deaths are higher than ever after the majority of over-65s have taken the experts' advice to get multiple boosters, underlying medical conditions can apparently be discussed.
But although he's three years late, Dr. Kamayachi has a point. Although reported Covid deaths have been much higher in the booster era, far fewer Covid cases have been receiving mechanical ventilation (the grey line shows the number of ventilators (with ECMO) secured for Covid patients).
But even if hardly any of them have been struggling for breath on mechanical ventilation, Japan's elderly have been dying in higher than expected numbers in the booster era. The national figures for December won't be out until late February, but Yokohama (Japan's second largest city) has already releases its all-cause death numbers for 2022. Somehow I doubt Dr. Kamayachi will call for a "thorough analysis" to find out the cause of the increase since August.
Although there's no good news here for Japan's vaxxed-to-the-max elderly, there is for Japan's medical establishment: high numbers of Covid deaths mean the publicly funded Covid gravy train will keep going. From the Nikkei.
On January 11th, experts offered their on views reclassifying COVID-19 under the Infectious Diseases Act. In light of the current situation where the number of reported Covid deaths per day is the highest ever, the experts called for the Government to continue to provide a certain amount of financial support to cover treatment and hospitalisation costs and for securing hospital beds.
Basically, the Government's selected experts, including Dr. Wakita above, recommend that Covid should be downgraded 'gradually', i.e., medical costs should continue to be covered by public funds rather than health insurance or out-of-pocket payments like every other medical condition. This might seem reasonable. But under the current scheme of Covid support payments, hospitals can be paid ¥436,000 ($3,370) per day to 'secure' a single ICU bed regardless of whether anyone is in it. And overpriced Covid treatments include glorified cold medications like Shinogi's Xocova.
So let's recap what the experts have told us. The cause of increased Covid deaths? "Dunno." Should the Government keep showering medical institutions and pharma companies with money? "Absolutely!"
Well, what were you expecting them to say?
Guy Gin writes regularly on his Substack page, Making (Covid) Waves in Japan, where this article first appeared. Subscribe here.
Rand Paul, GOP Senators Push Bill To Reinstate Service Members Fired For Refusing COVID Vaccines
"We still have service members who have not been rehired, promoted, or received back pay and benefits."
GOP Senator Rand Paul has joined others in promoting an updated bill to reinstate military service members who were previously fired for refusing to comply with the Biden Administration's COVID vaccine mandate.
The legislation, named the Allowing Military Exemptions, Recognizing Individual Concerns About New Shots (AMERICANS) Act of 2023, includes a requirement that the Secretary of Defense offer reinstatement to active members who were removed from duty for not taking the shots.
Senator Paul noted "The COVID-19 vaccine mandate has ruined the livelihoods of men and women who have honorably served our country. This inept bureaucratic policy should have never been imposed, and while it has since been rolled back, we still have service members who have not been rehired, promoted, or received back pay and benefits."
He continued, "The AMERICANS Act will address these issues and others that the Biden administration has failed to consider at the expense of service members' lives and our nation's national security interests."
Senator Ted Cruz, who is also co-sponsoring the bill added "Our military continues to feel the effects of the Biden administration's reckless, misguided, and now-prohibited vaccine mandates."
"I'm glad that we were able to remove the COVID-19 vaccine mandate last Congress, but there is more work to do," Cruz urged, adding "The AMERICANS Act would correct the wrongs done to unvaccinated service members who were discharged for exercising their conscience."
As they noted in their statements, the Senators were previously successful in getting the mandate scrapped by threatening to block the passage of the National Defense Authorization Act.
Representative Dan Bishop, who has introduced a companion bill in the House, also noted that "While last year's NDAA directed that SECDEF rescind the DOD's authoritarian COVID vaccine mandate, it didn't prohibit the DOD from issuing a similar mandate in the future."
He continued, "The bill also didn't provide any meaningful remedies for service members who were kicked out due to the mandate. This is completely unacceptable. Sen. Cruz and my bill, the AMERICANS Act, will close these glaring loopholes and bring justice to military members who were purged by Secretary Austin's egregious vaccine mandate."
Specifically, the legislation will require the Department of Defense to:
Reinstate any service member separated solely for COVID-19 vaccine status who wants to return to service, crediting the service member with the time of involuntary separation for retirement pay calculations;
Restore the rank of any service member demoted solely for COVID-19 vaccine status, compensating the service member for any pay and benefits lost due to that demotion;
Adjust to "honorable" any "general" discharge given to a service member solely due to COVID-19 vaccine status;
Expunge from a service members' record any adverse action based solely on COVID-19 vaccine status, regardless of whether the service member previously sought an accommodation;
Make every effort to retain service members not vaccinated against COVID-19, providing them with professional development, promotion, and leadership opportunities equal to that of their peers; and
Provide a COVID-19 vaccine exemption process for service members with natural immunity, a relevant underlying health condition, or a sincerely held religious belief inconsistent with being vaccinated.
The Military Times estimates that more than 3,400 troops were "involuntarily separated from the service" due to non-compliance with the vaccine mandate.
Despite Republican attempts to stop mandatory vaccines for active duty personnel, and to uphold exemption rights, the Biden administration has continually pushed for dishonourable discharges and even court martialing for troops who disobey orders to get the shots.
SUBSCRIBE on YouTube:
Follow on Twitter:
Follow @PrisonPlanet
———————————————————————————————————————
Brand new merch now available! Get it at https://www.pjwshop.com/


ALERT! In the age of mass Silicon Valley censorship It is crucial that we stay in touch.

We need you to sign up for our free newsletter here.

Support our sponsor – Turbo Force – a supercharged boost of clean energy without the comedown.

Also, we urgently need your financial support here. ———————————————————————————————————————
Australians Were Once Prosecuted For Claiming Face Masks Worked Against Viruses
Businesses faced £100k fines for making claim during SARS outbreak.
Australians who tried to sell surgical face masks on the back of claims they worked against viruses were once threatened with prosecution and massive fines by the government.
Yes, really.
An article titled 'Farce mask: it's safe for only 20 minutes' published by the Sydney Morning Herald in 2003 explained how, "Retailers who cash in on community fears about SARS by exaggerating the health benefits of surgical masks could face fines of up to $110,000."
The article quotes a public health experts who said that face masks are largely useless at stopping the spread of viruses and could even worsen the situation.
"Those masks are only effective so long as they are dry," said Professor Yvonne Cossart of the Department of Infectious Diseases at the University of Sydney.
"As soon as they become saturated with the moisture in your breath they stop doing their job and pass on the droplets."
Twenty years ago Australians were prosecuted for saying masks work against viruses. Now they get arrested for not wearing masks during viral outbreaks.

As Mencken said, our governments are dishonest, insane and intolerable. @smh https://t.co/wIGcvbW2OH https://t.co/XWVIEoNlpy pic.twitter.com/coaGDxa1SZ

— Tony Heller (@TonyClimate) January 23, 2023
Professor Cossart said that the masks would need to be changed every 15-20 minutes to be in any way effective.
Her sentiments were echoed by John Bell from the Pharmaceutical Society of Australia, who said that masks only offered "marginal benefit" and were largely psychological in their level of protection.
The story is noteworthy because during the COVID pandemic, the Australian government imposed one of the strictest lockdowns in the world and used face mask mandates as a brutal tool of population control.
As we previously highlighted, authorities in Melbourne used high-tech surveillance drones to catch people outside not wearing masks.
At the height of the hysteria, there were numerous instances of police in Australia physically attacking people for not adhering to mask wearing rules, including one incident when a woman was placed in a chokehold by a male police officer.
Another video showed an elderly woman being arrested for not wearing a mask while sitting on a park bench.
Yet another clip showed police pepper spraying pre-teen children for not wearing face masks.
Another clip showed an elderly man suffering a suspected heart attack after he was arrested by police for not wearing a mask outside while exercising.
During the early months of the COVID pandemic, health authorities advised against wearing masks, only to subsequently do a 180 once face coverings became a convenient psychological tool of population control.
SUBSCRIBE on YouTube:
Follow on Twitter: Follow @PrisonPlanet
———————————————————————————————————————
Brand new merch now available! Get it at https://www.pjwshop.com/
ALERT!
In the age of mass Silicon Valley censorship It is crucial that we stay in touch.
I need you to sign up for my free newsletter here.
Support my sponsor – Turbo Force – a supercharged boost of clean energy without the comedown.
Get early access, exclusive content and behind the scenes stuff by following me on Locals.
———————————————————————————————————————
Will Aseem Malhotra's Appearance Be the BBC's Most Viewed Programme of 2023?
Dr. Aseem Malhotra may just have provided 2023's biggest TV moment.
What attracted the biggest TV audiences of 2022? Top of the list was the Queen's funeral, with 25 million viewers.
Then came England's World Cup quarter final exit with 21.3 million. Some 17.4 million watched the Women's European Cup victory. We then drop down into the top TV shows. The final of I'm Celebrity Get Me Out Of Here had 11.9 million glued to their TV sets. 10.5 million watched the final of Strictly and 9.1 million tuned in to Eurovision.
It's unlikely that there'll be a big royal funeral or wedding in 2023. There's a Rugby World Cup but not a football one. There are no Olympic Games. So, where can the TV Networks find their big hits for the coming year?
Well, courtesy of Elon Musk's takeover of Twitter, Dr. Aseem Malhotra may just have provided 2023's biggest TV moment. As I write this, the seven minute clip of him being interviewed on a BBC news show on January 14th passed 14.8 million views. Now, wouldn't you think that merited some form of acknowledgement from the BBC? If you were the BBC's Head of Programmes wouldn't you think: "Wow, we've had 14.8 million views, there's a programme in this?"
BREAKING BBC News:

Cardiologist says likely contributory factor to excess cardiovascular deaths is covid mRNA vaccine and roll out should be suspended pending an inquiry.

We did it. We broke mainstream broadcast media 🔥🔥🔥 pic.twitter.com/F72YS7JAuE

— Dr Aseem Malhotra (@DrAseemMalhotra) January 13, 2023
It seems incredible that the BBC and, by association, the Government, think they can just bury the story. As if, so long as it isn't mentioned, the other 50-odd million people in the country won't also think, "Hmm, there's something not quite right about these vaccines". Surely radio silence only adds to the unease. Since the creation of the 'Trusted News Initiative', I've lost all trust in the BBC. Its obsessive focus on Net Zero and intersectionality sounds suspiciously like a USSR era Pravda piece about tractor production in Murmansk.
I suspect the reason the Malhotra clip has cut through so far and fast is because it perfectly resonates with people's 'lived experience'; everyone knows someone whom they suspect has been harmed by the vaccines.
My own sister-in-law dropped dead of SADS (Sudden Adult Death Syndrome) back in August 2022. A fit, size 10, keen cyclist, found dead in her garden one morning. She had been just about to set off on a bike ride. The autopsy could find no specific cause, noted some small clotting in the heart, but nothing that the pathologist seemed to think should have killed her.
She'd had three doses of the vaccine. I've no idea whether the vaccines were the cause or contributory to her death, but I did feel that if a more open debate about the safety (or otherwise) of the vaccines had been allowed, at least the pathologist might have been open to considering it, even if only to dismiss it for specific reasons.
But, of course, whether the vaccines were responsible or not, there was absolutely no reason for her to have been vaccinated in the first place. Like everyone else who is not vulnerable, she was never at any risk from Covid. She'd had Covid in 2020: a day in bed, slight headache, backache. It held no fears for her, but she wanted to go on holiday.
It wasn't only her family that were taken aback by my sister-in-law's death. In the small Cumbrian town in which she lived, a bloke keeled over in the street with a heart attack. In a nearby village someone else died suddenly, all within a week or so. To everyone it seemed odd – it was the talk of the town. And though the talk was always in hushed voices, word of mouth is a powerful medium.
A friend told her neighbour, a hospital nurse, about my sister-in-law's death. "Oh," she replied, "we call it a Covax death," as if they happen all the time. Another friend, on hearing the tale told me of her nephew, 27 years-old, had a stroke a couple of weeks after his second vaccine. Everyone has a story.
The start of the 2021 football season kicked off a similar round of whispers. Trevor Sinclair, the football pundit, got in trouble for even daring to raise the issue on air. Virtually every game seemed to have either a medical emergency on the pitch or one in the crowd, sometimes more than one. I was at a Mansfield Town game many years ago when they were having an FA cup run. In a game against West Ham, someone in the crowd had a heart attack. It was quite a thing, but in all the hundreds of games I've ever watched, that's the only time I remember a game stopping for such an incident. Then suddenly last year it was happening every week. Related to the vaccines? I don't know, but I think someone should be looking into it, not gaslighting the millions watching into believing this was normal.
Of course, people are going to speculate. The BBC do themselves no favours by pretending it isn't a real concern.
But, what's becoming interesting now are the conspiracy theories. Cock-up or strategy? Could a BBC news producer or editor really be so detached from the biggest story of the past two years to not know that Dr. Aseem Malhotra is a vaccine sceptic? The shock on the face of the interviewer is perhaps more understandable if all she does is read autocues, but for someone who is responsible for a BBC news programme not to be aware is frankly incredible, in the true sense of the word. If it's 'incredible', so the conspiracists argue, then it must have been planned. Does this signify a change in the mood music? The producer should be grateful that the BBC's Trusted News Initiative' has yet to fully embrace Pravda's modus operandi, or else they'd have been taken outside and shot. A fate that might yet, metaphorically, befall both the BBC producer and Dr. Malhotra, courtesy of the GMC.
The Chinese Communist Party didn't abandon 'Zero Covid' because of a few protests, but because it wasn't working. Infections were taking off regardless of strict lockdown measures. It's the same with vaccine scepticism. Doubts about vaccination will only continue to grow while deaths exceed normal levels. Dr. Malhotra's piece may yet push us past the tipping point where these concerns have to be addressed.
My personal view is that vaccines played an important part in breaking us out of the unsustainable lockdown loop. I don't think vaccines made much difference to lives lost – the emergence of Omicron and prior natural immunity did that – but vaccination gave the elderly the confidence to emerge from behind their locked doors. We'd have been as well off giving everyone a saline shot rather than blowing billions on vaccines. No, the real crime lay in extending vaccines to those who didn't need them. If we'd stuck with Plan A, articulated by both Kate Bingham and Matt Hancock back in late 2020, and only offered vaccines to the elderly and vulnerable, confidence in all vaccines wouldn't now be at all-time low.
It's worth remembering that boosters haven't been offered to the non-vulnerable under-50s for about 18 months, and since not even the manufacturers claim any ongoing efficacy for vaccines after about six months, then the only possible reason for not offering additional vaccine boosters to the under-50s is because it's thought they'll do more harm than good.
So, does the Dr. Malhotra appearance herald a change in tack by the BBC? Are the vaccines about to be thrown under a bus? I doubt it, but I bet there are a few TV production companies lining up a debate somewhere and just looking for a TV broadcaster to commission it. You never know, maybe Twitter could air it live, there's a record TV audience just waiting to watch it. I'm sure such a debate could 'educate, entertain and inform'. Something the BBC was once quite good at.