FDA Vaccine Committee Member Calls For End to Mass Covid Vaccination
"We should stop trying to prevent all symptomatic infections in healthy, young people."
Dr. Paul Offit, a member of the U.S. FDA's vaccine advisory committee, has written in the New England Journal of Medicine, the world's top medical journal, calling for an end to the mass vaccination of anyone at low risk from the virus.
In an op-ed titled "Bivalent COVID-19 Vaccines – A Cautionary Tale", Dr. Offit writes that Covid boosters are "probably best reserved for the people most likely to need protection against severe disease".
"I believe we should stop trying to prevent all symptomatic infections in healthy, young people by boosting them with vaccines containing mRNA from strains that might disappear a few months later," he writes.
Dr. Offit, who is Professor of Vaccinology and Professor of Paediatrics at the University of Pennsylvania, goes through in detail the process that led to bivalent vaccines being recommended in the U.S. for everyone over five years of age with no relevant data from humans. He is clearly very unhappy about it.

On June 28th 2022, researchers from Pfizer-BioNTech and Moderna presented data on their bivalent vaccines to the FDA's Vaccines and Related Biological Products Advisory Committee (of which I am a member). The results were underwhelming. Bivalent boosters resulted in levels of neutralising antibodies against BA.1 that were only 1.5 to 1.75 times as high as those achieved with monovalent boosters. Previous experience with the companies' vaccines suggested that this difference was unlikely to be clinically significant. Safety data were reassuring. At the time of the FDA presentation, BA.1 was no longer circulating in the United States, having been replaced by more immune-evasive and contagious Omicron subvariants. But winter was around the corner. The FDA advisory committee, sensing the urgency of responding to these immune-evasive strains, voted to authorise bivalent vaccines with an understanding that they would target Omicron subvariants BA.4 and BA.5, which at the time had accounted for more than 95% of circulating strains.

A series of rapid-fire policy decisions followed. On June 29th 2022, the day after the advisory committee meeting, the Biden administration agreed to purchase 105 million doses of Pfizer-BioNTech's bivalent vaccine containing BA.4 and BA.5 mRNA. One month later, on July 29th 2022, the administration agreed to purchase 66 million doses of Moderna's bivalent vaccine, intending to offer both vaccines in the fall and winter. On September 1st 2022, the FDA withdrew its emergency use authorisation for monovalent vaccine boosters and the CDC recommended bivalent vaccine boosters for everyone 12 years of age or older. On October 12th 2022, the CDC extended this recommendation to include everyone five years of age or older. At that point, no data from humans, including immunogenicity data, were available for comparing the relative capacities of the monovalent and bivalent vaccines to protect against BA.4 and BA.5.

On October 24th 2022, David Ho and colleagues released the results of a study examining levels of neutralizing antibodies against BA.4 and BA.5 after receipt of a monovalent or bivalent booster dose. They found "no significant difference in neutralisation of any SARS-CoV-2 variant", including BA.4 and BA.5, between the two groups. One day later, Dan Barouch and colleagues released the results of a similar study, finding that "BA.5 [neutralising-antibody] titers were comparable following monovalent and bivalent mRNA boosters". Barouch and colleagues also noted no appreciable differences in CD4+ or CD8+ T-cell responses between participants in the monovalent-booster group and those in the bivalent-booster group. Neither research group found the bivalent boosters to elicit superior immune responses. The results are now published in the Journal.
The likely reason the bivalent vaccines failed is immune imprinting, Dr. Offit explains.
The immune systems of people immunised with the bivalent vaccine, all of whom had previously been vaccinated, were primed to respond to the ancestral strain of SARS-CoV-2. They therefore probably responded to epitopes shared by BA.4 and BA.5 and the ancestral strain, rather than to new epitopes on BA.4 and BA.5.
When epidemiological data did become available, they showed very poor protection.
On November 22nd 2022, the CDC published data on the effectiveness of the BA.4 and BA.5 mRNA vaccines for preventing symptomatic infection within two months after receipt of the booster dose. For people who had received a monovalent vaccine two to three months earlier, the extra protection associated with the bivalent booster dose ranged from 28% to 31%. For those who had received a monovalent vaccine more than eight months earlier, the extra protection ranged from 43% to 56%. Given the results of previous studies, it's likely that this moderate increase in protection against probably generally mild disease will be short lived.
The bivalent vaccine had very poor take-up and the variants it was targeted against were quickly gone.
As of November 15th 2022, only about 10% of the population for whom the bivalent vaccine had been recommended had received it. By December 2022, the BA.4 strain was no longer circulating, and BA.5 accounted for less than 25% of circulating SARS-CoV-2 strains, having been partially replaced by more immune-evasive strains, such as BQ.1, BQ.1.1, BF.7, XBB, and XBB.1.
It's welcome that Dr. Offit is breaking ranks and expressing dismay about the poor process and the lack of data, and calling for the end of the mass vaccination campaign. The intervention is particularly significant because it denotes a failure of the central U.S. biosecurity strategy of trying to use fast-track mRNA vaccines to provide a lightning response to an emerging biological threat. It is thus likely that his conclusions will be strongly resisted by those who are invested – financially, psychologically and politically – in this strategy.
That Dr. Offit is only doing so now, and not with any recognition of any safety problems, is less welcome, of course. Still, he will likely not be thanked by his paymasters, and it is in the right direction, so he should receive credit for that.
We still await the acknowledgement that the benefit of these vaccines was never favourable for people at low risk from the virus, who never needed them, and that their safety profile is far worse than the companies and regulators have led the public to believe.
Stop Press: CNN reports that Dr. Offit is "angry" that Moderna failed to include unfavourable infection data in its submission to the FDA last year. "I was angry to find out that there was data that was relevant to our decision that we didn't get to see," Dr. Offit said. According to CNN: "The data that was not presented to the experts looked at actual infections: who caught COVID-19 and who did not. It found that 1.9% of the study participants who received the original booster became infected. Among those who got the updated bivalent vaccine – the one that scientists hoped would work better – a higher percentage, 3.2%, became infected." Does it make you wonder what else they're not telling you, Dr. Offit?
Maryland School Implements New Mask Mandate
As Biden masks up in front of the press
An elementary school in Maryland has reinstated mandatory mask requirements, as Joe Biden appeared in front of the press wearing a face covering Tuesday.
Rosemary Hills Elementary School in Silver Spring, a wealthy DC suburb, has brought back the mask mandate for students and staff, and added that the coverings should be N95 masks.
The school sent out a letter informing parents they have taken the decision after just THREE students tested positive for COVID.
"Additional KN95 masks have been distributed and students and staff in identified classes or activities will be required to mask while in school for the next 10 days, except while eating or drinking. Masks will become options again following the 10-day period," the letter states.
We've heard that one before.
"At-home rapid test kids will be sent home and made available for students," Principal Irwin Kennedy further notes, adding that CDC guidance decrees that testing should be done "5 days after an exposure (starting day 6)" or at such time as symptoms occur.
"We will continue to reinforce good hand washing and follow cleaning and disinfection procedures," the letter further states.
The move comes as Joe Biden donned a face diaper as he arrived at a White House gathering, before removing it altogether.
The White House says Biden will wear the mask after his multiple time vaxxed and boosted wife contracted COVID again.
Related:
SUBSCRIBE on YouTube:
Follow on Twitter:
Follow @PrisonPlanet
———————————————————————————————————————
Brand new merch now available! Get it at https://www.pjwshop.com/


ALERT! In the age of mass Silicon Valley censorship It is crucial that we stay in touch.

We need you to sign up for our free newsletter here.

Support my sponsor – Summit Vitamins – super charge your health and well being.

Also, we urgently need your financial support here. ———————————————————————————————————————
Trump Lockdown Tyrant Does 180, Says No New Mask Mandates
When COVID-19 broker out, Dr. Deborah Birx, a former military AIDS researcher with no training, experience, or publications in epidemiology or public health policy, found herself leading a White House Task Force which would play a seminal role in dictating how the country locked down for the pandemic.
In March of 2020, Birx and Dr. Anthony Fauci were grinning like Cheshire Cats with Duper's Delight as they laid out an unprecedented lockdown and masking strategy which Birx later admitted they pulled out of their asses.
Now that we're revisiting mask mandates over the latest Covid-19 surge, Birx and Fauci are seemingly on different sides of the debate.
"We don't need to mandate," Birx told Newsmax on Saturday, in response to reports that an increasing number of hospitals and businesses are now requiring masks again.
"We need to actually empower people with the information that they need for themselves and their families because every family is different," she continued. "And by the way, outside is safe, and playgrounds are safe."
Meanwhile Fauci – the guy who was funding risky bat coronavirus research in Wuhan, China and was then put in charge of the Coronavirus response in which he had scientists scramble to create and bolster propaganda denying a lab leak – went on CNN to push for mask mandates, claiming "there have been many studies indicate the benefit of wearing masks."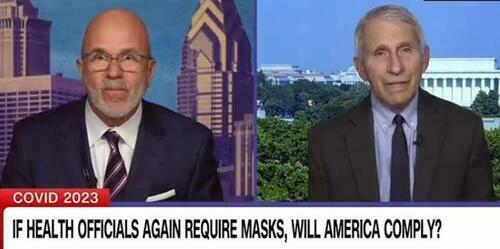 Yet, Anchor Michael Smerconish brought up the Cochrane review of masks, one of umpteen studies that have all found that the face coverings do little to nothing against COVID transmission (via Summit News).
"When you're talking about the effect on the epidemic or the pandemic as a whole, the data are less strong," Fauci said, sqirming. "There are other studies, Michael, that show at an individual level, for individuals they might be protective."
Sure Tony…
This post was originally published at Zero Hedge
Video: Fauci Squirms As CNN Anchor Confronts Him With Data Showing Masks Don't Work
"There are other studies"
Anthony Fauci refused to back away from the recommendation of face masks Saturday as CNN (of all networks) confronted him with a study showing that they have no effect on preventing the spread of COVID.
After Fauci claimed "there have been many studies indicate the benefit of wearing masks," Anchor Michael Smerconish brought up the Cochrane review of masks, one of umpteen studies that have all found that the face coverings do little to nothing against COVID transmission.
"When you're talking about the effect on the epidemic or the pandemic as a whole, the data are less strong," Fauci squirmingly admitted, but then went on to suggest people should still wear them anyway.
"There are other studies, Michael, that show at an individual level, for individuals they might be protective," Fauci claimed.
Senator Rand Paul blasted Fauci for spreading "more subterfuge":
Others chimed in:
Elsewhere during the interview Fauci said he hopes people will comply with wearing masks again, while stating "we're not talking there's forcing anybody to do anything."
He continued, "We're not talking about mandates or forcing anybody but when you have a situation where the volume of cases in society gets to a reasonably high level, particularly the vulnerable, those who are elderly, and those with underlying conditions are going to be more susceptible and vulnerable if they do get infected to get severe disease leading to hospitalization."
"I would hope that if in fact we get to the point where the volume of cases is such an organization's like the CDC recommend, CDC doesn't mandate anything, I mean, recommends that people wear masks, I would hope that they abide by the recommendation and take into account the risk to themselves and to their families," Fauci further stated.
He continued, "People keep thinking that the federal government is going to mandate that you wear a mask, that's not going to happen," he said. "But there may be individual institutions, organizations that are going to say, if you want to come to work, you've got to wear a mask."
Here is the full interview:
As we have highlighted, there is a creeping attempt to bring back masking and COVID restrictions despite no large bounce in cases and the fact that they just don't work.
Related:
SUBSCRIBE on YouTube:
Follow on Twitter:
Follow @PrisonPlanet
———————————————————————————————————————
Brand new merch now available! Get it at https://www.pjwshop.com/


ALERT! In the age of mass Silicon Valley censorship It is crucial that we stay in touch.

We need you to sign up for our free newsletter here.

Support my sponsor – Summit Vitamins – super charge your health and well being.

Also, we urgently need your financial support here. ———————————————————————————————————————