Covid Vaccines Are "Obviously Dangerous" and Should Be Halted Immediately, Say Senior Swedish Doctors
The true character and scope of the harm caused by the unprecedented mass vaccinations for COVID-19 is just now beginning to become clear.
There follows a public statement by a group of five senior Swedish doctors who, in collaboration with Dr. Johan Eddebo, a researcher in digitalisation and human rights, are raising the alert about the Covid vaccines, which they describe as "obviously dangerous". They say there should be an "immediate halt" to the mass vaccination pending "thorough investigations" of the true incidence and severity of adverse effects.
The true character and scope of the harm caused by the unprecedented mass vaccinations for COVID-19 is just now beginning to become clear. Leading scientific journals have finally begun publishing data corroborating what the underground research community has observed over the last two years, especially in relation to complex problems of immune suppression.
Truly concerning numbers pertaining to both births and mortality are also emerging.
At this moment in time, a new, allegedly super-infectious Omicron variant is all over the headlines. A sub-variant of XXB, this strain is said to possess immune escape capabilities of precisely the type that some independent researchers predicted would follow on the heels of the mass vaccinations' narrow antigenic fixation.
The WHO maintains that worldwide, 10,000 people still die due to Covid every single day, an implausible death toll more than ten times that of an average flu. It reiterates the urgent need for vaccinations, especially in light of China's reopening and allegedly falsified data on mortality and infections.
The EU has even called an emergency summit in light of the purported Chinese "Covid chaos" that "calls to mind how everything began in Wuhan, three years ago".
In Sweden, the Minister for Health and Social Affairs has said he cannot rule out new restrictions, and states that everyone must take "their three doses", since "only" 85% of the population is 'fully inoculated'.
That such an extensive vaccine coverage has not yielded better results after nearly two years is a remarkable fact. Even more so in light of some individuals receiving four or more repeated exposures to the same vaccine antigen, yet still contracting the disease they are supposedly immunised against.
At the same time, even more ominous warning signs abound.
One such warning sign is the fact that average mortality in many Western states is still at a remarkably high level, in spite of the direct effects of the coronavirus being marginal for more than a year. Data from EuroMOMO indicate a marked excess mortality in the EU for all of 2022, and the German Bureau of Statistics reports that the country's mortality in October was more than 19% over the median value of the preceding years.
Is this due to Covid, as the WHO's '10 000 per day' figure would seem to indicate?
Blame is placed at the feet of 'Long Covid' as well as the regular acute infections, but according to the EuroMOMO and Our World in Data stats, the bulk of the excess deaths in Europe during 2022 are actually not due to clinically manifest coronavirus infections.
Moreover, we shouldn't see continued excess deaths from a respiratory virus of this kind after three years of global exposure due to the inevitable consolidation of natural immunity.
If such a situation persists, the hypothetical connection to a vaccine-related immunity suppression that just now has come into focus becomes pertinent to investigate in detail.
If, as has been argued, the vaccinations, and especially the boosters, alter the immune profile of recipients such that Covid infections get 'tolerated' by the immune system, it's possible that vaccinated individuals will tend towards a situation of long-term, repeat infections that do not get cleared, and do not present with obvious symptoms, while still promoting systemic damage.
The literature now indicates an extensive substitution in the vaccinated of virus-neutralising antibodies for non-inflammatory ones, a 'class switch' from antibodies that work towards clearing the virus from our system, to a category of antibodies whose purpose is to desensitise us to irritants and allergens.
The net effect is that the inflammatory response to Covid infection gets down-regulated (reduced). This means that full-blown infections will present with milder symptoms, and that they won't get cleared as effectively (partly since fever and inflammation are essential to your body getting rid of a pathogen).
That these developments alone aren't cause for an immediate halt to the mass vaccinations, as well as thorough investigations, is astonishing.
There is of course another, and more well-known, potential partial explanation of the surprising excess mortality. We have indications of clotting disorders connected to the Covid vaccines, evident in a new major Nordic study, while repeated studies evidence a clear correlation between heart disease and Covid vaccination (see Le Vu et al., Karlstad et al. and Patone et al.).
A newly published Thai study moreover indicated that almost a third of the vaccinated youth enrolled exhibited cardiovascular manifestations, and a yet unpublished Swiss study suggests that as many as 3% of everyone vaccinated manifest heart muscle damage.
And as stated above, we also see signals pertaining to fertility disturbances connected to the Covid vaccines.
An Israeli study shows impaired motility and sperm concentrations after both Pfizer and Moderna vaccination. The safety committee of the European Medicines Agency has also affirmed that the vaccines may cause menstrual disturbances, and Pfizer's own studies indicate that the lipid nanoparticles of the mRNA-vaccines cluster in the reproductive organs.
The hypothesis that COVID-19 vaccinations influence fertility is supported by a significant and unprecedented decline in the Swedish birth rate during the first months of 2022. According to Swedish demographers, the decline is "surprising".
There are similar data from many other Western countries, and to continue the mass vaccinations for low-risk groups such as children or pregnant women is utterly irresponsible – especially since the vaccinations do little or nothing to stop the spread as was initially promised, and is often still falsely maintained.
One hopes that the hypothesis of a decline in birth rates due to the vaccinations can be falsified through a thorough and independent investigation as soon as possible. The numbers are truly worrying.
Yet the fact that Pfizer's data pertaining to fertility disturbances had been hidden away and needed to be discovered through a FOIA request is typical for the entire situation.
There's almost no independent public debate on these issues, and critical perspectives are actively suppressed by the major digital platforms.
Public watchdogs such as the European Medicines Agency are funded by the pharmaceutical industry and often base their recommendations on Big Pharma's in-house studies. The independence of our scientific and academic institutions is threatened, and we see a confluence between scientific research, private corporate interests and political and ideological objectives on every level.
To place a digital filter of censorship on top of all of this, where proprietary algorithms micromanage the flow of information and the public debate in accordance with the intentions of their owners, in practice means to abolish the open democratic society and independent scientific research.
Recent disclosures also show that the digital platforms have actively worked towards suppressing critical perspectives on the Covid policies and the mass vaccinations. Twitter has for this purpose developed clandestine censorship strategies and employed so-called 'shadowbanning' with the effect of an almost undetectable suppression of the visibility of posts and accounts connected to undesirable perspectives and analyses. Facebook took down more than seven million posts to influence the debate on Covid only during the second quarter of 2020. YouTube has banned publishing of video material that contains critical perspectives on the Covid vaccinations. Such content is designated 'misinformation' and 'disinformation' whether or not it is supported by relevant data.
These kinds of measures have very serious consequences. Digitalisation's centralised control of the flow of information doesn't just affect policy on the local and regional level, but also influences the way in which scientific and journalistic work can be designed and carried out. It creates structures that immediately repress heterodox views and silences critical voices through fear and indirect persecution.
Public trust in our common institutions will inevitably be eroded by this development.
The open society now desperately needs a renaissance. The democratic and scientific discourses must be rebuilt from the ground up, and in a way which respects the new and unique risks of our contemporary situation, and which protects and emphasises the responsibility of the individual citizen.
Key to this in our current predicament is to press on with critical questions pertaining to the obviously dangerous mass vaccinations and to investigate the corruption of our political and scientific institutions that the Covid situation has shed light on.
It is critical that we immediately begin to remedy the significant damage that has been rendered to global public health, and to the open society as such.
Johan Eddebo, Ph.D, researcher in digitalisation and human rights
Sture Blomberg, MD, Ph.D, Associate Professor in Anaesthesiology and Intensive Care and former senior physician
Ragnar Hultborn, Professor Emeritus, specialist in oncology
Sven Román, MD, Child and Adolescent Psychiatrist, since 2015 Consultant Psychiatrist working in Child and Adolescent Psychiatry throughout Sweden
Lilian Weiss, Associate Professor, specialist in surgery
Nils Littorin, resident in psychiatry, MD in clinical microbiology
The authors are members of the bio-medico-legal network of Läkaruppropet. They are organising a conference in Stockholm on January 21st-22nd in conjunction with the Swedish Doctors' Appeal network. Its main focus will be on the consequences of the global COVID-19 politics and the effects of the Covid vaccines.
Maryland School Implements New Mask Mandate
As Biden masks up in front of the press
An elementary school in Maryland has reinstated mandatory mask requirements, as Joe Biden appeared in front of the press wearing a face covering Tuesday.
Rosemary Hills Elementary School in Silver Spring, a wealthy DC suburb, has brought back the mask mandate for students and staff, and added that the coverings should be N95 masks.
The school sent out a letter informing parents they have taken the decision after just THREE students tested positive for COVID.
"Additional KN95 masks have been distributed and students and staff in identified classes or activities will be required to mask while in school for the next 10 days, except while eating or drinking. Masks will become options again following the 10-day period," the letter states.
We've heard that one before.
"At-home rapid test kids will be sent home and made available for students," Principal Irwin Kennedy further notes, adding that CDC guidance decrees that testing should be done "5 days after an exposure (starting day 6)" or at such time as symptoms occur.
"We will continue to reinforce good hand washing and follow cleaning and disinfection procedures," the letter further states.
The move comes as Joe Biden donned a face diaper as he arrived at a White House gathering, before removing it altogether.
The White House says Biden will wear the mask after his multiple time vaxxed and boosted wife contracted COVID again.
Related:
SUBSCRIBE on YouTube:
Follow on Twitter:
Follow @PrisonPlanet
———————————————————————————————————————
Brand new merch now available! Get it at https://www.pjwshop.com/


ALERT! In the age of mass Silicon Valley censorship It is crucial that we stay in touch.

We need you to sign up for our free newsletter here.

Support my sponsor – Summit Vitamins – super charge your health and well being.

Also, we urgently need your financial support here. ———————————————————————————————————————
Trump Lockdown Tyrant Does 180, Says No New Mask Mandates
When COVID-19 broker out, Dr. Deborah Birx, a former military AIDS researcher with no training, experience, or publications in epidemiology or public health policy, found herself leading a White House Task Force which would play a seminal role in dictating how the country locked down for the pandemic.
In March of 2020, Birx and Dr. Anthony Fauci were grinning like Cheshire Cats with Duper's Delight as they laid out an unprecedented lockdown and masking strategy which Birx later admitted they pulled out of their asses.
Now that we're revisiting mask mandates over the latest Covid-19 surge, Birx and Fauci are seemingly on different sides of the debate.
"We don't need to mandate," Birx told Newsmax on Saturday, in response to reports that an increasing number of hospitals and businesses are now requiring masks again.
"We need to actually empower people with the information that they need for themselves and their families because every family is different," she continued. "And by the way, outside is safe, and playgrounds are safe."
Meanwhile Fauci – the guy who was funding risky bat coronavirus research in Wuhan, China and was then put in charge of the Coronavirus response in which he had scientists scramble to create and bolster propaganda denying a lab leak – went on CNN to push for mask mandates, claiming "there have been many studies indicate the benefit of wearing masks."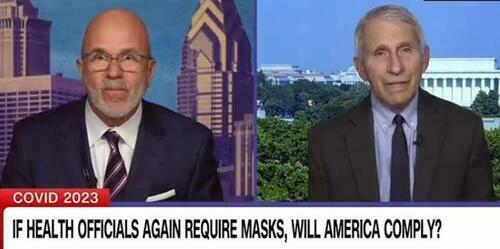 Yet, Anchor Michael Smerconish brought up the Cochrane review of masks, one of umpteen studies that have all found that the face coverings do little to nothing against COVID transmission (via Summit News).
"When you're talking about the effect on the epidemic or the pandemic as a whole, the data are less strong," Fauci said, sqirming. "There are other studies, Michael, that show at an individual level, for individuals they might be protective."
Sure Tony…
This post was originally published at Zero Hedge
Video: Fauci Squirms As CNN Anchor Confronts Him With Data Showing Masks Don't Work
"There are other studies"
Anthony Fauci refused to back away from the recommendation of face masks Saturday as CNN (of all networks) confronted him with a study showing that they have no effect on preventing the spread of COVID.
After Fauci claimed "there have been many studies indicate the benefit of wearing masks," Anchor Michael Smerconish brought up the Cochrane review of masks, one of umpteen studies that have all found that the face coverings do little to nothing against COVID transmission.
"When you're talking about the effect on the epidemic or the pandemic as a whole, the data are less strong," Fauci squirmingly admitted, but then went on to suggest people should still wear them anyway.
"There are other studies, Michael, that show at an individual level, for individuals they might be protective," Fauci claimed.
Senator Rand Paul blasted Fauci for spreading "more subterfuge":
Others chimed in:
Elsewhere during the interview Fauci said he hopes people will comply with wearing masks again, while stating "we're not talking there's forcing anybody to do anything."
He continued, "We're not talking about mandates or forcing anybody but when you have a situation where the volume of cases in society gets to a reasonably high level, particularly the vulnerable, those who are elderly, and those with underlying conditions are going to be more susceptible and vulnerable if they do get infected to get severe disease leading to hospitalization."
"I would hope that if in fact we get to the point where the volume of cases is such an organization's like the CDC recommend, CDC doesn't mandate anything, I mean, recommends that people wear masks, I would hope that they abide by the recommendation and take into account the risk to themselves and to their families," Fauci further stated.
He continued, "People keep thinking that the federal government is going to mandate that you wear a mask, that's not going to happen," he said. "But there may be individual institutions, organizations that are going to say, if you want to come to work, you've got to wear a mask."
Here is the full interview:
As we have highlighted, there is a creeping attempt to bring back masking and COVID restrictions despite no large bounce in cases and the fact that they just don't work.
Related:
SUBSCRIBE on YouTube:
Follow on Twitter:
Follow @PrisonPlanet
———————————————————————————————————————
Brand new merch now available! Get it at https://www.pjwshop.com/


ALERT! In the age of mass Silicon Valley censorship It is crucial that we stay in touch.

We need you to sign up for our free newsletter here.

Support my sponsor – Summit Vitamins – super charge your health and well being.

Also, we urgently need your financial support here. ———————————————————————————————————————