Net Zero Will Lead to the End of Modern Civilisation, Says Top Scientist
Devastating consequences.
A damning indictment of the Net Zero political project has been made by one of the world's leading nuclear physicists.
In a recently published science paper, Dr. Wallace Manheimer said it would be the end of modern civilisation. Writing about wind and solar power he argued it would be especially tragic "when not only will this new infrastructure fail, but will cost trillions, trash large portions of the environment, and be entirely unnecessary". The stakes, he added, "are enormous".
Dr. Manheimer holds a physics PhD from MIT and has had a 50-year career in nuclear research, including work at the Plasma Physics Division at the U.S. Naval Research Laboratory. He has published over 150 science papers. In his view, there is "certainly no scientific basis" for expecting a climate crisis from too much carbon dioxide in the atmosphere in the next century or so. He argues that there is no reason why civilisation cannot advance using both fossil fuel power and nuclear power, gradually shifting to more nuclear power.
There is of course a growing body of opinion that points out that the Emperor has no clothes when it comes to all the fashionable green technologies. Electric cars, wind and solar power, hydrogen, battery storage, heat pumps – all have massive disadvantages, and are incapable of replacing existing systems without devastating consequences.
Manheimer points out that before fossil fuel became widely used, energy was provided by people and animals. Because so little energy was produced, "civilisation was a thin veneer atop a vast mountain of human squalor and misery, a veneer maintained by such institutions as slavery, colonialism and tyranny".
This argument hints at why so many rich, virtue-signalling celebrities argue not just for Net Zero but 'Real' Zero, with the banning of all fossil fuel use. King Charles said in 2009 that the age of consumerism and convenience was over, although the multi-mansion owning monarch presumably doesn't think such desperate restrictions apply to himself. Manheimer notes that fossil fuel has extended the benefits of civilisation to billions, but its job is not yet complete. "To spread the benefits of modern civilisation to the entire human family would require much more energy, as well as newer sources," he adds.
The author notes that the emphasis on a false climate crisis is becoming a "tragedy for modern civilisation", which depends on reliable, affordable and environmentally viable energy. "The windmills, solar panels and backup batteries have none of these qualities," he states. This falsehood has been pushed by what has been termed a climate industrial complex, comprising some scientists, most media, industrialists and legislators. Furthermore, he continues, this grouping has "somehow" managed to convince many that CO2 in the atmosphere, a gas necessary for life on Earth, one which we exhale with every breath, is an environmental poison.
In Manheimer's view, the partnership among self-interested businesses, grandstanding politicians and alarmist campaigners, "truly is an unholy alliance". The climate industrial complex does not promote discussion on how to overcome this challenge in a way that will be best for everyone. "We should not be surprised or impressed that those who stand to make a profit are among the loudest calling for politicians to act," he added.
Perhaps one of the best voices to cast doubt on an approaching climate crisis, suggests the author, is Professor Emeritus Richard Lindzen of MIT, one of the world's leading authorities on geological fluid motions:
What historians will definitely wonder about in future centuries is how deeply flawed logic, obscured by shrewd and unrelenting propaganda, actually enabled a coalition of powerful special interests to convince nearly everyone in the world that CO2 from human industry was a dangerous planet-destroying toxin. It will be remembered as the greatest mass delusion in the history of the world – that CO2, the life of plants, was considered for a time to be a deadly poison.
Much of Dr. Manheimer's interesting paper debunks many of the fashionable nostrums surrounding politicised 'settled' climate science. It is an excellent read. Discussing some of the contrary opinions that debunk obviously false claims, he says it is "particularly disheartening" to see learned societies make definitive claims when so much contrary information is readily available. He points out that over the last 10,000 years, the Earth has almost certainly been warmer. There have been warmer and colder periods, just like today.
To find the off-narrative information, even Google can be used, Manheimer says – though he does note that the company warns it will not provide information on "claims denying that long-term trends show that the global climate is warming".
He Didn't See This Coming
It took an unexpected turn.
Is it really about 'raising awareness' when these stunts are despised by the general public, or is it about narcissistic validation with other members of the climate cult?
Please share this video! https://youtu.be/fzytc0ijzoM
SUBSCRIBE on YouTube:
Follow on Twitter: Follow @PrisonPlanet
———————————————————————————————————————
Brand new merch now available! Get it at https://www.pjwshop.com/
ALERT!
In the age of mass Silicon Valley censorship It is crucial that we stay in touch.
I need you to sign up for my free newsletter here.
Support my sponsor – Turbo Force – a supercharged boost of clean energy without the comedown.
Get early access, exclusive content and behind the scenes stuff by following me on Locals.
———————————————————————————————————————
Stop Making Us Look Bad!
The truth about Just Stop Oil.
Just Stop Oil.
Backed by the establishment, shielded by the state, endorsed by the institutions.
Literal foot soldiers for the regime.
Please share this video! https://youtu.be/DjGEW6eW86g
SUBSCRIBE on YouTube:
Follow on Twitter: Follow @PrisonPlanet
———————————————————————————————————————
Brand new merch now available! Get it at https://www.pjwshop.com/
ALERT!
In the age of mass Silicon Valley censorship It is crucial that we stay in touch.
I need you to sign up for my free newsletter here.
Support my sponsor – Turbo Force – a supercharged boost of clean energy without the comedown.
Get early access, exclusive content and behind the scenes stuff by following me on Locals.
———————————————————————————————————————
Exxon Crushes Progressive Dreams That "Net Zero" Has Any Chance By 2050: It Would Mean Collapse In "Global Standard Of Living"
In a world of suffocating snowflakery, ESG hypocrisy and, well… Tranheuser Busch, a corporation telling the truth without fear of reprisals from the Open Society-funded virtue signaling cabal is rarer than an mRNA-injected, genetically engineered hen's teeth.
And yet that's what the company hated by every progressive, Exxon Mobil, did this week when it became the first corporation to denounce the insidious and laughable claims that "net zero" is even a remote possibility by 2050.
The US supermajor pushed back against investors pressing the company to report on the risks to its business from restrictions on greenhouse gas emissions and potential environmental disasters when in a reply to proxy advisor Glass Lewis, Exxon said the prospect of the world achieving net-zero carbon dioxide emissions by 2050 is remote and should not be further evaluated in its financial statements.
A shareholder proposal seeking a report on the cost of having to abandon projects faces a shareholder vote on May 31. Glass Lewis backed the initiative, concluding Exxon could face material financial risks from the net-zero scenario.
Exxon disagreed, and said the world is not on a path to achieve net-zero emissions in 2050 as limiting energy production to levels below consumption demand would lead to a spike in energy prices, as observed in Europe following oil sanctions against Russia over Ukraine.
Exxon, is of course, correct however that won't stop the green fanatics from beating the drum that somehow the world can transition to "green" energy (at a cost of some $150 trillion mind you) in the next 27 years without an energy cataclysm.
At the heart of the issue is the 2050 net-zero emissions (NZE) scenario of the International Energy Agency (IEA) which envisions a path to limit the global temperature rise to 1.5 degrees Celsius. For the NZE scenario to be met, the IEA had hilariously said new oil exploration would have to have stopped in 2021 and nations would have to switch to renewable energy from fossil fuels (good luck with that). Exxon is among the companies heavily investing in new exploration to generate oil and gas for decades to come, and in retrospect, one can thank their deity of choice for Exxon's decision to do so as opposed to sending the world back into the dark ages, an outcome which so many from the World Economic Forum seems to aspire to.
"It is clear that the IEA NZE does not, by the scenario authors' own assessment, meet the level of likelihood required to be considered in our financial statements," Exxon said in a response filed with the U.S. Securities and Exchange Commission on Wednesday.
"It is highly unlikely that society would accept the degradation in global standard of living required to permanently achieve a scenario like the IEA NZE," Exxon said in dismissing the proposal.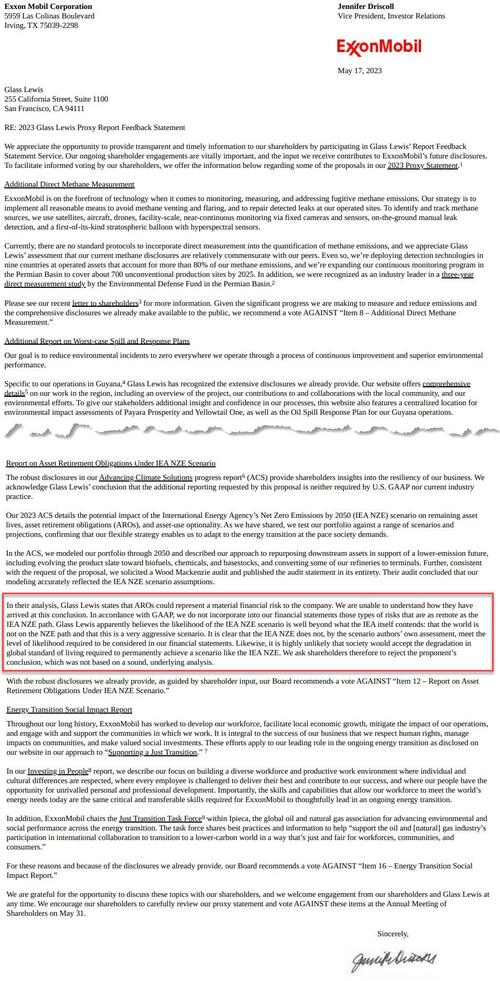 Exxon also rebutted the woke proxy firm's recommendation that it evaluate the impacts of a worst-case oil spill at its offshore Guyanese oil platforms. Exxon leads a consortium responsible for all of Guyana's offshore oil production and its board has recommended against the proposal.
"The requested report clearly would not provide new, decision-useful information," Exxon said, adding the shareholder request "ignore(s) the time, additional cost, and resources every report takes for the company to prepare."
As for the IEA, instead of targeting those companies – which despite every effort by the senile US president to drain the US SPR and make the country once again dependent on outside energy sources – are doing everything in their power to retain US energy independence, perhaps it should bring its message to downtown Beijing. We are confident that China will listen to their pimply teenager-inspired "proposals" in a cool, calm and collected manner.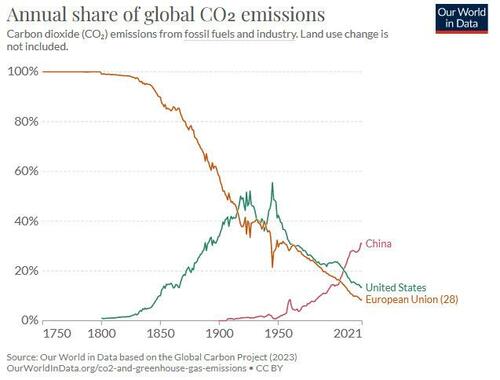 This post was originally published at Zero Hedge