Media Blackout Over Terror Incident At Vegas Power Plant
The US power grid is under attack.
The US power grid is under attack as extremists shoot, sabotage, and vandalize electrical equipment at power stations.
One of the highest-profile attacks was when two men used guns to paralyze a substation in Washington state on Christmas Day, leaving thousands without electricity. The incident made national news, but strangely enough, another attack last week on the Las Vegas power grid went unnoticed by the national press.
Mohammad Mesmarian, 34, rammed his car through the gate of a solar power generation plant outside Las Vegas on Wednesday and set his car on fire, intending to damage a massive transformer, 8 News Now reported.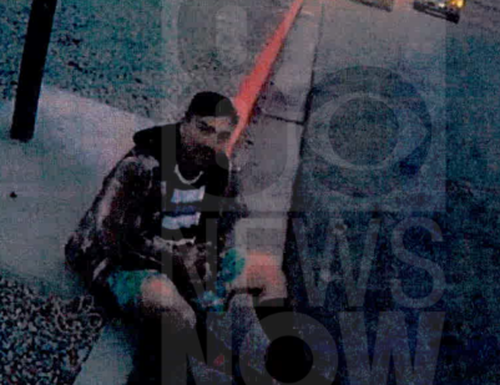 "Employees at the plant said they found a car smoldering in a generator pit," 8 News Now said, adding the Mega Solar Array facility provides power to 13 properties on the Las Vegas Strip, all belonging to MGM Resorts.
Investigators believe Mesmarian "siphoned gasoline from his car to put on wires at the transformer," 8 News Now said, citing documents from investigators.
"Mesmarian clarified he burned the Toyota Camry," police said. "Mesmarian said he burned the vehicle at a Tesla solar plant and did it 'for the future.'"
Here's security camera footage of Mesmarian lighting his car on fire next to a giant transformer.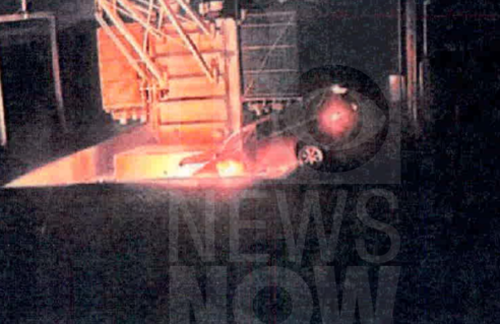 8 News Now said Mesmarian caused "major damage," estimating it could take two years to receive parts and fix the transformer. Luckily, the damaged unit wasn't online at the time of the incident..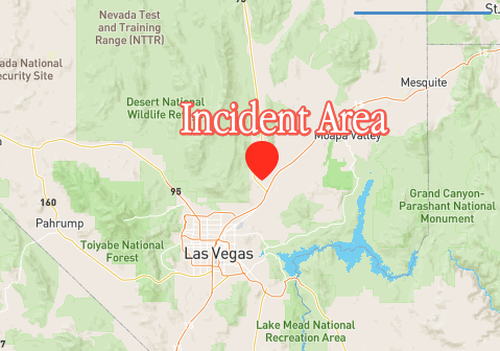 "Following an incident at the Mega Solar Array facility, on-site personnel immediately notified authorities and shut down the plant's operations as a precaution in accordance with industry-standard safety protocols," an Invenergy spokesperson said.
Mesmarian was arrested at a campground Thursday. He's being charged with committing an act of terrorism, first-degree arson, third-degree arson, destroying or injuring real or personal property of another, and escape by a felony prisoner.
Why is the national press absent in reporting this terror incident on the power grid?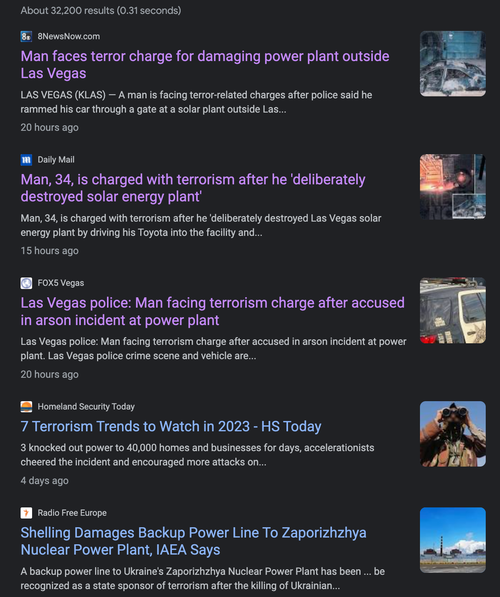 Perhaps the person involved doesn't fit the extremist profile routinely touted by progressive and state media. 
Lawlessness Spreads To Suburbia: Westport Man Carjacked In Own Garage
Violent crime appears to be spreading to suburbia. For the millions of Americans who fled crime-ridden metro areas where Democrat leaders failed to enforce law and order, the dramatic video of a carjacker assaulting a Westport, Connecticut, man in his garage for his Aston Martin serves as a wakeup call to better defend yourself and loves ones. 
Westport Journal reports that the Westport Police Department released dramatic security footage from a Ring camera that shows a residential burglary and carjacking on Bayberry Lane on Sunday afternoon. Two suspects assaulted the man in his garage and stole his Aston Martin.
"They surround the vehicle and drag the man from the car as he calls for someone in the home to contact police. The intruders appear to repeatedly strike the man as he tries to fend them off," the local media outlet said.
Westport police Lt. Eric Woods said the victim was targeted and followed back to his residence. "Therefore, Westport Police are encouraging residents to be aware of their surroundings and report any suspicious behavior to 911," he said.
The consequence of failed Democrat policies in major cities has only emboldened criminals who are now expanding their theft wave to suburbia. It's also a cautionary sign for homeowners who might want to explore firearms training to defend themselves, their families, and their property.
Meanwhile, the average police response time is more than ten minutes. And Democrat lawmakers want to strip the public of firearms (see New Mexico Governor Michelle Lujan Grisham's latest 2A overreach).
The video proves the Westport man couldn't afford to wait just one minute.
This post was originally published at Zero Hedge
Serial Killer Billy Chemirmir 'Killed by Cellmate' in Texas Prison
The judge in the case declared a mistrial.
Convicted murderer Billy Chemirmir, an illegal alien from Kenya suspected of being one of the most prolific serial killers in American history, was reportedly killed in prison on Tuesday morning by his cellmate.
From WFAA, "Convicted North Texas killer Billy Chemirmir killed in prison, officials say":
Convicted North Texas killer Billy Chemirmir, who was suspected in over 20 murders, was killed in a state prison Tuesday morning, officials confirmed to WFAA.

Chemirmir, 50, was serving life in prison without parole after he was twice found guilty of capital murder by Dallas County juries. He was accused of killing 20 other women in Dallas and Collin counties and still faced charges in those cases.

The Dallas County District Attorney's office confirmed they were notified by Texas prison officials that Chemirmir was killed Tuesday morning. State prison officials confirmed that Chemirmir was found dead in his cell early Tuesday and his cellmate, who was serving on a murder charge out of Harris County, was "identified as the assailant."

Dallas County District Attorney John Creuzot told WFAA that Chemirmir was killed after apparently making inappropriate comments sexual in nature towards his cellmate's children. According to Creuzot, the cellmate allegedly beat Chemirmir, dragged him out of his cell and killed him while other inmates watched. No one intervened and Chemirmir may have been stabbed with a pen, Creuzot said.
They should identify the cellmate so the public can send him letters of appreciation.
Authorities suspected Chemirmir could be involved in around 1,000 suspicious deaths in Texas but tried to convict him in 2021 specifically for killing 24 elderly patients who were overwhelmingly female and white.
Despite having a slam dunk case, one single female juror who "didn't even go back to [look at the evidence]" and "had her mind made up before she walked in" refused to convict, according to family member of a victim who was in the courtroom.
The judge in the case declared a mistrial and two new trials had to be held for separate victims in order to secure convictions.
Follow InformationLiberation on Twitter, Facebook, Gab, Minds and Telegram.
Criminals In Washington Are Intentionally Crashing Into Vehicles To Carjack Them
Just when you thought you'd seen it all.
Just when you thought you'd seen it all: now, criminals are intentionally wrecking vehicles in order to carjack them, according to a new report from KIRO7. 
Bellevue Police in Washington are alerting motorists to a new carjacking tactic taking place in their jurisdiction, the article says.
Officers responded to an attempted carjacking near the crossroads of Bel-Red Road and 156th Avenue Southeast in Bellvue, Washington, around 2:30 a.m. on a recent Friday.
The carjacking victim had reported a minor crash with a white Kia and said that upon exiting his vehicle to assess the damage, two individuals emerged from the Kia, brandishing guns and demanding his car keys.
The victim refused to hand over his keys, and the suspects fled in the Kia, the report continues.
Police are now warning that this event has similarities with other incidents taking place locally wherein assailants initiate minor accidents before attempting armed robbery.
Bellevue Police, as a result, recommend staying aware of your environment and avoiding distractions like texting. They have warned residents to opt for well-lit, busy roads, particularly at night, and steer clear of isolated or dimly lit areas.
Finally, they are telling residents to ensure their car doors are locked and windows are up, and to remain in their car if they feel endangered before calling 911.