THE TWITTER FILES: The Removal Of Donald Trump, Part 1
The third installment of Elon Musk's release of internal Twitter communications has been released, once again via veteran journalist Matt Taibbi.
In this episode, which is a 3-parter, we learn what happened behind the scenes which led to the banishment of former President Donald Trump from the platform.
2. The world knows much of the story of what happened between riots at the Capitol on January 6th, and the removal of President Donald Trump from Twitter on January 8th… 3. We'll show you what hasn't been revealed: the erosion of standards within the company in months before J6, decisions by high-ranking executives to violate their own policies, and more, against the backdrop of ongoing, documented interaction with federal agencies. 4. This first installment covers the period before the election through January 6th. Tomorrow, @ShellenbergerMD will detail the chaos inside Twitter on January 7th. On Sunday, @bariweiss will reveal the secret internal communications from the key date of January 8th. 5. Whatever your opinion on the decision to remove Trump that day, the internal communications at Twitter between January 6th-January 8th have clear historical import. Even Twitter's employees understood in the moment it was a landmark moment in the annals of speech.

6. As soon as they finished banning Trump, Twitter execs started processing new power. They prepared to ban future presidents and White Houses – perhaps even Joe Biden. The "new administration," says one exec, "will not be suspended by Twitter unless absolutely necessary."
7. Twitter executives removed Trump in part over what one executive called the "context surrounding": actions by Trump and supporters "over the course of the election and frankly last 4+ years." In the end, they looked at a broad picture. But that approach can cut both ways.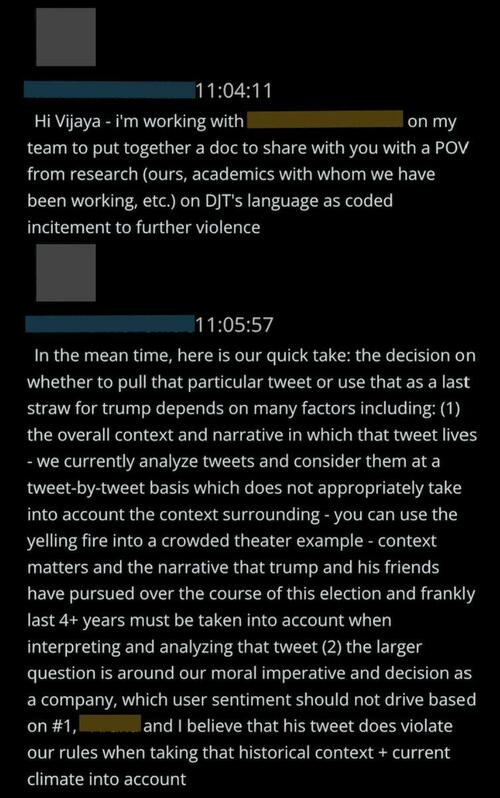 8. The bulk of the internal debate leading to Trump's ban took place in those three January days. However, the intellectual framework was laid in the months preceding the Capitol riots. 9. Before J6, Twitter was a unique mix of automated, rules-based enforcement, and more subjective moderation by senior executives. As reported, the firm had a vast array of tools for manipulating visibility, most all of which were thrown at Trump (and others) pre-J6. 10. As the election approached, senior executives – perhaps under pressure from federal agencies, with whom they met more as time progressed – increasingly struggled with rules, and began to speak of "vios" as pretexts to do what they'd likely have done anyway. 11. After J6, internal Slacks show Twitter executives getting a kick out of intensified relationships with federal agencies. Here's Trust and Safety head Yoel Roth, lamenting a lack of "generic enough" calendar descriptions to concealing his "very interesting" meeting partners.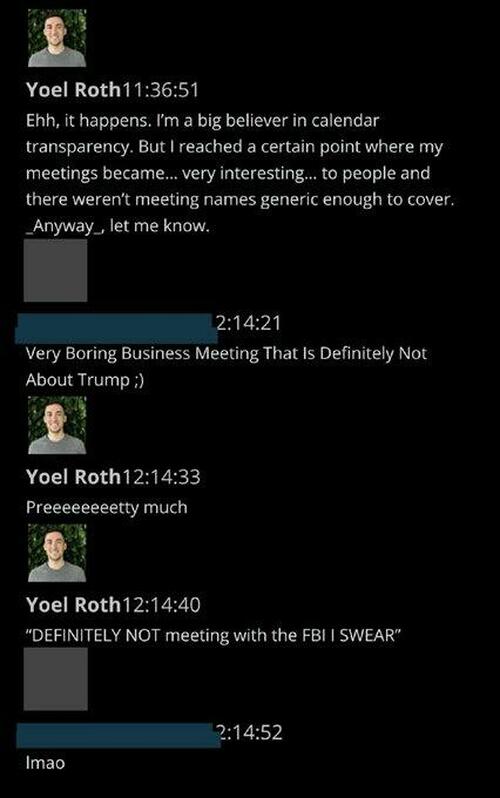 12. These initial reports are based on searches for docs linked to prominent executives, whose names are already public. They include Roth, former trust and policy chief Vijaya Gadde, and recently plank-walked Deputy General Counsel (and former top FBI lawyer) Jim Baker. 13. One particular slack channel offers an unique window into the evolving thinking of top officials in late 2020 and early 2021. 14. On October 8th, 2020, executives opened a channel called "us2020_xfn_enforcement." Through J6, this would be home for discussions about election-related removals, especially ones that involved "high-profile" accounts (often called "VITs" or "Very Important Tweeters").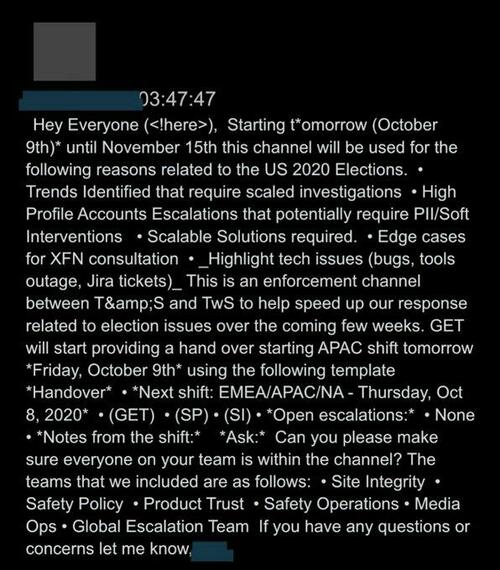 15. There was at least some tension between Safety Operations – a larger department whose staffers used a more rules-based process for addressing issues like porn, scams, and threats – and a smaller, more powerful cadre of senior policy execs like Roth and Gadde. 16. The latter group were a high-speed Supreme Court of moderation, issuing content rulings on the fly, often in minutes and based on guesses, gut calls, even Google searches, even in cases involving the President.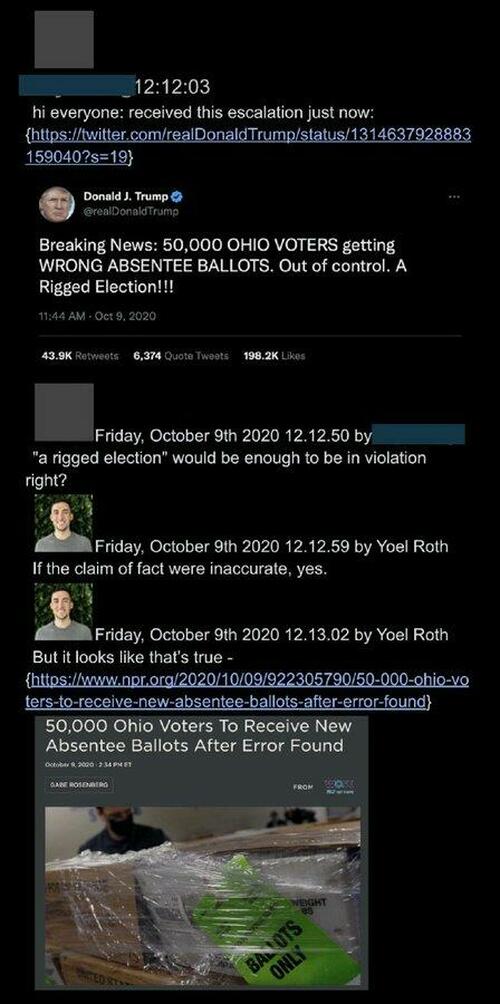 17. During this time, executives were also clearly liaising with federal enforcement and intelligence agencies about moderation of election-related content. While we're still at the start of reviewing the #TwitterFiles, we're finding out more about these interactions every day. 18. Policy Director Nick Pickles is asked if they should say Twitter detects "misinfo" through "ML, human review, and **partnerships with outside experts?*" The employee asks, "I know that's been a slippery process… not sure if you want our public explanation to hang on that."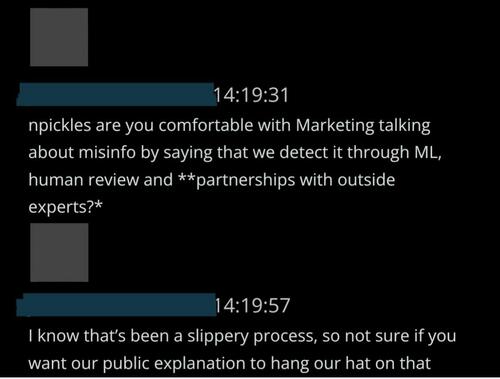 19. Pickles quickly asks if they could "just say "partnerships." After a pause, he says, "e.g. not sure we'd describe the FBI/DHS as experts."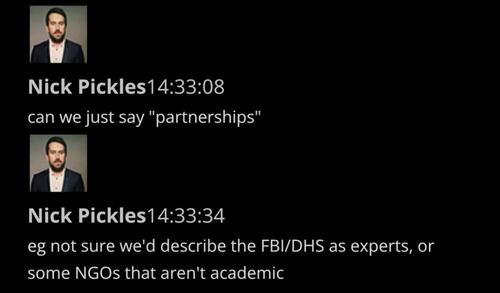 20. This post about the Hunter Biden laptop situation shows that Roth not only met weekly with the FBI and DHS, but with the Office of the Director of National Intelligence (DNI):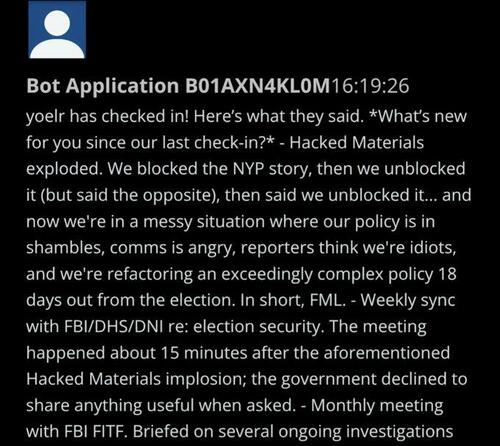 21. Roth's report to FBI/DHS/DNI is almost farcical in its self-flagellating tone: "We blocked the NYP story, then unblocked it (but said the opposite)… comms is angry, reporters think we're idiots… in short, FML" (fuck my life).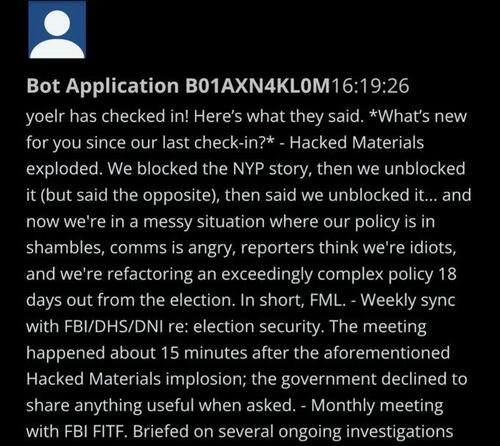 23. Some of Roth's later Slacks indicate his weekly confabs with federal law enforcement involved separate meetings. Here, he ghosts the FBI and DHS, respectively, to go first to an "Aspen Institute thing," then take a call with Apple.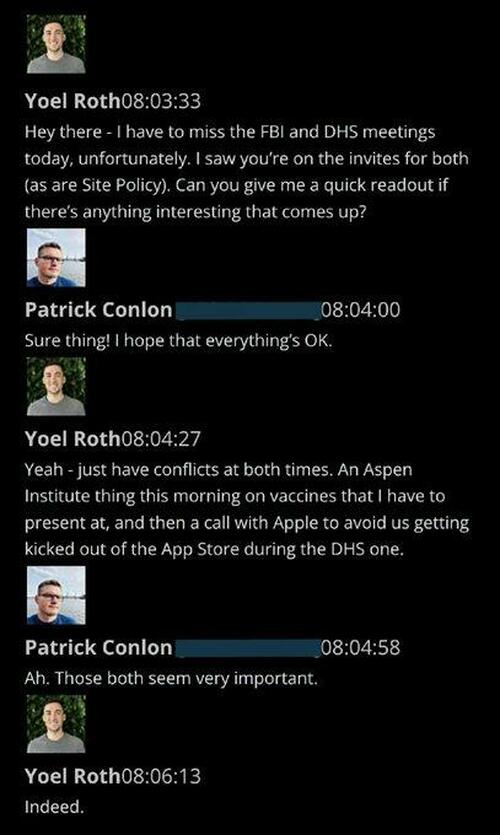 24. Here, the FBI sends reports about a pair of tweets, the second of which involves a former Tippecanoe County, Indiana Councilor and Republican named @JohnBasham claiming "Between 2% and 25% of Ballots by Mail are Being Rejected for Errors."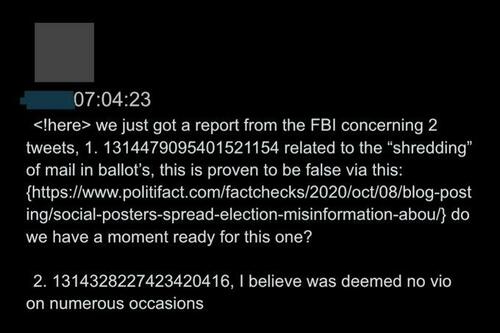 The FBI's second report concerned this tweet by @JohnBasham: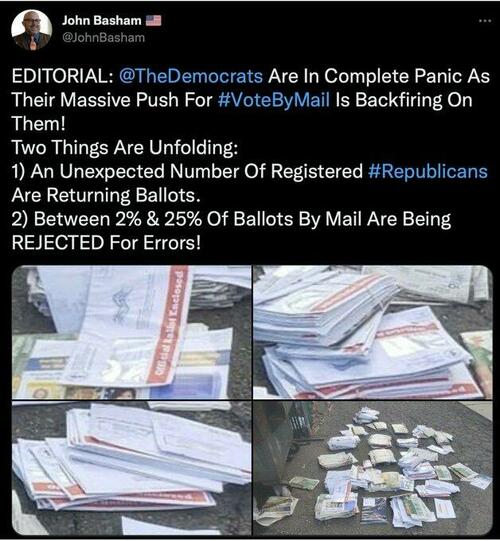 25. The FBI-flagged tweet then got circulated in the enforcement Slack. Twitter cited Politifact to say the first story was "proven to be false," then noted the second was already deemed "no vio on numerous occasions."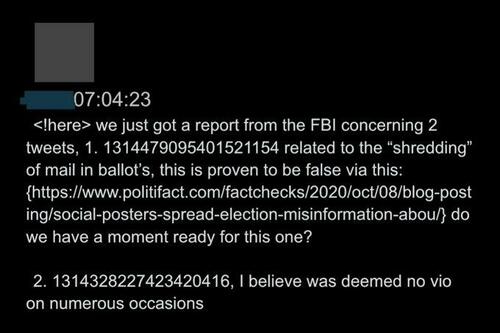 26. The group then decides to apply a "Learn how voting is safe and secure" label because one commenter says, "it's totally normal to have a 2% error rate." Roth then gives the final go-ahead to the process initiated by the FBI:

27. Examining the entire election enforcement Slack, we didn't see one reference to moderation requests from the Trump campaign, the Trump White House, or Republicans generally. We looked. They may exist: we were told they do. However, they were absent here.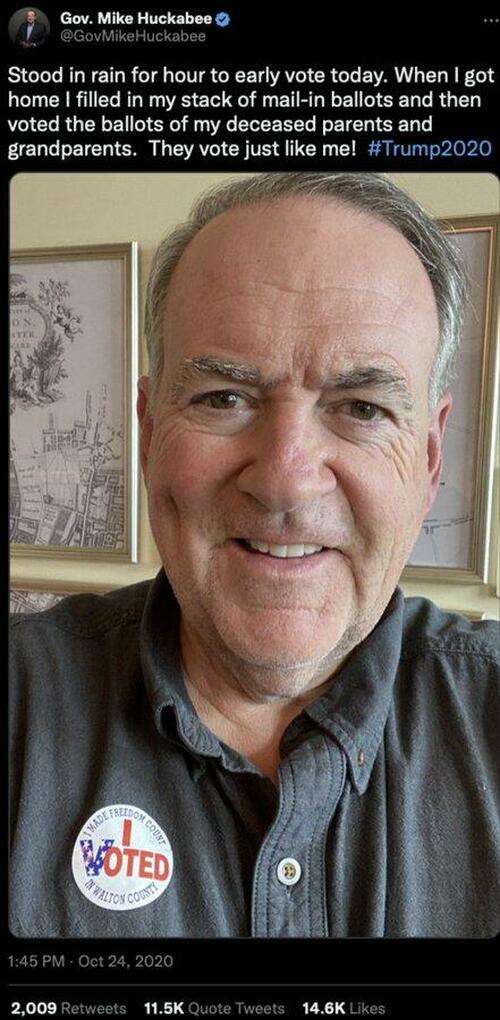 31. In one case, former Arizona governor Mike Huckabee joke-tweets about mailing in ballots for his "deceased parents and grandparents."
32. This inspires a long Slack that reads like an @TitaniaMcGrath parody. "I agree it's a joke," concedes a Twitter employee, "but he's also literally admitting in a tweet a crime."
The group declares Huck's an "edge case," and though one notes, "we don't make exceptions for jokes or satire," they ultimately decide to leave him be, because "we've poked enough bears."
33. "Could still mislead people… could still mislead people," the humor-averse group declares, before moving on from Huckabee

33. Roth suggests moderation even in this absurd case could depend on whether or not the joke results in "confusion." This seemingly silly case actually foreshadows serious later issues: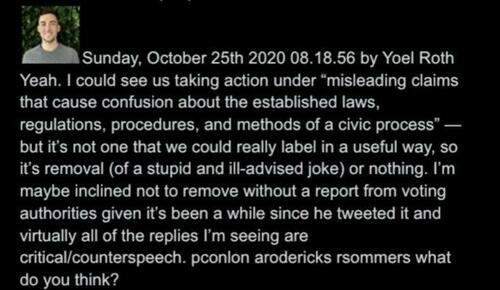 34. In the docs, execs often expand criteria to subjective issues like intent (yes, a video is authentic, but why was it shown?), orientation (was a banned tweet shown to condemn, or support?), or reception (did a joke cause "confusion"?). This reflex will become key in J6.
35. In another example, Twitter employees prepare to slap a "mail-in voting is safe" warning label on a Trump tweet about a postal screwup in Ohio, before realizing "the events took place," which meant the tweet was "factually accurate":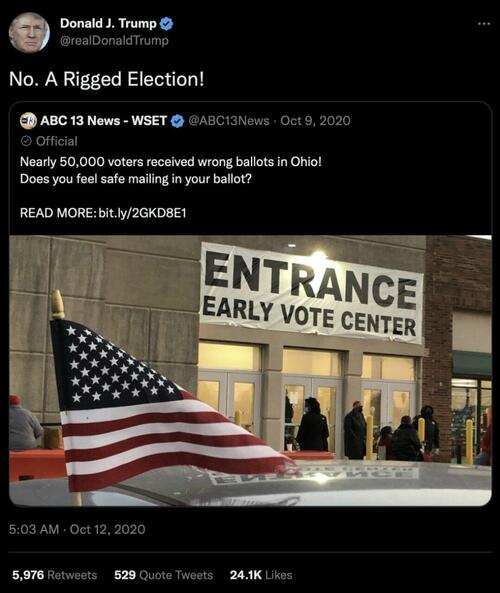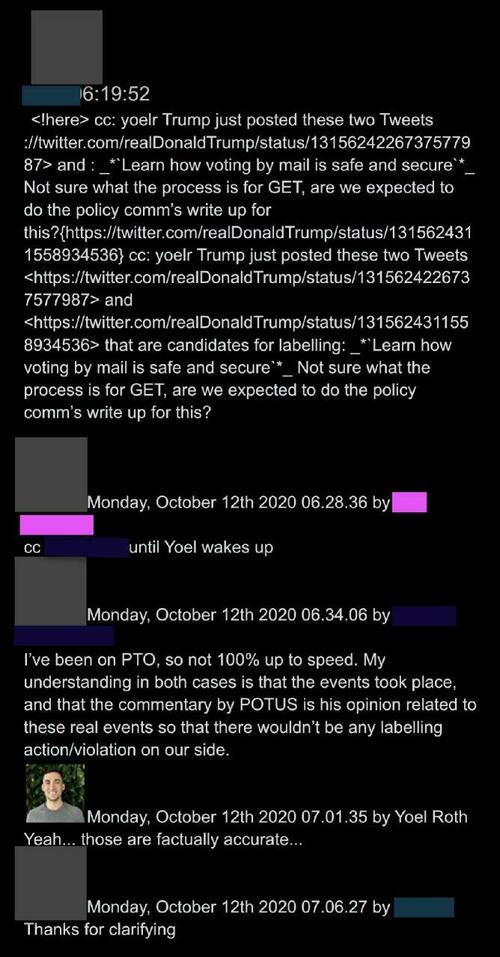 36. "VERY WELL DONE ON SPEED" Trump was being "visibility filtered" as late as a week before the election. Here, senior execs didn't appear to have a particular violation, but still worked fast to make sure a fairly anodyne Trump tweet couldn't be "replied to, shared, or liked":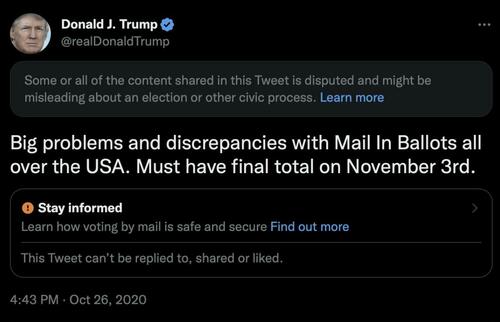 "VERY WELL DONE ON SPEED": the group is pleased the Trump tweet is dealt with quickly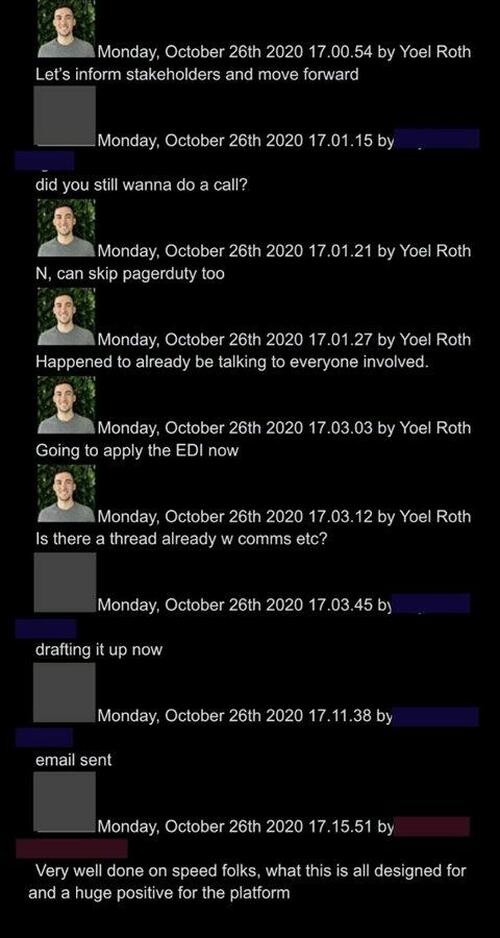 37. A seemingly innocuous follow-up involved a tweet from actor @realJamesWoods, whose ubiquitous presence in argued-over Twitter data sets is already a #TwitterFiles in-joke.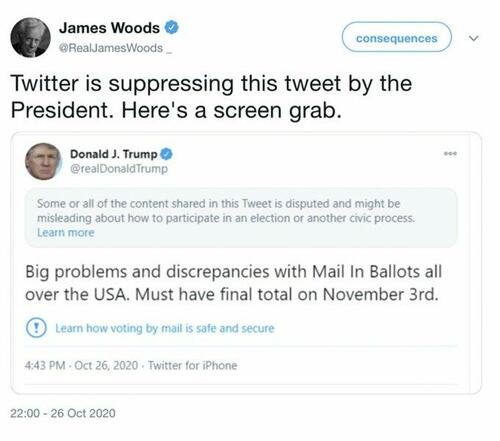 38. After Woods angrily quote-tweeted about Trump's warning label, Twitter staff – in a preview of what ended up happening after J6 – despaired of a reason for action, but resolved to "hit him hard on future vio."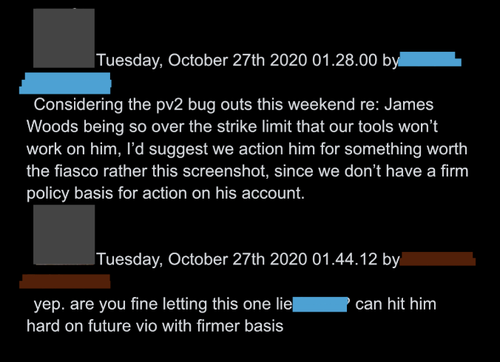 39. Here a label is applied to Georgia Republican congresswoman Jody Hice for saying, "Say NO to big tech censorship!" and, "Mailed ballots are more prone to fraud than in-person balloting… It's just common sense."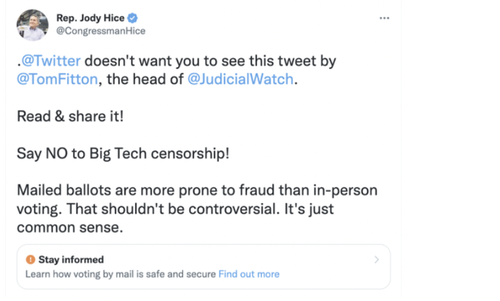 40. Twitter teams went easy on Hice, only applying "soft intervention," with Roth worrying about a "wah wah censorship" optics backlash: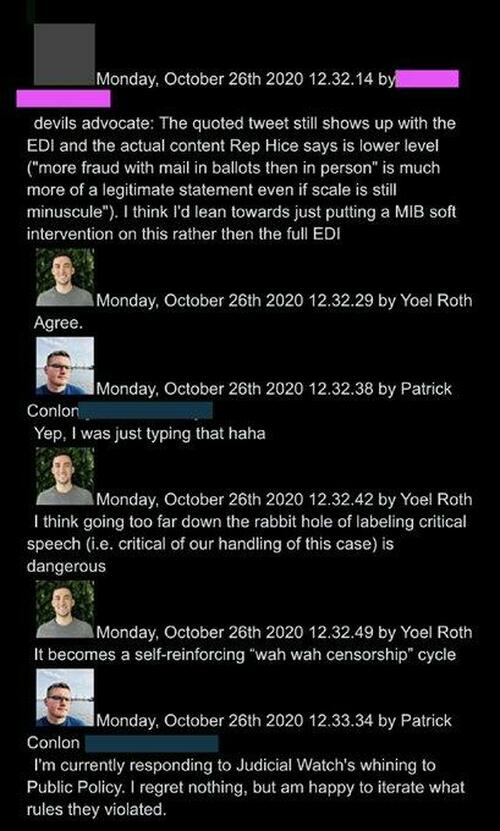 41. Meanwhile, there are multiple instances of involving pro-Biden tweets warning Trump "may try to steal the election" that got surfaced, only to be approved by senior executives. This one, they decide, just "expresses concern that mailed ballots might not make it on time."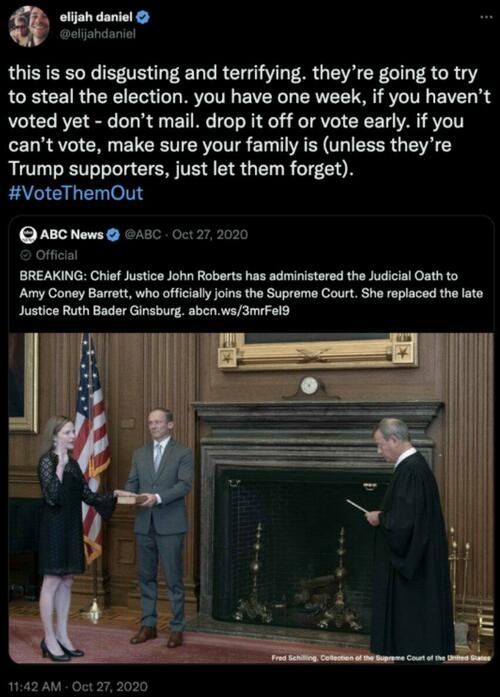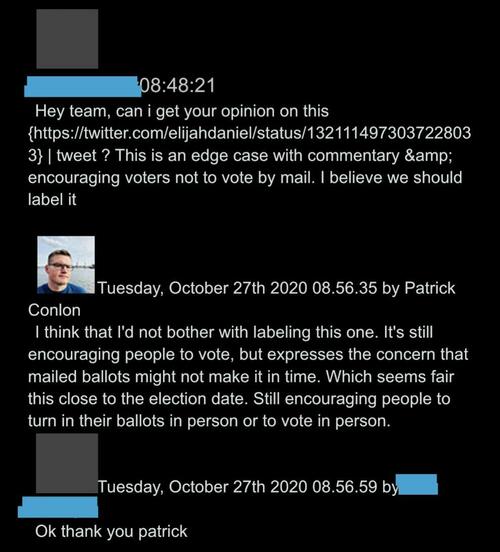 43. In this exchange, again unintentionally humorous, former Attorney General Eric Holder claimed the U.S. Postal Service was "deliberately crippled,"ostensibly by the Trump administration. He was initially hit with a generic warning label, but it was quickly taken off by Roth: pic.twitter.com/UXoXxE9E1S

— Matt Taibbi (@mtaibbi) December 10, 2022
To read the rest, click on the tweet above. Stay tuned for part II tomorrow…
This post was originally published at Zero Hedge
Sam Harris: Conservatives "Should Not Have Opinions" On Ukraine, Vaccines, Climate Change
"You've got people who are moving the opinions of millions of others, who should not have an opinion on these topics"
Leftist 'thinker' Sam Harris declared last week that conservatives should not be allowed to voice their opinions on issues such as the war in Ukraine, climate change, or vaccine safety.
Making the remarks on a podcast, Harris' argument is that conservative commentators are making a living out of "not caring" and thus should not be allowed to influence anyone else's opinion.
"We're swimming in a sea of misinformation, where you've got people who are moving the opinions of millions of others, who should not have an opinion on these topics," Harris proclaimed.
He continued, "There is no scenario in which you should be getting your opinion about vaccine safety or climate change, or the war in Ukraine, or anything else that we might want to talk about from Candace Owens, right?"
"She's not a relevant expert on any of those topics. And what's more, she doesn't seem to care, right?" Harris continued, adding "And she's living in a culture that has amplified that not caring into a business model, an effective business model, right? That is something very Trumpian about all that."
Watch:
This is all very rich coming from someone who previously admitted he supported the suppression of reporting on the Hunter Biden laptop immediately prior to the election, if it would prevent Donald Trump from being reelected.
Indeed, Harris went as far as saying "Hunter Biden could have had the corpses of children in his basement. I would not have cared."
Harris later pathetically claimed that the New York Post's reporting on the story was accurate only "by accident."
After he received backlash for the remarks, Harris rage quit Twitter and is still absent from the platform, refusing to even entertain debate or opinions antithetical to his own:
Given that she was used as an example by Harris, Candace Owens responded:
SUBSCRIBE on YouTube:
Follow on Twitter:
Follow @PrisonPlanet
———————————————————————————————————————
Brand new merch now available! Get it at https://www.pjwshop.com/


ALERT! In the age of mass Silicon Valley censorship It is crucial that we stay in touch.

We need you to sign up for our free newsletter here.

Support our sponsor – Turbo Force – a supercharged boost of clean energy without the comedown.

Also, we urgently need your financial support here. ———————————————————————————————————————
Democrats Refuse To Address The Contents Of The Twitter Files – Attack The Messengers Instead
There are some that say not much was learned or gained from the House Judiciary Subcommittee on Weaponization of the Federal Government this past week as politicians sparred over the meaning of the release of the Twitter Files.  Democrats in particular seemed adamant that they would not discuss the actual contents of the files or their implications.  Their apparent goal?  To disrupt exploration of the information and to attack the messengers.
There might not have been many new revelations coming from the subcommittee, but what the public did learn was that the political left is extremely hostile to facts, evidence and the truth. If you didn't already know that by now, the hearing with Matt Taibbi made it abundantly clear.
Leftist members of the committee proceeded into a tirade when Matt Taibbi and Michael Shellenberger were called to testify on their participation in the publishing of the files, attacking everything from their credentials to their intentions, and even demanding they reveal information on their private sources. Here is the real information the Dems did not want to talk about:
It is well known that Matt Taibbi, Michael Shellenberger and Elon Musk have long been liberal leaning in their politics, yet the accusations from Democrats asserted some form of conspiracy between Musk, Taibbi and Republicans, with some members even insinuating an effort to "undermine democracy." What right did they have to take this position?
They claim that Musk and Taibbi are hiding data that shows Trump and Republicans were making requests to censor Twitter users as well. In other words, they assert there is a "conspiracy" to protect Republicans while denouncing Democrats.
But what are the facts here?
Taibbi has said on numerous occasions that there were requests from Republicans as well as Democrat officials for accounts to be censored or blocked. He never hid this from anyone. This argument is a cover, a distraction from two separate issues:
First, the government should NEVER be involved in censorship requests of the public for any reason. It doesn't matter which party is making the requests, and a criminal investigation should be pursued for any officials involved in legitimate 1st Amendment violations.
Second, who did Twitter actually censor? Which requests did they actually honor? The vast majority of accounts censored by the previous Twitter management were conservative accounts, conservative news sources and posts with content that ran contrary to Democrat narratives. Republicans like Trump might have made requests, but how many people were blocked on Twitter in response?
Democrats complain about the Twitter Files being weighted in favor of the political right wing, but maybe that is because most of the requests for censorship came from the DNC and Biden controlled agencies, and most of the people censored were conservatives. It's weighted against Democrats because they more commonly use censorship as a weapon.
A stunning 99% of online political contributions made by Twitter employees in 2021 went to Democrats, according to Federal Election Commission data. Are we really supposed to believe that Twitter has been acting for the benefit of both parties, or just one?
The M.O. of the political left for the past several years now has been cancel culture attacks to silence their opponents and shut down dissent. Major social media companies are by far more progressive in their affiliations than conservative, and have been a key tool for leftists in targeting and removing contrary speech. No one on the left talks about being shut down by conservatives, it is always the reverse.
The social dynamic in the US has been completely out of balance for many years, with corporations and government agencies widely backing the most extreme segments of the far-left. This is where they get their power. They certainly don't get power from being the majority, woke activists are a tiny portion of the overall population and one that is widely despised. They have been feared in the past only because corporations and the government back them. The Twitter Files prove this collusion in detail.
Even moderate liberals like Musk or Taibbi are being run through the gauntlet of character assassination these days because they dared to oppose certain aspects of the far-left agenda. But the bottom line is this – Only the political left and some Neo-Cons within the GOP have displayed open disdain for the dissemination of the truth. We saw this with the Biden Laptop story. We saw this with covid facts that were inconvenient to the establishment narrative. And, we saw this recently with Tucker Carlson's release of suppressed J6 footage.
The average conservative and liberty minded independent sees sunlight as the best disinfectant, while establishment elitists and woke activists view open discussion and debate of information as a "dangerous" frivolity. We believe that the truth is arrived at through discourse. They believe that the truth is what they say it is.
The Twitter Files have torn open the veil obscuring big government and big tech collusion and this makes certain people very nervous and very angry. Take note of who those people are. Who is enraged? Who is hostile to the exposure of government censorship? Those are the real villains that need to face scrutiny, not the messengers passing the information along.
This post was originally published at Zero Hedge
Video: Twitter Files Journalist Michael Shellenberger Warns Of 'Censorship-Industrial Complex'
"The rise of a for-profit censorship industry funded by American taxpayers to censor real-world information"
Journalist Michael Shellenberger, who testified Thursday before the House regarding his involvement with the Twitter Files, has warned of a "very disturbing" movement toward a "Censorship-industrial complex" being implemented by the government.
Speaking about his testimony and attempts by Democrats to get him to reveal his journalistic sources, as well as just having plain insults thrown at him and being called a threat to Democracy, Shellenberger told Tucker Carlson that the hearing "was a very disturbing event."
"They then proceeded to demand to know who our sources were, which of course, we were unwilling to share with them," Shellenberger continued, adding "We were revealing here this is way beyond woke censorship within Twitter,"
The journalist urged that "we have now discovered a censorship-industrial complex that includes government-funded entities that are doing state-sponsored censorship."
"They are now seeking widespread use of artificial intelligence to censor accurate information," Shellenberger continued, adding "We've now seen Facebook and Twitter caught censoring accurate information about coronavirus vaccinations because they were worried that it would lead to vaccine hesitancy."
"The story has really evolved, and there is much more to say on it we are still discovering quite a bit of information, but what you're basically seeing here is the rise of a for-profit censorship industry funded by American taxpayers to censor real-world information," Shellenberger asserted.
Watch:
Here are the clips of the Democrats asking both Shellenberger and Matt Taibbi to expose their sources:
All of this is happening under the context of the Biden Federal Trade Commission going directly after the journalists and Elon Musk for daring to expose the censorship activities of the deep state.
SUBSCRIBE on YouTube:
Follow on Twitter:
Follow @PrisonPlanet
———————————————————————————————————————
Brand new merch now available! Get it at https://www.pjwshop.com/


ALERT! In the age of mass Silicon Valley censorship It is crucial that we stay in touch.

We need you to sign up for our free newsletter here.

Support our sponsor – Turbo Force – a supercharged boost of clean energy without the comedown.

Also, we urgently need your financial support here. ———————————————————————————————————————