New Zealand Takes Baby From Parents Demanding "Unvaccinated" Blood For Heart Surgery
New Zealand's High Court on Wednesday took custody of an infant whose parents demanded he only receive blood from donors who are unvaccinated against Covid-19 for an urgently needed heart surgery to repair a congenital defect.
"He remains in urgent need of an operation, and every day that the operation is delayed his heart is under strain," reads the order, citing one of his doctors.
The parents, Cole Reeves and Samantha Savage, rejected doctors' assertion that using blood donated from outside normal channels was "impractical" for the child's circumstance, and that surgery without donated blood was "not an available option."
"That Is Where Tyranny Starts": New Zealand May Take Baby From Parents Demanding 'Unvaccinated' Blood For Heart Surgery
Apparently an unvaccinated volunteer with the same blood type is not 'an available option.'
Judge Ian Gault ruled that it was in "Baby W's best interests" for the court to take temporary custody of him so the surgery could be performed. The infant was placed under the guardianship of the court from Wednesday until he recovers from surgery, but not beyond January 31st, the Washington Post reports.
The surgery, which is set for Friday morning, is estimated to take 48 hours to complete. Two doctors were appointed as Baby W's legal representatives for the purpose of consenting to surgery, and Reeves and Savage were appointed as his representatives for "all other purposes." Doctors said they would "take the parents' views into consideration" whenever possible — as long as doing so wouldn't compromise "Baby W's interests."

The decision followed a tense period of several weeks fraught with baseless claims, according to the order. -WaPo
Reeves and Savage how now tried to stop doctors preparing the infant for the operation on Friday – which the High Court responded to by ordering the parents not to obstruct staff at Starship Hospital.
Te Whatu Ora has asked for the police to step in and also asked the court if officers are entitled to use reasonable force to remove the baby from the parents.

In his decision yesterday, Justice Gault also said doctors from Te Whatu Ora had been made agents of the court to carry out the surgery, including the adminstration of any blood products.

In a minute issued this evening, Justice Gault said he had been informed by the lawyer acting for Te Whatu Ora that the baby's parents had prevented doctors from taking blood tests, performing a chest X-ray and performing an anaesthetic assessment.

The lawyer understood the parents had threatened to lay criminal charges against medical staff if they went ahead, Justice Gault said. –RNZ
"You touch our child and we will press criminal charges against you," the parents told hospital staff, according to the filing.
The parents' lawyer, Sue Grey, petitioned the judge, asking for the opinions of two US doctors to be considered, adding that it would be "extreme overreach" if police were called in to remove the baby from his parents in order to perform the surgery.
Justice Gault denied the request, saying Grey was effectively seeking to re-open the case he had already ruled on.
"Baby W urgently requires surgery and, as I concluded in my judgment, an order enabling the surgery to proceed using NZBS [New Zealand Blood Service] blood products without further delay is in Baby W's best interests," wrote Gault.
This post was originally published at Zero Hedge
National Embarrassment: Saudi TV Mocks Biden In Skit
International laughing stock
If there was ever any doubt that Joe Biden has made the U.S. an international laughing stock, then look no further than this clip from Saudi TV.
The MBC channel In Saudi depicted Biden as extending his hand to shake a non-existent person's, getting lost on stage, and falling up the steps of Air Force One, while an equally useless Kamala Harris looks on.
It's funny because it's true:
The Saudi channel is continually using Biden for laughs:
It is not surprising given that, as reported by The Wall St Journal, sources inside the Saudi government have claimed that the country's leader Crown Prince Mohammed bin Salman privately mocks gaffes made by Joe Biden, and has questioned his mental fitness to be President.
SUBSCRIBE on YouTube:
Follow on Twitter:
Follow @PrisonPlanet
———————————————————————————————————————
Brand new merch now available! Get it at https://www.pjwshop.com/


ALERT! In the age of mass Silicon Valley censorship It is crucial that we stay in touch.

We need you to sign up for our free newsletter here.

Support our sponsor – Turbo Force – a supercharged boost of clean energy without the comedown.

Also, we urgently need your financial support here. ———————————————————————————————————————
US Firms No Longer Safe In Mexico? Army Commandeers US-Owned Marine Terminal
We've heard many heartbreaking stories of American tourists venturing into Mexico only to be kidnapped or, worse, killed in crazy cartel drug war battles. It appears these days, no one is safe across the southern border, not even US-owned companies. 
Bloomberg reported that Mexican marines and police officers seized US construction firm Vulcan Materials' port terminal near Playa del Carmen in southern Mexico.
Footage from the seizure showed a long line of police and military units entering the property last Tuesday. 
In a statement, Vulcan Materials claimed that Mexican officials did not possess any legal documentation to warrant the seizure of the terminal.
"It should be clear that the rule of law is no longer assured for foreign companies in Mexico," the Alabama-based company said in a statement. "This invasion, unsupported by legal warrants, violates Vulcan's commercial and property rights."
AP News pointed out that President Andrés Manuel López Obrador and the company have been in a multi-year dispute:
López Obrador needs the dock to get cement, crushed stone and other materials into the area to finish his pet project, a tourist train known as the Train Maya. The president shut down Vulcan's stone quarries last May, arguing the company had extracted or exported stone without approval.
US lawmakers, including Republican Senator Bill Hagerty of Tennessee, voiced concern about the forced takeover of the terminal. He said this "adds to the trend of misguided and counterproductive behavior" by the Mexican president.
This presents a significant concern for US companies considering relocating production from China to Mexico – how can they be sure their businesses will be safe from government seizure?
This post was originally published at Zero Hedge
Fox News Host: "I Love A Good Drag Show"
Fox News is endorsing drag shows now in addition to child transgendism. 
"I love a good drag show," The Big Sunday Show co-host Julie Banderas said over the weekend, "but like, not for my first grader."
Banderas said that despite loving drag shows herself, she takes issue with using "taxpayer dollars" to fund Drag Queen Story Hours for kids.
"Drag shows have been going on for a very long time without incident," co-host Guy Benson chimed in. "It's got a following, especially in gay culture, it's not personally my thing but people like it. It's campy, it's funny, it's bawdy, it can be raunchy — and like go for it!"
"Knock yourself out!" Benson said. "Have fun! Go to your brunch! But there are some lines here, like do taxpayer dollars need to fund this? And do we need to have children at these events?"
Fox News endorsed and promoted child transgenderism last year during "Pride Month" and earlier this month they ran a column arguing that America needs open borders for LGBTQIA+ Latinx illegal aliens and their homosexual lovers to own the libs.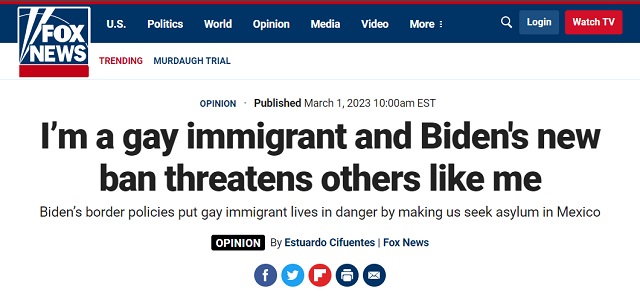 Their biggest hosts are also now lobbying for war with China and trying to scapegoat China for all the problems in our country that were caused by our own crooked globalist elites.
This post was originally published at Information Liberation