Senate Committee To Subpoena SBF If He Does Not Testify Voluntarily
Update (8:20pm ET): Following a tidal wave of disgust, outrage and loathing at corrupt politicians, Maxine Waters took to twitter to slam the earlier CNBC report that she wouldn't subpoena SBF as a "lie" even though just one sentence lower in her tweet she confirms that she has, in fact, not done anything yet and that a "subpoena is definitely on the table."
Furthermore, she notes that SBF has "been requested to testify" even though as everyone knows by now, he turned down said "request" and unless he is compelled (i.e., issued a subpoena) he won't go. But it's cool: "A subpoena is definitely on the table." The question is whether the check to Maxine clear and it stays there or someone actually signs it and delivers it to the prominent Democratic donor.
The responses suggest that America's corrupt politicians no longer fool anyone.
And while Maxine counts her inbound wire transfers and donations from SBF for a cost-benefit analysis of what the humiliated rep should do next, at least two US senators have no such qualms, and the two highest rated members of the Senate Banking Committee told Sam Bankman-Fried they expect him to appear before them next week in person to discuss the collapse of FTX, and will subpoena him if he does not appear voluntarily, a letter from its leaders said Wednesday.
As Coindesk first reported, Senators Sherrod Brown (D-Ohio) and Pat Toomey (R-Pa.), respectively the chair and ranking member of the committee, wrote a public letter to Bankman-Fried, who resigned from the exchange the same day it filed for bankruptcy last month. The committee is holding a hearing on Wednesday, Dec. 14, a day after the House Financial Services Committee holds its own hearing on the exchange.
"FTX's collapse has caused real financial harm to consumers, and effects have spilled over into other parts of the crypto industry. The American people need answers about Sam Bankman-Fried's misconduct at FTX," the lawmakers said in a prepared statement. "The Committee has requested that he testify at our upcoming hearing on FTX's collapse, and will consider further action if he does not comply."
Normally witnesses appear voluntarily, the lawmakers said in the letter. If Bankman-Fried does not confirm his participation by Thursday, "I am prepared, along with Ranking Member Pat Toomey, to issue a subpoena to compel your testimony," the letter signed by Brown said.
He now faces a number of investigations, including an investigation by federal prosecutors with the U.S. Attorney's Office in the Southern District of New York, who are investigating whether Bankman-Fried may have tried to manipulate the price of TerraUSD and Luna, which collapsed in their own dramatic fashion earlier this year, according to the New York Times.
* * *
Just when you thought House Democrat, and easily one of the smartest people in Congress, Maxine Waters couldn't humiliate herself and outrage the peasantry any further with her white-glove treatment of Sam Bankman-Fried, whose fraud was behind the largest ponzi scheme since Bernie Madoff, she has bested herself once more.
Waters, the House Financial Services Committee Chair, is not planning on subpoenaing Sam Bankman-Fried, or is that Sam Bankman-Freed – to testify at the upcoming December 13th Congressional hearing about the collapse of FTX.
"Waters informed committee members of her decision at a private meeting Tuesday with Securities and Exchange Commission chair Gary Gensler on Capitol Hill," CNBC reported late in the day on Wednesday.
Waters apparently said "she wants committee staff try to convince Bankman-Fried to voluntarily testify".
And if he disagrees? Well… oops, but that's what all those tens of millions in donations to Democrats were for. Or is that billions?
For those still confused, one month after the historic implosion, Bankman-Fried appears to be getting away with one of the most blatant heists in history and still has not been held to account by any regulatory agency, other than what appeared to be some perfunctory palm greasing that may have taken place in the Bahamas.
Baffled by why there has been no consequences for Bankman-Fried, even while Democrats and the Biden administration perpetually rail against billionaires and the upper class? Well, there's the small detail that Bankman-Fried and FTX associates gave $300,000 to the very same House Committee members that are investigating him, per the Washington Free Beacon:
Bankman-Fried and his co-founders at FTX contributed $300,351 to nine members of the House Financial Services Committee, according to Federal Election Commission records. Some of the largest contributions were to Democrats on the committee's Digital Assets Working Group, which worked on regulation of the crypto industry.
Recall that Maxine Waters has been already widely lampooned and ridiculed for the gentle treatment she has given Bankman-Fried thus far. In an endearing sounding Tweet to SBF on December 2, 2022, asking him to testify in front of Conrgess, she wrote: "We appreciate that you've been candid in your discussions about what happened at FTX. Your willingness to talk to the public will help the company's customers, investors, and others. To that end, we would welcome your participation in our hearing on the 13th."
The public was not amused by Waters' approach.
"If you don't arrest him I will have lost all faith in our government being the tiniest bit of just," bitcoin advocate Dan Held responded to Waters.
"Rep. Waters, we appreciate that you're holding a hearing on the 13th, and we look forward to substantive fact-finding about what happened at FTX. I am certain that factfinding will show that SBF has not, in fact, been candid in his discussions. He committed fraud, full stop," commented Lawyer Jake Chervinsky.
And then Bankman-Fried himself humiliated Waters by publicly shunning her offer to testify, telling Waters he wasn't sure if he'd be able to testify on December 13th.
"Once I have finished learning and reviewing what happened, I would feel like it was my duty to appear before the committee and explain," he wrote to her on Twitter. 
And to think, SBF dodging the question of an appearance before the House on December 13 came even after Waters blew Bankman-Fried a kiss…
We guess the ole' Willie Brown treatment doesn't quite work with the charm it used to. Maybe Maxine can have Kamala Harris stand in for her next time. 
This post was originally published at Zero Hedge
Obama Judge Sentences Oath Keepers Founder Stewart Rhodes to 18 Years in Prison in J6 'Sedition' Case
Oath Keepers founder Stewart Rhodes, who came unarmed to DC and didn't even enter the Capitol Building on January 6th, was sentenced to 18 years in prison on Thursday for "seditious conspiracy" by Obama-appointed US district judge Amit Mehta.
Rhodes' crime was apparently mouthing off about revolution in private chats and lamenting after the event that "we should have brought rifles."
"You, sir, present an ongoing threat and a peril to this country and to the republic and to the very fabric of this democracy," Judge Amit Mehta, an Indian immigrant appointed to the DC district court by Obama in 2014, scolded Rhodes before handing down the longest sentence to date for any J6er.
Mehta's bio says he served on the board of the Mid-Atlantic Innocence Project (one of many groups which helps get convicted murderers like Shaurn Thomas out of prison).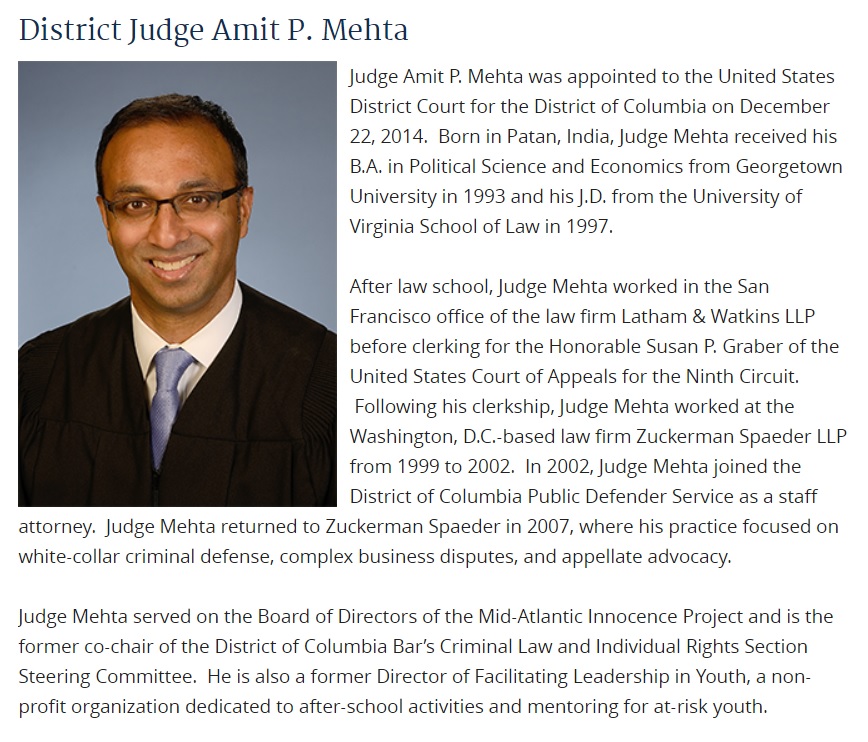 Though Mehta is a big believer in "criminal justice reform" when it comes to releasing thugs onto our streets, he opted to apply an enhancement for terrorism in Rhodes' sentencing.
From NBC News, "Oath Keepers founder sentenced to 18 years in Jan. 6 seditious conspiracy case":
The founder of the far-right Oath Keepers has been sentenced to 18 years in federal prison in connection with the Jan. 6 attack on the Capitol following his conviction on seditious conspiracy.

The sentence for Stewart Rhodes is the longest imposed on a Jan. 6 defendant to date. In a politically-charged speech in the courtroom just before his sentencing, Rhodes called himself a "political prisoner" and said that when he talked about "regime change" in a phone call with supporters earlier this week, he meant he hopes that former President Donald Trump will win in 2024.

The judge disagreed that Rhodes had been locked up for politics, saying it was his actions that led to his criminal convictions.

"You, sir, present an ongoing threat and a peril to this country and to the republic and to the very fabric of this democracy," Judge Amit Mehta said before handing down the sentence.

Rhodes was convicted of seditious conspiracy in November along with Kelly Meggs, a fellow Oath Keepers member who will be sentenced later Thursday afternoon.

"They won't fear us until we come with rifles in hand," Rhodes wrote in a message ahead of the Jan. 6 attack. After the attack, in a recording that was played in court during his trial, he said his only regret was that they "should have brought rifles."
That's called venting frustration.
They didn't bring rifles — they were unarmed — and they didn't take part in an "insurrection" — everyone left the Capitol after just a few hours — but apparently that's not relevant to the case.
The fact they legally brought some weapons to Virginia and left them in a hotel was proof enough of their "seditious conspiracy," according to Mehta.
Wearing an orange prison jumpsuit Thursday, Rhodes said he believes the only crime he committed was opposing those who are "destroying our country."

Mehta told Rhodes that he was found guilty of seditious conspiracy "not because of your beliefs, not because you supported the other guy, not because Joe Biden is president right now," but because of the facts of the case, and his actions before, during and after Jan. 6.

"You are not a political prisoner, Mr. Rhodes," Mehta said.
Fact check: false.
Rhodes and Meggs were put on trial alongside Jessica Watkins, Kenneth Harrelson and Thomas Caldwell, fellow Oath Keepers who were convicted of obstruction of an official proceeding and aiding and abetting, but not seditious conspiracy. Watkins and Harrelson will be sentenced on Friday.

Rhodes took the stand in his case, saying at trial that the other members of the Oath Keepers were "stupid" to storm the Capitol and that he disagreed with those who went inside; Rhodes did not enter the building. "I had no idea that any Oath Keeper was even thinking about going inside or would go inside," Rhodes said.

But the government also produced messages in which Rhodes said he thought that Jan. 6 was the last opportunity to stop what he saw as a takeover of the government.

"On the 6th, they are going to put the final nail in the coffin of this Republic, unless we fight our way out. With Trump (preferably) or without him, we have no choice," Rhodes wrote in a message ahead of Jan. 6.

He also celebrated Oath Keepers' actions in the immediate aftermath of the attack, after meeting with other members of the group at an Olive Garden in Virginia that night.

"Patriots, it was a long day but a day when patriots began to stand," Rhodes wrote the night of Jan. 6. "Stand now or kneel forever. Honor your oaths. Remember your legacy."
The Gateway Pundit has some longer excerpts from Stewart and Mehta.
In short, Rhodes — along with his fellow Oath Keepers — were convicted for mouthing off in their group chats.
If you say, "Give me liberty or give me death," that's essentially now evidence of a seditious conspiracy.
If you say, "The tree of liberty must be refreshed from time to time with the blood of patriots and tyrants," that's essentially now evidence of a seditious conspiracy.
This is all it takes to convict in the comically biased kangaroo courts in DC. Just as we saw in the Proud Boys case, the feds don't need any hard evidence — they just need a jury which doesn't like you.
This post was originally published at Information Liberation
Greenwald: Regime Journalists Promote The 'Right' Conspiracy Theories To Be Successful
"Journalists who spread conspiracy theories that the CIA wants them to spread get promoted, and the journalists who question the conspiracy theories of the CIA get destroyed."
Independent investigative journalist Glenn Greenwald succinctly summarises how 'regime media narratives' are formed and disseminated, and that any journalist who questions the process ends up a target for destruction by the establishment.
During his "System Update" broadcast on Rumble, Greenwald noted how "Journalists who spread conspiracy theories that the CIA wants them to spread get promoted, and the journalists who question the conspiracy theories of the CIA get destroyed."
"It's not prohibited in American corporate journalism to spread false stories and conspiracy theories," Greenwald asserted, adding "In fact, that's the only way you can thrive in journalism."
"The people who have lied the most, and who spread the most conspiracy theories, are the ones who have been promoted and enriched most within corporate journalism," he further urged.
"The difference is, the way to advance in journalism is to tell lies and spread conspiracy theories on behalf of the CIA, and that advance the interests of the U.S. government. That is not only permitted. That is required to be promoted," Greenwald emphasised.
He continued, "What you can't do, the thing that [Seymour] Hersh did that got him expelled from journalism, is he spread what are called conspiracy theories that are against the narrative of the U.S. security state, that undermined U.S. foreign policy. That is the only thing that is prohibited. That's what gets you kicked out of journalism."
Greenwald was referring to Hersh's reporting on the destruction of Russia's Nord Stream pipeline, which the veteran journalist is adamant was a coordinated operation by U.S. intelligence.
Greenwald continued, "As long as the conspiracy theories you're affirming and the false stories you're publishing are aligned with what the CIA, Pentagon, and the entire rest of the corporate media says, you're fine. In fact, you're better than fine. You're going to have all kinds of rewards lavished upon you."
Greenwald then cited the example of editor-in-chief of The Atlantic, Jeffrey Goldberg, who "did more [than anyone] to spread the false conspiracy theories that led to the Iraq War," and "also became ground zero for every Russiagate fraud."
Greenwald further proclaimed that Goldberg "was rewarded… as a result of the lying he did on behalf of the U.S. security state."
The journalist went on a further deep dive into the example of the 2001 anthrax attacks, which he posits is a prime example of how "people in the CIA, FBI, and DHS know they can lie to the media on purpose without any accountability because they do so while hiding behind the shield of anonymity."
"Even if you know they lied, the media will protect these liars, people who are deceiving America on purpose through the use of their media platforms," Greenwald further charged.
Watch:
SUBSCRIBE on YouTube:
Follow on Twitter:
Follow @PrisonPlanet
———————————————————————————————————————
Brand new merch now available! Get it at https://www.pjwshop.com/


ALERT! In the age of mass Silicon Valley censorship It is crucial that we stay in touch.

We need you to sign up for our free newsletter here.

Support our sponsor – Turbo Force – a supercharged boost of clean energy without the comedown.

Also, we urgently need your financial support here. ———————————————————————————————————————
Poll: Almost Two Thirds Of Americans View Media As "Truly the Enemy of the People"
"A mind-blowing damnation of the regime press"
A new Rasmussen poll has found that almost two thirds of Americans believe the media is "truly the enemy of the people".
The survey found that a total of 59 percent of likely voters either strongly or somewhat agree with the statement.
Among Republicans, the belief is even more prevalent at 77 percent. Only a slim majority of Democrats disagree.
The poll also noted that among Democrats there has been an 11 point drop in trust in the media.
Overall, a majority of 52 percent of Americans say they do not trust the political news they are getting from the establishment media.
The survey also found that 52 percent believe the media is bias towards Democrats.
This is yet another example of how Americans hold almost wholly opposite opinions to liberal corporate media narratives.
A new Harris-Harvard poll released earlier this week also demonstrated how despised the leftist media has become.
SUBSCRIBE on YouTube:
Follow on Twitter:
Follow @PrisonPlanet
———————————————————————————————————————
Brand new merch now available! Get it at https://www.pjwshop.com/


ALERT! In the age of mass Silicon Valley censorship It is crucial that we stay in touch.

We need you to sign up for our free newsletter here.

Support our sponsor – Turbo Force – a supercharged boost of clean energy without the comedown.

Also, we urgently need your financial support here. ———————————————————————————————————————