Democrat Warnock Beats Walker To Win Georgia Senate Runoff
Update (2245ET): With 95% of votes counted, a number of mainstream media outlets have called the Georgia Senate Runoff election for incumbent Democrat Raphael Warnock.
Well over 1 million people went to the polls Tuesday. That followed record-breaking early voting in the runoff, in which about 1.85 million in-person and mail-in votes had been tallied by Dec. 2, the last day of early voting.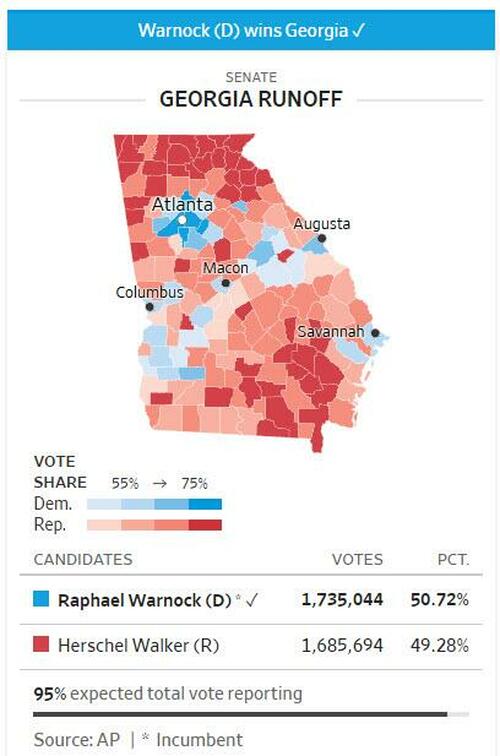 Mr. Warnock's victory means that Democrats will control the Senate 51-49 starting in January, slightly increasing their hold on the chamber they have controlled since early 2021, when Mr. Warnock was first elected, along with his Georgia Democratic colleague Sen. Jon Ossoff.
The win means Democrats will have control of Senate committees outright and will no longer have to adhere to a power-sharing agreement with the GOP.
* * *
Georgia voters will head to the polls on Tuesday to settle the final Senate contest in the country between Democratic Sen. Raphael Warnock and football legend Herschel Walker, following a four-week runoff that has attracted a flood of outside spending.
The outcome of Tuesday's vote will determine whether Democrats will have a 51-49 Senate majority, or will maintain the 50-50 control of the chamber which often resulted in the party kowtowing to centrist Democratic Sens. Joe Manchin (WV) and Kyrsten Sinema (AZ).
Atlanta voters were greeted Tuesday morning with 40-degree weather with rain.
The contest between Walker and Warnock pits the state's first black senator and senior minister against Walker, who has the support of former President Donald Trump. If Warnock wins, it would solidify Georgia's status as a battleground state heading into the 2024 election, AP reports. If Walker wins, it would reflect limited Democratic gains in the state – particularly in light of Republicans marking wide-ranging victories across the state in last month's midterm elections.
In that election, Warnock led Walker by about 37,000 votes out of almost 4 million cast but fell shy of a majority, triggering the second round of voting. About 1.9 million votes already have been cast by mail and during early voting, an advantage for Democrats whose voters more commonly cast ballots this way. Republicans typically fare better on voting done on Election Day, with the margins determining the winner.

Last month, Walker, 60, ran more than 200,000 votes behind Republican Gov. Brian Kemp after a campaign dogged by intense scrutiny of his past, meandering campaign speeches and a bevy of damaging allegations, including claims that he paid for two former girlfriends' abortions — accusations that Walker has denied. -AP
On Monday Walker campaigned with his wife, Julie, where he thanked supporters and backed off the attacks on Warnock.
"I love y'all, and we're gonna win this election," he told supporters at a winery in Ellijay, adding "I love winning championships."
As far as campaign spending, Warnock's has spent around $170 million vs. Walker's $60 million or so, according to federal disclosures. Their respective party committees have spent more, according to the report.
During the campaign Warnock attacked Walker's rocky past – claiming the ex-NFL star paid for two former girlfriends abortions, while Walker was forced to admit during the campaign that he fathered three children out of wedlock whom he had never publicly acknowledged.
Walker, a multi-millionaire and successful businessman, has campaigned on his business achievements and philanthropic activities – though he was caught exaggerating, saying he employed hundreds of people and grossed tens of millions of dollars in sales, when in fact he employed eight people and had around $1.5 million in average annual sales.
This post was originally published at Zero Hedge
Harvard Poll: Six In Ten Have Doubts Over Biden's Mental Fitness
A quarter of Democrats say he's too old to be President
A new Harvard/ Harris survey has revealed that six in ten Americans have reservations over Joe Biden's mentally capacity to run again in 2024, with 65 percent agreeing that at 80-years-old, Biden is "too old" to continue as President.
Over a third of that 65 percent are Democrats, with almost a quarter of Democrats also saying they have doubts about Biden's mental fitness.
The poll found that a whopping 90 percent of Republicans and 73 percent of Independents agree Biden is now showing he is too old and it should preclude him from running again in 2024.
Eighty seven percent of GOP voters say Biden doesn't have the mental fitness to run again, while 67 percent of independents agree.
The poll also found that 61 percent of Americans believe the country is heading in the wrong direction, with a majority, 56 percent, expressing an unfavorable view of Biden. 
The survey also notes that just 37 percent approve of how Biden has handled the border crisis, while 62 percent highly disapprove of his handling of the economy.
According to the survey, if an election were held today between Trump and Biden, the former would win by 5 points.
Biden's mental decline was on display again Thursday, when during an event in Springfield, Virginia, he joked about people thinking he was "stupid" before making yet another embarrassing verbal gaffe, referring to Rep. Don Beyer as "Doug".
He stammered his way through the appearance:
Biden also managed to get lost on stage again:
SUBSCRIBE on YouTube:
Follow on Twitter:
Follow @PrisonPlanet
———————————————————————————————————————
Brand new merch now available! Get it at https://www.pjwshop.com/


ALERT! In the age of mass Silicon Valley censorship It is crucial that we stay in touch.

We need you to sign up for our free newsletter here.

Support our sponsor – Turbo Force – a supercharged boost of clean energy without the comedown.

Also, we urgently need your financial support here. ———————————————————————————————————————
Video: Rand Paul Warns Overclassification Being Used To Cover Up COVID Lab Leak
"The intelligence community does this so they have more power and we have less power"
Senator Rand Paul warned Wednesday that over classification of information is being used to avoid oversight and institute cover ups, such as regarding the origins of COVID.
Appearing on Newsmax TV's "Eric Bolling The Balance," Paul explained "I think there's an overclassification problem here. Everything's classified. And in all likelihood, what we'll find is this is not some sort of organized scheme to have the secrets to the nuclear weapon in [Biden's] Corvette. I think it's more likely than not that we've classified so many documents that it's hard to find documents that are not classified."
He continued, "The one problem with classifying so much is that there is, right now, to my knowledge, pretty good information out there in the intelligence community about the virus originating from the lab in China, and yet they classify it to try to prohibit people [like] me giving you the information that we already know that this came from a lab. And so this is a real problem."
"We need to allow less classification so the American people can understand more about what's going on with their government," Paul urged.
He added, "I go to classified hearings, and I haven't actually been to a classified hearing where I actually thought I heard a secret, to tell you the truth."
Paul further noted that when President Trump was found to have some documents, "the left-wing media acted as if oh, these are the Manhattan Project. This is the secrets to the nuclear weapon… Really, most of the stuff we see is not really that secret. But it's all stamped that way."
"The intelligence community does this so they have more power and we have less power," the Senator continued, adding "I have long argued that Congress needs to know more and the American people need to know more about what the CIA does, what the FBI does. Because we can't oversee them, we can't have oversight and reform if we don't know what they're doing."
"They avoid oversight by classifying things, and often there's a policy decision like, for example, with COVID, we need to know if COVID came from a lab so we can prevent this from happening again. Some of this is being stymied by the intelligence agencies classifying things that need to be declassified," Paul further asserted.
Paul has previously labeled the subterfuge over the coronavirus lab leak as "the biggest coverup in the history of science," and has vowed to continue to expose the origins of the pandemic and uncover a paper trail that he is positive will lead back to the Wuhan lab research funded by Anthony Fauci and the National Institutes of Health.
SUBSCRIBE on YouTube:
Follow on Twitter:
Follow @PrisonPlanet
———————————————————————————————————————
Brand new merch now available! Get it at https://www.pjwshop.com/


ALERT! In the age of mass Silicon Valley censorship It is crucial that we stay in touch.

We need you to sign up for our free newsletter here.

Support our sponsor – Turbo Force – a supercharged boost of clean energy without the comedown.

Also, we urgently need your financial support here. ———————————————————————————————————————
Non-Violent J6 Protester Who Put Feet Up On Pelosi's Desk Found Guilty On All Charges, Faces Life in Prison
Richard "Bigo" Barnett, 62, is facing a potential life sentence for peacefully entering the Capitol on January 6th and putting his feet up on Nancy Pelosi's desk.
Barnett was wildly overcharged by vindictive prosecutors and denied a change of venue out of Washington, DC.
Prosecutors seized on the fact his cane doubled as a stun gun and could have been used as a weapon even thought it wasn't.
From The Washington Post, "Man photographed in Pelosi's office on Jan. 6 convicted of 8 counts":
An Arkansas man who entered the U.S. Capitol with rioters on Jan. 6, 2021, and was photographed lounging at a desk in then-House Speaker Nancy Pelosi's office suite was convicted Monday of eight federal crimes related to the incursion.

Richard "Bigo" Barnett, now 62, who left a crude written message for Pelosi before departing the office suite with a purloined envelope bearing the California Democrat's digital signature, sat impassively as a jury in U.S. District Court in Washington delivered its decisions.

After nine days of testimony and legal arguments in the trial, the panel began deliberating Monday morning and reached guilty verdicts on all eight counts against Barnett, including four felonies, in less than two hours.

The most serious charge he faced, obstructing an official government proceeding, carries a maximum penalty of 20 years in prison. But advisory sentencing guidelines used by the court are likely to recommend a much shorter term in his case.

[…] Barnett, an ardent supporter of former president Donald Trump, was carrying a walking stick equipped with a high-voltage stun device when he entered the Capitol. […]

Besides obstructing an official proceeding, Barnett was convicted of two felonies related to carrying a dangerous weapon in the Capitol and a felony charge of civil disorder. The four misdemeanors he was convicted of included theft of government property, meaning the envelope.
DC is currently working to lower penalties for carjackers, robbers and armed felons in the name of fighting "systemic racism" but Bigo and other J6 protesters are getting the book thrown at them.
Carjacking thugs need "restorative justice" but J6 protesters must face retribution.
RELATED: As Capitol Stormers Rot In DC Jails Stripped Of All Rights, Accused 2017 Inauguration Antifa Rioters Get $1.6M Payout From DC Govt
This post was originally published at Information Liberation