Elon Musk Releases THE TWITTER FILES
How Twitter Collaborated With "The Biden Team" To Cover Up The Hunter Laptop Story
In a greatly anticipated Friday night drop of what has was expected to be a cache of information involving the censoring of Hunter Biden's notebook story days ahead of the 2020 presidential election, moments ago Elon Musk – who worked in collaboration with the notoriously independent gonzo journalist Matt Taibbi of "Vampire Squid" fame – has published the "Twitter Files."
Shortly before their release, Matt Taibbi sent the following email to his substack subscribers:
Dear TK Readers:

Very shortly, I'm going to begin posting a long thread of information on Twitter, at my account, @mtaibbi. This material is likely to get a lot of attention. I will absolutely understand if subscribers are angry that it is not appearing here on Substack first. I'd be angry, too.

The last 96 hours have been among the most chaotic of my life, involving multiple trips back and forth across the country, with a debate in Canada in between. There's a long story I hope to be able to tell soon, but can't, not quite yet anyway. What I can say is that in exchange for the opportunity to cover a unique and explosive story, I had to agree to certain conditions.

Those of you who've been here for years know how seriously I take my obligation to this site's subscribers. On this one occasion, I'm going to have to simply ask you to trust me. As it happens, there may be a few more big surprises coming, and those will be here on Substack. And there will be room here to to discuss this, too, in time. In any case, thanks for your support and your patience, and please hold me to a promise to make all this up to you, and then some.
Moments later Elon confirmed that he did, in fact, work with Taibbi:
And this is what Taibbi has been tweeting in the past few minutes (link here):
1. Thread: THE TWITTER FILES
2. What you're about to read is the first installment in a series, based upon thousands of internal documents obtained by sources at Twitter.
3. The "Twitter Files" tell an incredible story from inside one of the world's largest and most influential social media platforms. It is a Frankensteinian tale of a human-built mechanism grown out the control of its designer.
4. Twitter in its conception was a brilliant tool for enabling instant mass communication, making a true real-time global conversation possible for the first time.
5. In an early conception, Twitter more than lived up to its mission statement, giving people "the power to create and share ideas and information instantly, without barriers."
6. As time progressed, however, the company was slowly forced to add those barriers. Some of the first tools for controlling speech were designed to combat the likes of spam and financial fraudsters.
7. Slowly, over time, Twitter staff and executives began to find more and more uses for these tools. Outsiders began petitioning the company to manipulate speech as well: first a little, then more often, then constantly.
8. By 2020, requests from connected actors to delete tweets were routine. One executive would write to another: "More to review from the Biden team." The reply would come back: "Handled."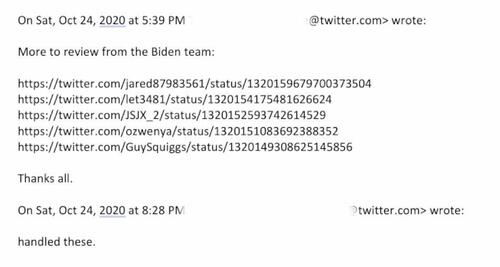 9. Celebrities and unknowns alike could be removed or reviewed at the behest of a political party:

10.Both parties had access to these tools. For instance, in 2020, requests from both the Trump White House and the Biden campaign were received and honored. However:
11. This system wasn't balanced. It was based on contacts. Because Twitter was and is overwhelmingly staffed by people of one political orientation, there were more channels, more ways to complain, open to the left (well, Democrats) than the right.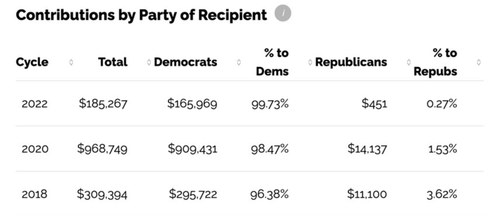 12. The resulting slant in content moderation decisions is visible in the documents you're about to read. However, it's also the assessment of multiple current and former high-level executives.
… Okay, there was more throat-clearing about the process, but screw it, let's jump forward
16. The Twitter Files, Part One: How and Why Twitter Blocked the Hunter Biden Laptop Story
17. On October 14, 2020, the New York Post published BIDEN SECRET EMAILS, an expose based on the contents of Hunter Biden's abandoned laptop: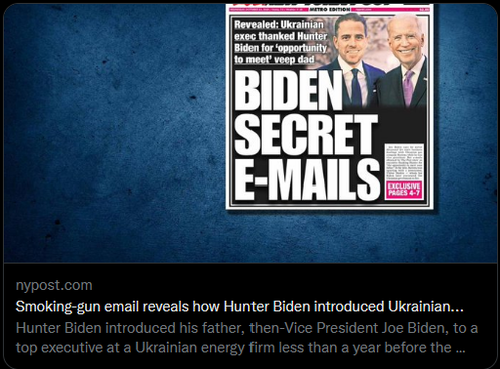 18. Twitter took extraordinary steps to suppress the story, removing links and posting warnings that it may be "unsafe." They even blocked its transmission via direct message, a tool hitherto reserved for extreme cases, e.g. child pornography.
19. White House spokeswoman Kaleigh McEnany was locked out of her account for tweeting about the story, prompting a furious letter from Trump campaign staffer Mike Hahn, who seethed: "At least pretend to care for the next 20 days."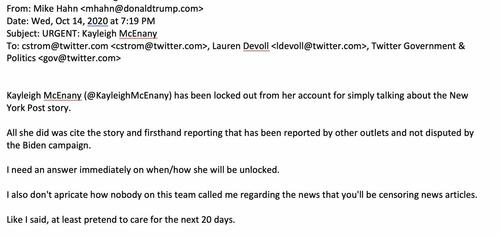 20.This led public policy executive Caroline Strom to send out a polite WTF query. Several employees noted that there was tension between the comms/policy teams, who had little/less control over moderation, and the safety/trust teams:

21. Strom's note returned the answer that the laptop story had been removed for violation of the company's "hacked materials" policy: https://web.archive.org/web/20190717143909/https://help.twitter.com/en/rules-and-policies/hacked-materials

22. Although several sources recalled hearing about a "general" warning from federal law enforcement that summer about possible foreign hacks, there's no evidence – that I've seen – of any government involvement in the laptop story. In fact, that might have been the problem…
23. The decision was made at the highest levels of the company, but without the knowledge of CEO Jack Dorsey, with former head of legal, policy and trust Vijaya Gadde playing a key role.
24. "They just freelanced it," is how one former employee characterized the decision. "Hacking was the excuse, but within a few hours, pretty much everyone realized that wasn't going to hold. But no one had the guts to reverse it."
25.You can see the confusion in the following lengthy exchange, which ends up including Gadde and former Trust and safety chief Yoel Roth. Comms official Trenton Kennedy writes, "I'm struggling to understand the policy basis for marking this as unsafe":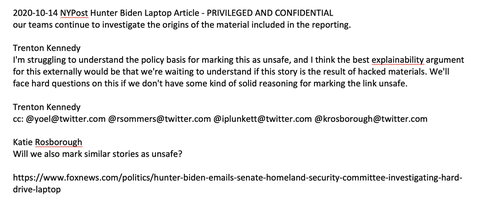 26. By this point "everyone knew this was fucked," said one former employee, but the response was essentially to err on the side of… continuing to err.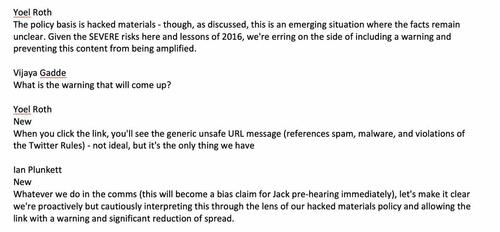 27. Former VP of Global Comms Brandon Borrman asks, "Can we truthfully claim that this is part of the policy?"

28. To which former Deputy General Counsel Jim Baker again seems to advise staying the non-course, because "caution is warranted":

29. A fundamental problem with tech companies and content moderation: many people in charge of speech know/care little about speech, and have to be told the basics by outsiders. To wit:
30. In one humorous exchange on day 1, Democratic congressman Ro Khanna reaches out to Gadde to gently suggest she hop on the phone to talk about the "backlash re speech." Khanna was the only Democratic official I could find in the files who expressed concern.

31. Gadde replies quickly, immediately diving into the weeds of Twitter policy, unaware Khanna is more worried about the Bill of Rights: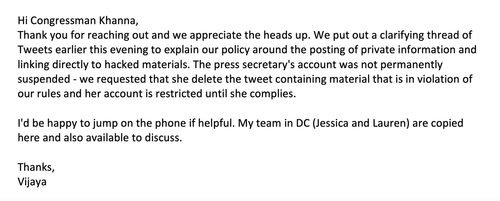 32.Khanna tries to reroute the conversation to the First Amendment, mention of which is generally hard to find in the files: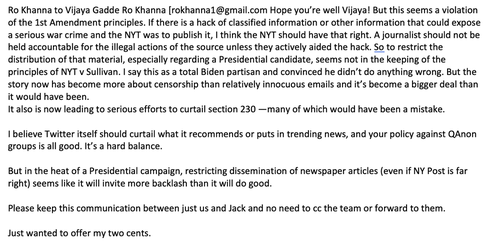 33.Within a day, head of Public Policy Lauren Culbertson receives a ghastly letter/report from Carl Szabo of the research firm NetChoice, which had already polled 12 members of congress – 9 Rs and 3 Democrats, from "the House Judiciary Committee to Rep. Judy Chu's office."

34.NetChoice lets Twitter know a "blood bath" awaits in upcoming Hill hearings, with members saying it's a "tipping point," complaining tech has "grown so big that they can't even regulate themselves, so government may need to intervene."

35.Szabo reports to Twitter that some Hill figures are characterizing the laptop story as "tech's Access Hollywood moment":

36.Twitter files continued: "THE FIRST AMENDMENT ISN'T ABSOLUTE"
Szabo's letter contains chilling passages relaying Democratic lawmakers' attitudes. They want "more" moderation, and as for the Bill of Rights, it's "not absolute"

37. An amazing subplot of the Twitter/Hunter Biden laptop affair was how much was done without the knowledge of CEO Jack Dorsey, and how long it took for the situation to get "unfucked" (as one ex-employee put it) even after Dorsey jumped in.
38. While reviewing Gadde's emails, I saw a familiar name – my own. Dorsey sent her a copy of my Substack article blasting the incident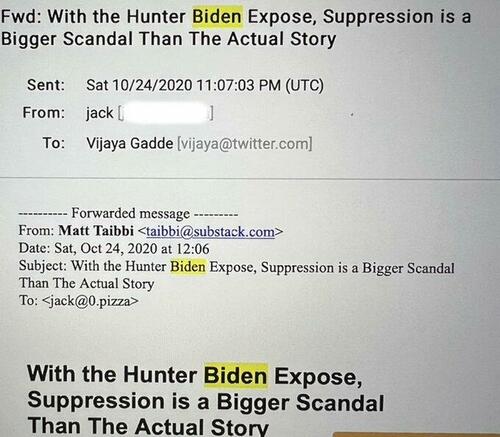 39. There are multiple instances in the files of Dorsey intervening to question suspensions and other moderation actions, for accounts across the political spectrum
40. The problem with the "hacked materials" ruling, several sources said, was that this normally required an official/law enforcement finding of a hack. But such a finding never appears throughout what one executive describes as a "whirlwind" 24-hour, company-wide mess.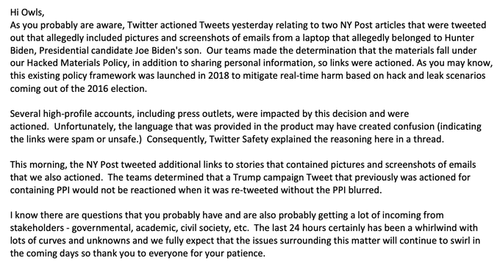 41. It's been a whirlwind 96 hours for me, too. There is much more to come, including answers to questions about issues like shadow-banning, boosting, follower counts, the fate of various individual accounts, and more. These issues are not limited to the political right.
42. Good night, everyone. Thanks to all those who picked up the phone in the last few days.
* * *
The release was telegraphed one week ago, when Musk acknowledged that revealing Twitter's internal discussions surrounding the censorship of the New York Post's Hunter Biden laptop story right before the 2020 US election is "necessary to restore public trust."
Recall that the Post had its Twitter account locked in October 2020 for reporting on the now-confirmed-to-be-real"laptop from hell," which contained still-unprosecuted evidence of foreign influence peddling through then-Vice President Joe Biden – including a 2015 meeting with an executive of Ukrainian gas giant Burisma.
Users who tried to share the link to the article were greeted with a message saying, "We can't complete this request because this link has been identified by Twitter or our partners as being potentially harmful."
Then, days after Musk's tweet, Twitter's former head of Trust and Safety, Yoel Roth, admitted it was a 'mistake' to censor the Hunter Biden laptop story.
In his first public appearance since becoming an ex-employee, Roth suggested that the Hunter Biden laptop story was simply 'too difficult' for Twitter to verify. Alternatively, the company could have perhaps simply trusted the Post, one of America's oldest publications that doesn't have a reputation for fabricating bombshell stories – like Twitter does with countless anonymous bombshells from other major publications.
"We didn't know what to believe. We didn't know what was true. There was smoke," Roth said during an interview at the Knight Foundation conference, as noted by the Epoch Times. "And ultimately for me, it didn't reach a place where I was comfortable removing this content from Twitter."
"It set off every single one of my finely tuned APT28 'hack and leak campaign' alarm bells," he said, referring to a notorious team of cyberspies affiliated with Russian military intelligence. "Everything about it looked like a hack and leak."
When asked whether if it was a mistake to censor the story, Roth replied, "In my opinion, yes."
Would Roth have suppressed the story if it was a Don Jr. laptop full of incriminating evidence?
* * *
Finally, it will be very interesting to see which "independent", "impartial" and "objective" members of the Mainstream Media cover the Twitter Files, which unlike all that Russia collusion bullshit, was a real and actionable attempt to interfere with US democracy by covering up one of the most explosive political stories of a generation, not to mention an event that would have swayed the 2020 presidential election.
This post was originally published at Zero Hedge
Video: Leftist Talking Heads Claim Letting Trump Back On Facebook Will "Destroy Democracy"
"Do you want to be that institution that really helps take down the country?"
Reacting to the news that Facebook is to allow President Trump access to its platform after a two year ban, leftist 'journalists' on MSNBC claimed that it will "destroy democracy".
Trump derangement syndrome is well and truly back, with New York Times editor Mara Gay, Lincoln Project co-founder George Conway, and historian Jon Meacham crying about Meta helping to "take down the country" by allowing Trump to return.
Conway said "They think, 'Well oh, the fire's out, so even though this guy has a cache of matches and gasoline that he carries around with him, let's let him just play with matches again."
Meacham described Facebook's decision on Trump as a "devil's bargain" claiming that Meta needs more money and Trump needs to gain relevance again.
"If you are one of these companies, do you want to be the means by which an autocrat mounts an assault on the Constitution itself?" he added.
Gay chimed in "As a country or as a company, you don't want to hand over the keys to democracy to have someone destroy that democracy. Do you want to be that institution that really helps take down the country?"
She went on to compare Meta's decision to reinstate Trump to chemical companies pushing for wars so they can sell weapons.
More video below:
SUBSCRIBE on YouTube:
Follow on Twitter:
Follow @PrisonPlanet
———————————————————————————————————————
Brand new merch now available! Get it at https://www.pjwshop.com/


ALERT! In the age of mass Silicon Valley censorship It is crucial that we stay in touch.

We need you to sign up for our free newsletter here.

Support our sponsor – Turbo Force – a supercharged boost of clean energy without the comedown.

Also, we urgently need your financial support here. ———————————————————————————————————————
They Buried It
Poof! And it's gone.
Daily Mail contacted Pfizer for comment on the latest Project Veritas bombshell.
3 hours later and the story is gone! Their comments must have left quite the impression.
Please share this video! https://youtu.be/KxOYZ2B5O2M
SUBSCRIBE on YouTube:
Follow on Twitter: Follow @PrisonPlanet
———————————————————————————————————————
Brand new merch now available! Get it at https://www.pjwshop.com/
ALERT!
In the age of mass Silicon Valley censorship It is crucial that we stay in touch.
I need you to sign up for my free newsletter here.
Support my sponsor – Turbo Force – a supercharged boost of clean energy without the comedown.
Get early access, exclusive content and behind the scenes stuff by following me on Locals.
———————————————————————————————————————
EU Globalist Threatens Elon Musk With "Sanctions" If He Allows Free Speech on Twitter
Unelected technocrat demands billionaire 'behave' himself.
A top EU technocrat has threatened Elon Musk with "sanctions" if he allows free speech on Twitter, asserting that the billionaire has not 'behaved in a decent way'.
The comments were made by EU Commission VP for Values and Transparency Vera Jourova at the annual Davos meeting of globalists.
"The time of the Wild West is over," Jourova told EuroNews. "We will have the Digital Services Act [DSA]. We will have the Code of Practice as a part of this legislation."
"So, after Mr Musk took over Twitter with his 'freedom of speech absolutism,' we are the protectors of freedom of speech as well," she added. "But at the same time, we cannot accept, for instance, illegal content online and so on. So, our message was clear: we have rules which have to be complied with, otherwise there will be sanctions."
Jourova's justification is a complete misnomer because illegal content is already banned on Twitter. She is obviously trying to conflate illegal content with offensive speech in an attempt to make the two indistinguishable.
At the WEF annual meeting, the EU regulator threatens Twitter and Elon Musk with sanctions.

She is very unhappy about unapproved thoughts being expressed freely on Twitter.

Your thoughts are too dangerous for the EU bureaucrats to handle! pic.twitter.com/M27cykXqtF

— Igor Chudov 🐭 (@ichudov) January 23, 2023
In a separate video interview, Jourova suggested that Musk had not 'behaved' in a 'decent' way like his predecessors at Twitter. In other words, he refused to bend the knee to globalists who want their draconian censorship agenda to be re-imposed.
"We have the rules which have to be complied with and otherwise there will be sanctions," barked Jourova, an unelected bureaucrat.
Jourova previously attracted controversy at Davos for predicting that America would soon have similar 'hate speech' laws to Europe, effectively calling for the elimination of the First Amendment.
"Illegal hate speech, which you will have soon also in the U.S. I think that we have a strong reason why we have this in the criminal law," Jourova said.
Throughout the elitist summit, technocrats pushed the idea that there needs to be a continuing crackdown on "hate and misinformation," a contrived justification designed to censor speech which is critical of their own agenda to create a new world order.
European Commission VP Věra Jourová at the WEF:

"Illegal hate speech, which you will have soon also in the U.S. I think that we have a strong reason why we have this in the criminal law." pic.twitter.com/iLR1MePTYT

— Washington Free Beacon (@FreeBeacon) January 17, 2023
SUBSCRIBE on YouTube:
Follow on Twitter: Follow @PrisonPlanet
———————————————————————————————————————
Brand new merch now available! Get it at https://www.pjwshop.com/
ALERT!
In the age of mass Silicon Valley censorship It is crucial that we stay in touch.
I need you to sign up for my free newsletter here.
Support my sponsor – Turbo Force – a supercharged boost of clean energy without the comedown.
Get early access, exclusive content and behind the scenes stuff by following me on Locals.
———————————————————————————————————————