SBF Issues Another Rambling Apology And "Description Of What Happened", Comes Off As Disturbed Sociopath
He just can't help himself: disgraced sociopath, record-breaking fraudster and prolific Democratic donor – not necessarily in that order – Sam Bankman-Fried, has issued another apology to his staff in a letter that outlined a crash in "collateral" to less than $9 billion from $60 billion.
"I didn't mean for any of this to happen, and I would give anything to be able to go back and do things over again," the corpulent 30-year-old who may or may not be in the Bahamas apologized yet again in the message sent to employees Tuesday, although he really should be apologizing to the millions of clients whom he wiped out. Alas, like the recurrent ramblings of a psychopath, Sam's takeaway was that the implosion at FTX was the side-effect of an unfortunate bank run, and had nothing to do with SBF's actions; that's because SBF still refuses to take any responsibility for what happened and makes zero admission that the factors that led to this historic bankruptcy were in his control all along. Sam claims that he didn't "realize the magnitude of risk." His main remorse – like that of any pathological individual – is that he got caught.
Still don't believe us he was a sociopath? Read this:
I didn't mean for any of this to happen, and I would give anything to be able to go back and do things over again. You were my family. I've lost that, and our old home is an empty warehouse of monitors. When I turn around, there's no one left to talk to. I disappointed all of you, and when things broke down I failed to communicate. I froze up in the face of pressure and leaks and the Binance LOI and said nothing. I lost track of the most important things in the commotion of company growth. I care deeply about you all, and you were my family, and I'm sorry.
No he isn't, and if it wasn't his fault, whose fault was it? Well, as he "describes" the sequence of events, you see it was all the market's fault as a slide in digital-asset markets in spring roughly halved collateral from $60 billion to $30 billion, while liabilities were $2 billion. A combination of a credit squeeze, a further selloff in virtual coins and a "run on the bank" left collateral at $9 billion ahead of FTX's Nov. 11 bankruptcy, he wrote. The estimate for liabilities had reached $8 billion by then. Here is how, in his words, what was initially a $58 billion overcollateralized balance sheet ended up having more liabilities than assets.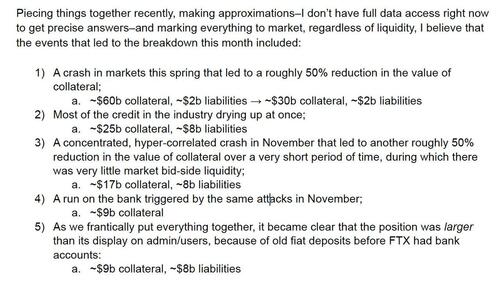 "I did not realize the full extent of the margin position, nor did I realize the magnitude of the risk posed by a hyper-correlated crash," Bankman-Fried said. He didn't give exact details on the makeup of the collateral or the liabilities. If he did, it would look something like this chart from Morgan Stanley: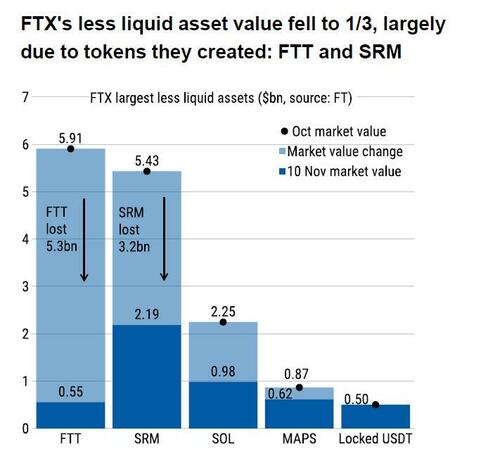 What happens next is what any sniveling sociopath posing as a CEO would say: I had no idea any of this could happen:
I did not realize the full extent of the margin position, nor did I realize the magnitude of the risk posed by a hyper-correlated crash.
And it is here, that we get the first admission that something nefarious happened: i.e., loans – to related parties, such as the $4 billion "given" from FTX to SBF – and the "secondary sales" which we now knows SBF pocketed some $300 million for personal use.
The loans and secondary sales were generally used to reinvest in the business—including buying out Binance—and not for large amounts of personal consumption.
And so, ladies and gents of the jury, would you consider a $40 million penthouse to be a "large amount of personal consumption." And what about a private jet: in this day and age everyone needs one, how can one possibly define that as "large amount of personal consumption." As for the meaning of "generally", we are confident SBF's close buddy Bill Clinton will give him the proper definition of that word.
Prudently, there was zero mention in Sam's meandering word salad that FTX had illegally commingled and sent billions in customer funds to SBF's personal hedge fund, Alameda, which despite frontrunning virtually every crypto transaction still lost $3.7 billion before 2022. That's ok, Sam can discuss that in court.
There was, however, the usual lies, including SBF's increasingly warped representation of reality, which is to be expected: as noted above, he is after all, a sociopath.
We likely could have raised significant funding; potential interest in billions of dollars of funding came in roughly eight minutes after I signed the Chapter 11 docs. Between those funds, the billions of dollars of collateral the company still held, and the interest we'd received from other parties, I think that we probably could have returned large value to customers and saved the business.
Narrator: none of this happened, and none of this will happen either:
Maybe there still is a chance to save the company. I believe that there are billions of dollars of genuine interest from new investors that could go to making customers whole. But I can't promise you that anything will happen, because it's not my choice.
That's right: it is now all in the hands of the person who presided over the Enron bankruptcy and who thinks your fraud is way worse.
And speaking of fraud, there was one sentence in the whole letter where this pathological liar may have told the truth, if inadvertently:
… None of this changes the fact that this all sucks for you guys, and it's not your fault, and I'm really sorry about that. I'm going to do what I can to make it up to you guys—and to the customers—even if that takes the rest of my life. But I'm worried that even then I won't be able to.
No, you won't be able to, but when it comes to "the rest of your life", both the "guys" and the customers who you left with nothing because of your infinite greed, fraud and incompetence, they all have an idea where you can spend it.
Whether or not that happens will depend on just how broken the US legal system is, where a few million in donations to prominent democrats may be all it takes to get a lifetime "get out of jail" card.
SBF's full letter to his now former employees is below

This post was originally published at Zero Hedge
Rand Paul Slams Alarmist Default Rhetoric, Outlines Fiscal Reform Plan
Senator labels doomsday talk as "completely dishonest"
Senator Rand Paul has slammed 'doomsday' talk regarding the debt ceiling and a potential default, saying that such rhetoric is "completely dishonest."
Appearing on Fox Business with Larry Kudlow, Paul noted that such alarmism will "worry the markets, and is bad for the country and bad for all of us," further explaining that "There is absolutely no reason for us to default."
"Our interest payments are about 400 billion," Paul continued, adding "We bring in about five trillion, so we have plenty of money to pay our interest payments. We have plenty of money to pay our soldiers, to pay our social security and to pay for Medicare."
Paul went on to explain that spending has to be trimmed, but over time.
"We're about a third overdrawn, so there's an enormous amount of government we'd have to trim," Paul asserted, adding "if you do it over a five-year period, what I proposed recently, you bring the baseline down, you cut $100 billion immediately and then you freeze spending for about four or five years. Guess what? You actually achieve balance through growth, and so it can be done and it can be done with very small amounts."
Watch:
Earlier this week, Paul pointed out that the current back and forth between Democrats and Republicans over the debt ceiling should make it clear that fiscal reform is necessary.
"If we were to have a $100 billion cut — which would still have us spending way more than we spent before COVID — $100 billion cut and free spending," Paul said at a press conference, noting "We would balance our budget in just four years."
"We have an opportunity here. It could be done. But it would take compromise between both parties," he continued. "Republicans would have to give up the sacred cow that says we will never touch a dollar in military, and the Democrats would have to give up the sacred cow that they will never touch a dollar in welfare."
"President Biden needs to know absolutely he will negotiate and it's better to start now," Paul urged Wednesday.
Watch:
SUBSCRIBE on YouTube:
Follow on Twitter:
Follow @PrisonPlanet
———————————————————————————————————————
Brand new merch now available! Get it at https://www.pjwshop.com/


ALERT! In the age of mass Silicon Valley censorship It is crucial that we stay in touch.

We need you to sign up for our free newsletter here.

Support our sponsor – Turbo Force – a supercharged boost of clean energy without the comedown.

Also, we urgently need your financial support here. ———————————————————————————————————————
MSM Outlets Demand To Know Who Guaranteed Bankman-Fried's $250 Million Bond
The public interest "cannot be overstated."
Eight MSM outlets have asked the US judge overseeing the case of Sam Bankman-Fried to make public the names of two people who helped front the FTX founder's $250 million bond.
The outlets – AP, Bloomberg, CNBC, WSJ publisher Dow Jones, the Financial Times, Insider and WaPo – along with a separate request by the NY Times – argue that the public interest "cannot be overstated," saying that the public's right to know outweighs the guarantors' rights to privacy.
In a letter to U.S. District Judge Lewis Kaplan in Manhattan, the lawyers distinguished the case from another judge's December 2020 decision not to reveal who guaranteed a bond for British socialite Ghislaine Maxwell, then accused and later convicted of aiding in financier Jeffrey Epstein's sex crimes. –Reuters
"While Mr. Bankman-Fried is accused of serious financial crimes, a public association with him does not carry nearly the same stigma as with the Jeffrey Epstein child sex trafficking scandal," wrote lawyers for the outlets.
Notably, the judge in the SBF case is the same one who presided over Ghislaine Maxwell's case, while SBF's lawyers, Mark Cohen and Christian Everdell, also represented Maxwell in her criminal case. SBF also hired James P. Harkins, a private investigator known as the "real hound dog," who also worked for Ghislaine.
SBF's lawyers have argued that his parents – who co-signed the $250 million bond using their house as (very fractional) collateral, have been harassed and received physical threats since the early November collapse of FTX. One of the conditions of his bail would be house arrest at his parents' home in Palo Alto, California.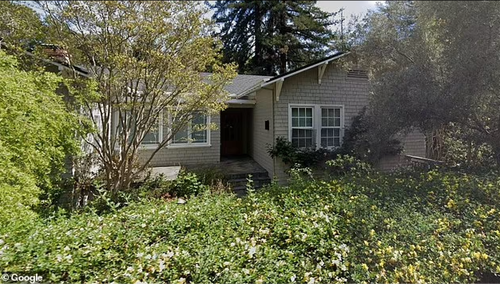 According to the NY Post, the family had contracted a private security firm in the Bay Area to patrol the grounds for $10,000 per week to protect SBF from mounting death threats.
One source told the Post, "They're [family] nervous … there have been numerous death threats. They're not taking any chances.
Bankman-Fried's parents hired workers to construct a network of security cameras around the home on the edge of Stanford University's campus.
SBF's lawyers say there is a "serious cause for concern" over the two other guarantors if their names went public.
Rolls-Royce Sales Hit Record As Rich Splurged On Luxury While Everyone Else Crushed By Inflation
The ultra-wealthy were increasingly purchasing luxury vehicles.
2022 was a terrible year for billionaires, many of which lost nearly $2 trillion combined.
Despite stock, crypto, and bond market turmoil, as well as soaring interest rates, elevated inflation, and increased risk of economic uncertainty, the ultra-wealthy were increasingly purchasing luxury vehicles.
Rolls-Royce Motor Cars published a press release stating it recorded its "highest-ever annual sales" in 2022, delivering 6,021 motor cars, up 8% versus 2021.
"This is the first time in the company's 118-year history that its sales have exceeded 6,000 in a single 12-month period," the British luxury carmaker said. 
Rolls-Royce's sales were led by the US, China, and European markets. The automaker said orders stretched well into this year and noted the high demand for its vehicles, many of which fetch $500k, which led to an expansion of the company's Goodwood plant in the UK.
"2022 has been a momentous year for Rolls-Royce Motor Cars," CEO Torsten Müller-Ötvös wrote in a statement.

"Our order book stretches far into 2023 for all models," Müller-Ötvös continued. "We haven't seen any slowdown in orders."
Müller-Ötvös added the brand's bespoke, customized approach to "ever more imaginative and technically demanding – a challenge we enthusiastically embrace."
And it's not just Rolls-Royce. Bentley and Lamborghini had record sales last year.
Lamborghini delivered 9,233 vehicles in 2022, a 10% increase from the year before. Bentley delivered 15,174 vehicles, a 4% increase over 2021, which was a record year.
The growth of luxury vehicle sales reflects high net wealth folks are doing just fine despite a vast amount of wealth vaporization due to central banks tightening monetary policy. As for everyone else, many folks can barely afford their $1,000 car payment, as an auto bust seems almost inevitable.