Associated Press Issues Correction To Its Fake Report Which Could Have Kicked Off WW3
Update(1605ET): The Associated Press has issued an official correction for its not-so-inconsequential bit of reporting Tuesday that could have easily set off a chain of events leading to a WWIII scenario. 
"The Associated Press reported erroneously, based on information from a senior American intelligence official who spoke on condition of anonymity" …and we the know rest which unleashed a day of incessant warmongering based on the allegation that Russia attacked a NATO member. The incredibly embarrassing correction further states, "Subsequent reporting showed that the missiles were Russian-made and most likely fired by Ukraine in defense against a Russian attack."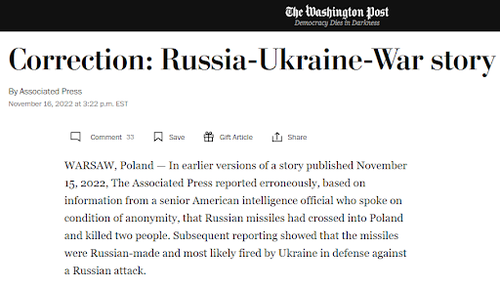 And the next time this happens will it be too late for a "correction"?
* * *
Update(1314ET): A fresh White House statement has backed the Poland and NATO assessment that the Tuesday Polish border explosion was "most likely the result of a Ukrainian air defense missile that unfortunately landed in Poland."
The statement by National Security Council Spokesperson Adrienne Watson additionally said the US has "full confidence" in the Polish government's ongoing investigation. "We have seen nothing that contradicts President Duda's preliminary assessment that this explosion was most likely the result of a Ukrainian air defense missile that unfortunately landed in Poland," she said.
But like NATO chief Jens Stoltenberg's prior remarks, she still blamed Russia for the episode:
"That said, whatever the final conclusions may be, it is clear that the party ultimately responsible for this tragic incident is Russia, which launched a barrage of missiles on Ukraine specifically intended to target civilian infrastructure. Ukraine had — and has — every right to defend itself."
Meanwhile, former Texas Congressman Ron Paul asks the question, did we almost get lied into WWIII?
All of these belated admissions that no, it was not a Russian attack, conveniently come well after the US president had seized the 'fog of war' moment yesterday to unveil another massive $37 billion emergency aid package for Ukraine almost simultaneous to the border incident.
So $37.6 billion more from the US taxpayer and counting… at a moment that some apparently have motive to drag Washington and the American people into another major war based on deception.
* * *
A mere less than 24 hours ago, before the dust had settled from the explosion and before investigators could come to any definitive conclusions after the deadly incident on the Polish border village of Przewodów, the Western public was already being harangued and forewarned to stay away from 'conspiracy theories' as the early mainstream headlines – pushed especially based on an anonymous US official in an Associated Press report – were fast out the gate with "Russian missiles hit Poland, killing two".
"Article 5" – the NATO collective defense treaty which many had long worried would be the first invoked act leading to WWIII, began trending on Twitter, as Western officials issued confident statements of 'solidarity'. Almost immediately and without evidence, Ukraine's President Volodymyr Zelensky demanded "action" from the West over the supposed brazen aggression against a NATO member. "Hitting NATO territory with missiles… This is a Russian missile attack on collective security! This is a really significant escalation. Action is needed," Zelensky said his Tuesday night video address.
And then as missile crash site images widely circulated on the internet, leading even Western sources to express doubtthat the projectile was launched by Russia, enter no less than the foreign minister of Ukraine, who attempted to preempt what he slammed as a developing Russia-promoted "conspiracy theory". Like with many other aspects to this war, some of the most obvious common sense questions were quickly declared "off limits" before they could even be asked. 
Warsaw then stopped just short of any talk of Article 5, but then floated Article 4 as the basis of an emergency NATO security meeting for Wednesday, which calls for "consultations" in the event a NATO country is under threat.
But what a difference a few hours, and a skeptical refusal to blindly jump on the war! bandwagon, makes. First, as we reported overnight, President Joe Biden explicitly said that based on preliminary information, it is "unlikely" that the rocket strike in Poland originated in Russia. Oops. This as based on the available emerging evidence it seemed clear the culprit was more likely an errant Ukrainian anti-air missile. "It's unlikely in the minds of [sic] the trajectory that it was fired from Russia. But we'll see," Biden had said. But this admission conveniently came well after the US president seized the 'fog of war' moment to unveil another massive $37 billion emergency aid package for Ukraine almost simultaneous to the border incident.
Now on Wednesday, Poland and NATO officials have also done a reversal of the initial kneejerk 'blame Russia' reporting which momentarily sent the world into a frenzy of anxiety over the prospect of WWIII. Polish President Andrzej Duda has said the explosion that killed two people now appears to be an "unfortunate accident" and not an "intentional attack."
What is left to say after all of this? Here are the facts…
Recall that the initial reaction out of Moscow was that either Ukraine or Poland was staging a "deliberate provocation" in so quickly hurling blame on Russia for an aggressive act. Warsaw officials had even in the hours after demanded that Russia make an apology if it was an accident.
But President Duda alongside NATO HQ is quickly reversing the entire narrative, according to more from Axios:
Duda added that the projectile that caused the blast was "most likely" Russian-made, but officials have "no proof at the moment that it was a missile fired by the Russian side."
Ukraine has previously denied it was to blame for the blast and accused Moscow of a "serious escalation." Russia also denied responsibility.
Of course, it's always been the case that Ukraine's anti-air missile arsenal is entirely "Russian-made" – particularly its S-300s.
NATO Secretary General Jens Stoltenberg issued a similar assessment, saying it was most likely an errant Ukrainian missile:
"Our preliminary analysis suggests that the incident was likely caused by a Ukrainian air defence missile fired to defend Ukrainian territory against Russian cruise missile attacks," the NATO Secretary General told reporters after an emergency meeting of the alliance's Security Council.

He stressed that the investigation into the explosion is still ongoing but that there is "no indication that this was the result of a deliberate attack. And we have no indication that Russia is preparing offensive military actions against NATO."
To be expected, he quickly followed by still laying blame on Russia for the overall war and series of events which led to the deadly border explosion. "But let me be clear. This is not Ukraine's fault. Russia bears ultimate responsibility, as it continues its illegal war against Ukraine," the NATO chief said.
Without addressing Zelensky's prior day shrill rush to get NATO to declare military action based on collective security, Stoltenberg stressed, "this is not Ukraine's fault." As NATO defense officials continue to meet to determine a way forward, and as the whole drama has clearly fizzled out (again, only after it emerged it was Ukraine's rocket), likely the alliance will quietly move on in a "nothing to see here" manner.
But what about the next time a similar border tragedy or incident on NATO-land plays out? Will the same "Russia is attacking NATO!" narrative prevail before anyone is allowed to ask simple questions? Will the war drums beat before there's so much as a forensic investigation? Will there be a mushroom cloud before pesky rational skepticism disrupts the "consensus"? As the past ten years of war in Syria and Western intervention there have demonstrated, this is the likely inevitable scenario of how NATO and Russia will stumble into direct conflict at this rate.
In the meantime, as for the below still lingering question, we won't hold our breath…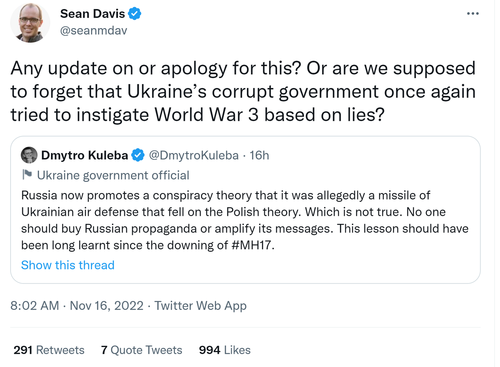 This post was originally published at Zero Hedge
Rand Paul Calls Out Complete Lack Of Oversight On Ukraine Aid
"Didn't someone try to legislatively mandate a special inspector general to scrutinize Ukrainian spending?"
Senator Rand Paul reacted Monday to news that the Biden administration is struggling to account for some $20 billion in aid that was sent to Ukraine, noting that both political parties ignored his call for an inspector general to overlook it.
A report from Fox News, linked in a tweet by Paul, notes that according to there Washington Post, the Biden administration inspected only 10% of 22,000 weapons the U.S. has provided to Ukraine between February and November.
It also outlines how Republicans could push for audits to determine where all the military aid is going and how much of it is ending up in the wrong hand.
"Didn't someone try to legislatively mandate a special inspector general to scrutinize Ukrainian spending?" Paul urged, adding "Oh, that's right, it was my amendment and most Democrats AND Republicans opposed any semblance of oversight."
Just a fortnight ago, following the throughly debunked "Russian missile attack" on a Polish border town, which turned out to be a Ukrainian missile that had stayed off course, Biden asked Congress to provide another $37.7 billion in emergency aid to Ukraine.
The United States has already pledged more than 52 billion euros in military, financial and humanitarian aid to Ukraine since the war began in February 2022 and October 3, way more than any other nation or nations combined.
SUBSCRIBE on YouTube:
Follow on Twitter:
Follow @PrisonPlanet
———————————————————————————————————————
Brand new merch now available! Get it at https://www.pjwshop.com/


ALERT! In the age of mass Silicon Valley censorship It is crucial that we stay in touch.

We need you to sign up for our free newsletter here.

Support our sponsor – Turbo Force – a supercharged boost of clean energy without the comedown.

Also, we urgently need your financial support here. ———————————————————————————————————————
Ukraine Tells People Not To Panic As WHO Warns Of 'Life-Threatening' Winter
The World Health Organization (WHO) announced in a Monday statement that the power situation in Ukraine is so dire that it will potentially be "life-threatening" for millions of Ukrainians due to the recent devastating series of Russian air attacks on the national energy grid.
"Put simply – this winter will be about survival," Hans Kluge, regional director for Europe at the United Nations' health body, said from the Ukrainian capital. "This winter will be life-threatening for millions of people in Ukraine," he added.
The attacks, the last major wave of which came this past Tuesday and continued intermittently into the weekend, are "already having knock-out effects on the health system and on the people's health," Kluge described.
"Continued attacks on health and energy infrastructure mean hundreds of hospitals and health care facilities are no longer fully operational," the WHO official said. "We expect two to three million more people to leave their homes in search of warmth and safety," he forewarned.
Ukrainian Prime Minister Denys Shmyhal last Friday estimated that half of the entirety of the country's energy infrastructure has been disabled by the Russian attacks at this point. Millions are already without power as temperatures plunge and Kiev saw its first snow of the season starting days ago.
"Unfortunately Russia continues to carry out missile strikes on Ukraine's civilian and critical infrastructure. Almost half of our energy system is disabled," Shmyhal was cited in Reuters as saying.
Politico reported last week that Congressional leaders had been given classified intelligence reports detailing the expected impact of Russia's campaign to degrade Ukraine's power grid.
"The Ukrainian government is warning Western allies that it is anticipating increased Russian attacks on its energy infrastructure in the coming days and that Kyiv does not have enough replacement parts to bring heat and power back online if those occur, according to two congressional officials and one Western official briefed on U.S. intelligence," the report said.
Politico detailed further that "Ukrainian officials have in recent days asked their American counterparts and more than half a dozen European countries for assistance preparing for a prolonged period with limited electricity and gas — a scenario Kyiv expects to complicate fighting on the ground and displace civilians, the officials and an adviser to the Ukrainian government said."
Amid emergency rolling blackouts and city or regional mandates banning use of large appliances and other imposed consumption limits, Ukraine government officials are urging the people not to panic. "Denying the panicky statements spread by social networks and online media, we assure you that the situation with the energy supply is difficult, but under control," the energy ministry said in a Saturday statement.
This post was originally published at Zero Hedge
AP Fires Reporter Behind False Report Claiming 'Russian Missiles Struck Poland'
The Associated Press on Monday fired one of two reporters with a byline on last week's now-retracted report that claimed "Russian missiles" had "crossed into NATO member Poland" and killed two people.
From The Daily Beast, AP Fires Reporter Behind Retracted 'Russian Missiles' Story":
That report, which was widely cited across the internet and on cable news, was taken offline the following day and replaced with an editor's note admitting the single source [a "senior U.S. intelligence official"] was wrong and that "subsequent reporting showed that the missiles were Russian-made and most likely fired by Ukraine in defense against a Russian attack."

On Monday, the AP fired James LaPorta, the investigative reporter responsible for that story, Confider has learned.
The piece, which was originally co-bylined with John Leicester (who is still working at the AP), attributed the information to a single "senior U.S. intelligence official," despite the AP's rule that it "routinely seeks and requires more than one source when sourcing is anonymous."

The only exception, according to its statement of news values and principles, is when "material comes from an authoritative figure who provides information so detailed that there is no question of its accuracy"—a situation that seemingly did not occur, as the report was fully retracted last Wednesday.

When reached for comment, an AP spokesperson did not comment on LaPorta's ouster but instead wrote: "The rigorous editorial standards and practices of The Associated Press are critical to AP's mission as an independent news organization. To ensure our reporting is accurate, fair and fact-based, we abide by and enforce these standards, including around the use of anonymous sources."
The Washington Post blamed internal "confusion and misunderstanding" for the report:
Internal AP communications viewed by The Post show some confusion and misunderstanding during the preparations of the erroneous report.

LaPorta shared the U.S. official's tip in an electronic message around 1:30 p.m. Eastern time. An editor immediately asked if AP should issue an alert on his tip, "or would we need confirmation from another source and/or Poland?"

After further discussion, a second editor said she "would vote" for publishing an alert, adding, "I can't imagine a U.S. intelligence official would be wrong on this."
Woman moment.
But a person at the Associated Press familiar with the larger conversations surrounding the story that day said LaPorta also told his editors that a senior manager had already vetted the source of LaPorta's tip — leaving the impression that the story's sourcing had been approved. While that editor had signed off on previous stories using LaPorta's source, that editor had not weighed in on the missile story.

Easton said the organization did not anticipate any discipline for the editors involved.
"She" voted to publish this bombshell report that violated the AP's own rules on the use of anonymous sources and risked sparking WW3 because she couldn't "imagine" a senior U.S. intelligence official could be wrong but she is not being fired — only LaPorta is getting canned.
Some great "standards" you got there, AP!
This post was originally published at Information Liberation