Associated Press Issues Correction To Its Fake Report Which Could Have Kicked Off WW3
Update(1605ET): The Associated Press has issued an official correction for its not-so-inconsequential bit of reporting Tuesday that could have easily set off a chain of events leading to a WWIII scenario. 
"The Associated Press reported erroneously, based on information from a senior American intelligence official who spoke on condition of anonymity" …and we the know rest which unleashed a day of incessant warmongering based on the allegation that Russia attacked a NATO member. The incredibly embarrassing correction further states, "Subsequent reporting showed that the missiles were Russian-made and most likely fired by Ukraine in defense against a Russian attack."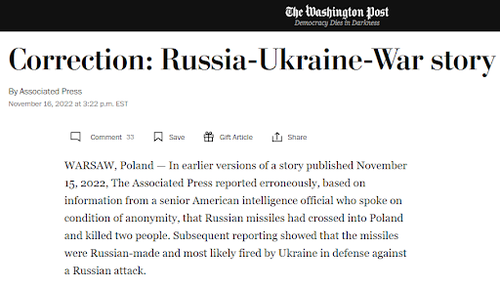 And the next time this happens will it be too late for a "correction"?
* * *
Update(1314ET): A fresh White House statement has backed the Poland and NATO assessment that the Tuesday Polish border explosion was "most likely the result of a Ukrainian air defense missile that unfortunately landed in Poland."
The statement by National Security Council Spokesperson Adrienne Watson additionally said the US has "full confidence" in the Polish government's ongoing investigation. "We have seen nothing that contradicts President Duda's preliminary assessment that this explosion was most likely the result of a Ukrainian air defense missile that unfortunately landed in Poland," she said.
But like NATO chief Jens Stoltenberg's prior remarks, she still blamed Russia for the episode:
"That said, whatever the final conclusions may be, it is clear that the party ultimately responsible for this tragic incident is Russia, which launched a barrage of missiles on Ukraine specifically intended to target civilian infrastructure. Ukraine had — and has — every right to defend itself."
Meanwhile, former Texas Congressman Ron Paul asks the question, did we almost get lied into WWIII?
All of these belated admissions that no, it was not a Russian attack, conveniently come well after the US president had seized the 'fog of war' moment yesterday to unveil another massive $37 billion emergency aid package for Ukraine almost simultaneous to the border incident.
So $37.6 billion more from the US taxpayer and counting… at a moment that some apparently have motive to drag Washington and the American people into another major war based on deception.
* * *
A mere less than 24 hours ago, before the dust had settled from the explosion and before investigators could come to any definitive conclusions after the deadly incident on the Polish border village of Przewodów, the Western public was already being harangued and forewarned to stay away from 'conspiracy theories' as the early mainstream headlines – pushed especially based on an anonymous US official in an Associated Press report – were fast out the gate with "Russian missiles hit Poland, killing two".
"Article 5" – the NATO collective defense treaty which many had long worried would be the first invoked act leading to WWIII, began trending on Twitter, as Western officials issued confident statements of 'solidarity'. Almost immediately and without evidence, Ukraine's President Volodymyr Zelensky demanded "action" from the West over the supposed brazen aggression against a NATO member. "Hitting NATO territory with missiles… This is a Russian missile attack on collective security! This is a really significant escalation. Action is needed," Zelensky said his Tuesday night video address.
And then as missile crash site images widely circulated on the internet, leading even Western sources to express doubtthat the projectile was launched by Russia, enter no less than the foreign minister of Ukraine, who attempted to preempt what he slammed as a developing Russia-promoted "conspiracy theory". Like with many other aspects to this war, some of the most obvious common sense questions were quickly declared "off limits" before they could even be asked. 
Warsaw then stopped just short of any talk of Article 5, but then floated Article 4 as the basis of an emergency NATO security meeting for Wednesday, which calls for "consultations" in the event a NATO country is under threat.
But what a difference a few hours, and a skeptical refusal to blindly jump on the war! bandwagon, makes. First, as we reported overnight, President Joe Biden explicitly said that based on preliminary information, it is "unlikely" that the rocket strike in Poland originated in Russia. Oops. This as based on the available emerging evidence it seemed clear the culprit was more likely an errant Ukrainian anti-air missile. "It's unlikely in the minds of [sic] the trajectory that it was fired from Russia. But we'll see," Biden had said. But this admission conveniently came well after the US president seized the 'fog of war' moment to unveil another massive $37 billion emergency aid package for Ukraine almost simultaneous to the border incident.
Now on Wednesday, Poland and NATO officials have also done a reversal of the initial kneejerk 'blame Russia' reporting which momentarily sent the world into a frenzy of anxiety over the prospect of WWIII. Polish President Andrzej Duda has said the explosion that killed two people now appears to be an "unfortunate accident" and not an "intentional attack."
What is left to say after all of this? Here are the facts…
Recall that the initial reaction out of Moscow was that either Ukraine or Poland was staging a "deliberate provocation" in so quickly hurling blame on Russia for an aggressive act. Warsaw officials had even in the hours after demanded that Russia make an apology if it was an accident.
But President Duda alongside NATO HQ is quickly reversing the entire narrative, according to more from Axios:
Duda added that the projectile that caused the blast was "most likely" Russian-made, but officials have "no proof at the moment that it was a missile fired by the Russian side."
Ukraine has previously denied it was to blame for the blast and accused Moscow of a "serious escalation." Russia also denied responsibility.
Of course, it's always been the case that Ukraine's anti-air missile arsenal is entirely "Russian-made" – particularly its S-300s.
NATO Secretary General Jens Stoltenberg issued a similar assessment, saying it was most likely an errant Ukrainian missile:
"Our preliminary analysis suggests that the incident was likely caused by a Ukrainian air defence missile fired to defend Ukrainian territory against Russian cruise missile attacks," the NATO Secretary General told reporters after an emergency meeting of the alliance's Security Council.

He stressed that the investigation into the explosion is still ongoing but that there is "no indication that this was the result of a deliberate attack. And we have no indication that Russia is preparing offensive military actions against NATO."
To be expected, he quickly followed by still laying blame on Russia for the overall war and series of events which led to the deadly border explosion. "But let me be clear. This is not Ukraine's fault. Russia bears ultimate responsibility, as it continues its illegal war against Ukraine," the NATO chief said.
Without addressing Zelensky's prior day shrill rush to get NATO to declare military action based on collective security, Stoltenberg stressed, "this is not Ukraine's fault." As NATO defense officials continue to meet to determine a way forward, and as the whole drama has clearly fizzled out (again, only after it emerged it was Ukraine's rocket), likely the alliance will quietly move on in a "nothing to see here" manner.
But what about the next time a similar border tragedy or incident on NATO-land plays out? Will the same "Russia is attacking NATO!" narrative prevail before anyone is allowed to ask simple questions? Will the war drums beat before there's so much as a forensic investigation? Will there be a mushroom cloud before pesky rational skepticism disrupts the "consensus"? As the past ten years of war in Syria and Western intervention there have demonstrated, this is the likely inevitable scenario of how NATO and Russia will stumble into direct conflict at this rate.
In the meantime, as for the below still lingering question, we won't hold our breath…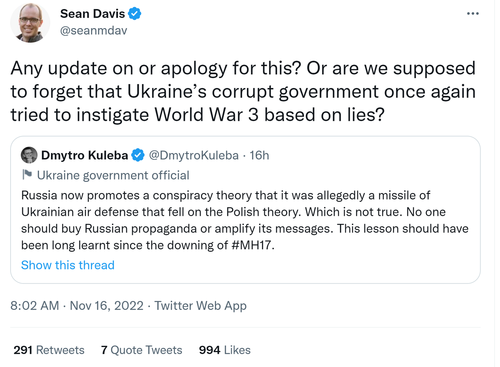 This post was originally published at Zero Hedge
Seymour Hersh makes new Nord Stream sabotage claim
The Pulitzer Prize winner has alleged the US blew up the pipelines because it was unhappy with a lack of German support for Ukraine
US President Joe Biden ordered the sabotage of the Nord Stream pipelines because he was unhappy with the level of support provided by German Chancellor Olaf Scholz to Ukraine in its conflict with Russia, veteran investigative journalist Seymour Hersh has claimed. 
Hersh first accused Washington of destroying the key European energy route in an article released in February, and made more allegations in an interview with the China Daily newspaper published on Friday.
"The [US] president was afraid of Chancellor Scholz not wanting to put more guns and more arms [forward for Kiev]. That's all. I don't know whether that it was anger or punishment, but the net effect is that it cut off a major power source through Western Europe," Hersh claimed.  
Despite attempts by the US to deny its involvement in the Nord Stream attack, "Europe is in crisis now" and Biden will receive "a lot of criticism for what he did" in the coming months, the journalist argued.
The Pulitzer Prize winner alleged that "the people that were initially asked to do the job" of destroying the pipelines were contacted by US National Security Advisor Jake Sullivan towards the end of 2021.
The initial purpose of mining Nord Stream 1 and 2, built to deliver Russian gas to Europe through Germany, was "to give the [US] president an option to say to [Russian] President Putin, 'If you go to war [in Ukraine], we're going to destroy the pipelines,'" Hersh claimed.
Biden himself publicly confirmed that stance but "unfortunately, those people in the Western press seemed to have forgotten," the journalist stated.
Just under three weeks before the launch of Moscow's military operation in Ukraine, Biden warned during a press conference on February 7 that "if Russia invades… there will no longer be a Nord Stream 2. We will bring an end to it."
According to Hersh, the US leader decided to order the detonation of mines at the bottom of the Baltic Sea last September because the conflict "wasn't going great in Ukraine" from a US perspective. There was "at best a stalemate"during that period, in what Hersh described as "the American war that President Biden was so eager to support."
This post was originally published at RT
Russian Military Warns Uranium Shells Will Cause Irreversible Harm To All Ukrainians
The Russian military has weighed in on the UK's plans to supply depleted uranium tank rounds to Ukrainian forces, which was announced by UK's junior Defense Minister Annabel Goldie in a Tuesday parliament briefing.
Lt. Gen. Igor Kirillov, the head of the radiation, chemical and biological defense troops of the Russian armed forces, told a press briefing Friday that the weaponry will cause irreparable harm to all Ukrainians, whether civilian or military.
"Despite the fact that the use of such ammunition [with depleted uranium] will cause irreparable harm to the health of the Armed Forces of Ukraine and the civilian population, NATO countries, in particular the UK, express their readiness to supply this type of weapon to the Kiev regime," Kirillov said.
"As a result of the impact of a depleted uranium munition, a mobile hot cloud of a finely dispersed aerosol of uranium-238 and its oxides is formed, which, when exposed to the body in the future, can provoke the development of serious diseases," Kirillov said.
He described that when compounds in the advanced ammunition seeps into the soil or disperses across the environment, it will be "dangerous for people, animals and the environment for a long time."
On Wednesday, Britain responded to Russian officials saying this constitutes escalation on the nuclear front, given that Kiev will be handed "nuclear components"…
James Cleverly, Britain's foreign secretary, told reporters on Wednesday that there was "no nuclear escalation," adding, "The only country in the world that is talking about nuclear issues is Russia."
Depleted uranium has for decades been used by NATO, and was known for being used against Serbian forces in the late 1990's, as well as in Iraq. It is two-and-a-half times denser than steel, and thus can penetrate armor, for example it can cut straight through tanks.
China has previously condemned the use of depleted uranium by the Western alliance:
But it not only has radioactivity but is toxic to humans long after being dispersed on the battlefield. Foreign Ministry spokeswoman Maria Zakharova emphasized this in an initial Kremlin reaction on Tuesday…
"Yugoslav scenario. These shells not only kill, but infect the environment and cause oncology in people living on these lands," she said, in reference to cancer and other deadly ailments.
"By the way, it is naive to believe that only those against whom all this will be used will become victims. In Yugoslavia, NATO soldiers, in particular the Italians, were the first to suffer. Then they tried for a long time to get compensation from NATO for lost health. But their claims were denied," she said.
This post was originally published at Zero Hedge
Medvedev Warns Germany Arrest of Putin Will be Declaration of War on Russia
Says Moscow could bomb the International Criminal Court.
Russian Security Council Deputy Chairman Dmitry Medvedev has warned Germany that any attempt to arrest President Vladimir Putin will represent a declaration of war on Russia and said Moscow could respond by bombing the International Criminal Court.
Medvedev made the threat after the the International Criminal Court at the Hague issued an arrest warrant for Putin, accusing him of perpetrating war crimes by being involved in the forcible transfer of children from Ukraine to Russia.
German Chancellor Olaf Scholz said he supported the ruling and during a visit to Japan said "no one is above the law."
Russia, which doesn't recognize the authority of the ICC and is not a member of it, hasn't reacted kindly.
"Some idiots, halfwits like the German justice minister, say, 'Well, if he comes, we'll arrest him.'.. Does he understand what that means? Let's imagine… the incumbent head of a nuclear state arrives on the territory of, say, Germany and is arrested. What is this? A declaration of war on the Russian Federation!" Medvedev said in an interview Russian media outlets.
Medvedev said Moscow would respond by targeting "the Bundestag, the chancellor's office, and so on."
The International Criminal Court has issued an arrest warrant against Vladimir Putin. No need to explain WHERE this paper should be used🧻.

— Dmitry Medvedev (@MedvedevRussiaE) March 17, 2023
The former president even suggested in a Telegram message sent to his followers that Russia could bomb the ICC headquarters.
"It is quite possible to imagine the targeted use of a hypersonic launch from the North Sea from a Russian ship at the Hague courthouse," wrote Medvedev, describing the court as "shitty" and "useless".
"The court is just a miserable international organization," he added, noting that those working within it should "carefully look into the sky" to see if they can spot Russian missiles.
He went on to add that Russian relations with the west "have probably never been worse in history" and that NATO's goal was to wipe out Russia altogether.
"They do not want to see the Russian Federation itself, they don't need us. And this is their geopolitical, geostrategic idea of very old times. Why do they need such a country, which has a huge territory and the most serious nuclear shield, and which does not even obey the Americans?" said the former president.
Meanwhile, Russian law enforcement officials have opened up their own criminal investigation into the International Criminal Court, focusing on judges and prosecutors who made the decision to issue the arrest warrant for Putin.
SUBSCRIBE on YouTube:
Follow on Twitter: Follow @PrisonPlanet
———————————————————————————————————————
Brand new merch now available! Get it at https://www.pjwshop.com/
ALERT!
In the age of mass Silicon Valley censorship It is crucial that we stay in touch.
I need you to sign up for my free newsletter here.
Support my sponsor – Turbo Force – a supercharged boost of clean energy without the comedown.
Get early access, exclusive content and behind the scenes stuff by following me on Locals.
———————————————————————————————————————