"You Murderous Hypocrites": Outrage Ensues After The Atlantic Suggests 'Amnesty' For Pandemic Authoritarians
The Atlantic has come under fire for suggesting that all the terrible pandemic-era decisions over lockdowns, school closures, masking, and punishing an entire class of people who questioned the efficacy and wisdom of taking a rushed, experimental vaccine – for a virus with a 99% survival rate in most, should all be water under the bridge.
"We need to forgive one another for what we did and said when we were in the dark about COVID," writes Brown Professor Emily Oster – a huge lockdown proponent, who now pleads from mercy from the once-shunned.
"Let's acknowledge that we made complicated choices in the face of deep uncertainty, and then try to work together to build back and move forward," she continues.
Except, they weren't "in the dark" about Covid. There were numerous sources pointing out the actual science that ran contrary to the mandate claims, and they were deliberately silenced by a vast media campaign. Evidence suggests that media platforms worked in tandem with Big Tech, the CDC and the Biden Administration. It was not a simple matter of overreaction, there was collusion to remove all counter-information.
Nice try, Emily.
As the Daily Sceptic's Michael P. Senger puts it: "There's a lot wrong here. First, no, you don't get to advocate policies that do extraordinary harm to others, against their wishes, then say, "We didn't know any better at the time!"Ignorance doesn't work as an excuse when the policies involved abrogating your fellow citizens' rights under an indefinite state of emergency, while censoring and cancelling those who weren't as ignorant. The inevitable result would be a society in which ignorance and obedience to the opinion of the mob would be the only safe position."
And look at that ratio: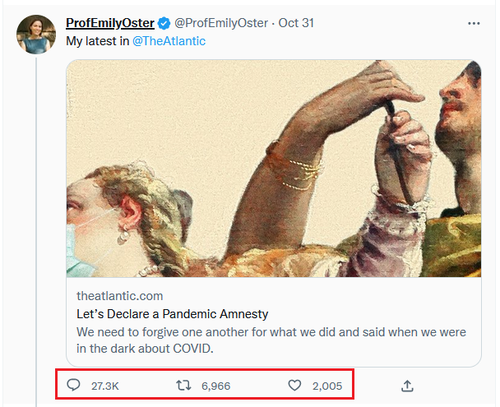 In one epic Twitter thread, Claremont Institute Senior Fellow Matthew J. Peterson (@docMJP) excoriates Oster's entire premise;
Hey—sorry you lost your job b/c of the vax that doesn't work and your grandmother died alone and you couldn't have a funeral and your brother's business was needlessly destroyed and your kids have weird heart problems—but let's just admit we were all wrong and call a truce, eh?

It's too bad we shut the entire economy down & took on tyrannical powers that have never been used before in this country—looking back, you should have been able to go to church and use public parks while we let people riot in the streets—but it was a confusing time for everyone.

Hey I'm sorry we scared the hell out of you & lied for years & persecuted & censored anyone who disagreed but there was an election going on & we really wanted to beat Donald Trump so it was important to radically politicize the science even if it destroyed your children's lives.

OK, yes we said unvaccinated people should die & not get healthcare while never questioning Big Pharma once but we are compassionate people which is why even though we shut down the entire economy we also bankrupted the nation & caused inflation. You're welcome! Let's be friends.
As QTR's Fringe Finance notes, Oster's plea for the decency that her ilk failed to offer up to most Americans during the throws of the pandemic comes at a point where the Covid narrative has been all but lost by the Democrats and the mainstream media.
There have been several recent large wins for the unvaccinated who had the constitution and backbone to stand up for themselves throughout a year of being constantly berated and ferociously scorned as second class citizens.
A majority of the media and Democrats had demanded that these people be removed from society and generally subject to scorn and ridicule. Now, in a moment that many of us knew would eventually be coming, apologies are being made around the world for how the unvaccinated were treated.
As Fox News wrote last week:
"The premier of Alberta, Canada, said she is working on a plan to pardon residents who were fined or arrested over breaking coronavirus protocols, and apologized to unvaccinated Canadians who faced 'discrimination.'"
In New York, a Supreme Court judge recently reinstated all employees who were fired from their jobs for being unvaccinated:
The court found Monday that "being vaccinated does not prevent an individual from contracting or transmitting COVID-19." New York City Mayor Eric Adams claimed earlier this year that his administration would not rehire employees who had been fired over their vaccination status.
* * *
The problem was not people's ignorance of the facts, it was the organized antagonism and censorship against anyone presenting data that was contradictory to the mandate agenda. This is setting aside proclamations like those from the LA Times, which argued that mocking the deaths of "anti-vaxxers" might be necessary and justified. After two years of this type of arrogant nonsense it's hard to imagine people will be willing to pretend as if all is well.
The active effort to shut down any opposing data is the root crime, though, and no, it can never be forgotten or forgiven.
People are livid…
Arizona Gubernatorial candidate Kari Lake (R) wants investigations.
As QTR further notes, many Americans whipped themselves up into such a terrified hypnotic frenzy that they found themselves clinging to big government to impose their will, advocating for the same draconian and fascist-sounding policies they always claim to be fighting against.
For example, Ramussen reported in January 2022 that Democratic voters supported the following Covid policy ideas (my annotations in bold, Rasmussen in normal text):
Fines for the unvaccinated: Fifty-eight percent (58%) of voters would oppose a proposal for federal or state governments to fine Americans who choose not to get a COVID-19 vaccine.
House arrest: Fifty-nine percent (59%) of Democratic voters would favor a government policy requiring that citizens remain confined to their homes at all times, except for emergencies, if they refuse to get a COVID-19 vaccine.
Imprisonment for questioning the vaccine: Nearly half (48%) of Democratic voters think federal and state governments should be able to fine or imprison individuals who publicly question the efficacy of the existing COVID-19 vaccines on social media, television, radio, or in online or digital publications.
Forced quarantine: Forty-five percent (45%) of Democrats would favor governments requiring citizens to temporarily live in designated facilities or locations if they refuse to get a COVID-19 vaccine.
Stripping people of their children: Twenty-nine percent (29%) of Democratic voters would support temporarily removing parents' custody of their children if parents refuse to take the COVID-19 vaccine. That's much more than twice the level of support in the rest of the electorate – seven percent (7%) of Republicans and 11% of unaffiliated voters – for such a policy.
Unsurprisingly, American Federation of Teachers chief Randi Weingarten, who 'flunked the pandemic' by pushing for school shutdowns as long as she possibly could before parents revolted, is a big fan of amnesty.
One cannot help but notice that the timing of the Atlantic's appeal for passive forgetfulness coincides with the swiftly approaching midterm elections, in which polls suggest a much greater chance of a conservative upset than Democrats previously expected. Though the Atlantic doesn't admit it, there is a growing political backlash to the last two years of meaningless lockdowns and mandates, and Democrats were instrumental in the implementation of both. A large swath of the population sees one party as the cause of much of their covid era strife.
Perhaps the mainstream media is suddenly realizing that they may have to face some payback for their covid zealotry? "We didn't know! We were just following orders!" It all sounds rather familiar.
This post was originally published at Zero Hedge
Video: Dr. Atlas Sums Up Fauci's Legacy Of "Massive Harm"
'Fauci used children as shields, created psychological damage and destroyed trust in public health'
As Anthony Fauci officially 'retired' Tuesday, former White House Coronavirus Task Force advisor Dr. Scott Atlas eloquently summarised the legacy Fauci leaves behind, one of "massive harm" to society.
Appearing on Laura Ingraham's show, Dr. Atlas described Fauci's as having "presided over the biggest failure in public health history over two different presidential administrations. "
Atlas further charged that Fauci's policies "were implemented and those policies shifted the burden of this illness from the affluent to the poor, and incurred massive harm on our children, psychological damage, long-lasting damage, an obesity crisis, and we really haven't seen tip of the iceberg on that damage to children, and again, worse on low income and poor kids."
"And thirdly and perhaps most importantly," Atlas continued, "Dr. Fauci, Dr. Birx, his underling, and many other people at the CDC and talking heads on TV have destroyed trust in public health."
Atlas urged that "we have a huge challenge as a country to fix what happened in [Fauci's] wake."
As Fauci declared that his "final message" is for people to get keep getting booster vaccinations, Atlas noted that "Healthy people do not have a significant risk to a serious illness from COVID, that's a fact, not an opinion. It's been proven the world over."
"It is very fitting to hear this constant mantra of almost nonsensical utterings by Dr. Fauci," Atlas asserted, adding "we know by now the data shows the vaccines, although they have pretty good protections for high risk people and the elderly against death, they do not stop the spread of infection, they don't stop you from getting COVID infection. And the risk-benefit ratio for people other than high risk is very different."
Atlas further warned "You have to decide if it is appropriate to take an experimental drug if you have low risk of serious illness, particularly children. In fact, anyone who recommends that children, healthy children should get the vaccine, an experimental drug, injected into them, there's a question about medical ethics there."
"Are we as a society going to go down the pathway of even if you believe that it stops the spread of infection, which would be contrary to science, are we going to use our children as shields for infections?" Atlas asked, adding "This is really uncharted territory for what's supposed to be a civilized society."
Dr. Atlas also urged that "It's frightening to have people in power that don't know what they're talking about that use fear to sway the public instead of data."
"You don't often hear it, you may never have heard Dr. Fauci use data. And this is very frightening. Two-thirds of people in the United States who died from COVID, two-thirds have greater than or equal to six comorbidities," Atlas explained.
Fauci also advised Americans to get tested and consider cancelling thanksgiving without feeling any guilt.
Fauci again proclaimed that he has "nothing to hide," and will cooperate with investigative hearings:
SUBSCRIBE on YouTube:
Follow on Twitter:
Follow @PrisonPlanet
———————————————————————————————————————
Brand new merch now available! Get it at https://www.pjwshop.com/


ALERT! In the age of mass Silicon Valley censorship It is crucial that we stay in touch.

We need you to sign up for our free newsletter here.

Support our sponsor – Turbo Force – a supercharged boost of clean energy without the comedown.

Also, we urgently need your financial support here. ———————————————————————————————————————
Video: NBC News Advises Parents To Keep Kids Away From "Unvaccinated Individuals"
Medical correspondent falsely claims "we don't know why" more kids are getting sick from respiratory viruses
As winter looms, NBC News has some top tips for parents who are concerned about their children catching respiratory viruses… keep them away from the dirty unvaccinated people.
In a recent segment, an infographic advised that those who want to "protect" their children should wash hands, stay home, get vaccines and "avoid physical interaction with unvaccinated individuals."
There is no actual evidence that unvaccinated individuals are more at risk of transmitting COVID or that the vaccines prevent the spread of the virus, but never mind that inconvenient distraction.
The anchors then asked medical correspondent Dr. John Torres why more children are now so susceptible to RSV (respiratory syncytial virus), to which he responded "we don't exactly know why."
That is also not true, given that the CDC recently issued a report highlighting how a record number of children are now being hospitalised with common colds due to weakened immune systems.
Commenting on the findings, Dr Scott Roberts, a medical director at Yale University stated that lockdowns impacted the ability of children to build up immunity to common illnesses.
"There are two implications to this," the doctor said, explaining "First, the gap gives time for the viruses to mutate even further to cause more severe disease."
"And second, whatever immunity was built up to those viruses' it will have waned making the immune response now much less potent," Roberts added.
The doctor also noted that children, including his own son are now getting "constant infections."
The CDC data is consistent with research by scientists at Yale who warned that it is not normal to see children with combinations of seven common viruses, including adenovirus, rhinovirus, respiratory syncytial virus (RSV), human metapneumovirus, influenza and parainfluenza, as well as COVID-19.
But whatever, keeping your kids safely locked away at home and away from the unvaccinated is the smart move.
SUBSCRIBE on YouTube:
Follow on Twitter:
Follow @PrisonPlanet
———————————————————————————————————————
Brand new merch now available! Get it at https://www.pjwshop.com/


ALERT! In the age of mass Silicon Valley censorship It is crucial that we stay in touch.

We need you to sign up for our free newsletter here.

Support our sponsor – Turbo Force – a supercharged boost of clean energy without the comedown.

Also, we urgently need your financial support here. ———————————————————————————————————————
Striking Correlation Between Autumn Vaccine Boosters and Excess Deaths in England as Total Non-Covid Excess Tops 23,000
The excess deaths crisis continues, with 1,232 excess deaths – 12.3% above the five-year average – registered in England and Wales in the week ending October 28th, according to the ONS. Of these, 804 were attributed to an underlying cause other than COVID-19, bringing the total excess non-Covid deaths since the wave began in April to 23,287.
I have previously noted what appeared to be a correlation of excess non-Covid deaths with the rollout of the spring vaccine booster in April and May.
However, the high excess deaths – many of which are heart-related – continued throughout the summer and didn't drop off as the booster campaign finished. This may be due to a delayed effect of vaccine injury, or other causes may be involved. A current favoured explanation, as set out in a recent report from the British Heart Foundation, is that lack of access to healthcare during the pandemic and NHS backlogs are primarily to blame. However, many medics and scientists suspect side-effects of the vaccines are playing an important role, particularly as this phenomenon is being seen across Europe and further afield, not just in the U.K.
Research: Countries That Sought 'Zero-COVID' Lockdowns Have The Least Immunity
This week I spoke to Julia Hartley-Brewer on Talk TV on this topic. I said that it is generally accepted, including by regulators, that the vaccines are associated with heart problems and blood clotting problems, though the official line is these are rare. We also know from studies, including from Pfizer, that the vaccine does not stay at the injection site but travels throughout the body. Studies likewise show that the mRNA and spike protein can persist for months after vaccination. It's also known that this can cause serious adverse events via immune system inflammation and other mechanisms. Autopsies have shown that people have died as a result of this inflammation, with tests showing the presence of spike protein in the heart and brain, but not the rest of the virus, indicating it came from the vaccine. So we know the vaccines can injure and kill in this way. The question is how often this happens – is it rare, as the MHRA and other regulators state, or does it happen often enough to cause hundreds or thousands of additional deaths?
Potential new support for the role of the vaccines can be seen in the chart below. I have plotted the autumn vaccine doses in the over-75s (the age group which makes up the large majority of deaths) and excess non-Covid death occurrences (in red), revealing a striking correlation once again. Covid death occurrences (in blue), on the other hand, rise and peak several weeks later.
As Julia Hartley-Brewer said, this needs to be properly investigated.
This post was originally published At The Daily Sceptic