'Seems A Bit Odd' – Hillary 'Fact Checked' As Doubts Mount Over Pelosi Attack Claims
As rumors abound across social media, new details have emerged in the hammer assault on Paul Pelosi, husband of Speaker of the House Nancy Pelosi — including the eyebrow-raising news that Pelosi referred to his assailant as a "friend" when calling police. 
Paul Joseph Watson summarizes it all in 5 short words: "it seems a bit odd…"
Here's an updated account as it's been reported by the Los Angeles Times and various other media outlets citing police sources — along with some perspective on popular speculation about the incident.
After reportedly breaking through a rear door in the very early hours of Friday morning, DePape entered the house and at some point confronted Pelosi.
Pelosi excused himself from DePape by saying he needed to use the bathroom. There, he made a surreptitious 911 call on his cellphone, close to 2:30 am. Politico cites sources who say the phone had been charging there.
When directing the police response, the San Francisco Police dispatcher relayed what Pelosi said, referring to him as "RP," which is police jargon for "reporting party":
"RP stated that there's a male in the home and that he's going to wait for his wife. RP stated that he doesn't know who the male is, but he advised that his name is David and that he is a friend. RP sounded somewhat confused."
In a police response that's far from typical in America's cities today, cops arrived at the Pelosi house in just about 2 minutes. They knocked, and someone opened the door, though it's not clear who.
The police observed the two men, each with one hand on a single hammer, and ordered both of them to drop it. DePape immediately pulled it from Pelosi and started hitting him with it. The cops tackled DePape and took him into custody.
There's something of an inconsistency in the LA Times characterization of Pelosi's 911 call. The Times article, citing police sources, first reports that Pelosi "tricked" DePape and made a surreptitious phone call, but later, the same article says "officials believe Pelosi was intentionally giving coded information because the intruder knew Pelosi was on the phone."
Perhaps the call started surreptitiously and but then DePape overheard him, or Pelosi was at least wary of it. With that in mind, it's conceivable Pelosi wasn't being sincere in calling DePape a "friend," but rather was trying to soothe the reportedly nutty DePape, who's been described as a "psychotic, homeless addict estranged from his nudist lover and their children" — and who "talks to angels."
If Pelosi was being overheard or fearful of it, that may also explain why the dispatcher described Pelosi as sounding "somewhat confused." At Friday's press conference, San Francisco Police Chief Bill Scott said dispatcher Heather Grimes had to read between the lines of Pelosi's call for help:
"She had to interpret what she was being told. And based on her experience and intuition, she basically figured out that there was something more to this incident than what she was being told. Her actions, in my opinion, resulted in both a higher-priority dispatch and a faster police response."
Famously, DePape is said to have yelled "Where is Nancy? Where is Nancy?" It's not exactly clear when. 
Pelosi underwent surgery to "repair a skull fracture, and serious injuries to his right arm and hands," according to a statement from Nancy Pelosi's office.
All across social media, one can find assertions that DePape was in his underwear when police arrived, with others saying both he and Pelosi were in their underwear.
Citing "sources," San Francisco Fox affiliate KTVU on Friday reported that DePape was in his underwear. However, KTVU has retracted that claim and posted a correction at the bottom of the article: "An earlier version of this story misstated what clothing the suspect was wearing when officers found him."
Zero Hedge hasn't found another credible source reporting that either DePape or Pelosi were only in underwear (though, at 2 am, it would be understandable if Pelosi was.)
However, there's underwear talk all over Twitter and other platforms, along with people misinterpreting an imprecisely worded early SFPD statement to conclude that both Pelosi and DePape were holding hammers. Caught up in the frenzy, Dinesh D'Souza is among those losing credibility points over the weekend — even as he racks up tens of thousands of likes: 
Finally, though Democrats and the media are quick to call the attack an act of political violence, police have not asserted a motive. 
Having got all that out of the way, we note that none of it stopped Hillary Clinton jumping on the bandwagon that it must have been a MAGA, QAnon conspiracy theorist… to which Elon Musk promptly replied…
"There is a tiny possibility there might be more to this story than meets the eye…"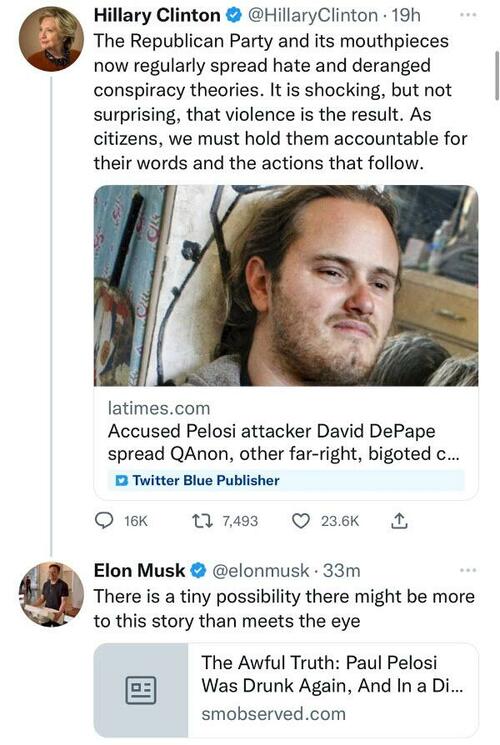 Which he has since deleted.
Nevertheless, Glenn Greenwald brings up the elephant in the media's room…
Perhaps, instead, Musk should have retweeted this perspective from Michael Shellenberger…
Neighbors described DePape as a homeless addict with a politics that was, until recently, left-wing, but of secondary importance to his psychotic and paranoid behavior.

"What I know about the family is that they're very radical activists," said one of DePape's neighbors, a woman who only gave her first name, Trish.

"They seem very left. They are all about the Black Lives Matter movement. Gay pride. But they're very detached from reality. They have called the cops on several of the neighbors, including us, claiming that we are plotting against them. It's really weird to see that they are willing to be so aggressive toward somebody else who is also a lefty."
Fact or conspiracy aside, the fact that a 'conversation' can be had without #InstaBan occurring seems like a positive step towards the restoration of freedom of speech… and the enabling of Americans to make their own minds up on matters – not be cajoled into one narrative uber alles.
This post was originally published at Zero Hedge
Prestigious Liberal Watchdog Condemns New York Times' Russiagate Coverage
The Columbia Journalism Review (CJR) has issued a scathing indictment of the New York Times for yellow journalism during the Trump-Russia saga.
In short, the hyper-partisan 'paper of record' was operating in bad faith.
It's wasn't just the Times either. CJR's findings accurately reflect what most objective thinkers have known this whole time – they were all operating in bad faith.
That said, CJR aimed the majority of criticism towards the NYT.
"No narrative did more to shape Trump's relations with the press than Russiagate. The story, which included the Steele dossier and the Mueller report among other totemic moments, resulted in Pulitzer Prizes as well as embarrassing retractions and damaged careers," wrote CJR executive editor Kype Pope in an editor's note.
The findings were published in a lengthy, four-part series. The first section begins with a story about then-New York Times executive editor Dean Baquet's reaction when he found out Special Counsel Robert Mueller didn't plan to pursue Trump's ousting, telling his staff "Holy s—, Bob Mueller is not going to do it." –Fox News
"Baquet, speaking to his colleagues in a town hall meeting soon after the testimony concluded, acknowledged the Times had been caught 'a little tiny bit flat-footed' by the outcome of Mueller's investigation," according to Jeff Gerth – the author of CJR's lengthy retrospective.
"That would prove to be more than an understatement," he continued. "But neither Baquet nor his successor, nor any of the paper's reporters, would offer anything like a postmortem of the paper's Trump-Russia saga, unlike the examination the Times did of its coverage before the Iraq War."
According to Gerth, the Times destroyed its credibility outside of its "own bubble."
What's more, the Times appeared to legitimize former British spy, Christopher Steele, who was indirectly paid by the Clinton campaign to fabricate the infamous 'dossier' that so much of the Russiagate coverage – and the DOJ's sham investigation, was based on.
The Times appeared to legitimize Christopher Steele, the ex-British spy who authored the infamous dossier, claiming he had "a credible track record" while Steele's so-called "primary" source was telling the FBI that Steele "misstated or exaggerated" in his report and that information stemming from Russia was "rumor and speculation."

Part three offered examples of the Times' slight-of-hand coverage against Trump in comparison to other hostile outlets. For example, Trump explained his decision to fire FBI Director James Comey, mentioning the "Russia thing" as being a "made-up story" to NBC's Lester Holt but acknowledged the firing would likely "lengthen out the investigation."

"The media focused on the 'Russia thing' quote; the New York Times did five stories over the next week citing the 'Russia thing' remarks but leaving out the fuller context. The Post and CNN, by comparison, included additional language in their first-day story," Gerth wrote.

In another instance, the Times avoided covering some of the more damning texts from Peter Strzok, who wrote "there's no big there, there" shortly after the appointment of Special Counsel Robert Mueller, something Gerth noted was covered by the Wall Street Journal and the Washington Post. -Fox News
In closing, Gerth concluded that "the erosion of journalistic norms and the media's own lack of transparency about its work" is responsible for the broad distrust in the media.
No kidding.
"In January 2018, for example, the New York Times ignored a publicly available document showing that the FBI's lead investigator didn't think, after ten months of inquiry into possible Trump-Russia ties, that there was much there. This omission disserved Times readers. The paper says its reporting was thorough and 'in line with our editorial standards," wrote Gerth. "Another axiom of journalism that was sometimes neglected in the Trump-Russia coverage was the failure to seek and reflect comment from people who are the subject of serious criticism. The Times guidelines call it a 'special obligation.' Yet in stories by the Times involving such disparate figures as Joseph Mifsud (the Maltese academic who supposedly started the whole FBI inquiry), Christopher Steele (the former British spy who authored the dossier), and Konstantin Kilimnik (the consultant cited by some as the best evidence of collusion between Russia and Trump), the paper's reporters failed to include comment from the person being criticized."
This post was originally published at Zero Hedge
"One Lie After The Next": CNN Ratings Hit 9-Year Lows After Reputational Suicide
Establishment mouthpiece CNN – an integral part of both the Russiagate hoax and the Hunter Biden laptop coverup, has dropped to just 444,000 average primetime viewers between January 16 and January 22, according to Nielsen.
Of those, just 93,000 were in the all-important 25-54 news demographic.
This is the first time since May of 2014 that the network has failed to reach 450,000 viewers, The Wrap reports.
By comparison, during the same period Fox News drew 1.4 million viewers and 176,000 in the demo while MSNBC notched 629,000 total viewers and 69,000 in the demo. In primetime, Fox News had 2 million viewers, 256,000 in the demo and MSNBC had 943,000 viewers and 91,000 in the demo.

Some especially troublesome news out of this week's Nielsen numbers is that Licht's primary programming move, "CNN This Morning," also suffered the lowest week since its launch just three months ago. It averaged just 331,000 viewers while "Fox & Friends" had nearly 1 million and "Morning Joe" drew 760,000. -The Wrap
As Glenn Greenwald notes, CNN's downfall is "so well-deserved and good for the country."
According to CNN insiders, hosts of the network's rebooted morning show, Don Lemon, Poppy Harlow and Kaitlan Collins, "seem to be growing frustrated" over the direction of the network.
"The show can't decide strategically what exactly it is, so it's trying to be everything which can create whiplash for a viewer when segments seem off-brand in tonality," said one insider. "The audience for morning news on network TV is different than the cable news audience and since we're not gaining new viewers we definitely need to retain our legacy ones."
More on the network's reputational suicide from Greenwald:
This post was originally published at Zero Hedge
Video: Ted Cruz Calls For FBI Raid On Hunter Biden
"We need to ascertain who's had access to what and when."
Senator Ted Cruz declared Sunday that the FBI should immediately search the home of Hunter Biden to check for classified documents.
In the wake of such documents being discovered in Joe Biden's home garage and an office he uses in Washington DC, Cruz noted "It seems he leaves classified documents wherever he goes. And we also know that Hunter Biden at times was — declared his residence to be those very same places."
During the Fox News interview, Cruz added "I also believe it is critical for the FBI to search Hunter Biden's homes, home and office residences to make sure there are no classified documents there, given all the evidence that's piling up. We need to ascertain who's had access to what and when."
Cruz added that it is imperative that lawmakers find out whether documents Biden had "illegally" involve "family business activities and potential corruption."
"Whether they involve Burisma and Ukraine, whether they involve Communist China and the entities that were paying the Biden family millions of dollars," Cruz urged, adding "If he, in fact, had classified documents that implicate his own financial well-being, that raises the potential of very serious criminal liability."
Related:
US Weapons Manufacturers Enjoy Soaring Profits Thanks to War in Ukraine
Cruz also highlighted an email Hunter Biden sent to a Burisma colleague, alleging the correspondence, which was obtained by the New York Post from the infamous laptop from hell, indicates he had access to classified material.
"Hunter Biden didn't write that," Cruz stated, explaining that "Hunter Biden is not an expert on Ukraine. He's not an expert on Eastern Europe. He's not an expert on Russia, but that email did help get him on the board of Burisma. It did help get him paid $83,000 a month because it showed a level of expertise not coming from him, but he was getting it from somewhere. That's clearly from some sort of briefing. We don't know whether it was a classified briefing or not, but that is the sort of analysis that is often within a classified briefing."
Cruz continued, "there's a level of scholarship and erudition that if it magically appeared, somehow it doesn't appear in the other emails he's sending."
"The obvious question is what was he cutting and pasting from? What was his source? And it raises the natural inference that Hunter Biden had direct access to these classified documents," Cruz asserted.
Watch:
SUBSCRIBE on YouTube:
Follow on Twitter:
Follow @PrisonPlanet
———————————————————————————————————————
Brand new merch now available! Get it at https://www.pjwshop.com/


ALERT! In the age of mass Silicon Valley censorship It is crucial that we stay in touch.

We need you to sign up for our free newsletter here.

Support our sponsor – Turbo Force – a supercharged boost of clean energy without the comedown.

Also, we urgently need your financial support here. ———————————————————————————————————————