Leaked FBI Pamphlet Lists 'Misinformation' And 'Disinformation' As 'Election Crimes'
An FBI "2022 Midterm Elections Social Media Analysis Cheat Sheet" leaked to Project Veritas by an agency whistleblower lists misinformation and disinformation as 'election crimes.'
The 'crimes' are are defined as;
"DISINFORMATION" – False or inaccurate information intended to mislead others. Disinformation campaigns on social media are used to deliberately confuse, trick, or upset the public.
"MISINFORMATION" – False or misleading information spread mistakenly or unintentionally.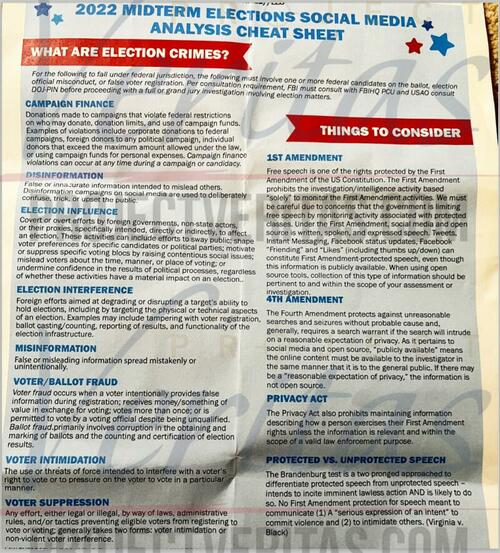 Does a Hillary Clinton-approved media blitz disinformation campaign to smear her political opponent as a Russian asset count?
What about "MSM censorship campaigns to suppress damaging information about a candidate" such as Hunter Biden's laptop?
More via Project Veritas;
Recently, the Biden administration attempted to create the "Disinformation Governance Board" under the Department of Homeland Security. After severe pushback from the public due to free speech concerns, the federal government pulled the plug on this idea.
In another section of the leaked document labelled "Things to Consider," the FBI reminded its agents that the First Amendment and Fourth Amendment exist. Both amendments are in the Bill of Rights and protect Americans' rights to free speech and against "unreasonable" searches or seizures.
The Bureau also flagged the potential for "Voter/Ballot Fraud" in this election, an activity that some have attempted to rule out as a threat to the American electoral system.
This post was originally published at Zero Hedge
Obama Judge Sentences Oath Keepers Founder Stewart Rhodes to 18 Years in Prison in J6 'Sedition' Case
Oath Keepers founder Stewart Rhodes, who came unarmed to DC and didn't even enter the Capitol Building on January 6th, was sentenced to 18 years in prison on Thursday for "seditious conspiracy" by Obama-appointed US district judge Amit Mehta.
Rhodes' crime was apparently mouthing off about revolution in private chats and lamenting after the event that "we should have brought rifles."
"You, sir, present an ongoing threat and a peril to this country and to the republic and to the very fabric of this democracy," Judge Amit Mehta, an Indian immigrant appointed to the DC district court by Obama in 2014, scolded Rhodes before handing down the longest sentence to date for any J6er.
Mehta's bio says he served on the board of the Mid-Atlantic Innocence Project (one of many groups which helps get convicted murderers like Shaurn Thomas out of prison).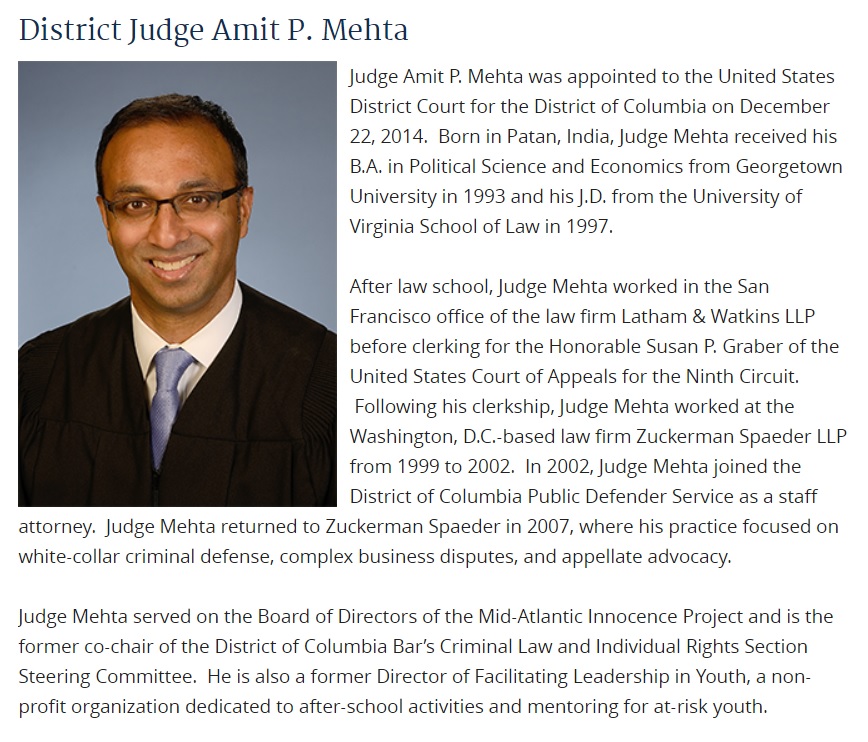 Though Mehta is a big believer in "criminal justice reform" when it comes to releasing thugs onto our streets, he opted to apply an enhancement for terrorism in Rhodes' sentencing.
From NBC News, "Oath Keepers founder sentenced to 18 years in Jan. 6 seditious conspiracy case":
The founder of the far-right Oath Keepers has been sentenced to 18 years in federal prison in connection with the Jan. 6 attack on the Capitol following his conviction on seditious conspiracy.

The sentence for Stewart Rhodes is the longest imposed on a Jan. 6 defendant to date. In a politically-charged speech in the courtroom just before his sentencing, Rhodes called himself a "political prisoner" and said that when he talked about "regime change" in a phone call with supporters earlier this week, he meant he hopes that former President Donald Trump will win in 2024.

The judge disagreed that Rhodes had been locked up for politics, saying it was his actions that led to his criminal convictions.

"You, sir, present an ongoing threat and a peril to this country and to the republic and to the very fabric of this democracy," Judge Amit Mehta said before handing down the sentence.

Rhodes was convicted of seditious conspiracy in November along with Kelly Meggs, a fellow Oath Keepers member who will be sentenced later Thursday afternoon.

"They won't fear us until we come with rifles in hand," Rhodes wrote in a message ahead of the Jan. 6 attack. After the attack, in a recording that was played in court during his trial, he said his only regret was that they "should have brought rifles."
That's called venting frustration.
They didn't bring rifles — they were unarmed — and they didn't take part in an "insurrection" — everyone left the Capitol after just a few hours — but apparently that's not relevant to the case.
The fact they legally brought some weapons to Virginia and left them in a hotel was proof enough of their "seditious conspiracy," according to Mehta.
Wearing an orange prison jumpsuit Thursday, Rhodes said he believes the only crime he committed was opposing those who are "destroying our country."

Mehta told Rhodes that he was found guilty of seditious conspiracy "not because of your beliefs, not because you supported the other guy, not because Joe Biden is president right now," but because of the facts of the case, and his actions before, during and after Jan. 6.

"You are not a political prisoner, Mr. Rhodes," Mehta said.
Fact check: false.
Rhodes and Meggs were put on trial alongside Jessica Watkins, Kenneth Harrelson and Thomas Caldwell, fellow Oath Keepers who were convicted of obstruction of an official proceeding and aiding and abetting, but not seditious conspiracy. Watkins and Harrelson will be sentenced on Friday.

Rhodes took the stand in his case, saying at trial that the other members of the Oath Keepers were "stupid" to storm the Capitol and that he disagreed with those who went inside; Rhodes did not enter the building. "I had no idea that any Oath Keeper was even thinking about going inside or would go inside," Rhodes said.

But the government also produced messages in which Rhodes said he thought that Jan. 6 was the last opportunity to stop what he saw as a takeover of the government.

"On the 6th, they are going to put the final nail in the coffin of this Republic, unless we fight our way out. With Trump (preferably) or without him, we have no choice," Rhodes wrote in a message ahead of Jan. 6.

He also celebrated Oath Keepers' actions in the immediate aftermath of the attack, after meeting with other members of the group at an Olive Garden in Virginia that night.

"Patriots, it was a long day but a day when patriots began to stand," Rhodes wrote the night of Jan. 6. "Stand now or kneel forever. Honor your oaths. Remember your legacy."
The Gateway Pundit has some longer excerpts from Stewart and Mehta.
In short, Rhodes — along with his fellow Oath Keepers — were convicted for mouthing off in their group chats.
If you say, "Give me liberty or give me death," that's essentially now evidence of a seditious conspiracy.
If you say, "The tree of liberty must be refreshed from time to time with the blood of patriots and tyrants," that's essentially now evidence of a seditious conspiracy.
This is all it takes to convict in the comically biased kangaroo courts in DC. Just as we saw in the Proud Boys case, the feds don't need any hard evidence — they just need a jury which doesn't like you.
This post was originally published at Information Liberation
Greenwald: Regime Journalists Promote The 'Right' Conspiracy Theories To Be Successful
"Journalists who spread conspiracy theories that the CIA wants them to spread get promoted, and the journalists who question the conspiracy theories of the CIA get destroyed."
Independent investigative journalist Glenn Greenwald succinctly summarises how 'regime media narratives' are formed and disseminated, and that any journalist who questions the process ends up a target for destruction by the establishment.
During his "System Update" broadcast on Rumble, Greenwald noted how "Journalists who spread conspiracy theories that the CIA wants them to spread get promoted, and the journalists who question the conspiracy theories of the CIA get destroyed."
"It's not prohibited in American corporate journalism to spread false stories and conspiracy theories," Greenwald asserted, adding "In fact, that's the only way you can thrive in journalism."
"The people who have lied the most, and who spread the most conspiracy theories, are the ones who have been promoted and enriched most within corporate journalism," he further urged.
"The difference is, the way to advance in journalism is to tell lies and spread conspiracy theories on behalf of the CIA, and that advance the interests of the U.S. government. That is not only permitted. That is required to be promoted," Greenwald emphasised.
He continued, "What you can't do, the thing that [Seymour] Hersh did that got him expelled from journalism, is he spread what are called conspiracy theories that are against the narrative of the U.S. security state, that undermined U.S. foreign policy. That is the only thing that is prohibited. That's what gets you kicked out of journalism."
Greenwald was referring to Hersh's reporting on the destruction of Russia's Nord Stream pipeline, which the veteran journalist is adamant was a coordinated operation by U.S. intelligence.
Greenwald continued, "As long as the conspiracy theories you're affirming and the false stories you're publishing are aligned with what the CIA, Pentagon, and the entire rest of the corporate media says, you're fine. In fact, you're better than fine. You're going to have all kinds of rewards lavished upon you."
Greenwald then cited the example of editor-in-chief of The Atlantic, Jeffrey Goldberg, who "did more [than anyone] to spread the false conspiracy theories that led to the Iraq War," and "also became ground zero for every Russiagate fraud."
Greenwald further proclaimed that Goldberg "was rewarded… as a result of the lying he did on behalf of the U.S. security state."
The journalist went on a further deep dive into the example of the 2001 anthrax attacks, which he posits is a prime example of how "people in the CIA, FBI, and DHS know they can lie to the media on purpose without any accountability because they do so while hiding behind the shield of anonymity."
"Even if you know they lied, the media will protect these liars, people who are deceiving America on purpose through the use of their media platforms," Greenwald further charged.
Watch:
SUBSCRIBE on YouTube:
Follow on Twitter:
Follow @PrisonPlanet
———————————————————————————————————————
Brand new merch now available! Get it at https://www.pjwshop.com/


ALERT! In the age of mass Silicon Valley censorship It is crucial that we stay in touch.

We need you to sign up for our free newsletter here.

Support our sponsor – Turbo Force – a supercharged boost of clean energy without the comedown.

Also, we urgently need your financial support here. ———————————————————————————————————————
Poll: Almost Two Thirds Of Americans View Media As "Truly the Enemy of the People"
"A mind-blowing damnation of the regime press"
A new Rasmussen poll has found that almost two thirds of Americans believe the media is "truly the enemy of the people".
The survey found that a total of 59 percent of likely voters either strongly or somewhat agree with the statement.
Among Republicans, the belief is even more prevalent at 77 percent. Only a slim majority of Democrats disagree.
The poll also noted that among Democrats there has been an 11 point drop in trust in the media.
Overall, a majority of 52 percent of Americans say they do not trust the political news they are getting from the establishment media.
The survey also found that 52 percent believe the media is bias towards Democrats.
This is yet another example of how Americans hold almost wholly opposite opinions to liberal corporate media narratives.
A new Harris-Harvard poll released earlier this week also demonstrated how despised the leftist media has become.
SUBSCRIBE on YouTube:
Follow on Twitter:
Follow @PrisonPlanet
———————————————————————————————————————
Brand new merch now available! Get it at https://www.pjwshop.com/


ALERT! In the age of mass Silicon Valley censorship It is crucial that we stay in touch.

We need you to sign up for our free newsletter here.

Support our sponsor – Turbo Force – a supercharged boost of clean energy without the comedown.

Also, we urgently need your financial support here. ———————————————————————————————————————