"We Peaked A Little Early" – Democrats' Hope Turning To Despair
After a summertime burst of optimism,many Democratic political operatives are decidedly gloomy approaching the final stretch to Election Day.
Their hopes were rising in July and August, on the expectation that the Supreme Court's overturning of Roe v Wade would energize the Democratic base and nudge independents into voting for the blue team.
Their abortion-issue hopes have proven wildly overblown, as a mere 5% of likely voters say abortion is their top concern, according to the latest New York Times/Siena College poll. Instead a plurality point to the economy and inflation, and most think Republicans are best equipped to tackle both.
A Harvard/Harris poll released on Monday found 53% of voters say they're more likely to vote for a Republican, compared to 47% who favor Democrats. Just 40% of Americans approve of President Biden's performance, according to the latest Reuters/Ipsos poll.
Mark Longabaugh, a Democratic ad maker and veteran of the 2016 Bernie Sanders campaign, tells Politico:
"Look, man, I've been at this for 30 years, and it is always the period in late September and early October when an election starts to tilt and move. So, we're at that moment, and I don't think you can look at these numbers across the country and say anything but it looks like it's moving in Republicans' direction."
The 40,000-foot view is bad enough, but it's the steady drumbeat of discouraging race-by-race poll results that now has Democrats bracing for a punishing midterm.
In the battle to break the 50-50 tie in the Senate, Republicans have taken small leads in Wisconsin and Nevada, and Herschel Walker is still hanging around despite the October-surprise claims about his ex-girlfriend's abortion. RealClearPolitics now puts Dr. Oz in the lead in Pennsylvania, after adjusting for historical polling errors, and projects a 52-48 GOP Senate majority. 
In the House, counting "safe," "likely" and "leans," RealClearPolitics gives Republicans a 221-176 lead, with 38 more races considered toss-ups. In June, that outlet projected the GOP would gain 24.5 seats; now it forecasts a 27-seat pickup.
In reliably blue Oregon, a Republican is poised to take the governorship for the first time in 35 years. Michigan governor and lockdown enthusiast Gretchen Whitmer is up only now leading by just 5 points in the latest poll. Even the New York governor race has tightened up, with Quinnipiac putting Democrat Kathy Hochul up only 4 points — and independents breaking toward challenger Lee Zeldin 57% to 37%.
"I think we had three really good weeks in August that everybody patted themselves on the back," an anonymous Democratic advisor to major donors tells Politico. "We were like, 'Yeah, that should be enough to overcome two years of shitty everything'." Now, he says, "It's not looking great. The best we can hope for right now is a 50-50 Senate, but the House is long gone."
Oddsmakers have similarly flipped red when it comes to the GOP's chances of retaking the Senate, joining a longstanding bet that they'll win control of the House.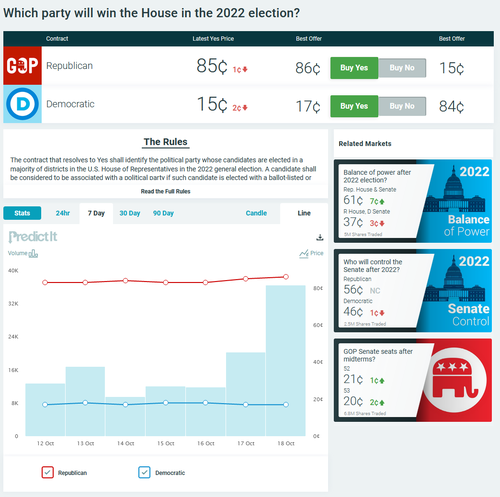 "I think it's clear Republicans have seized the upper hand," says Longabaugh.
This post was originally published at Zero Hedge
Ted Cruz: "The Odds Are Very Significant" That Michelle Obama Will Replace Biden
"I think if that happens, that would be very, very dangerous."
GOP Senator Ted Cruz has speculated that Joe Biden will not be chosen as the Democratic nominee for 2024 and that the distinction will go to none other than Michelle Obama in a last minute Democratic National Convention decision.
"I think the odds are very significant that next summer at the Democrat national convention that the Democrat party will jettison Joe Biden and will throw him off the ticket, and they will parachute in instead, Michelle Obama to be their candidate," Cruz told Sean Hannity.
"I think they're gonna look to Michelle Obama as the savior to come in," Cruz continued, adding "I think if that happens, that would be very, very dangerous."
"And every time I see a Democrat or one of their puppets in the press beginning to point out the problems with Joe Biden – every time that happens, the chances of that go up and up and up," Cruz added.
When Hannity asked if Michelle Obama even wants to run, Cruz reasoned that there are no other candidates that wouldn't alienate certain Democratic voters.
Referring to Kamala Harris, Elizabeth Warren, Gavin Newsom, and Pete Buttigieg, Cruz noted that "If the Democrats pick any of those four, you tick off the other three and risk alienating their supporters."
He continued, "I think Michelle Obama brings the Obama pedigree. She parachutes in with also the suit of armor of a First Lady with high positives and relatively low negatives. And I think they can justify to everyone who gets snubbed, 'Well, look, we went with Michelle Obama instead.'"
"I don't know if she wants it. But I do think it would be much more attractive to her to come in next summer and just campaign a couple of months to the general rather than having to spend two years campaigning vigorously on the ground," the Senator further suggested.
Watch:
Cruz floated the idea on his podcast last week:
Related:
SUBSCRIBE on YouTube:
Follow on Twitter:
Follow @PrisonPlanet
———————————————————————————————————————
Brand new merch now available! Get it at https://www.pjwshop.com/


ALERT! In the age of mass Silicon Valley censorship It is crucial that we stay in touch.

We need you to sign up for our free newsletter here.

Support my sponsor – Summit Vitamins – super charge your health and well being.

Also, we urgently need your financial support here. ———————————————————————————————————————
Trump Vows To Investigate MSNBC & NBC News For "Country Threatening Treason"
"The LameStream Media will be thoroughly scrutinized for their knowingly dishonest and corrupt coverage."
President Trump has promised that should he be elected for a second term in office he will investigate MSNBC And NBC News.
"They are almost all dishonest and corrupt, but Comcast, with its one-side and vicious coverage by NBC NEWS, and in particular MSNBC, often and correctly referred to as MSDNC (Democrat National Committee!), should be investigated for its 'Country Threatening Treason,'" Trump wrote on Truth Social.
Trump added that the networks have relentlessly pushed the Russia Collusion hoax, describing it as a "big campaign contribution" to the Democrats.
"Their endless coverage of the now fully debunked SCAM known as Russia, Russia, Russia, and much else, is one big Campaign Contribution to the Radical Left Democrat Party," he urged.
Labeling the leftist media a "true threat to Democracy" and "THE ENEMY OF THE PEOPLE!" Trump added "I say up front, openly, and proudly, that when I WIN the Presidency of the United States, they and others of the LameStream Media will be thoroughly scrutinized for their knowingly dishonest and corrupt coverage."
MSNBC continues to prove Trump's point with batshit crazy segments such as this:
As we noted yesterday, Trump has opened up a near ten point lead over Biden in a hypothetical 2024 matchup according to a Washington Post/ABC News poll.
The numbers were so alarming to the outlets that they both attempted to rubbish their own survey.
Meanwhile, during a rally Monday, Trump hit out at Biden's disastrous border crisis, noting that the thousands of illegal immigrants coming into the country all seem to have fancy cell phones.
"Biden puts China first, Mexico first, Ukraine first, Europe first, Asia first, illegal aliens first above our great veterans, you know that. Puts the illegal aliens above our veterans," Trump noted, adding "Our veterans live like hell, and you know, you see what's happening. You ever see the illegal aliens? One of the weirdest things. They come in by the tens of thousands, sometimes a day, and they all have cell phones."
"Where do they get the cell phones? Everybody has a cell phone," Trump canted, adding "They're all talking on these beautiful cell phones, and they're expensive ones too, they're nice ones. Somebody who was into that said, 'Those are good phones.' And then I say, who pays their bills? Who's paying their bills, Marjorie? Do you wanna check that? I'll give it to Marjorie, she'll figure that one out fast."
Watch:
SUBSCRIBE on YouTube:
Follow on Twitter:
Follow @PrisonPlanet
———————————————————————————————————————
Brand new merch now available! Get it at https://www.pjwshop.com/


ALERT! In the age of mass Silicon Valley censorship It is crucial that we stay in touch.

We need you to sign up for our free newsletter here.

Support my sponsor – Summit Vitamins – super charge your health and well being.

Also, we urgently need your financial support here. ———————————————————————————————————————
Busted! Adam Schiff Funneled Millions To Defense Contractors After Taking Donations
While Rep. Adam Schiff (D-CA) campaigns for a Senate seat on a platform of earmarks for local causes, the 12-term Congressman has been busted steering millions in taxpayer dollars to for-profit defense contractors, many of whom have been political donors to his campaigns.
According to an investigation by Politico, Schiff "has offered an incomplete and potentially misleading account of his record on earmarks."
A POLITICO review of congressional earmarks and political contributions found that in addition to the money for homelessness and drug treatment, Schiff also steered millions to for-profit companies and raised tens of thousands for his House reelection campaigns from corporate executives and people connected to them. The review was mostly limited to publicly available data from the brief three-year window when corporate earmarks were disclosed.
In two particularly egregious cases, Schiff channeled millions in funding to Smiths Detection and Phasebridge, Inc., two defense companies within his district – with $6 million steered to Smiths Detection and $3 million to Phasebridge. Both moves would have been barred under reforms adopted in 2010. This financial maneuvering coincided with Schiff receiving $8,500 in contributions from PMA Group PAC and two family members of Paul Magliocchetti, founder and owner of the lobbying firm retained by both defense companies.
In 2011, Paul Magliocchetti was sentenced to 27 months in prison for making illegal campaign contributions.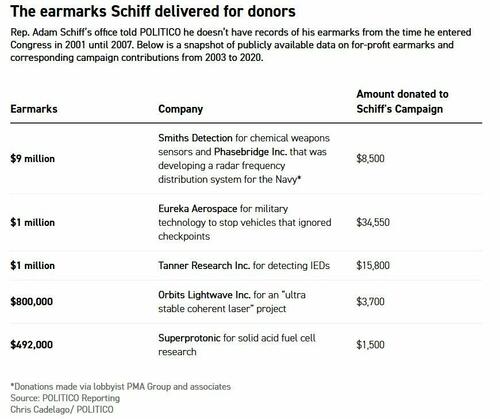 Schiff claims not to have a full accounting of his earmarks.
The Congressman's campaign has been quick to minimize these connections, emphasizing the small proportion of these contributions in his overall fundraising and underscoring his commitment to ensuring Californians' tax dollars work for their benefit. In a boilerplate response, spokesperson Marisol Samayoa said: "Californians know and trust Adam's record of getting things done, and as a U.S. senator, he will do what it takes to ensure Californians' tax dollars are put to work for them and their priorities," adding "These contributions amount to less than one tenth of one percent of what Adam has raised over 20 years in Congress, and were driven by what was best for our troops and his constituents. It is ridiculous to suggest otherwise."
However, Schiff's lack of transparency in providing a complete list of his earmarks further fuels the cloud of skepticism surrounding his actions.
"We were always concerned about the pay-to-play aspects and that's something that every lawmaker must live with," said Steve Ellis, president of Taxpayers for Common Sense, a nonpartisan budget watchdog, who has been analyzing earmarks for decades."If you're getting a campaign contribution and getting your earmark for that same company or for a client of that lobbyist, it has that perception."
The earmark process was changed following rising spending an a series of congressional pay-to-play scandals in the mid-2000s, including that of former Rep. Randy "Duke" Cunningham (R-CA), who admitted to taking millions in bribes from defense contractors, as well as disgraced lobbyist Jack Abramoff, who dubbed the appropriations panel a "favor factory."
More of Schiff's shiftyness via Politico…
— Schiff directed $1 million to Pasadena-based Eureka Aerospace, which was developing military technology to stop vehicles that ignored checkpoints. Eureka Aerospace CEO James Tatoian contributed $24,600 to Schiff between 2006 and 2016. Others in Tatoian's household gave another $9,950 through 2020. His only other federal contributions in recent years went to former Republican Sen. Martha McSally of Arizona, a retired Air Force colonel and former pilot.

— Schiff channeled $1 million to Tanner Research Inc. of Monrovia for detecting IEDs. CEO John Tanner donated $15,800 to him from 2003 to 2012.

— Schiff got an $800,000 earmark for Orbits Lightwave Inc. for an ultra stable coherent laser project. Yaakov Shevy, Orbits Lightwave's co-founder and president, donated $2,500 to him over his time in Congress and executive Katrin Saroukhanian gave $1,200 from 2007 to 2010.

— Schiff also secured $492,000 for Superprotonic for solid acid fuel cell research. Co-founder Calum Chisholm of Pasadena and executive Sami Mardini of Duarte combined to donate $1,500 to Schiff in 2007 and 2008.

…

POLITICO could not analyze many of Schiff's earmarks or possible corresponding donations because the public record of dollars that flowed to companies is extremely limited. Schiff's campaign declined to provide the list of earmarks from between 2001 and 2007, contending they didn't have one. Schiff refused a Los Angeles Daily News request to reveal his projects when pressed in 2007.
Meanwhile – still waiting on that Trump evidence, Adam…
This post was originally published at Zero Hedge